The market for liquefied natural gas is expected to be a big one in the long run and there are several big oil and gas players looking to capitalize on the same. Chevron (NYSE:CVX) is one such oil and gas integrated major that's looking to make the most of the expected increase in LNG demand going forward. The company has invested in multi-billion dollar assets in the LNG space, which is not surprising considering the rate of growth expected in this market.
Another key reason why Chevron has aggressively invested in LNG is because there will eventually be a shortage of supply in the long run, which will lead to an increase in prices. So, in this article, we will take a closer look at the prospects of Chevron in the LNG market and see why this could prove to be a big business for the company.
The prospects in LNG
Demand for LNG is going to increase at a consistent pace at key hotpots across the globe. China, for example, will increase LNG imports at an annual rate of more than 15% over the next six years. China's demand for LNG will increase as the country will need more of natural gas to power the heating and cooling needs of an increasingly urbanized population. In fact, over the long run, China's demand for LNG could continue to increase as more people are added to its urban network.
For instance, in the next couple of decades, 350 million people will move into cities in China, with the overall urban population expected to touch 1 billion by 2030. This will lead to further increase in cooling and heating requirements of the population, as a result of which demand for LNG will go up.
Similarly, even in India, LNG demand is expected to go up impressively on the back of improving infrastructure and increasing demand. Currently, India's natural gas pipeline length stands at 15,808 kilometers. However, the government has laid out an aggressive plan to construct another 11,397 kilometers of pipeline in the future to meet the country's energy needs. On the back of such infrastructure growth, it is not surprising to see why India's LNG consumption will increase at 17% a year over the next six years.
As a result of improving demand in key regions such as India and China, global LNG demand is anticipated to double over the next 15 years with a CAGR of 4.8%. But, to meet this growth, new supply of 180 million tons per annum will be needed, which means that over 40 final investment decisions need to be executed until 2025 to meet the growing demand. In any case, it is anticipated that a demand-supply chasm will start opening up from the end of this decade onward in the LNG market, which will ultimately lead to higher pricing.
This is shown below: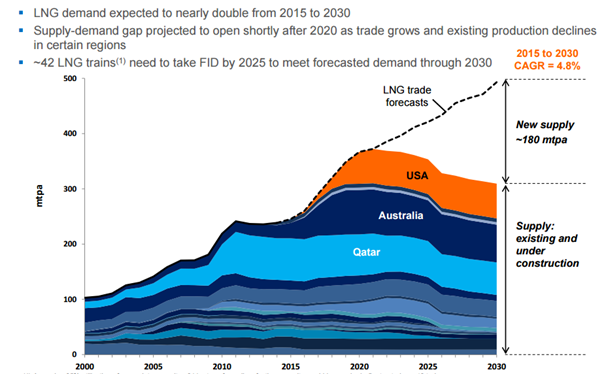 Source: Cheniere Energy
How Chevron will benefit from LNG growth
Chevron has already built a strong LNG infrastructure in Australia in the form of the Gorgon and Wheatstone LNG projects. The good part is that the company is now set to begin LNG exports from Gorgon, where it had to face a shutdown of almost three months on account of mechanical issues. Though this project started producing LNG in March, problems with a cooling unit that it used to freeze natural gas into the liquid state for transportation had created bottlenecks for exports.
However, the good news is that Chevron has now overcome this problem and will resume exports from next month. In fact, Chevron has already booked five LNG cargoes for July. More specifically, Chevron believes that its Train 1 at Gorgon will achieve full ramp up by September to November this year to its potential capacity of 5.2 million tons per annum, when it will be able to export more LNG volumes.
On the other hand, Chevron's work on the LNG Trains 2 and 3 is progressing as per schedule, with the second train expected to start producing LNG later in 2016 and the third train set to go online by the middle of next year. When all three trains are online, Chevron will have a total capacity of 15.6 mtpa at Gorgon.
On the other hand, at Wheatstone, Chevron is building a capacity of 8.9 mtpa with two trains. Thus, once both projects are completed going forward, Chevron will have a LNG capacity of close to 25 million mtpa from Australia. Additionally, the fact that Chevron has already managed to contract 80% of its LNG production from the Australian LNG projects for sale as a part of long-term agreements indicates that it will see predictable cash flows in the long run.
Conclusion
The opportunity in the global LNG market is sizable and Chevron is on track to make the most of it on the back of its asset developments. Moreover, as LNG demand supersedes supply in the long run, the price of the commodity will increase and this will allow Chevron to accelerate its financial performance. So, investors should not ignore Chevron's prospects in the LNG market as this will be one of its key growth drivers in the long run.
Disclosure: I/we have no positions in any stocks mentioned, and no plans to initiate any positions within the next 72 hours.
I wrote this article myself, and it expresses my own opinions. I am not receiving compensation for it (other than from Seeking Alpha). I have no business relationship with any company whose stock is mentioned in this article.