Around four months ago, I had focused on why the rally in Yamana Gold (NYSE:AUY) will continue. My thesis had revolved around an increase in gold demand that would ultimately lead to an improvement in prices, apart from the company's focus on improving its grade profile to lower costs. Since my last article, Yamana shares have shot up close to 90%. But, even after this tremendous run, there is still more upside to be had in Yamana. Let me tell you why.
The gold rally will continue
2016 has been a tremendous year for gold as the yellow metal has received several shots in the arm. For instance, at the beginning of the year, the volatility in oil prices led to a rally in gold, while the Fed's subsequent decisions to postpone the interest rate hike has also added to the bullishness in gold. Now, Britain's decision to leave the European Union has proven to be the latest driver for gold prices as investors seem to be rushing to buy the yellow metal to hedge against the stock market's uncertainty.
However, one of the most important factors that will drive the gold price in the long run is the federal funds rate in the U.S., which has an inverse relationship with gold pricing. Earlier in June, the Fed decided that it won't raise the interest rate this month on the back of a weak employment scenario in the U.S.
This didn't come as a surprise as the U.S. economy's job additions took a severe beating in May, with only 38,000 jobs created. On taking a closer look, it will become clear that the U.S. economy's job additions have actually weakened this year as average growth has been way below last year. Last year, job additions in the U.S. averaged 229,000 jobs a month, but this has gone down to just 125,000 this month.
Due to this weak jobs data, the Fed has been forced to keep interest rates low. Now, with Britain's exit from the EU, the probability of an increase in the interest rate in the U.S. has further decreased. According to CNBC:
"There's now virtually no chance of a rate hike at the July Federal Open Market Committee meeting, according to the CME's fed fund futures tracker, which indicates a 4.8 percent chance of a quarter-point rate cut at the session.

Reading out to December, there's only a 22.9 percent chance of a hike, while traders assign a 3.6 percent probability to a cut."
Thus, apart from the fact that there won't be any rate hike this year, economists are now looking at a rate cut instead. A rate cut will take the effective federal funds rate, which was hiked by a quarter-point in December last year, closer to zero once again. This will act as a tailwind for the price of gold since the federal funds rate and the yellow metal's pricing move in opposite directions.
This is because an investment in Treasuries and bonds becomes less worthwhile for investors due to lower yields, while gold's attraction increases in light of it being a safe haven investment. The following chart indicates the inverse relationship between the two: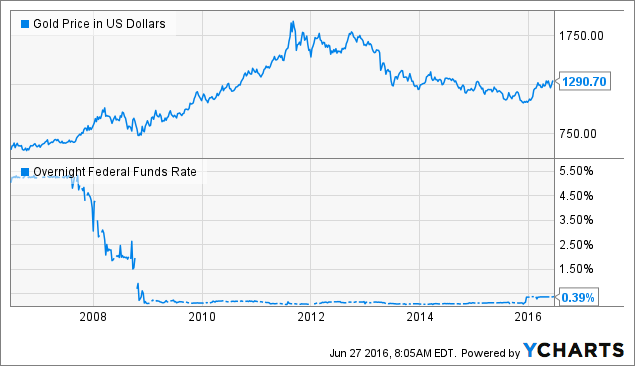 Hence, as the Fed will probably keep the interest rates low and could even cut the same, gold prices will continue to remain strong going forward. This will prove to be a tailwind for Yamana Gold, especially as the company is focused on strengthening its cost base on the back of robust grades.
Yamana's consistent cost reductions will lead to a better performance
Yamana Gold is strongly-positioned to take advantage of the rise in gold prices as the company has increased its recovery rates, throughput, and grades to bring down costs in an organic manner. For instance, in the first quarter of 2016, Yamana's cash costs were down 9% on a year-over-year basis, while all-in sustaining costs were down 10%.
A drop in the all-in sustaining costs means that Yamana is not being made to spend more capital to keep its cash costs down, and this can be attributed to the company's asset base that has robust grades. For instance, at the Jacobina mine, Yamana has all-in sustaining costs of $750 an ounce, which means that cash costs are even lower at $540 an ounce.
More importantly, Jacobina is seeing a strong increase in production, with the output last quarter increasing 61%. This was because Jacobina had a strong grade profile of 2.27 grams per ton and recorded an impressive recovery rate of 95.6%. In comparison, the average grade of gold mines across the globe is way lower at 1.01 grams per ton, which means that Yamana has an advantaged asset in the form of Jacobina.
What's more, Jacobina's cost profile could decline further as Yamana anticipates a grade of 2.39 grams per ton for the full year as the company will explore for higher grade gold at the mine, apart from undertaking steps to increase the mine's productivity and longevity.
Moreover, Yamana is looking to improve its performance at mines where grades are a bit lower. For instance, at Canadian Malartic, Yamana had an average grade of 1.07 grams per ton and a recovery rate of 89.9%. In order to improve the throughput at the mine and increase production, Yamana will be making investments in the grinding and crushing circuit so that the downtime is reduced.
The important thing to note here is that Yamana already has a low cost base at Canadian Malartic with cash costs coming in at $557 an ounce last quarter. Hence, as the company makes infrastructure investments at the mine to improve recoveries, its costs should decline in the long run.
The impact of these low-cost assets is clearly seen on Yamana's financial performance. For instance, at the end of the previous quarter, Yamana's gross margin percentage increased 21% year-over-year, while EBITDA margin increased 56%. This is shown in the chart below:

Source: Yamana Gold
Hence, as Yamana focuses on further lowering its costs, its margins should continue to get better in light of an improving gold price environment.
Conclusion
The points discussed above indicate that Yamana Gold hasn't run out of steam yet. Improving gold market conditions, along with Yamana Gold's strong asset base will lead to more margin growth and upside in its stock price. Thus, investors should continue to remain invested in Yamana Gold as it is on track to get better.
Disclosure: I/we have no positions in any stocks mentioned, and no plans to initiate any positions within the next 72 hours.
I wrote this article myself, and it expresses my own opinions. I am not receiving compensation for it (other than from Seeking Alpha). I have no business relationship with any company whose stock is mentioned in this article.