Last week was the first day of summer in the United States and no doubt many readers will have started to notice more and more fitness enthusiasts jogging around their neighborhoods. With fitness centre and health club memberships on the rise, we feel that Lululemon Athletica (NASDAQ:LULU) is positioned to sustain its strong growth despite increased competition in the market.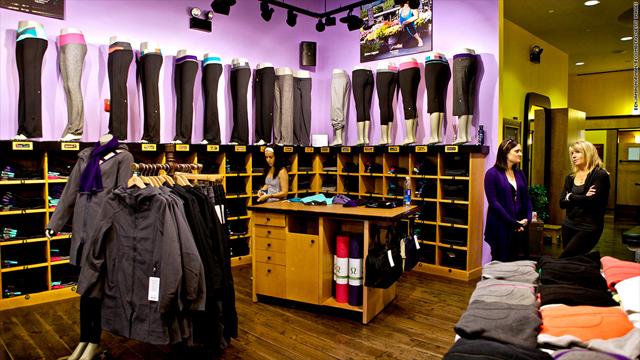 One thing we keep hearing more and more is that Lululemon is a fad and that in a few years it will lack relevance with consumers. But we disagree. Whilst the company is positioned perfectly for the growing health and wellness boom, we do expect its products to continue to sell increasingly well even when the boom slows. The key for us is the strong loyalty that it commands from consumers thanks to the hard work it puts in with its brand ambassadors.
For many companies, brand ambassadors will be done on a national or global scale, but Lululemon does it differently. It has a strong network of brand ambassadors that work on a local scale. This allows the company to produce incredibly effective word-of-mouth marketing. Through its ambassadors Lululemon gets out in the community or brings the community in store for free yoga classes or group fitness events. The difference with this marketing as opposed to traditional television etc marketing is that through engagement we believe it creates a strong rapport with consumers that keeps them from the hands of its competitors even though they offer cheaper alternatives.
In addition to this it is worth considering that whilst it may have yoga at its core, its products are not strictly yoga-wear but more akin to activewear that can be worn for many activities. Whilst yoga may end up being a trend, we don't believe general fitness is. If anything we expect more and more people to lead healthier lives moving forward thanks to the obvious health benefits as well as social and employer pressures. A number of businesses around the world are investing in Fitbits (NYSE:FIT) for their employees as a means to lower healthcare costs. So we believe the activewear market still has a lot of room to grow in the years ahead. In fact, Barclays estimates the category could grow to more than$100 billion per year by 2020.
As we mentioned previously, we feel Lululemon is a great long-term investment because of the work it is doing with Ivivva Athletica. Although it is still just a small part of total revenue it is growing its store network at a good pace adding six stores in the last quarter having almost doubled its network in the last 12 months. The brand has been gaining a lot of traction with the tweens market and we believe it is nurturing them into being Lululemon customers in the future. Additionally, its foray into the men's market is a great step, but we expect it will take some time to meaningfully penetrate the activewear for men market.
Source: Google Trends
As we mentioned at the top, Lululemon does have a lot of competition now from the likes of Nike (NYSE:NKE) and Under Armour (NYSE:UA). But despite this Google Trend reveals that online searches have been growing in the last 12 months year over year. This is the first time we have seen growth in searches since 2013, which we feel could be a very positive sign for the company this year.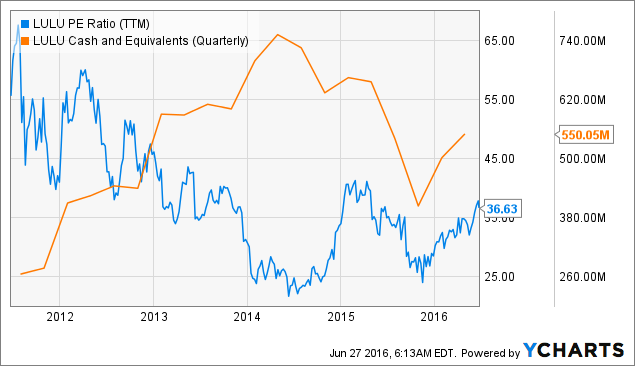 Finally, as well as its strong growth prospects, we feel that because the company still holds no long term debt and over $550 million cash in the bank, it is worth paying a premium for. Right now whilst it is still in its growth stage we feel a price-to-earnings ratio of 35 is a reasonable for the stock to trade at. Management has provided full year earnings guidance of $2.08 to $2.18 per share. We feel confident that the growth in activewear and the positive Google Trends data is pointing to increasing demand from consumers, which will allow it to hit the high end of guidance. Based upon this and a price-to-earnings ratio of 35 we have a price target of $76.30, equating to a return of 9.1% from the last close price.
In our opinion, Lululemon is so much more than a fad, it is an activewear brand with a bright future ahead of it.
Disclosure: I am/we are long LULU.
I wrote this article myself, and it expresses my own opinions. I am not receiving compensation for it (other than from Seeking Alpha). I have no business relationship with any company whose stock is mentioned in this article.