I have singled out mortgage investment company New Residential Investment Corp. (NYSE:NRZ) earlier this year as one of my favorite high-yield quality income plays that combines high income with the potential for significant upside. I have discussed the issues in my earlier piece, "This 14% Yielder Remains My Top High-Yield Income Pick For The Next 5 Years."
In a nutshell, New Residential Investment is my favorite income play in the high-yield market segment because the company pulls in strong core earnings that cover the company's dividend (and then some).
Frankly, I was expecting a dividend hike in the 1st quarter of the year given New Residential Investment's strong core earnings growth throughout 2015. So far, New Residential has not increased its dividend payout this year, but rather decided to maintain it. Fair enough.
Though I would have loved for New Residential Investment to hike its dividend again in 2016, shareholders of this mortgage investment company have no reasons to complain about the company's investment returns.
New Residential Investment announced yesterday that its Board of Directors declared another quarterly dividend of $0.46/share which will be paid on July 29, 2016 to shareholders of record on July 7, 2016. This 2nd quarter dividend will be the fourth time New Residential Investment pays a $0.46/share dividend.
Buy For Income And Upside
I bought New Residential Investment for my $100,000 high-yield income portfolio a little more than a year ago, and the investment has not disappointed. My weighted average purchase price in the portfolio was $12.78. Since New Residential Investment's shares are selling for $12.77 at the time of writing, I am about breakeven, but the dividend income is substantial. Based on New Residential Investment's maintained $0.46/share dividend, an investment in NRZ yields around 14.4 percent.
Further, New Residential is also a play on price appreciation. The REIT sells for ~6.5x annualized Q1-16 core earnings, and ~1.06x accounting book value. My price target for New Residential Investment stands unchanged at $20, implying around 57 percent upside.
Resilience In A Tough Market
The Brexit referendum has sent shock waves through the world, and financial and currency markets have felt the full force of investors' panic selling. That being said, New Residential Investment has proven to be very resilient in this tough market. Though NRZ is off of its most recent high ~$14, the mortgage investment company has very much held its ground.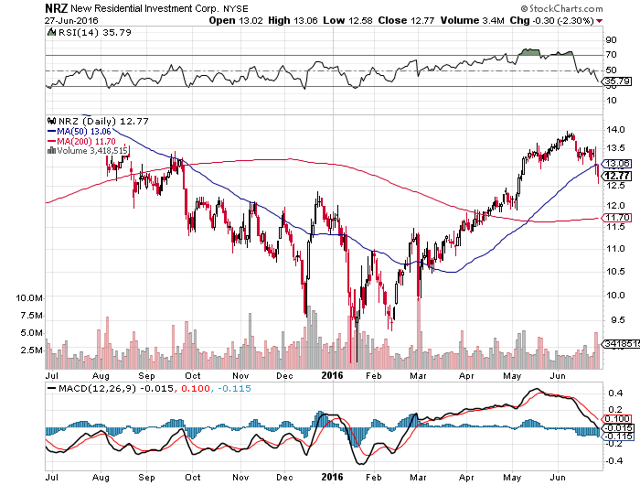 Your Takeaway
New Residential Investment announced a stable dividend of $0.46/share for the 2nd quarter yesterday, which I used as an opportunity to review my significant position in this mortgage REIT. New Residential continues to combine everything that I am looking for in a high quality income vehicle: A high dividend covered by core earnings, a low valuation on a core earnings run-rate and accounting book value basis, and relative resilience in a very difficult market after the Brexit decision. Buy for income and capital appreciation.
Disclosure: I am/we are long NRZ.
I wrote this article myself, and it expresses my own opinions. I am not receiving compensation for it (other than from Seeking Alpha). I have no business relationship with any company whose stock is mentioned in this article.