Preface
Performing a regular assessment of market volatility/liquidity is an extremely important concept for investors to follow especially in today's markets. Even excluding this Friday's Brexit crisis in which trillions were siphoned from global equity markets into safe-haven assets such as bonds, yen, and gold, rising volatility and increasing asset correlations have been the story of the year. However, despite the suddenly effervescent media drooling over every apocalyptic chart or dystopic vision from spotlight investors...
...statistical volatility measures indicate that markets are still highly liquid by historical standards.
Brexit may indeed mark a significant inflection point in global trade and globalization (which had been slowing to a halt regardless), but liquidity and volatility measures imply that investors are far too bearish on underlying market conditions, real growth prospects, and the effect on exchanges or financial institutions. This isn't the "biggest global monetary shock since 2008" nor is it the "end of globalization".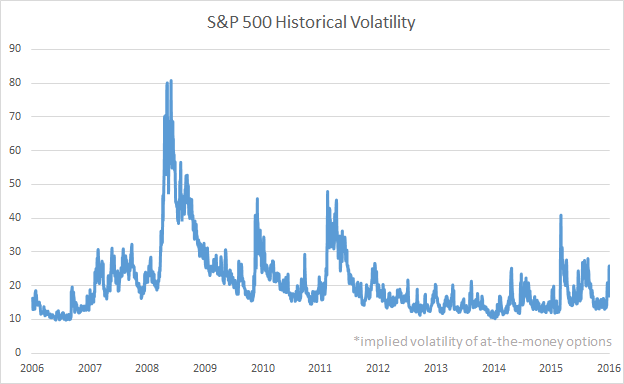 (Source: Chicago Board Options Exchange)
In reality, while volatility has been elevated in almost all asset classes in the first half of 2016, it has generally been benign especially considering Fed normalization policy and monetary divergence. While the initial shock of the Brexit referendum threw many off-guard, exchanges, financial institutions, and governments were all well-prepared for such 'shock' events this year with stockpiles of reserves, FX swaps, etc.; thus, in retrospect, this latest crisis has not been as significant as perceived. Largely, investors had foolishly thrown themselves into a "Risk-On" momentum mode on the false assuredness of the Remain camp winning, and this made the sell-off seem worse than it was. In any case, let's review one of Wall Street's most popular post-crisis trades - volatility.
Equity Markets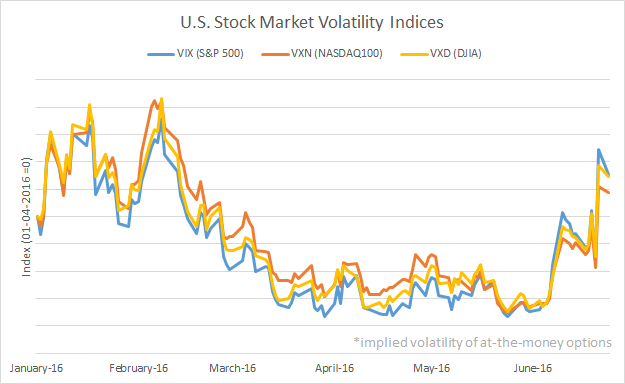 (Source: Chicago Board Options Exchange)
If we look at measures for volatility across major U.S. equity indices, U.S. markets have generally held up quite strongly. Following a major spike in the beginning of the year from a significant market correction, markets enjoyed a quiet spring until Brexit. This latest volatility spike caused by Brexit/EU political fears will likely continue to keep upward pressure on volatility for a month or so, which is typically how long these spikes largely last. However, in the historical context, it is important to note that equity volatility year-to-date pales in comparison to levels seen in 2011, 2010, or 2008. In the first half of 2016, the VIX S&P 500 Volatility Index has averaged 18.05; compare that to the highs of 89.53 seen in 2008.
This is likely because, as mentioned previously, exchanges (such as NYSE (NYSE:ICE), Nasdaq (NASDAQ:NDAQ), or BATS (BATS:BATS)) working with HFT firms and other institutions have built up liquidity mechanisms, in addition to the injections provided by governmental policies, that have vastly improved market liquidity in times of distress. As such, the impact these shocks will have on exchanges and other institutions is quite overstated; if anything, the financial sector has more significant worries such as the impact on trading of bonds and swaps in NIRP-affected regions (negative interest rate policy) or politically-motivated regulations than any theoretical worry about global trade from Brexit.
Forex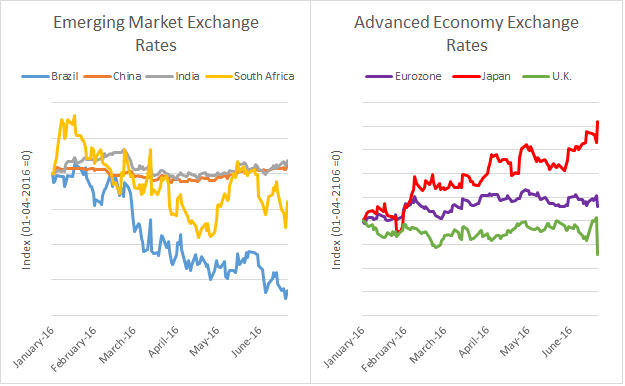 (Source: St Louis Federal Reserve)
While the story in 2015 tended to be focused more on emerging market exchange rates, the story seems to have shifted more to the advanced economies this year, specifically the Japanese Yen, Euro, and British Pound. Once again, we seem to have seen more capital outflows from EM but also outflows from AE equities into 'safe-haven' currencies like the yen and dollar which have put significant pressure on U.S. and Japanese policymakers.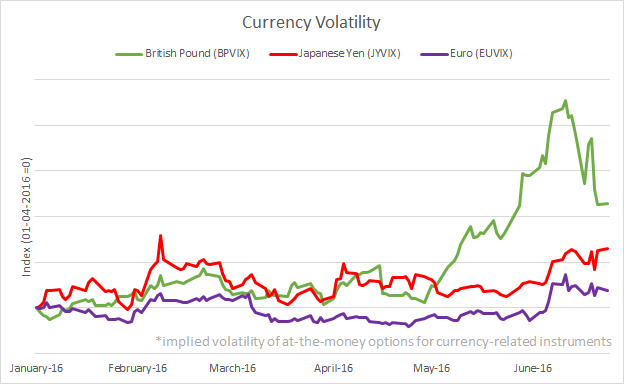 (Source: Chicago Board Options Exchange)
Specifically, the yen has become significantly more volatile as it has strengthened and policymakers continue to threaten intervention. Of course, the pound has seen the most volatility in the run-up to the referendum, however, Brexit has also been the final nail in the coffin for the BoJ's efforts in keeping the yen from strengthening, as after the vote, the USD/JPY rapidly broke through the critical 100.00 support level and hit a session low of 98.77. Given that the USD/JPY had already broken through its 200-day moving average and that the BoJ's vocal efforts in stopping the yen's rise had proven useless thus far, it probably should have come as no surprise to anyone this would happen... but not to the degree that it has. The Japanese Yen currency trend is probably the most important at the moment, as Japan is far more dependent on its exports to drive corporate profits and policymakers have been both simultaneously quick and slow to pull the trigger on monetary intervention.
Commodities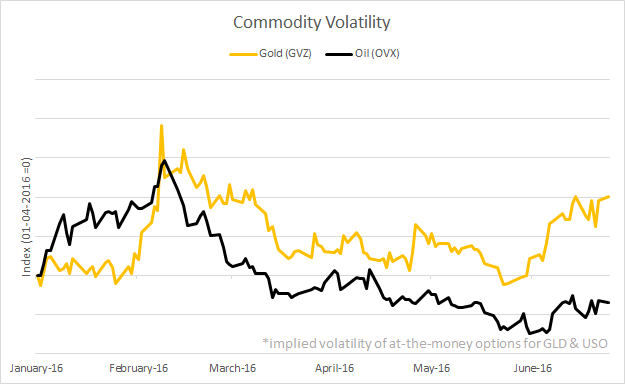 (Source: Chicago Board Options Exchange)
In 2015, one of the main investing themes was the commodity rout that saw many crude oil, LNG, and raw material companies facing down the path of bankruptcy and default. However, after oil prices reached a bottom of ~$25 a barrel in January/February of 2016, oil finally rebounded along with other commodities, meaning far less volatility in the energy sector. Whether or not the rally can be sustained remains to be seen. Geopolitical energy policies still seem to be of utmost importance to the price of oil.
Gold, on the other hand, has enjoyed gains all year-to-date, with gold spot price up about 25% since January; thanks to Brexit, gold now sits haughtily above the $1300/oz support level, but again, who knows how long that will last. Gold is typically fragile and, even in desperate times, gold is not always a sure bet as a hedge or inverse of anything. Notice how volatile GLD is even during a rally; this is because typically gold's rallies have been entirely one-sided and speculative, owing entirely to investment demand and not any innate industrial or retail demand (which has indeed remained flat).
*NEW: Options Trading Strategies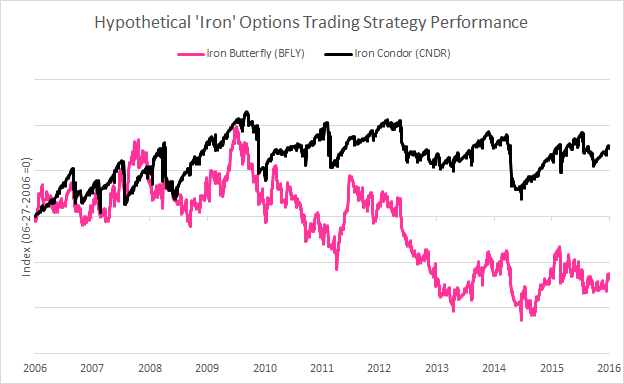 (Source: Chicago Board Options Exchange)
In the CBOE Advanced Option Strategies Workshop, I have just discovered that the CBOE maintains indices pertaining to the hypothetical performance of various options strategies, in particular, the Iron Condor and Iron Butterfly strategies. Why these are important is because these strategies can be thought of as proxy measures of volatility. That is, the performance of the Iron Condor or Iron Butterfly strategy is inversely proportional to volatility; these strategies, composed of multiple options contracts, are complex and more importantly neutral, meaning that any increase in implied volatility reduces their performance. Notably, the historic spikes in volatility in 2011, 2010, and 2008 can all be observed in the inverse performance of these options. It would be prudent to add these to the volatility watchlist.
Overview
In my previous volatility assessment (Volatility - What Happened In 2015?), I described how the trade of "selling volatility", i.e. shorting the VIX, one of the most successful and popular strategies for hedgers since 2008, was going to have end as decreasing profit margins, rising credit spreads, and lesser earnings expectations would bring more volatility to equity markets. Now, it seems not only was I correct but buyers of volatility would have been quite successful as political polarity, with Brexit as its most recent incarnation, has made the trade even more successful.
In retrospect, however, volatility is still very contained by historical standards and this is important to remember in the grand scheme of things. The apocalyptic visions and trite "I told you so" - the fawning over by the media of the prophecies of Druckenmiller, Soros, or Gross - are not only premature and false but dangerous. Use this to your advantage. Know when to buy and sell volatility just as with equities; use the raw data not the hearsay of the latest spotlight investors.
Relevant Products:
These instruments are meant to express short-term views on VIX futures contracts.
Note: While it has been noted that certain measures that track volatility, esp. CBOE indices based on equity options, suffer from exchange rate lag, tracking errors, and inherent divergence from actual volatility, they can still be useful in observing and analyzing the sentiment of those who trade in such futures, e.g. hedgers and speculators.
Disclosure: I/we have no positions in any stocks mentioned, and no plans to initiate any positions within the next 72 hours.
I wrote this article myself, and it expresses my own opinions. I am not receiving compensation for it (other than from Seeking Alpha). I have no business relationship with any company whose stock is mentioned in this article.