In an interview give to Houston Chronicle, Saudi Arabia's new Energy Minister- Khalid Al Falih said that the global oil glut is now over. Even the International Energy Agency has admitted that less oil has been stored than what was earlier expected. I have been stressing in many of my previous articles that the supply-demand rebalancing of crude oil has already gained momentum because of a number of factors like supply outages of Nigeria and Venezuela, falling global oil and gas investments and robust demand from China and India. Now, there is one more reason why crude oil's supply and demand may balance faster than ever. That reason is Iran.
Iran's oil production is running out of steam
As the United States and the European Union lifted the financial and oil sanctions on Iran after it fulfilled the promise of cutting back on its nuclear program, Iran became free to increase its oil export revenues by ramping up its oil production levels. While most of the analysts expected Iran to reach its pre- sanction production levels in around two years, at 3.6 million barrels a day, Iran already started producing oil at its pre-sanction levels by May 2016. Although it looks impressive, this rapid growth in oil production cannot be sustained by Iran any further. Energy consultancy Wood McKinsey has even stated that Iran's present production capacity is only around 3.7 million barrels a day and going beyond this will require modern recovery techniques and targeted investments. This means that Iran cannot increase its production substantially from its current levels. Through its Iran Petroleum Contract, Iran is hoping to attract close to $70 billion in investments for reaching its goal of producing 4.8 million barrels of crude oil per day by 2021. Even Iran's crude oil exports, for the first three weeks of June 2016, witnessed a 20% decline when compared to its April '16 and May '16 oil exports (which were above 2 million barrels a day for both the months).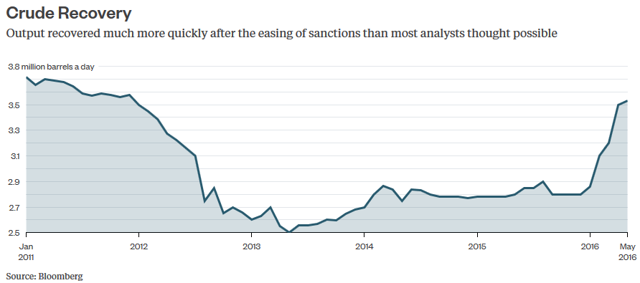 Exports to Europe are not increasing the way it should
Before sanctions, Iran was exporting around 800,000 barrels per day of crude oil to Europe, with Italy and Spain depending on Iranian crude for 13% and 16% of their total crude oil imports. It has been 5 months since the sanctions were lifted, and Iran resumed almost half of its EU exports by shipping close to 350,000 barrels per day of crude oil in May 2016. But again, its exports to EU fell to 250,000 barrels per day for the first three weeks of June. This is because European countries like Italy, Spain, and Greece are purchasing less crude oil from Iran when compared to its pre-sanction levels. In fact, one of Iran's biggest European customers - Italy, took five months for loading its first Iranian cargo. One of the reasons for this apprehension is the U.S. banking restriction on Iran that is still in place. Because of this banking snag, even companies like TOTAL (NYSE:TOT) and Shell (NYSE:RDS.A) are finding it difficult to buy Iranian crude.
Conclusion
International Energy Agency (IEA) predicts that Iran will be able to produce close to 4.1 million barrels per day of crude oil by 2021, only if it is successful in attracting 'significant' foreign investments/technology and there are no further sanctions. Iran is currently selling most of its crude oil to Asian customers like India, China, South Korea, and Japan as it is finding it difficult to regain its hold on the European market. It can be clearly seen that Iran has almost reached its peak production level and its oil production will not increase substantially from here, any time sooner. The upcoming slowdown in Iranian output will further support the global supply-demand rebalancing and it will definitely support oil (NYSEARCA:USO) in the coming time.
Disclosure: I/we have no positions in any stocks mentioned, and no plans to initiate any positions within the next 72 hours.
I wrote this article myself, and it expresses my own opinions. I am not receiving compensation for it (other than from Seeking Alpha). I have no business relationship with any company whose stock is mentioned in this article.