At this moment, there is no denying the fact that we are currently experiencing an oil glut, the likes of which hasn't been seen in the U.S. in several decades. However, one area many investors never consider is Saudi Arabia, one of the three largest oil-producing nations in the world (along with the U.S. and Russia) and the largest producer in OPEC. After being tipped off by one of my readers in a prior article though, I decided that it would be a wise idea to see what is happening in the country and what it means for the big picture in the oil space and for companies like Memorial Production Partners (NASDAQ:MEMP), Approach Resources (NASDAQ:AREX), and Legacy Reserves (NASDAQ:LGCY), as well as for those in the United States Oil ETF (NYSEARCA:USO) and other oil-related ETFs.
Crude stocks are falling
While crude stocks have been rising and will rise across the OECD as a whole this year (but fall somewhat in the U.S. by itself), the same cannot be said of Saudi Arabia. Unfortunately, data is only available (due to a lag in reporting) through the month of April this year, but so far the results are encouraging. In the graph below, you can see the historical range (starting in 2011), the 2011-2015 average, 2015 data and 2016 data regarding closing crude oil stocks in the nation.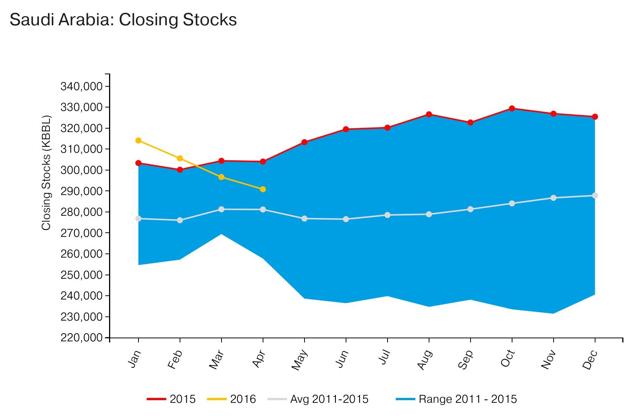 Based on these findings, there's no doubt that crude stocks in Saudi Arabia have been falling like a rock. At the end of April, total crude inventory levels came out to 290.9 million barrels. This represents the sixth month of crude storage decline in a row, when stocks in October of last year peaked at 329.4 million barrels. The overall decline during this time frame has been nearly 38.6 million barrels or 11.7%.
One thought I had was that the oil here might just be shifting around to different product categories. If crude drops significantly but petroleum products stocks jump up a great deal, then we're just shifting oil around and the picture isn't changing for the better all that much, if at all. In the graph below, on the other hand, which shows total petroleum product stocks, we see only a very modest increase this year compared to last year. What this means is that some crude is being processed into other product categories, but this doesn't account for all or even a large portion of the drop in storage.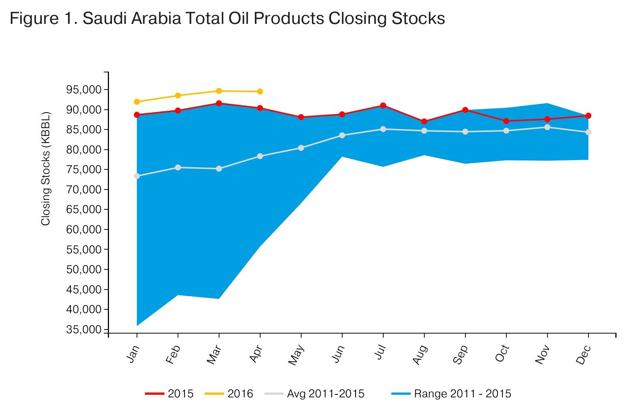 Chalk it up to demand
After looking over this data, I thought that perhaps Saudi Arabia may be purposefully depleting its own crude stocks in an effort to flood global (especially U.S.) markets so that oil prices can stay depressed long enough and the supply/demand imbalance can even out quicker. In the graph below, however, you can see that this is not the case. Based on the data provided, oil exports from Saudi Arabia saw a recent peak of 7.835 million barrels per day, the highest since March of last year, and have been falling since with exports averaging 7.444 million barrels per day in April of this year.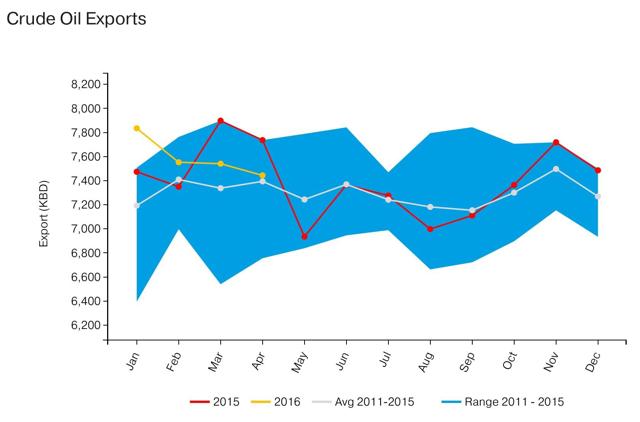 Year-over-year, the trend has been interesting in April, with exports down 3.8% from the 7.737 million barrels per day seen in April of 2015. Due to a strong January this year and a strong March last year, however, total crude exports are down year-to-date a modest 0.3% compared to the same four months last year. It's impossible to tell how or if this trend will change moving forward but with the trend this year being toward lower exports, it's like this drop will continue near-term. Interestingly, however, even though exports from Saudi Arabia as a whole have dropped this year, import numbers into the U.S. from the kingdom are up 24.3% from 1.308 million barrels per day to 1.052 million barrels per day, likely driven by a change in pricing strategy by OPEC nations.
What I did find as a potential explanation for the change in oil stocks in Saudi Arabia relates to demand. In the graph below, you can see historical demand data for Saudi Arabia. According to this, demand there has soared, with year-to-date oil demand averaging about 2.556 million barrels per day. This is 22.8% greater than the 2.080 million barrels per day seen the same period a year earlier and is 43.2% above the five-year average (ending in 2015) that has been reported. In fact, just this year alone, aggregate demand is up around 59.6 million barrels compared to the same period last year (ending in April).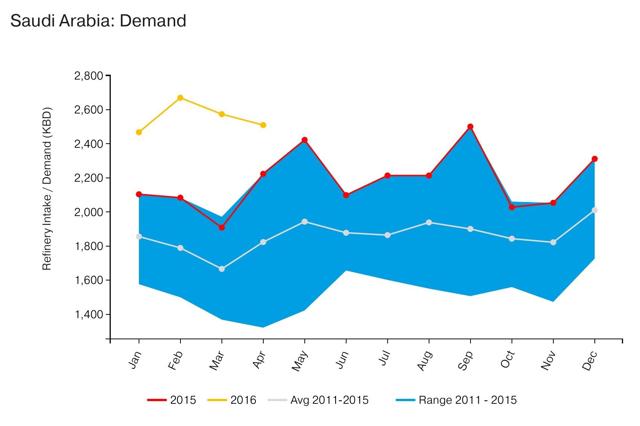 Takeaway
When I first laid eyes on Saudi Arabia's oil data, I anticipated to see them either increasing their product inventories while crude fell or to see them exporting more in an effort to kill other producers like the U.S. While there is truth to the U.S. issue, however, the main contributor to Saudi Arabia's falling oil supplies seems to be nothing other than the fact that oil demand in the country continues to increase at a very strong pace.
I found an article from around a year ago that talked about their population growing rapidly and their economy growing as a result; but even so, with most members of OPEC being hurt by the prolonged downturn in oil prices, I was surprised to see the result I did. Even so, however, the fact that oil supplies are falling in such a vital country and are doing so at a nice clip, suggests that we may be closer to rebalancing than many oil investors have been thinking.
Disclosure: I am/we are long AREX, MEMP, LGCY.
I wrote this article myself, and it expresses my own opinions. I am not receiving compensation for it (other than from Seeking Alpha). I have no business relationship with any company whose stock is mentioned in this article.
Additional disclosure: My LGCY position is in the form of preferred units, not common ones.
Editor's Note: This article covers one or more stocks trading at less than $1 per share and/or with less than a $100 million market cap. Please be aware of the risks associated with these stocks.