There were 4 public debt defaults by Chinese State Owned Enterprises (SOE's) in 2014, 9 in 2015 and 16 so far in 2016. Of those that defaulted this year; Tianwei, Erzhong, Sinosteel, China Coal Huayun and China Railway Materials were federally owned. This ties in with government guidance that SOE's would be categorized into, "Public Welfare Providers" and "Commercial SOEs", with the insinuation that the latter would be allowed to default without receiving state support.
Some local media sources reported that these actively sought default to lessen their debt burdens, and that some shifted assets in preparation. This growing chance of credit defaults by SOE's has widened corporate credit spreads. Below is a chart form BofAML showing the dates when the defaults were first reported and the credit spread of 5Y AA-rated enterprise bonds.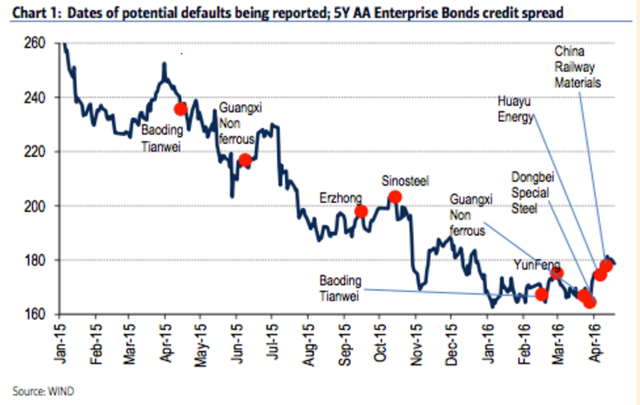 This raises the question if these defaults show that pressures are rising in China's onshore (RMB denominated) bond market. The answer is likely to be yes. Around 90% of China's corporate bond debt is on-shore, of which two thirds is government related, the remainder are corporates of which 90% are SOE's. In terms of size, the onshore market is the world's third largest behind the US and Japan. The fact that non-financial corporate debt is 125% of GDP and the universe is so small and largely consists of blue chip companies shows that the main banks are experiencing rapidly growing NPL ratios.
The question then is, is this reflected in valuations? Here the answer is a definite no. In some ways the corporate bond market is a microcosm of investors general views of the Chinese economy. Bond investors believe that the government will step in and provide assistance in the event of distress. Where investors should have been showing caution they have been showing enthusiasm - attracted by relatively enticing yield and trade dynamics. The opening up of the onshore market to foreign investors was clearly designed towards attracting inflows to counter rising outflows and to provide capital support for sectors under pressure.
China has one of the highest domestic savings rates in the world and this is something that china policy makers have been touting as a major weapon in its arsenal. However, this is only the case if the central government can get their hands on this capital. A cynical view of the government's promotion of the recent stock market bubble was that it was an attempt to draw private saving out into the financial system. This view could also be applied to the current promotion of Wealth Management Products towards private investors. These offer a higher rate than a deposit account but come with direct credit risk and are being used as a funding tool for banks to offload risk (similar activity was used by US mortgage lenders before 2008 crisis). There are marketed to private investors by some 8000+ credit guaranty companies. The dramatic growth in these companies has contributed to a boom in the sector. UBS estimated that the shadow banking system has grown by 600% since 2012 and was worth RMB 11.5bn at H1 2015. In perspective special purpose vehicles using short term liabilities to fund long term assets are estimated to be 4x times the size of those used in the US financial system before 2008, while the overall banking system is at least twice as big in China today.
The chart below from BofAML shows the major channels of funding for the corporate bond market - showing WPM's as key capital providers.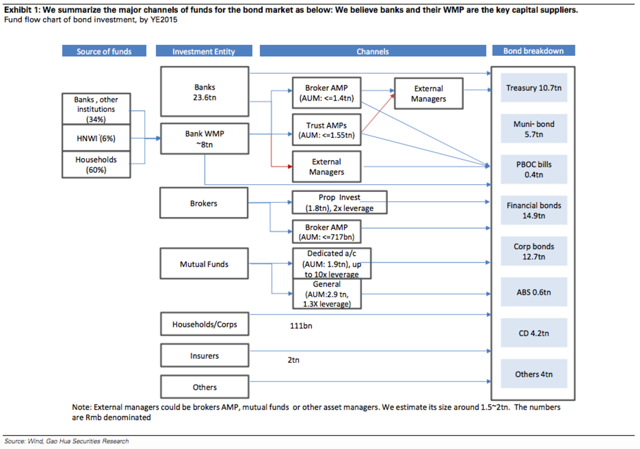 The problem arises here because there is an absence of moral hazard. Simply put defaults improve credit allocation.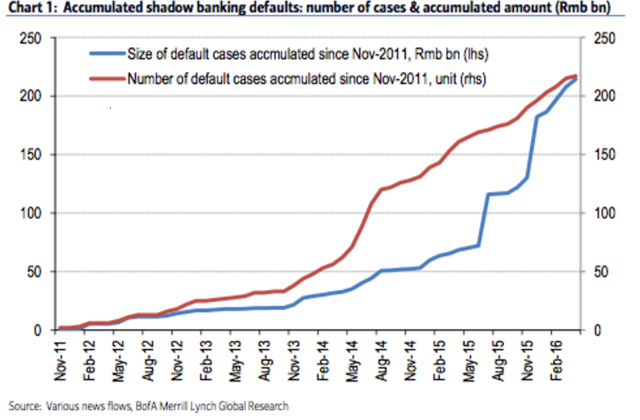 For investors with a long term horizon China poses a fundamental question - does it represent the third and last great credit crisis (US real estate, Eurozone peripheral) or do Chinese politicians have the will to reduce the role of SOE's, shadow banking and corrupt Beijing apparatchiks. The arguments in favor point to the need for patience as the economy transitions but the language and thinking behind these arguments is very tetchy at best. The old economy industries are labor and capital intensive, new technology and consumer focused industries typified by JD.com and Alibaba are not. One way or another China has accumulated a massive debt mountain that can't be wished away. Bank for International Settlements figures showing annual debt-servicing for corporate and household debt at 20% of GDP - shows a system increasingly struggling to bear the weight of excessive lending. Recent data from the China Beige Book show that the slowdown is taking place across the economy and credit injections are having less effect. After the Asian Financial Crisis in 1998 China was poised to enter a sharp growth spurt and was able to grow its way out of financial difficulty. This is clearly not possible now. When commentators start saying that this time it is different because...that's when investors should start getting worried. No banking system in history has grown 11x fold in 10 years and not experienced a loss cycle.
Disclosure: I/we have no positions in any stocks mentioned, and no plans to initiate any positions within the next 72 hours.
I wrote this article myself, and it expresses my own opinions. I am not receiving compensation for it (other than from Seeking Alpha). I have no business relationship with any company whose stock is mentioned in this article.