JPMorgan (NYSE:JPM) has slightly underperformed its peers year-to-date as evidenced by its drop of 11.5% versus the financial sector ETF (NYSEARCA:XLF) recording a decline of 9%. That said, admittedly, most banking stocks have performed poorly during this time frame owing to increasing worries about the US economy, the expectations for higher credit losses in energy loan portfolios and the hazy rate-hike outlook. Additionally, Britain's vote to leave the European Union sent global markets, but more specifically banking stocks on a wild descent. JPMorgan is currently traded at roughly $58 per share, or 0.94 times book value or 10.1 times expected earnings that are slightly above its peers from a multiple comparison point of view.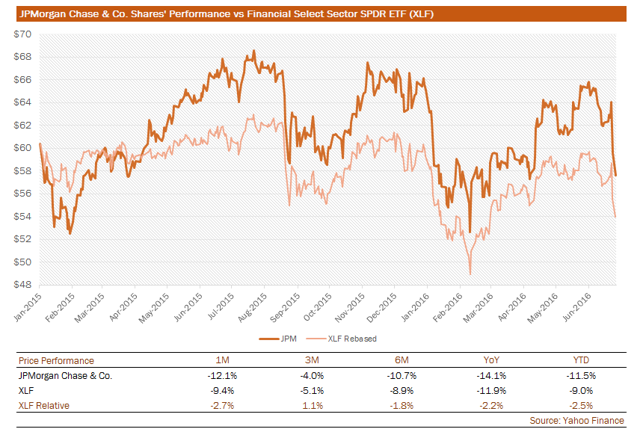 On the health of economy, we have received signals sending mixed messages this year so far. But with broad strokes, the US has proved to be the strongest economy in the developed world again. While the management of some of the industrial companies has guided for a dismal outlook, bankers interestingly have drawn rosy pictures citing the strong loan demand across the board. According to the data released by the Federal Reserve, lending growth was up 7% year over year in large U.S. banks in the week ending on June 15. Year-to-date growth was also higher in 2016; 3.5% versus 2.7% in 2015. The distinguishing feature of this year's remarkable performance in lending has been the boost in consumer loans which has been up 3.2% year to date. Despite putting pressure on the banks' profitability through contracting margins, low interest rates have seemed to be propping the loan growth. Meanwhile deposits also grew by a remarkable 4.8%. Overall, despite the uncertainties surrounding the interest rate outlook, macroeconomic trends still favor business volume in the US banks.
Things have been pretty nice for JPMorgan actually. The bank posted 11% year-over-year growth in average loan books. This, coupled with a 23 basis points of margin expansion, supported the bank strongly on the net interest income front. Given the continuation of the benign business cycle in the US banking spectrum, I expect that JPMorgan might very well see a pick-up in loan portfolio up to 7% in average over the next two years. Still, the interest rate outlook remains vague, making it very hard to be optimistic about further margin acceleration. However, I believe loan growth will more than offset the impact of low interest rates as the bank is set for expansion in prime mortgage, auto, commercial and commercial real estate lending.
Frankly speaking, JPMorgan disappointed deeply in the non-interest income front as it along with many investment banks had a lame Q1. However, using Jefferies' financial results as a proxy, which come one month ahead of those for mega banks, trading revenues are very likely to experience a sharp reversal as the securities firm has already reported the largest quarterly revenues increase over the past two years. Though it is still hard to accurately foresee how JPMorgan has performed in the quarter, but it is a given that JPM should have become more productive in Q2 considering the key business trends in the market as well as the bank's already shrunk revenues despite its strong positioning.
One of the key concerns for investors is JPMorgan's exposure to the oil & gas companies which have been severely struggling to maintain a healthy cash flow due to depressed commodity prices. The bank had an exposure of $43.1 billion to oil and gas at the end of last year, of which roughly $14 billion was non-investment grade. Note that only a small portion of the total portfolio was given to exploration businesses which have taken the real damage. Allowances built for wholesale banking portfolio are now four times bigger than retained nonaccrual loans, which means that the bank has enough resources to absorb the losses stemming from business lending in case of a further deterioration in oil prices. Nevertheless, non-performing loans should be higher in the upcoming period, primarily driven by energy and mining business on the wholesale side. On the other hand, I need to highlight that the real risks that lie ahead for the lenders across the country are that the commercial property boom might be flashing warning lights. The commercial real estate loans have reached record levels recently. Also, in JPMorgan, the most notable increase in client activity has been in commercial real estate for the previous quarters driving the bank's CRE portfolio higher. Traditionally, delinquency ratios have been extremely low in CRE loans, and one wouldn't expect it to cause huge troubles while the economy is going well. However, things might get worse so quickly there once the economy turns sour.
Albeit, JPMorgan has just passed the DFAST stress test, and the results of CCAR are on the way. Having reported a CET1 capital ratio of 11.7% in 2015, the bank has a strong capital position, and I believe the outcome of the tests will be beneficial to shareholders. This would cancel the impact of the Brexit, which has sent the stock tumbling into the abyss. Meanwhile, accepting that post-Brexit massacre in the financial markets was a type of panic selling, I predict that Brexit will have wide-reaching implications for everyone whether they hold stocks or not since it will just bring nothing but a crisis of confidence and leads a developed economy into another recession. For JPMorgan, it would mean reorganizing its business based in the UK in the first place, but the bank will surely take a knock at the macro level.
Going forward, despite being overshadowed by the deterioration in global risk sentiment, there are still favorable tailwinds for JPMorgan. CCAR results benefiting shareholders and better-than-expected Q2 results, which are very likely in my view, create a tactical opportunity as the current stock price is a matter of market disparity. The bank has strong fundamentals and is able to keep its profitability at around 13% ROATCE. Based on these expectations, I reiterate my target price at $74 with a 12-month horizon offering 28% upside potential and recommend investors to consider the stock as a buy at the current prices.
Disclosure: I/we have no positions in any stocks mentioned, and no plans to initiate any positions within the next 72 hours.
I wrote this article myself, and it expresses my own opinions. I am not receiving compensation for it (other than from Seeking Alpha). I have no business relationship with any company whose stock is mentioned in this article.