Introduction
The Big Five Canadian banks have performed well as long-term investments, but periodically experience temporary declines, as they are now, in the aftermath of Brexit, but they should recover. They always have.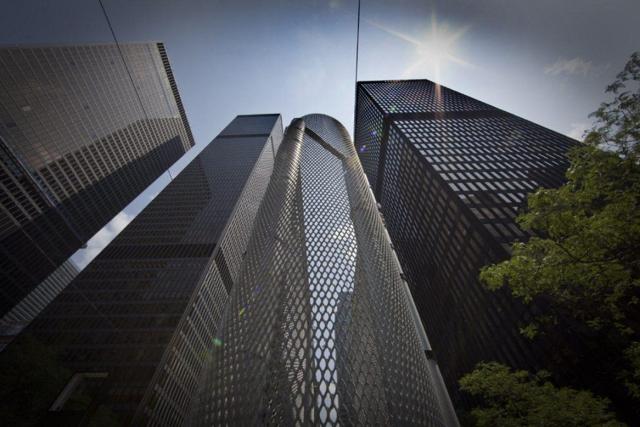 Source: The Toronto Star
It is difficult to find safe investments with 4%+ dividend yields and solid growth prospects. The benefits of investing in high-quality stocks with above-average yields, good growth prospects and trading at attractive prices are well-known to long-term investors. This article discusses such a group - the Big Five Canadian bank stocks.
In Canadian banking, these five banks stand above the rest in terms of assets, deposits and capitalization. On March 31, I published an article on Seeking Alpha entitled, A Good Time To Buy The Big Five Canadian Bank Stocks.
In that article, I stated that "Big Five" had become an outdated moniker, which no longer adequately describes these institutions' position in the Canadian domestic banking sector and, more broadly, the global banking sector. By this I meant that the assets held by the Big Five Canadian banks have ballooned in size over the past decade, crossing the threshold into gargantuan territory.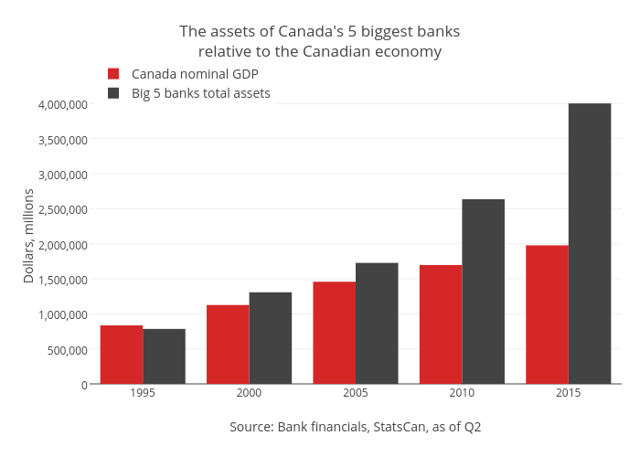 Royal Bank of Canada (NYSE:RY) and Toronto Dominion Bank (NYSE:TD) became Canada's first trillion-dollar banks, measured by total assets, and the Bank of Nova Scotia (NYSE:BNS) is not far behind. Only four banks in the U.S., an economy 10 times the size of Canada, have crossed into trillion-dollar territory, reinforcing how massive these five institutions are in relation to the substantially smaller Canadian economy.
At the time of writing that article in March, the Big Five bank stocks were recovering, after having fallen out of favor over the course of the prior 12 months. During that 12-month period, the price of oil had receded further from its most recent high watermark in July 2014. The Canadian oil patch and broader Canadian economy were struggling, pressuring the Canadian dollar as well.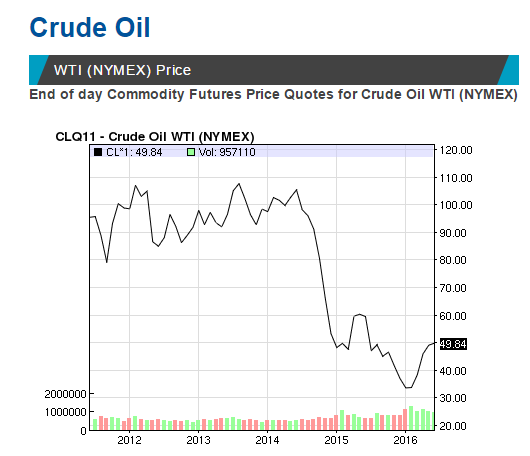 Source: nasdaq.com
Canadian government finances and the country's exports were (and arguably still are) deteriorating. And Canadian households were (and inarguably still are) carrying the largest debt-to-income load in the entire G7, with household debt at almost 170% of disposable income.
Many Canadian households overindulged on near-record low interest rates in response to successive Bank of Canada cuts to its trendsetting lending rate and are funneling too much of their household budgets to debt repayment. And low interest rates, in turn, are squeezing the banks' margins.
Higher interest rates would ramp up the banks' loan stress levels, but the risk of higher rates appears to be slim to non-existent in the near term. In fact, it's conceivable we could see lower rates in Canada and remotely possible that rates could go negative, as they have in other countries.
I followed up the March 31 article on the Big Five Canadian banks collectively with successive articles on my three preferred Big Five banks, Toronto Dominion Bank on May 31, Bank of Nova Scotia on June 6, and, most recently, Royal Bank of Canada on June 21.
I enjoy researching and writing articles for Seeking Alpha. Investing is a hobby of mine, as is writing, and it is rewarding to be able to combine two hobbies, I enjoy to research and write on quality companies. Moreover, the Seeking Alpha editor who puts up with me is a joy to work with, and I continue to learn a great deal from her. I also continue to learn from the comments of Seeking Alpha readers of my articles. Collectively, your comments give me a prized opportunity to tap into the "wisdom of the crowds."
After publishing my recent article on Royal Bank, entitled Royal Bank Of Canada: A Jewel Of An Investment, a reader commented, "Not so sure it a jewel of a stock [sic] at these prices compared to what the price was a few months ago as it has appreciated 17% in an economy that is going nowhere."
The comment struck home for me how investing decisions must revolve around our investment and financial goals, which are as unique as we are.
For example, a retired individual like myself values safety in the form of preservation of capital, together with steady capital appreciation and growing dividend income to maintain my purchasing power. I look for attractively valued, large- to mega-cap dividend-growth stocks of companies with sound business models, strong management teams and wide economic moats - companies that are actually generating a lot of cash - What I call "Forever Stocks." I liken dividend-growth investing to something of a value tilt in disguise.
While it may be more exciting to search for "glamour stocks" - companies with big ideas, big growth expectations and high earnings multiples, I focus on steady and growing cash flows and high dividend growth. For example, I never owned Valeant (NYSE:VRX), which was a stock market darling not too long ago. I never really believed in the company's business strategy and, because I stayed away from the stock, I looked really dumb for some time. Growth-by-acquisition companies virtually never meet my elemental dividend-growth criteria.
Because of this, I miss the occasional homerun, but I also strike out less often. At this stage of the game, I don't need to pursue glamour stocks in an attempt to hit the ball out of the park; singles and doubles will suffice. But I do need to avoid striking out; that is, I need to avoid financial disasters. I define financial disaster - and risk - as permanent loss of capital.
I believe investors spend too much time thinking tactically instead of strategically. They want to know how to handle tomorrow, next week, next month, or next year in the markets, without planning for the next decade and longer. The challenge for most investors is adhering to an investment approach that enables them to capitalize on the long-term opportunity afforded by the markets, while not allowing short-term market gyrations to interfere with their long-term strategy. As Daniel Kahneman famously said in his Nobel acceptance speech, "The long-term is not where life is lived."
I have stuck to a long, long investment horizon. I believe that thinking and acting with a long-term perspective is paramount to an investor's success. When I make a decision to invest in a proportionate share of a business that displays the cardinal qualities I am looking for, then my ideal investment period is forever. Because I have a long investment horizon, I have the capacity to accept a higher level of volatility associated with a more significant weighting in equities.
I spent most of my career as vice president of investor relations for a number of public companies. As an investor relations professional, I conversed daily with institutional portfolio managers throughout North America and Europe. From this experience, I came to understand that individual investors with long investment horizons have an edge over professional money managers.
The "pros" are evaluated at least quarterly and are under pressure to make many more buy and sell decisions, at times for no other purpose than "window-dressing." This significantly increases costs and judgment errors. Individual investors are not under such pressure to swing at so many pitches.
A long investment horizon also helps me deal with the inevitable market gyrations; viz. last week's Brexit outcome (which I will cover more fully in the "Potential Risks" section of this article). By keeping a focus on the market's proven record to deliver positive returns over the long run, I am able tune out the noise of the day.
Because this long-term focus is my approach to investing, it is also my approach to the articles I write for Seeking Alpha. I have found through example that, if a reader's views differ from mine, it is nearly always because we have a different investment approach, most often around our respective investment time horizons.
As a result, for me, Royal Bank is a jewel of an investment, even if it may or may not be "perfectly priced" at the time the article was published. The same is true for Toronto-Dominion Bank and Bank of Nova Scotia. And there is nothing intrinsically wrong with Bank of Montreal (NYSE:BMO) or Canadian Imperial Bank of Canada (NYSE:CM). They are both solid banks - world-class banks by any measure. But because I prefer to own specific company stocks, rather than ETFs, three out of five is sufficient exposure for me to the Big Five banks. I have selected the three with the greatest diversity in their business models. (In full disclosure, I still own a small residual position in Bank of Montreal, which I have been trimming opportunistically.)
Investment Thesis
Since it has been three months since I wrote my initial article on the Big Five Canadian banks, I thought it would be useful to provide an update, as all five have reported their fiscal second quarter 2016 results during this three-month hiatus.
Canada's banking system is an oligopoly, with predominantly five large and protected banks serving the entire country. The Bank Act of Canada, which is administered by the Office of the Superintendent of Financial Institutions (OSFI), contains a prohibition preventing any "foreign bank" from engaging in or carrying on business in Canada. In stark contrast, the United States has a substantially greater competitive banking landscape, with over 6,000 banks and over 7,000 credit unions serving 330 million citizens.
With all the banking names in the United States, why consider Canadian banks as potential investments? Two primary considerations are stability and credit worthiness. Moody's Investors Services ranks Canada's banking system - headed up by the Big Five - number one in the world for financial strength and safety. The World Economic Forum has named Canada's banking system best in the world for eight consecutive years. Finland's banking system ranked second of 140 countries surveyed and Australia's third. The U.S. banking system was in 39th place, compared with 49th a year earlier.
The Big Five banks dominate the Canadian banking sector, accounting for almost 90% of the country's banking deposits. This dominance, and the regulatory protection they enjoy in their domestic market, are huge competitive advantages - wide economic moats - making it highly unlikely that new entrants will challenge their dominance.
The banking culture in Canada has traditionally been more protected, less competitive and therefore less aggressive and more conservative. This conservatism was most evident during the 2008-09 global financial crisis. While toxic credit products wreaked havoc on global financial markets, the Canadian banking system emerged virtually unscathed. During the crisis, no Canadian bank failed or required a bailout. As a result, the Big Five banks were recognized globally for their fiscal responsibility. The respect they receive from their global peers is underpinned by their consistent operational and financial performance and consistently strong returns on equity (ROE). They are more profitable than their 12 largest U.S. counterparts based on ROE.
The Big Five banks, on average, also pay a higher dividend than their U.S. counterparts and have been steadily paying dividends for a considerable period. For example, the Bank of Montreal has an uninterrupted record of dividend payments extending back 187 years to 1829. The Bank of Nova Scotia is not far behind, with continual dividend payments since 1832, followed by TD Bank, which has paid dividends continually since 1857, and the Royal Bank, which has paid an uninterrupted dividend to investors for 144 years, extending back to 1870. Canadian banks deliver almost half their earnings to investors in payouts, resulting in an average dividend yield of 4.3%, about double that of U.S. lenders.
There is no sure thing in investing, but in my experience, companies such as the Big Five banks - with their strong franchises, resulting in strong, defensible market positions, and delivering consistent, safe and growing dividends - best reward investors over the long haul.
As a group, the Big Five banks delivered solid Q2 FY16 results. Revenue growth was slightly better than analysts' expectations, at 6% year-over-year on average (mostly on capital markets revenues), versus analysts' consensus forecast of 5%. For full-year 2016 and 2017, analysts are forecasting revenue growth of 6% on average for the group in both years, consistent with the Q2 FY16 growth rate.
There was little evidence that the indirect impact of low oil prices negatively impacted credit quality in Q2 FY16. Loan delinquency rates fell sequentially across products, credit card loss rates in Canada rose by 28 basis points versus last quarter, but are still down year-over-year. Some banks indicated the economic weakness in Western Canada started to negatively impact credit quality in the retail loan books but much of this was balanced by improving credit in other regions of the country. The indirect impact of low oil prices will likely continue to produce higher retail losses, but it does not appear at this time that the magnitude will be substantial.
On average, the Big Five banks' Q2 FY16 Basel III CET1 ratios were level with the prior quarter. Analysts forecast that minimum capital levels will continue to move higher for the Canadian banks. In the meantime, the current average 10% CET1 ratio for the Big Five banks is sound.
Expense management is a key focus for the Big Five banks, as all five are undergoing restructuring initiatives. There is little doubt that cost management will continue to be an important theme for these lenders. The cost-to-revenue ratio has been improving for the Big Five banks over the past several quarters due to ongoing restructuring initiatives, while operating leverage metrics have also been improving for the group. Efficiency ratios are expected to improve by 90 basis points per year in each of 2016 and 2017 and operating leverage is expected to improve by 120 basis points annually over the next two years.
With the increase in oil prices, albeit with occasional shocks, as we saw on Friday and Monday, following the Brexit outcome, and the Big Five banks' unswerving focus on cost management and restructuring (please see "Potential Risks" section for further details), I believe there is potential upside to analysts' EPS forecasts for the group. Assuming provisions for credit losses (PCLs) remain flat in 2017, EPS estimates would increase by an average 4%. A 50-basis-point improvement in cost-to-revenue ratios would add another percentage point to the five banks' average 2017 EPS, keeping in mind that efficiency can improve either by better than forecast revenue or expenses, or both.
On forward P/E basis, the Big Five banks are currently (June 27) trading at 10.5, versus their 11.5x historical average. While it is currently an uncertain environment for bank earnings power - made more uncertain by Brexit - for investors with a long investment horizon, on a forward earnings their valuations are attractive. With a price-to-book-value (P/BV) of 1.6, the Big Five banks appear attractively valued relative to historical averages and their global banking peers. Their U.S. counterparts trade at about 1.5x BV. This difference is significantly lower than the average for the past five years, when Canadian banks traded at double the valuation of U.S. lenders, based on this metric. One reason Canadian banks have historically been more expensive on a P/BV basis are the less onerous regulatory restrictions they face in their domestic market than in the U.S., which I noted previously in the article.
The Big Five bank group is currently trading at 70% of the S&P/TSX P/E, which is almost a full standard deviation below the long-term average. On this basis, relative valuation supports the banks over other significant sectors in Canada. Upside to the banks' valuation could come from further strengthening of the energy sector, better than expected Canadian and global economic growth and a more normalized interest rate environment than the current situation, which would lead to improved ROEs across the entire bank group.
It is a testament to the quality of the Big Five banks that, despite multiple challenges, they continue to enjoy a high degree of success. However, despite their long track record of success, the Big Five banks are among the most heavily shorted names on both the Toronto Stock Exchange (TSX) and New York Stock Exchange (NYSE).
On the TSX, three out of the Big Five banks are in the top 20. Toronto-Dominion Bank is at the top of the list as the most shorted stock on the exchange. The Bank of Nova Scotia is 5th on the list, Royal Bank is 12th. Strangely, given its higher exposure to the Canadian domestic economy, Canadian Imperial Bank of Commerce is the only Big Five bank not in the top 20.
The Big Five banks are likewise heavily shorted on the New York Stock Exchange. In the case of the NYSE, I used a more meaningful measure than looking simply at the list of companies with the largest number of shares shorted. On the Big Board, this list is dominated by U.S. domiciled companies with hundreds of millions of shares outstanding. For the Canadian banks, a better gauge for their NYSE listings is the "short interest ratio," also known as "days to cover," a sentiment indicator that divides the number of shares sold short by the average daily volume for the stock, thus yielding the number of trading days required to close out the short position.
By this measure, three of Canada's Big Five banks make it into the top 50, and a fourth narrowly misses making the list. CIBC is second on the list, Royal Bank is 20th, and Bank of Montreal is 32nd. Bank of Nova Scotia, the most international of all Canadian Banks, just misses the top 50 list, while Toronto Dominion Bank, the Big Five bank with the greatest exposure to the U.S. consumer and economy, is well down the list, at 6 days to cover. There are almost 2,700 companies listed on the NYSE, and only 77 of them have the TSX as their primary index, so it is significant that four out of the Big Five Canadian banks are in the top 50-plus stocks on the NYSE with the highest short interest ratios.
It is becoming more difficult to understand why global hedge funds maintain such large short positions on the Big Five Canadian banks. They are fairly valued based on forward earnings and price-to-book-value and extremely attractive based on relative yields.
The graph below is bullish for Canadian bank stocks, particularly in a period where so many investors are desperate for income. The graph plots the relative dividend yield of the S&P/TSX bank index; that is, the dividend yield for the bank index minus the yield on the Government of Canada 10-year bond yield, compared with the forward 24-month return on the bank index.
The lines on the chart track closely. This indicates that as bank dividends climb higher relative to bond yields, the performance of bank stocks also rises in the two years following. The pattern indicates that forward returns on Canadian banks stocks should improve significantly - the orange line should rise to follow the grey line that has been established.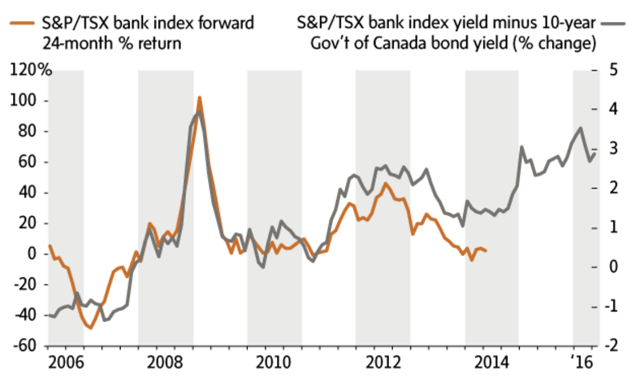 Source: Bloomberg
Potential Risks
No investment is without risk. To build wealth over time, investors must accept a certain amount of risk. Leaving money in "risk-free" investments such as high-yield savings accounts is not investing at all.
Britain's shocking decision last Thursday to leave the European Union is the latest news to join the "Potential Risks" section for the Big Five banks. Brexit-induced chaos is the last thing global capital markets need right now and the world's largest financial institutions were shaken by the decision. London is a global financial center. The heightened uncertainty about the future could ripple through markets for some time.
The broader fear from Britain's decision to exit the European Union is the possible contagion that could trigger a similar push in other EU countries and how this could impact their markets and economies. The performance of European stock markets since the Brexit outcome has reflected these fears.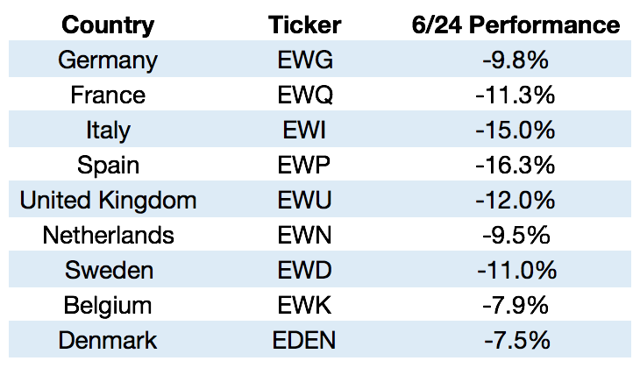 The uncertainty drove some precipitous declines on Friday among blue-chip banks. Among U.K. lenders, Barclays Bank's (NYSE:BCS) shares dropped 18% and Lloyds Banking Group (NYSE:LYG) fell 21%. Among multinational banks, Deutsche Bank (NYSE:DB) fell 16%, BNP Paribas (OTCQX:BNPQF) fell 17% and JPMorgan Chase (NYSE:JPM) dropped almost 7%.
Moody's Investors Service late Friday cut its outlook on U.K. sovereign debt from stable to negative, indicating a higher likelihood of the agency downgrading the country's Aa1 rating. While the rating remains Aa1 for the present, the negative outlook reflects the view that Brexit will adversely impact growth, debt and the U.K.'s financial institutions.
Britain suffered further blows to its economic standing on Monday as two additional ratings agencies downgraded its credit score, indicating last week's vote to leave the European Union would hurt its economy.
Standard & Poor's stripped Britain of its last remaining top-notch credit rating, dropping it by two grades from AAA to AA and warning more downgrades could follow. Fitch Ratings also downgraded its rating for Britain's creditworthiness by one notch, and also said additional cuts could follow.
The rating agencies reinforced the market's view of the Brexit vote, as sterling sank to a 31-year low against the U.S. dollar on Monday and stock markets fell for a second trading day since the referendum last Thursday.
On Monday, Brexit also ripped through European currencies as Norway's petrol currency, the krone and euro tumbled. Sterling traded more than 2% lower on the day against the U.S. dollar at around $1.342, but above Friday's 30-year low of $1.3228.
The S&P/TSX composite is reasonably well-positioned to weather the Brexit storm, with gold prices rising and oil prices stable, despite a strengthening U.S. dollar.
Canada's Big Five banks - all with either European operations or exposure to the global economy - were swept up in the global market volatility, triggered by concerns that their investment banking, wealth management and insurance operations would suffer from what looks to be a protracted period of economic uncertainty, as the impact of the Brexit outcome reverberates through the world.
The Big Five banks generate a relatively small amount of their profits from U.K. or European operations, so it makes little sense that their stocks should drop because of financial upheaval in those markets. But equity markets, possibly because of 2008-related stress issues, view all developed-world banks as interconnected.
Royal Bank, with some 6,000 employees in Europe and with offices in the U.K., Channel Islands, Belgium, France, Italy, Ireland, Luxembourg, Switzerland and Spain is the most exposed to Europe of the Big Five banks. RBC's European Capital Markets segment delivered 15% of the bank's overall capital markets revenue over the past year. On Friday, Royal Bank's shares declined by 3.11% on the TSX, where it has a higher average daily trading volume than on the NYSE. Trading volume was above average at 4.57 million shares.
Toronto-Dominion Bank, with 800 employees in the U.K. in its brokerage and investment banking segments and with offices in London, Leeds and Manchester, fell 2.51% on the TSX on Friday on above-average volume of 4.58 million shares.
CIBC has the greatest exposure to the Canadian consumer and domestic economy. It is essentially a play on the Canadian domestic market, which represents two-thirds of its business, versus an average of 40% for its peers. Despite this, CIBC's shares had the largest decline of the Big Five banks on Friday, dropping 3.55% on 2.41 million shares traded.
Canadian bank executives were typically reserved about their likely actions. In a statement, Toronto-Dominion Bank said, "We will work to ensure minimal disruption to our businesses, employees and customers." Royal Bank stated it was monitoring the situation closely and remained committed to the region, "We are confident that we will be able to support our clients whatever the outcome of the negotiations."
On a positive note, there is reason to believe that the U.S. economy could continue to deliver a positive surprise. It seems that every time investors thought the market was down for the count, the recovering U.S. economic engine continued to chug along, adding jobs and underpinning global markets.
As any investor, I have a bias to stability over uncertainty, but periods of dislocation, such as Brexit provides, can present compelling opportunities that investors with a short-term focus are often not comfortable in pursuing.
Other potential risks to the Big Five banks include lingering earnings challenges. Higher oil prices help, but the Canadian credit environment could still deteriorate from the double whammy of continued lower than normal oil prices and higher retail losses, with the weakish employment environment in Alberta and Canada more broadly.
A prolonged slump in oil prices would increase the financial stress on oil producers, as well as the drillers and service companies that support them. Consumers in oil-producing provinces would be further impacted as well. Correspondingly, the Big Five banks' losses in related corporate and consumer portfolios would further increase and their capital markets income would likely decline. However, if downgrades were contained, while Canadian bank profits would fall, capital levels would not be hurt in a "moderate stress" scenario.
On the positive side of this ledger, the continued lower cost of oil and gas and its impact on other raw materials, reduces input costs, helping to drive growth in other regions of the country.
The traditional branch-based Big Five banks face the same material threat from outside innovators - financial technology upstarts and established technology giants. These disruptors are attempting to eat away at the established banks' market shares, as a growing community is jumping on board blockchain, a peer-to-peer transfer system that eliminates the need for middlemen by trusting the 'power of the crowd' to verify transactions. This is forcing the traditional institutions to spend heavily to defend themselves.
The Bank of Canada, which is Canada's central bank, is growing evermore watchful of "fintechs," including their becoming "systemically important." It is examining the need for a stronger regulatory oversight of new financial technology firms, which are not currently covered by regulation, because of concerns that even small fintech companies could play a critical role within the financial system and potentially increase volatility. More than 100 fintech startups in Canada have raised more than $1 billion and the social and economic impact from these investments is still largely unknown.
The Big Five banks recognize the threat. To understand the risks - and opportunities - that can arise from new technology, they are partnering with the Bank of Canada and R3, a growing consortium now numbering over 40 global financial institutions, to experiment with distributed ledgers, a decentralized technology that underpins digital currencies. Although the banks have understandably been quiet to date about their strategy, the R3 consortium appears well positioned to play a meaningful role in the development of distributed ledger technology, which also has the potential to benefit the traditional banks, as well as consumers.
All Big Five Canadian banks are concerned about housing prices in specific urban areas, notably Vancouver and the Greater Toronto Area, where pricing is frothy, to say the least. Canadians can't keep borrowing as they have. The average household debt stands at a record high of more than 170% of disposable income. When people curb their appetite for borrowing, the mortgage, credit card and auto-lending arms of the banks will slow.
High levels of consumer indebtedness and elevated housing prices leave Canadian banks more vulnerable than in the past to downside risks from the Canadian economy. Earlier this month, the Bank of Canada warned that the rapid pace of home price increases in Toronto and Vancouver is unlikely to continue, with growing potential for a downturn.
However, ratings agency Moody's said last Monday that Canada's biggest banks could absorb the direct effects of a severe housing crisis without incurring catastrophic losses. The ratings agency said the negative effects of a housing downturn in Canada are reduced when compared with those of the United States. Because many mortgages in Canada are backstopped by the federal government, the subprime lending and securitization practices that helped fuel the 2008-09 financial crisis are less prevalent.
Restructuring charges represent a recurring cost pressure that the traditional "bricks-and-mortar" Big Five banks face to defend their oligopoly position in Canada from technology upstarts and more established but non-traditional companies encroaching on their oligopoly. Last year, the Big Five banks collectively took more than C$1.2 billion in restructuring charges amid efforts to cut costs associated with traditional banking, where the number of branch-based transactions continue to fall sharply.
The Big Five banks have responded to dimmer prospects domestically in two ways, cutting costs and/or expanding outside Canada. RBC, TD Bank and Bank of Montreal, in particular, are making a push into the U.S.
There is also the relative performance risk that there may be better opportunity in the U.S. banking sector over the next 12 to 18 months. U.S. banks may post better results, given the credit concerns and possible slower loan, revenue and income growth that appears likely for Canadian banks.
From a broader perspective, the global economic environment remains uncertain. While global economic growth is edging up, the pace of the recovery remains slow and stuttered. This low-growth and lower-rate environment continues to affect recoveries in most developed economies.
Other risks include the possibility of a recessionary environment in North America, which would lead to higher unemployment and deterioration in credit quality, as well as impacting the entire banking sector's revenue growth and balance sheets, resulting in lower valuations across the bank group. In addition, there are regulatory standards and political risk, including tax rates; the potential for non-accretive acquisitions and/or related execution and integration risks; litigation risk; rising business loan losses; foreign exchange fluctuations; and the competitive landscape.
There are no guarantees in investing and there's no doubt that high household debt levels, red-hot mortgage markets in Vancouver and Toronto, and continued financial pain in commodity industries creates more risks for the Big Five bank stocks than usual.
The statistical evidence, however, combined with the historical financial solidity of the domestic banking sector (abetted by help from the Bank of Canada and federal government when necessary), point to a promising outlook for Canadian bank stocks.
The focus of my articles for Seeking Alpha is on attractively valued, large- to mega-cap dividend-growth stocks with sound business models, strong management teams and wide economic moats - "Forever Stocks." I strive to provide an in-depth analysis of the companies I research. I wrote this article from the perspective of a long-term investor who follows a straightforward, four-part strategy:
Identify a company with strong competitive advantages.
Satisfy myself its competitive advantages are enduring.
Invest in this company when it is trading at a fair price.
Hold the stock forever, unless there is a significant change to the fundamentals associated with the company.
The Big Five Canadian banks fit this mold and I will continue to hold my full positions in RY, TD and BNS.
If you found this article helpful, please "Follow" me on Seeking Alpha to receive notification whenever I publish a new article.
You may also be interested in recent articles I have written for Seeking Alpha that focus on stocks aligned with the investment approach I summarized above.
Disclosure: I am/we are long BMO, BNS, RY, TD.
I wrote this article myself, and it expresses my own opinions. I am not receiving compensation for it (other than from Seeking Alpha). I have no business relationship with any company whose stock is mentioned in this article.