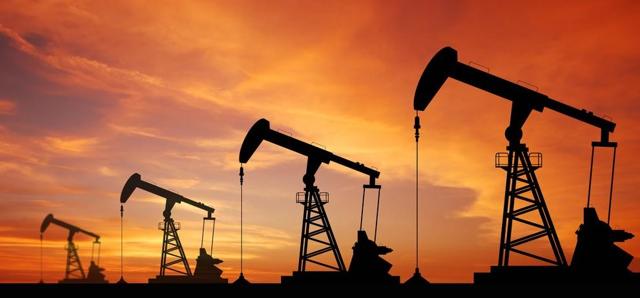 Important note: This article is not an investment recommendation and should not to be relied upon when making investment decisions - investors should conduct their own comprehensive research. Please read the disclaimer at the end of this article.
The following table shows Southwestern Energy's (NYSE:SWN) debt structure at the end of Q1 2016, pro forma for the recently announced asset sale to Antero Resources (NYSE:AR):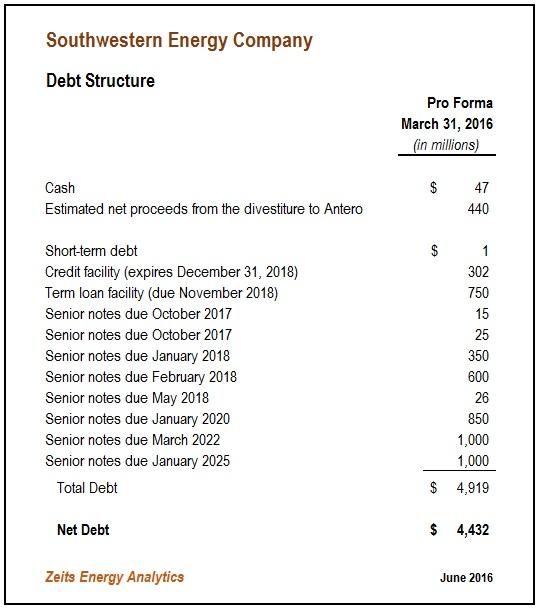 Pro forma for the new credit facility, Southwestern will have ~$900 million of cash on balance sheet. Assuming the company spends within cash flow over the next two years and find additional sources of liquidity to meet its covenants, this amount should be almost sufficient to address Southwestern's note maturities in 2017 and 2018 (~$1 billion in total). However, the company's operational scale, its liquidity is very tight.
The new credit facility and the extension of the existing term loan come at a price: Southwestern is being forced to transition from unsecured credit facility to a secured one and assume a significant number of restrictive covenants. The cost of borrowing will also increase as the company will be carrying a large "idle" cash balance (currently at LIBOR+2.50%).
The New Credit Facility
Southwestern has entered a new $1.934 billion credit facility, consisting of a $1.191 billion secured term loan and a $743 million revolving credit facility, both due December 14, 2020:
The $1,191 million secured term loan will be fully drawn, with approximately $285 million of this balance to be used to pay down the existing revolving credit facility balance in its entirety and the remaining ~$900 million available for liquidity purposes.
Interest rates will be 0.50% above levels in the Company's existing revolving credit facility. Following this transaction, the Company's current credit ratings result in an interest rate of 2.50% above LIBOR.
Southwestern does not expect to borrow under its new $743 million revolver in the near term.
The most important feature of the new facility is its collateralized nature - Southwestern goes from unsecured facility to a secured one. The new secured ~$1.2 billion term loan is secured by Southwestern's E&P assets in the Fayetteville. Southwestern also commented in its press release that this collateral also may support the new revolver, depending on restrictions in the company's senior notes indentures (not having reviewed the indenture, I cannot comment on the nature of the possible restrictions that might exist in the note indentures).
The credit facilities have no borrowing base redeterminations but require a 1.50x collateral coverage ratio (which suggests that the banks viewed the value of the Fayetteville upstream assets - not including the gathering system - as at least $1.8 billion).
Financial covenants and restrictions in the new credit facility include:
Minimum interest coverage of 0.75x in 2016 increasing by 0.25x increments to 1.50x in 2019 and 2020;
Minimum liquidity requirement of $300 million subject to increase up to $500 million upon certain conditions;
Anti-hoarding provision requiring unrestricted cash in excess of $100 million to pay down any amounts borrowed under the revolving credit facility.
The Existing Term Loan Is To Be Reduced and Extended
The existing $750 million term loan is expected to be reduced and extended.
Provided Southwestern repays at least $375 million of the $750 million currently outstanding by June 30, 2017, the term loan - with its remaining balance - will be extended to December 14, 2020.
Southwestern intends to satisfy the $375 million pay-down requirement using proceeds from its recently announced $450 million acreage divestiture to Antero. The one-year deadline to satisfy the pay-down requirement appears designed to as a precaution in the event the closing of the sale is delayed.
All net proceeds from future asset sales and certain debt and equity issuances are required to reduce any amounts borrowed under the existing $750 million term loan.
This existing term loan remains unsecured but interest rates increase to the same level as the new revolver and term loan.
Implications For The Stock
Southwestern's liquidity remains very tight and additional asset divestitures, with significant undeveloped acreage component, may follow.
Assuming natural gas prices in 2017 live up to the ~$3.10/MMBtu expectation indicated by the futures curve, Southwestern's cash flow should improve significantly next year. The company should be able to arrest production declines while spending within cash flow and may see opportunities in the equity markets, on improved terms, to finalize its deleveraging program.
The following cash flow sensitivity slide shows that under the strip pricing scenario Southwestern may be able to generate EBITDA in excess of $1 billion.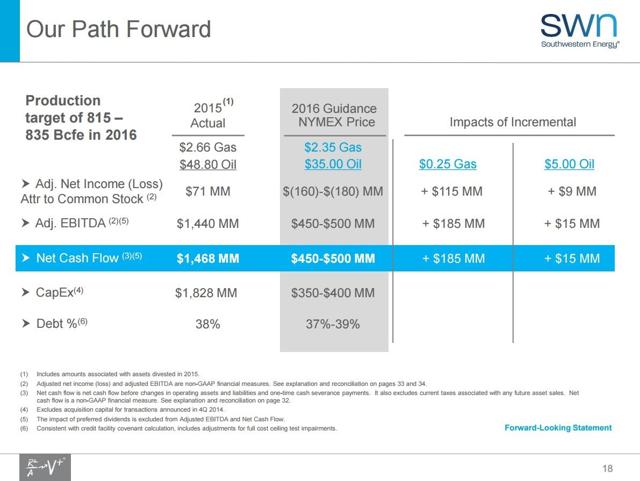 For in-depth data and analysis of commodity fundamentals, please consider subscribing to Zeits OIL ANALYTICS that provides analysis of the crude oil and natural markets.
Disclaimer: Opinions expressed herein by the author are not an investment recommendation and are not meant to be relied upon in investment decisions. The author is not acting in an investment, tax, legal or any other advisory capacity. This is not an investment research report. The author's opinions expressed herein address only select aspects of potential investment in securities of the companies mentioned and cannot be a substitute for comprehensive investment analysis. Any analysis presented herein is illustrative in nature, limited in scope, based on an incomplete set of information, and has limitations to its accuracy. The author recommends that potential and existing investors conduct thorough investment research of their own, including detailed review of the companies' SEC filings, and consult a qualified investment advisor. The information upon which this material is based was obtained from sources believed to be reliable, but has not been independently verified. Therefore, the author cannot guarantee its accuracy. Any opinions or estimates constitute the author's best judgment as of the date of publication, and are subject to change without notice. The author explicitly disclaims any liability that may arise from the use of this material.
Disclosure: I/we have no positions in any stocks mentioned, and no plans to initiate any positions within the next 72 hours.
I wrote this article myself, and it expresses my own opinions. I am not receiving compensation for it (other than from Seeking Alpha). I have no business relationship with any company whose stock is mentioned in this article.