Large banks have been taken to the proverbial woodshed of late as weakness that arrived long before Brexit has been exacerbated. One of those banks is Huntington Bancshares (NASDAQ:HBAN), a large regional that has underperformed some of the stronger banks and with good cause. HBAN has struggled to rebuild its capital base after the crisis and as recent stress test results indicate, HBAN is still one of the weakest large banks in the whole country. This, along with a share price that really isn't that cheap considering its fundamentals, means that HBAN is an 'avoid' at best.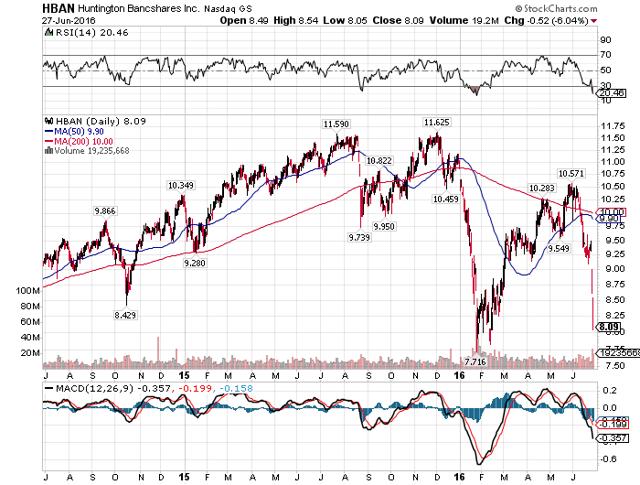 The recent selloff in the financials has put HBAN within striking distance of its panic low set in February as the banking world was grappling with a Fed-induced selloff. HBAN has found itself relegated to the lower tier of regional banks because it continues to see low capital levels but a disconnect with its valuation. That is, HBAN is trading like the other banks but in my view, it doesn't deserve to. That will come to light on June 29 when CCAR results are released because HBAN managed to hit the very lowest level allowed for CET1 ratios during the severely adverse scenario, not a good situation for asking for capital returns to be sure.
HBAN has had a hard time with its capital levels because it had a very large hole to dig out of and it has seen what I'd characterize as average earnings performance. Let's not forget that HBAN is a regional that is tied to coal and energy as well as auto loans, two places where business isn't exactly booming. We've found a divergence among regional banks in the past year or two as certain sectors like energy have begun to seriously underperform; those banks with the most leverage to those weak sectors have seen earnings quality deteriorate, and with auto loans beginning to peek over the edge, HBAN has another downside catalyst for earnings. Given its current capital position and earnings power that is so-so under good conditions, I think there is additional room for downside performance on continued weakness in energy and auto loans.
HBAN's current CET1 ratio of 9.8% puts it in the lowest echelon of the banks that are subject to the Fed's stress tests. That's not great on its own, but when you couple the fact that HBAN had the lowest severely adverse scenario score of the whole lot, the situation is much worse. That implies that not only is HBAN's current capital position weak relative to its peers, but it is also subject to tremendous risk. If some sort of recession were to befall us here in the US, HBAN's capital and earnings would be under serious risk. The Fed knows this, so further increases in capital returns are going to be very difficult to come by. The share price doesn't reflect this risk right now and that could very easily lead to further downside, and in fact, it probably should.
HBAN already pays a very nice dividend at 3.2%, but it is also trading for just under 10 times this year's earnings. That's not cheap by any measure as much better, stronger banks are trading for less. That includes the mega banks and some regionals as well, but the point is that with HBAN's average-at-best performance and weak capital position, does it deserve to trade with its peers? The answer for me is a resounding 'no'.
Let's also not forget that HBAN is still trying to take over First Merit in a huge deal that promises to have a difficult integration. This is a massive purchase for a bank the size of HBAN and while it will build top and bottom line growth, it is going to be costly as well. And since we don't know how long the integration will take or how much it will cost, there is significant uncertainty. This is true with any large acquisition for any company, so it isn't specific to HBAN or First Merit but the point stands; this acquisition creates a lot of undue uncertainty at a time when HBAN could use a little certainty.
With CCAR results due out tomorrow, I think HBAN is a sell here. It has average earnings potential, a very expensive acquisition coming up, and a weak capital position. In addition, the economic sensitivity of its capital position is very off-putting and thus, it is my firm belief you can do better. There is a wide range of regionals that are in better shape than HBAN without the uncertainty of a massive acquisition and in my view, any of the mega banks are better bets than HBAN. Regardless, HBAN is a weak player in a weak sector and should be sold.
Disclosure: I/we have no positions in any stocks mentioned, and no plans to initiate any positions within the next 72 hours.
I wrote this article myself, and it expresses my own opinions. I am not receiving compensation for it (other than from Seeking Alpha). I have no business relationship with any company whose stock is mentioned in this article.