Freeport-McMoRan (NYSE:FCX) shares have lost a lot of momentum over the past two trading sessions in the aftermath of the Brexit vote. In fact, Freeport is down almost 15% in two days, bringing a halt to the impressive rally that the stock has witnessed this year. However, in my opinion, this is a temporary weakness in Freeport's rally on the market as the company will benefit from a number of catalysts that will allow it to improve its performance going forward.
One such catalyst is the strength in the copper market, which I had outlined a couple of weeks ago. Now, another catalyst that will drive up Freeport's performance going forward is the oil market. Let's see why.
What the oil market means for Freeport's performance?
Oil is going to play an important role in enhancing Freeport-McMoRan's EBITDA in the long run. This is because if the current oil pricing environment is sustained, Freeport will generate in excess of $1 billion as EBITDA next year. The following chart shows the different EBITDA amounts that Freeport is capable of generating at different oil price levels next year: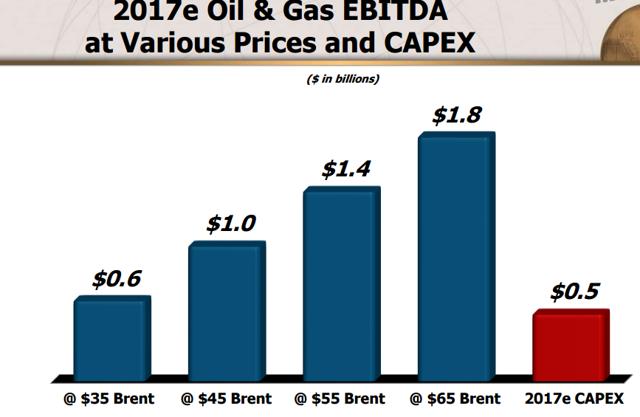 Source: Freeport-McMoRan
Thus, as seen above, Freeport is capable of bringing in $1 billion in EBITDA even at a relatively weaker Brent price of $45 a barrel. This is good news for the company and investors because currently, Brent oil prices are well ahead of this mark at more than $48 a barrel. The reason why Freeport is capable of generating such robust EBITDA amounts is because of its low-cost oil operations.
For instance, next year, Freeport forecasts that its oil operations will have an operating cost of $13 per barrel of oil equivalent. In comparison, Freeport had lease operating expenses of $15.85 per barrel at the end of the previous quarter, which means that the company is on track to further lower its costs in the oil patch.
More specifically, Freeport is using the efficiency of its existing assets to improve production at lower costs. For instance, it will start producing oil from six of its tiebacks in the deepwater Gulf of Mexico area this year, which will be economical in terms of production since a tieback simply connects a newly-discovered oil and gas field to existing production infrastructure. In fact, using the tieback method, an oil producer can link several wells to a single production facility, which leads to lower infrastructure costs and reduces operating expenses.
Thus, it is not surprising to see why Freeport sees a further drop in its cost base going forward, and this is good news for the company since it will allow it to take advantage of a rise in oil prices.
Why oil prices will continue to improve
Brent oil currently trades at $48 per barrel, but it is likely that the price will continue to increase going forward as demand rises and production drops. In fact, certain analysts forecast a tremendous rally in oil prices by the end of next year, with Raymond James forecasting an oil price of $80 a barrel by next year's end.
The thesis behind Raymond James' bullish forecast on oil pricing is very simple - lower supply and higher demand. On the supply side, oil market analysts have slashed their production estimates to the tune of 790,000 barrels per day in a forecast issued this month as against the estimates seen at the end of 2015.
This reduction in the production forecast is a result of various factors. These factors include a structural decline in oil production in certain Latin American countries and China, which will impact oil production to the tune of 400,000 bpd this year. This structural decline will be a result of low investments in the oil and gas space, which has eventually led to a drop in reserves and kept the base decline rate high.
In fact, from January to April this year, oil and gas investments in China have declined a whopping 27.5%, leading to a drop in oil output. On the other hand, late activity ramp up in the U.S. will also have a negative impact on oil production due to lower equipment and labor availability. The following chart shows the extent of decline that's expected in oil production going forward: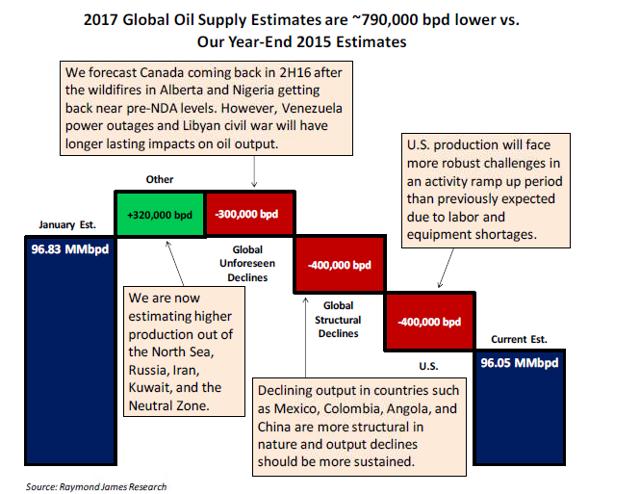 Along with this drop in supply, an improvement in oil demand will play a key role in higher prices going forward. In fact, oil demand is expected to increase by 1.3 million bpd in 2016, and considering the declining supply, a better balance will be seen in the market in the second half of 2016. What's more, OPEC is of the opinion that there will be a supply deficit of 160,000 bpd in the second half of the year in the end-market if current production trends continue.
Conclusion
Hence, as the price of oil rises and Freeport-McMoRan improves its cost structure further, the company will see an increase in its EBITDA from the oil segment. Hence, this is another reason why it will be a good idea to buy Freeport-McMoRan on the drop since its financial performance will pick up pace due to end-market improvements.
Disclosure: I/we have no positions in any stocks mentioned, and no plans to initiate any positions within the next 72 hours.
I wrote this article myself, and it expresses my own opinions. I am not receiving compensation for it (other than from Seeking Alpha). I have no business relationship with any company whose stock is mentioned in this article.