Concert Pharmaceuticals (NASDAQ:CNCE) was brought to my attention by one of the Growth Stock Forum subscribers and a quick glance over the company's pipeline and financials was enough to trigger my interest. Concert is not your usual biotech. The company has developed a deuterated chemical entity (or DCE) platform, which has the potential to provide better pharmacokinetic or metabolic properties, leading to better safety, tolerability and/or efficacy. Concert takes approved drugs or advanced clinical candidates and then tries to improve them with deuterium substitution. There are several promising candidates in the pipeline with the potential to unlock significant shareholder value in the following years. The development risks are lower than average for a biotech stock since the company is taking already approved drugs and making them more efficacious and/or safer. The upside potential is significant, and I think that getting just one product candidate approved could drive Concert's valuation north of $1 billion in the next few years.
DCE platform overview
According to Concert, the "average human body contains approximately two grams of deuterium." Deuterium is actually identical to hydrogen in shape and size, but it contains an additional neutron, which causes a more stable chemical bond with carbon. This deuterium-carbon bond is six to nine times more stable than the hydrogen-carbon bond. Concert states that "because deuterium forms more stable bonds with carbon, deuterium substitution can in some cases alter drug metabolism, including through improved metabolic stability, reduced formation of toxic metabolites, increased formation of desired active metabolites, or a combination of these effects." These deuterated compounds are also expected to "retain biochemical potency and selectivity similar to their hydrogen analogs."
Concert's development strategy is to take an already approved drug or an advanced clinical candidate and to apply its deuterium technology to potentially make the drug safer, more tolerable or to improve its efficacy. The benefits of such a strategy are lower than average risk of development. In addition to developing product candidates to compete directly with non-deuterated products, the company is also looking for new indications for which there is no direct non-deuterated competition. The development process is also faster and less expensive than average and candidates go quickly through proof-of-concept trials, and then the company decides whether to go ahead independently or to find a partner. These products also do not require a large sales force, which also lowers the commercialization costs and risks.
A look at the pipeline
Concert's entire pipeline is based on its DCE platform.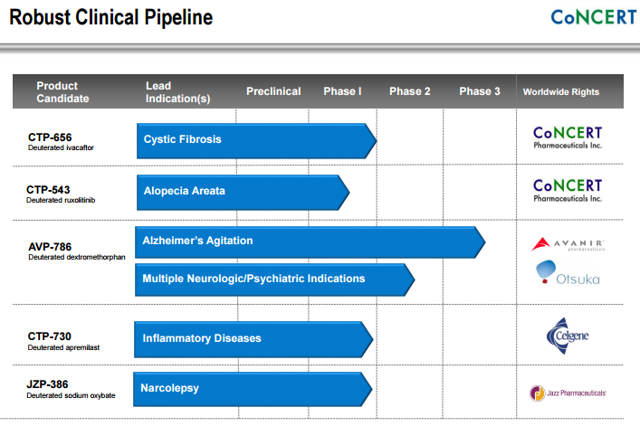 Source: Concert investor presentation
I will go over the two candidates for which the company owns the worldwide rights.
CTP-656, or '656 for convenience, is being developed for the treatment of cystic fibrosis in patients who have gating mutations. '656 was developed by adding the DCE technology to ivacaftor - Vertex's (NASDAQ:VRTX) Kalydeco, which is the current standard of care. The company believes that '656's benefits include improved efficacy related to its dosing (once a day versus twice for Kalydeco), greater exposure to parent drug versus less active metabolites with Kalydeco and fewer drug-drug interactions. In addition to '656 as monotherapy, the company also thinks that it can be used in combination therapies.
In early June, Concert presented the results from a Phase 1 study of '656. The trial included a single-dose tablet crossover comparison with Kalydeco, and the results showed that '656 provided substantially superior key exposure parameters. The first part of the study showed that the key exposure parameters of C24 and AUC were roughly 3x greater with '656 compared to Kalydeco and that the half-life of 150mg '656 was approximately 40% longer than 150mg of Kalydeco. The second part of the study showed that '656 "maintained its superior pharmacokinetic profile with greater exposure to the more potent parent drug than to less active metabolites." The results also showed that '656's safety profile was comparable to that of Kalydeco with no serious adverse events.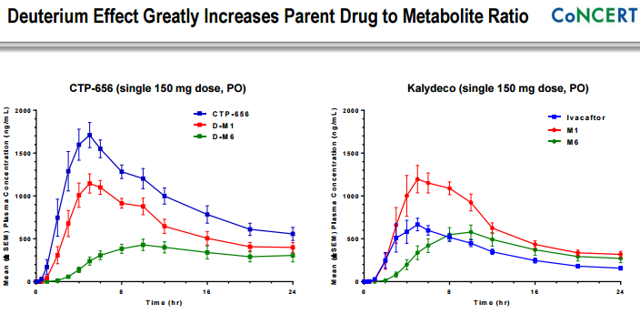 Source: Concert investor presentation
The company also recently completed a Phase 1 food effect study, which showed that '656's exposure was consistent with either low or moderate fat-containing meal and was also consistent when dosed with a high fat meal. This should be another advantage over Kalydeco, which has to be taken twice a day with a high fat meal.
Concert plans to initiate a single Phase 2 trial in Q4 2016 and expects to report topline results in 2H 2017.
'656's potential is significant. Kalydeco's Q1 revenues were $170 million and are growing 30% Y/Y. Vertex expects 2016 revenues for Kalydeco in the $685 million to $705 million range. So, Kalydeco is on its way to reach $1 billion in annual sales before 2020 and perhaps more if Vertex manages to expand the label to include children under two years of age and for patients ages 2 and older who have one of 23 residual mutations (Kalydeco is currently approved for 10 mutations). Concert could do very well if it manages to take just 20% of revenues from Vertex by 2025, which would translate to annual sales of at least $200 million and probably north of $300 million. I think that '656 alone has the potential to justify Concert's current valuation and to even drive substantial upside in the following years. It is also possible for Vertex to take interest in '656, and I would not exclude Concert being acquired by Vertex down the road.
On the other hand, Vertex may try to prevent competition through litigation. Vertex may decide to sue Concert for patent infringement, which could lead to a costly legal battle and would probably delay and/or put in jeopardy '656's commercialization. Nobody is suing Concert as of this writing, but this could become an issue in the future.
CTP-543, or '543 for convenience, is the company's second wholly-owned product candidate which is being developed for the treatment of moderate to severe alopecia areata, which is a common autoimmune disorder affecting millions of people in the U.S. - it causes partial or widespread loss of hair on the scalp and/or body. This candidate was revealed recently and is a deuterium-modified analog of ruxolitinib, which is commercially available as Jakafi for the treatment of myelofibrosis and polycythemia vera.
Jakafi has been used to treat alopecia areata in investigator-sponsored trials and has shown to promote hair growth in patients with this condition. Concert has conducted pre-clinical studies which demonstrated that '543 retains Jakafi's selective JAK 1/2 inhibition profile and that it shows improved metabolic stability. I think these patients will be highly motivated to try a new treatment option, especially the female part of the patient population. '543 could be the first-in-class oral medicine for alopecia areata and I think it has blockbuster potential. I believe it could be priced lower than Jakafi but that the size of the patient population is more than enough for Concert to generate $500 million to $1 billion in annual sales in 2020's.
Incyte (NASDAQ:INCY) is developing a topical version of Jakafi for alopecia areata and this could be Concert's advantage, since the reason Incyte is developing a topical version is that it does not have the rights for an oral version - Eli Lilly (NYSE:LLY) does.
In addition to these two wholly-owned product candidates, Concert also has three partnered candidates.
AVP-786, or '786 for convenience, is the Concert's most advanced candidate. In February 2012, the company signed a worldwide partnership with Avanir Pharmaceuticals (now owned by Otsuka Pharmaceutical), enabling Avanir to develop and commercialize '786, which is a combination of a deuterated dextromethorphan analog and a low dose of quinidine. Avanir is conducting several trials for neurologic and psychiatric disorders:
Phase 3 trial for the treatment of agitation associated with Alzheimer's disease. The trial is expected to be completed in Q3 2018.
Phase 2 trial of '786 as an "adjunctive treatment in patients with major depressive disorder who have had an inadequate response to antidepressant treatment." This trial should be completed in Q2 2016.
Phase 2 clinical trial as an adjunctive treatment for patients with residual schizophrenia. The trial should be completed in Q3 2017.
Concert received an upfront payment of $2 million from Avanir with the potential to earn up to $162 million in additional milestone payments, and the company is entitled to receive royalties on net sales in the mid-single to low double digits. All three indications have large addressable markets, making '786 another potential blockbuster for Concert with royalties potentially exceeding $100 million in 2020s.
The other two partnered candidates are:
CTP-730 - Deuterated apremilast (Otezla) in development for inflammatory diseases. Celgene (NASDAQ:CELG) holds the worldwide rights for certain compounds for the treatment of inflammation and cancer and the collaboration has the potential to expand to multiple programs, but the initial focus is on CTP-730. Phase 1 was completed and Celgene is responsible for development, but the candidate has not advanced into new trials yet. The company did not dedicate much space for CTP-730 in its latest presentation, so I assume that this one is not going anywhere anytime soon (but I could be and wouldn't mind being wrong here). However, if anything comes out of this collaboration, Concert is entitled to receive up to $312.5 million in milestone payments and royalties on net sales ranging from mid-single digits to low double digits.
JZP-386 - Deuterated sodium oxybate (Xyrem) for the treatment of narcolepsy. This candidate is partnered with Jazz Pharmaceuticals (NASDAQ:JAZZ), and Concert is eligible to receive up to $113 million in milestone payments and royalties on net sales ranging from mid-single digits to low double digits. I looked at Jazz's annual report and this is what it said about JZP-386 (emphasis mine): "although results from our phase 1 trial of JZP-386, a deuterium-modified analog of sodium oxybate did not support advancing JZP-386 into a later stage clinical trial, the clinical data demonstrated that JZP-386 provided favorable deuterium-related effects, including higher serum concentrations and correspondingly increased pharmacodynamics effects at clinically relevant time points compared to Xyrem, and a safety profile similar to that observed with Xyrem. We are exploring formulation options designed to leverage the positive effects observed in the studies." Since more than one year has passed without any news on JZP-386 from both companies, and since this candidate was just mentioned as a pipeline candidate at Concert's latest presentation, I assume that this product is "not going places" anytime soon.
Getting just one candidate approved could drive Concert to $1 billion-plus valuation
Concert's pipeline seems promising, and I think that getting just one product approved could push the company's market cap above $1 billion, which translates into a 300% return. While it is hard to forecast peak sales for these candidates, a theoretical exercise for one pipeline asset with $1 billion to $1.5 billion in peak sales is a good proxy for the net present value and the potential future value of Concert.
| | | |
| --- | --- | --- |
| | Low estimate | High estimate |
| One Candidate peak sales | 1000 | 1500 |
| Net Income | 300 | 525 |
| Multiple | 15 | 15 |
| Probability of approval | 15% | 15% |
| Future value | 675 | 1181.25 |
| Shares outstanding | 23 | 23 |
| Future EPS | 13.04 | 22.83 |
| Discount factor | 0.327 | 0.327 |
| Present value | 220.66 | 386.15 |
| Price target | 9.59 | 16.79 |
Source: author's estimates
The base case and bullish case for this particular candidate yield a net present value in the range of $9.6 to $16.8. I think that both '656 and '543 could fit these peak sales assumptions, which translates into a price target in the range of $19 to $33 (combined). But I should note that I got this valuation by estimating the probability of approval at just 15%. Pushing up the probability to 30% doubles the net present value. Analyst price targets are in the $18 to $32 range with the median PT at $26.50.
Risks
One of the concerns I have is the fact that both Celgene and Jazz are not doing anything with their respective candidates, although the early clinical data was promising. The other concern is the above-mentioned threat of patent infringement lawsuits for the two wholly-owned candidates since they are based on approved products. Concert has composition of matter patents for these compounds, but this does not prevent patent challenges. Costly litigation is not something a company like Concert needs and could delay the commercialization of pipeline assets and lead to additional dilution on legal costs.
The other significant risk is the development risk - some or all of these candidates could fail in clinical trials, but as I mentioned earlier, Concert probably only needs to get just one candidate approved to drive substantial upside for long-term shareholders.
The company had $127 million in cash and equivalents at the end of Q1, which should be enough to fund the pipeline into 2018. Additional dilution is not a near-term threat, but we will probably see a secondary offering in 2017.
Other considerations
Concert's short interest is surprisingly low. Only 700,000 shares were held short at the end of May, representing just 3% of outstanding shares. It seems that no one is willing to bet against Concert right now, which probably reflects the upside potential and lower development risks.
Insiders were net buyers in the last three months, though the amount was small - just 21,610 shares bought. No insider sales were reported over the last three months.
Concert is also likely to advance more candidates into the clinic in the following years and partnership announcements are another possibility. Both could be a catalyst for the share price.
The near and medium-term catalysts include:
'786 - Phase 2 topline data from the depression trial could be out in 2H 2016 since the trial is scheduled to be completed in Q2 2016.
'656 - IND for Phase 2 efficacy trial in CF gating mutations in Q4 2016.
'543 - Phase 1 topline data in Q4 2016.
'656 - Phase two monotherapy topline efficacy data in 2H 2017.
'656 - Initiation of another efficacy study in 2017.
'543 - Phase 2 trial initiation in 2017.
Partnering one of the wholly-owned assets internationally.
Conclusion
Concert has a promising platform with lower than usual development risks for a biotech, and the partnerships with Avanir, Celgene and Jazz have validated its DCE platform. I am a bit concerned about Celgene and Jazz doing nothing with their candidates. Celgene and Jazz advancing their candidates could be a strong catalyst for Concert if/when it happens. However, a solid amount of these risks are priced in considering the company's current valuation and the upside potential could justify taking a small speculative position. The real value could come from indications with a significant unmet need, like the recently announced candidate for alopecia areata, since serving an unmet need without significant competition (though Incyte is developing a topical version of Jakafi for this indication) is easier to do than to compete with an already established standard of care.
Disclosure: I/we have no positions in any stocks mentioned, but may initiate a long position in CNCE over the next 72 hours.
I wrote this article myself, and it expresses my own opinions. I am not receiving compensation for it (other than from Seeking Alpha). I have no business relationship with any company whose stock is mentioned in this article.
Additional disclosure: This article reflects the author's personal opinion and should not be regarded as a buy or sell recommendation or investment advice in any way.