Platinum (PPLT) and Palladium (PALL) dropped 26% and 30% in 2015 amid a year of poor returns for commodities. Year-to-date, these metals haven't yet recovered much from these losses: Platinum is up 9% for the year and Palladium is down by 2%.
After first evaluating supply and demand trends, I will write about the reasons why I think Platinum and Palladium are ready for a rally.
One reason for the poor performance that has to be mentioned is the uncertainty about diesel vehicles emerging in the Volkswagen (OTCPK:VLKAY) scandal about emissions. Autocatalysts for diesel vehicles account for 25% of platinum demand and 12% of palladium demand.
Prices were also influenced a lot by investor selling. ETF positions for platinum were reduced by 260 thousand oz and for palladium by 730 thousand oz.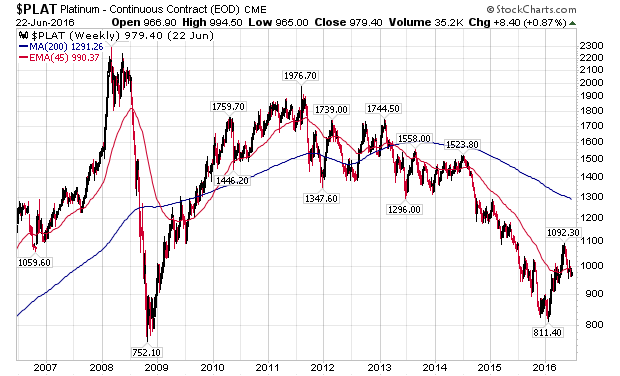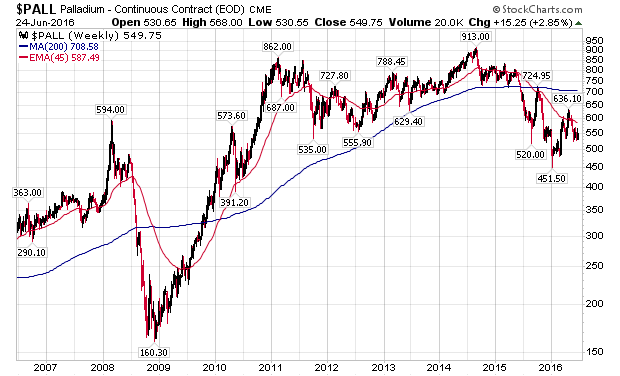 Supply
Total supply increased by 18% in 2015. Mine production in South Africa, the biggest contributor, increased by 40% and reached its highest level since 2011. This surge was supported by currency depreciation in South Africa and thereby lower dollar-denominated input costs. The growth of supply was one reason for the poor performance of platinum.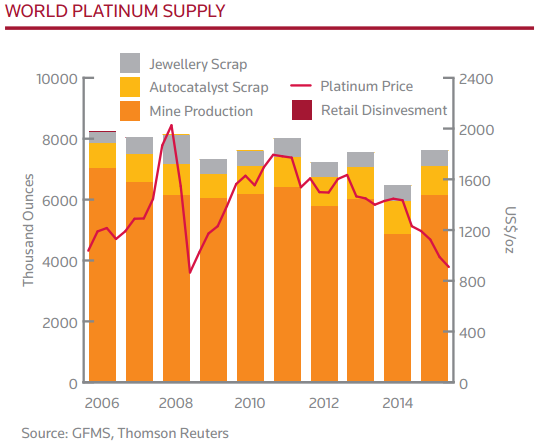 Palladium supply and mine production increased by similar rates to those for platinum.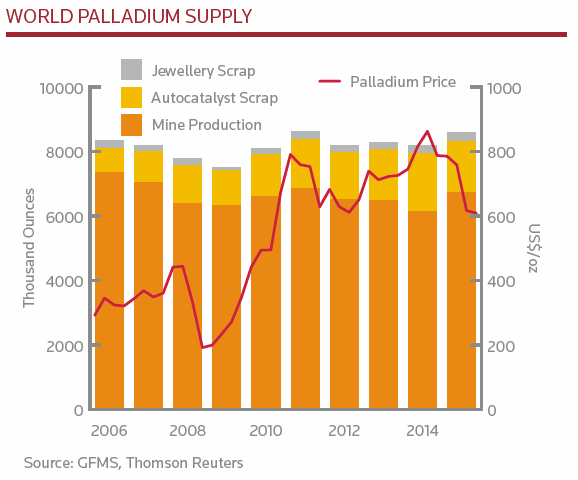 Demand
While palladium had a physical deficit of 868 thousand ounces (roughly 10% of total supply), platinum had a physical surplus of 128 thousand ounces. Platinum demand grew by 6% and hit a record high since 2008. Palladium demand stayed flat. With the automobile industry expected to grow by 2% this year, demand for these metals used in autocatalysts will keep up.
Retail investment in platinum increased by 262% - similar to silver, retail investors took the chance to buy at low prices in 2015.
Why prices will go higher
Mining companies have already reduced capital spending both for platinum and palladium. Unlike in the past years, the effects of new projects are easing. While a depreciation in the South African rand has been supportive for mine companies, I expect this easing to stop in 2016. Prices in rand have been steadily increasing until 2014 and moved sideways since then (see chart below).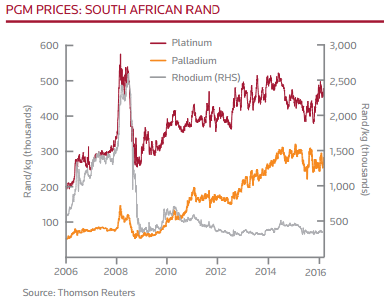 Decreasing supply is expected to widen the physical deficit for palladium and return the small physical surplus for platinum into a deficit this year.
Demand coming from safe haven investments has started to take off in the beginning of this year and will increase, especially for platinum.
Finally, I want to point to the relationship between platinum and gold. Gold is up a lot more this year than platinum. Looking at the chart below, you can see that the gold/platinum ratio is higher than ever before for the last 20 years. Despite gold being massively driven by uncertainty in financial markets, I expect this ratio to normalize to the area of 1.1-1.2.

Disclosure: I/we have no positions in any stocks mentioned, and no plans to initiate any positions within the next 72 hours.
I wrote this article myself, and it expresses my own opinions. I am not receiving compensation for it (other than from Seeking Alpha). I have no business relationship with any company whose stock is mentioned in this article.