My first full month of retirement! This month I got my option income back to where I want it while getting most of my positions onto the same expiration cycle. That will help keep income predictable; although not tremendously important now, as we approach Beth's retirement and the prospect of buying our last house, the ability to show consistent income over time will be a factor in making that purchase as painless as possible.
June 3, 2016: General Motors (NYSE:GM) $30.00 Puts Expire
This looked like a close call on Wednesday when a weak May auto sales report came in. General Motors was down over a dollar during the day, briefly bottoming out at $29.87 early in the day. It closed at $30.22, down $0.93 on 2.5 times average volume. Then Friday a weak jobs report slammed the averages and anything "defensive" skyrocketed: at one point Consolidate Edison (NYSE:ED) shot up more than a buck and a half and Altria (NYSE:MO) rose by a dollar. GM, of course, fell half a dollar.

By noon my June 3 $30 puts were trading within a penny of their intrinsic value so I decided to go ahead and roll out and down to the July 15 $29 strike for what I thought was a somewhat optimistic $0.42 credit. I was filled just 8 minutes later for a net profit of $355.14. A 1.36% profit on a 42-day commitment
This transaction also had the effect of freeing up $900 in cash, since I rolled 9 CSEP contracts down $1.00 from the $30 strike.
At the end of the day the averages were down just a bit. My Altria calls were $1.30 in the money and the Procter and Gamble (NYSE:PG) calls $0.97 (defensive plays, remember?)
June 7, 2016: A Market Pop Puts Verizon (NYSE:VZ) Calls in Play
Opportunity knocked Tuesday morning as markets continued their apparent "melt-up" and Verizon was in the news with a $3B bid for the still twitching remains of Yahoo. So I took a look at the July 15 calls and sure enough the $52.50 strike was selling at $0.40 so I ordered up 6 contracts for net income of $226.40 after commission and fees.
June 10, 2016: Altria $64.00 Calls Rolled Out and Up Prior to Expiration
With my cost basis at $61.77 I waffled on whether to let these in the money calls be exercised (June 10 was the last trading day before MO's ex-dividend date). I finally decided to go ahead and roll out and up to the September $65 strike for net income of $191.72. While it wasn't a big premium win, I was able to raise the strike by a dollar for an additional profit if assigned of $1.32 or almost 2.14% on a 3-month position.
June 17/20, 2016: Expiration!
Consolidated Edison
As was obvious for the entire month, my Con Ed CSEPs expired worthless. But now I had to make a decision. Morningstar has ED's fair value at $59.00 and F.A.S.T. Graphs shows it at about the same point.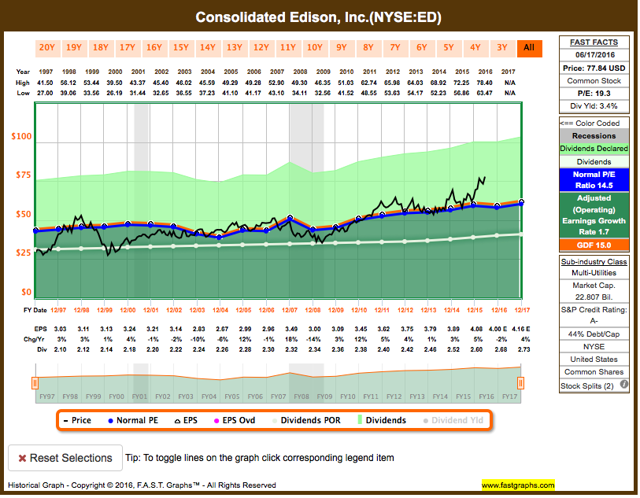 The fact is, most all the utilities have been beneficiaries of this year's "flight to yield" and are roughly 25% - 30% overpriced on a historical basis. Consolidated Edison, in fact is almost 32% over "fair value". So what's a retired investor to do?
Find an out of the money put and enter another CSEP of course. The July 15 $75 contract looked like a possibility if I could get about $0.75 for it.

So I placed my order and about 10 minutes later ED rolled over big time, dropping a buck and a half in the space of half an hour. It stabilized at about $76.50. Even with the price collapse, the delta on that strike only advanced to -0.356 meaning there's only about a 1 in 3 chance I'll be assigned. With the next ex-dividend date coming up just before August expiration it wouldn't kill me to be assigned, hold through the ex-date and then go back to writing covered calls.
General Mills (NYSE:GIS)
Just a simple roll-out; net income $404.84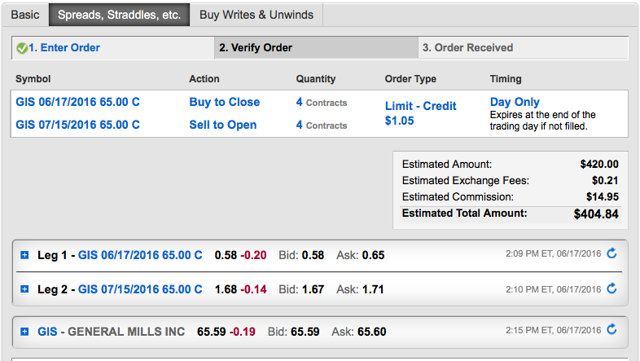 Procter & Gamble
Same deal with PG; net income $318.28. Note that I used the July 22 series since the $81.50 strike for July 15 wouldn't become available until Monday morning.

June 21, 2016: HCP, Inc. (NYSE:HCP)
HCP filed their preliminary Form 10 for the HCR ManorCare spinoff which not too surprisingly contained virtually nothing of substance relating to the SpinCo's financials. So the wait for details continues.
The market pop on Monday moved HCP into the $35 range and I considered closing out my two July $37.50 covered calls and selling a fresh batch of 8 $35 calls. I finally pulled the trigger Tuesday and between buying to close the pair of $37.50 contracts and selling 8 $35 calls I had a net gain of $549.53.
On Wednesday HCP gapped down $1.27 to $33.74, then recovered somewhat to close at $34.05. Morgan Stanley downgraded the stock to "underweight" while Matthew Frankel at Motley Fool named HCP "The 1 Stock I Would Buy Right Now ( http://www.fool.com/investing/2016/06/22/the-1-stock-i-would-buy-right-now.aspx )
June 24/27, 2016: XOM Puts expire worthless
Brexit!
While I certainly hoped that the Brexit vote would knock some of the wind out of our overheated markets I underestimated the magnitude of the "run to safety" factor. Con Ed closed $78.41, up 2.02%, Altria $67.02 for a 1.07% gain. Sheesh. The collapse in oil brought down Exxon Mobil (NYSE:XOM) to $89.39 - not enough to come close to my $85 puts which expired worthless.
By Monday morning XOM dropped another buck and I decided to re-enter my CSEP position, this time at $1.00: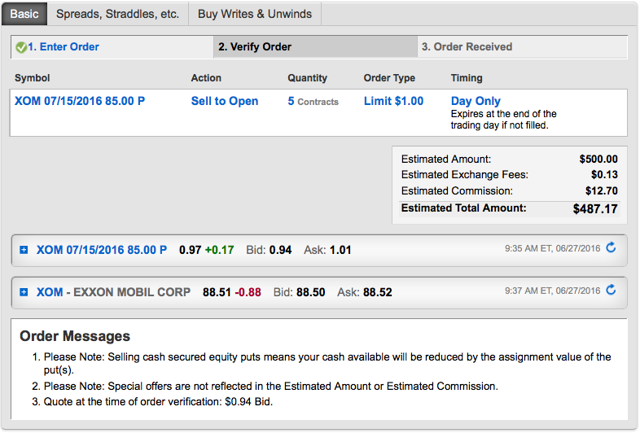 Although not quite at the morning low of $83.11 the 1.14% income on the $42,500 I have tied up is darn good for an 18-day position - approximately 26% annualized. With a delta of only -0.275 at the time I entered the trade I'm unlikely to be assigned.
Wrap Up
At the end of the day on the 27th my positions looked like this:

By and large Brexit was beneficial for me. Some short call positions fell out of the money, GM puts slipped into the money (I want to own it so we'll see in July how that works out) and I was able to re-enter my XOM CSEPs at a good price. I've also got 7 of the 9 positions lined up to the same expiration so I should be able to stabilize my options income more or less at this month's level.
As for income, it was all options premium this month: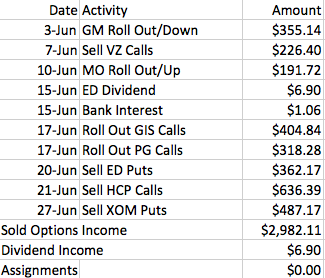 That is right where I want it to be. Our monthly COL is about $3450 right now so assuming a 15% federal tax rate (there's no state tax on retirement plan distributions is PA) I've got about $2550 or 73.9% of those costs covered from options income alone.
The only downside this month was that the MAR/JUN/SEP/DEC dividend-payment cycle is missing all three of its members: ED, XOM, and GM. It looks like I'll be owning GM if it stays down come July expiration. XOM is possible, but I don't expect to see ED back in the fold anytime soon.
And... I had to take a distribution. Due to an unexpected series of visits to the vetrinarian with a sick cat, I decided that rather than deplete my regular cash cushion I'd go ahead and take the needed cash from the IRA.
This turns out to be incredible simple in our Schwab accounts:
Enter the dollar amount
Select "net" or "gross"
Specify the federal and state (if any) tax to be withheld
Select the account to transfer the funds into
The transfer is virtually instantaneous. I can see that this will be extremely convenient once we're both retired. I can transfer the exact amount needed at any time without being concerned with any kind of interbank exchanges, physical checks, and so forth.
What's this Month Mean For The Future?
As long as Beth is working (about another 3 years), income will accumulate. First to bring our cash position up to one year's expenses and the to be re-invested as opportunities arise. Of course most dividends are DRIPping.
In the near term, filling out the General Mills position is at the top of my list but it will take a 10% drop to get into my buy zone. I also want to add a tenth position; probably something in retail. By the time Beth's retirement rolls around we should be seeing about $15,000 in annual dividends, $35,000 in options premium and about $31,000 from my Social Security. At that time, we're also planning to downsize to a townhouse in the city which should knock about $750 a month off our "cost of living" (no cars, no gas, no auto insurance, lower utilities).
That's it for June!
Disclosure: I am/we are long ED, MO, GIS, PG, VZ, HCP.
I wrote this article myself, and it expresses my own opinions. I am not receiving compensation for it (other than from Seeking Alpha). I have no business relationship with any company whose stock is mentioned in this article.