If you are Canadian, there is no other option but to own several Canadian banks in your dividend growth portfolio. Canadian Banks have long been ignored by other markets mainly due to their lack of growth potential. We used to blame them for being overly conservative and not moving fast enough. If this wasn't enough, the Canadian Government even prevents them from merging together in order to be big enough to compete in other countries. But while the world prefers US or European behemoths, Canadian banks were doing just fine in their small playground. In fact, they have rewarded investors with an impressive track record of dividend payments and relatively high yield (in the high 3% to 4%).
Unfortunately, the golden age of Canadian Banks might be over. I've been looking at many factors and they are all pointing in the same direction: a mediocre growth perspective. The purpose of this article is to explain why and to stress the upcoming opportunities that will rise once bank's stock prices fall. Because, while the golden age might be over now, it will definitely be back.
The Incredible Strength of the Canadian Financial Industry
If you look over the post credit crunch results, Canadian banks all outperform the Canadian market by a mile: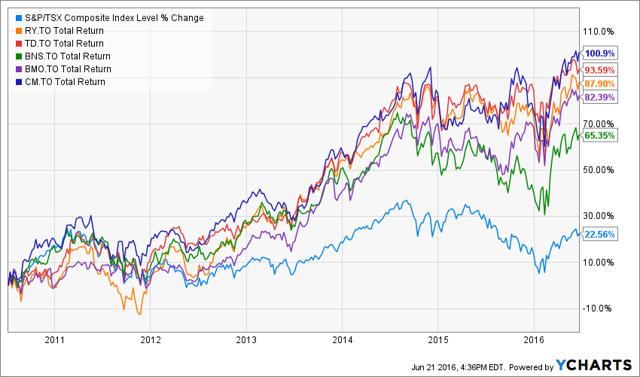 Source: Ycharts
While the TSX was able to grow by a meager 22.56%, CIBC (NYSE:CM), TD Bank (NYSE:TD) and Royal Bank (NYSE:RY) grew 4 times stronger. This is obviously without counting a very generous dividend that has been increasing each year since the credit crunch (all banks paused their dividend increase policy during the 2008-2009 crisis).
The reason why the financial industry (especially banks) is so strong in Canada is mainly due to heavy regulation protecting the country from foreign banks. There are a limited number of chartered banks and foreign banks can't acquire one to operate in Canada. There has been a small opening through online banks for example, but the Canadian banking system is complex and most companies haven't been able to fully understand the Canadian customer and failed to generate sufficient profit. We must say that acquiring clients in a very conservative environment is not easy and costly. The latest example I can remember is ING Group (ING Direct in Canada) with their online services. They entered the Canadian market with great hopes and lots of money invested in marketing. They offered low fee accounts, high rate GIC's and affordable mortgages through a virtual bank. It worked for a while, but the company chose to sell their Canadian operations to Scotiabank (NYSE:BNS), which kept the online model and switched it to Tangerine. I guess Canadians prefer to meet an advisor face-to-face than dealing with a website!
The other reason why Canadian banks are so strong is due to heavy regulations around their activities. They couldn't do what investment banking firms did with the subprime credit for example. At worst, some banks bought for a few millions (or 1-2 billions max) of commercial paper during the crisis. It resulted in a few bad quarters for banks but they quickly got back on track. Since 2008, the Canadian banking system has been the model to follow around the world. Other countries realized that banks are the heart of their economy and they couldn't let greed infect their whole system. This is why more rules are enacted and stress tests are now being performed to "copycat" the Canadian banking system.
Finally, after the 2008 crisis, Canadian banks were in a great position to improve their exposition to the US market since many US banks had been weakened. TD and RY made some acquisitions in the States while BNS continued its strategy in Latin America. The Canadian dollar was strong, banks had solid balance sheets, everything rolled for them.
During the whole time, Canadian banks slowly, but surely built their businesses under the radar, protected by regulation and rewarding patient investors with juicy dividend growth income.
While all these factors remain in place, I doubt Canadian banks will be able to enjoy much growth in the upcoming years. Here's why…
The Credit Crunch and then the Oil Bust
In 1980, the ratio of household debt to personal disposable income was 66%; that ratio has since passed the psychological bar of 150% figure (Statistics Canada 2011). The situation hasn't improved yet in the most recent years: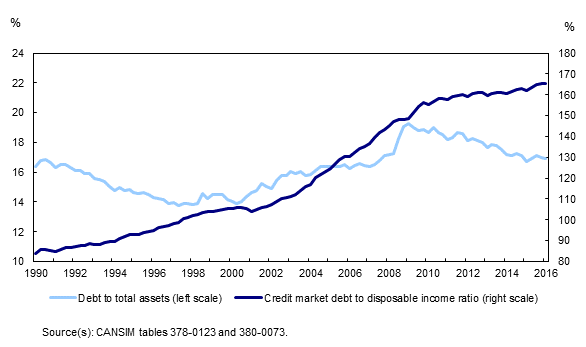 Source: StatsCan
One main problem is that while the world suffered from the Credit Crunch of 2008, The Canadian housing market barely felt it. One of the main reasons why is because Canadian banks were strong enough and continued their regular activities since they weren't affected too much by subprime mortgages and commercial paper. In fact, while the subprime mortgages didn't exist in Canada, all houses bought with less than 20% cash down were insured by the CMHC, a 100% government owned mortgage insurance company. To qualify for a loan, the CMHC added stricter rules than banks and they had the final say on all loans. While a portion of higher risk loans were approved in the period prior to 2008 (40 year amortization and 0% cash down), the government reacted with more rules (max 30 year amortization and minimum of 5% cash down) shortly after the crisis. In my opinion, these rules are still too loose and while it enables most people to gain access to property (which is a great value), it doesn't protect new homeowners enough as it lets them borrow too much. This is why the housing pricing index has continued to increase after the crisis: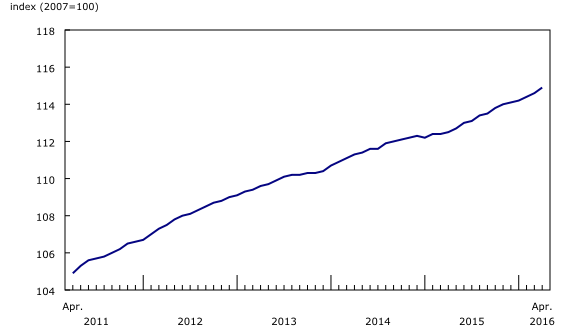 Source: StatsCan
The oil bust that is happening since 2014 didn't seem to affect the housing industry much in larger cities so far. You can see how housing index has increased in the past 12 months: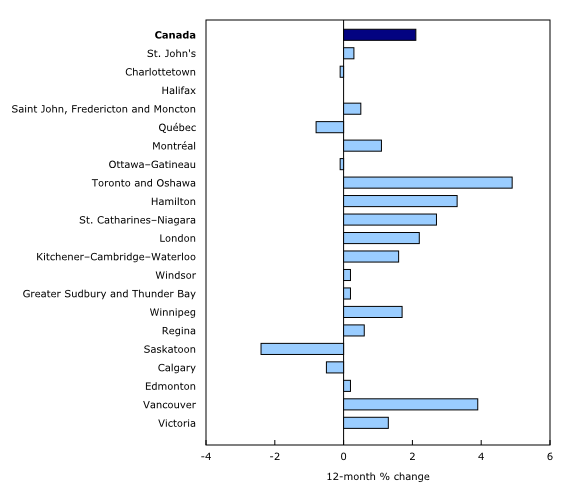 Source: StatsCan
As you can see, it's not the Saskatoon and Calgary small drop that will make anybody scream about housing bubble bust anytime soon. However, we are well aware that thousands of high paid jobs have been lost in Alberta, Saskatchewan and Newfoundland due to the oil & gas and the basic materials industry slowdowns.
When we look at the overall picture, we don't see a big problem as manufacturers benefited from a weaker Canadian dollar to sell more to the US and the services industry is also picking up in provinces such as Ontario, British Columbia and Quebec. Nonetheless, Canada has always been a country of resources. When basic materials and the oil & gas industries slow down at the same time, it has to affect the economy.
What's Coming after the Oil Bust
I think we are currently sitting on a ticking bomb that is taking its sweet time to explode. It is impossible to keep a household debt ratio over 160% forever. At one point or another, Canadian consumers will face the terrible truth: they can't afford their houses anymore. I think the slowdown in the natural resources is now leading us to this fatality. We don't see it yet, but the lack of high paying jobs and less taxes gathered on oil by the government will affect the country's budget.
Banks are in the middle of this economic mess. They are the ones financing the oil & gas industry for example, and we started to take higher provisions for bad loans in this industry in their latest quarterly reports. I think this trend will continue to materialize and we will see additional provisions coming as real losses will be written off.
In addition to this, banks are very limited in Canada to grow their businesses. While they have enjoyed living in a closed playground, this will come back to bite them. TD and CM banks are the most "traditional banks" of the group with heavy concentrations of their business in savings and loans. They are very active in big cities for mortgages and business loans. While conservatism has served them well in the past, it might also paint them in the corner for now. In the event the housing economy slows down seriously, their only growth vector in Canada will be to eat their neighbor's market share. While BMO will steal clients from TD, RY will steal BMO's clients and so on. We will not be seeing much growth in the end, but we will see margins being reduced due to higher costs of gaining and keeping those clients.
Banks will have to go through the desert before they see another oasis of cash. The following years will not be bringing many more clients and we will face a time of lay-offs and restructuring to keep profits higher. The oil bust was just the last domino that will push the whole line down.
My Favorite Canadian Bank Right Now
While I think there is a rough time ahead for Canadian banks, it doesn't mean I've sold my financial positions in my portfolios. In fact, I do own TD, RY and BNS in my DSR portfolios (all Canadian portfolios have outperformed their benchmark since 2013). In fact, I think a great buying opportunity will be rising once banks have been hit by the storm. In the meantime, I must say that I think Royal Bank should be able to bring some strong numbers nonetheless. The bank has improved their diversification by increasing their capital market and private wealth segments. Both divisions are currently growth sectors that will less likely be hit by a housing market fall.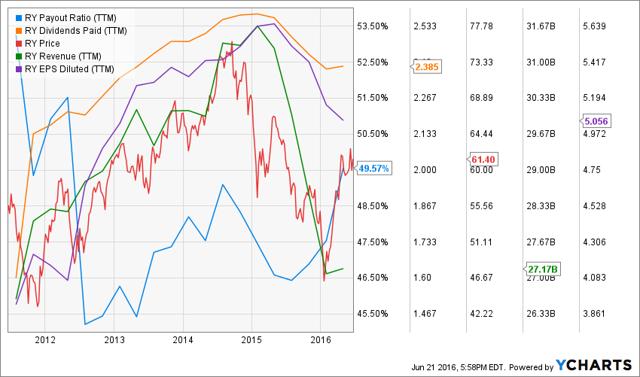 Source: Ycharts
Royal Bank provides various financial services to individuals as well as commercial and institutional clients. Their services range from regular banking, investments, insurance, brokerage, mortgages, loans, etc. RY recently purchased City National, a private & commercial bank for wealthy clients based in Los Angeles.
When I look at RY with a dividend growth perspective, I also find some interesting value right now. Using a double stage dividend discount model, I get an undervalued stock using the following metrics. Since the next 10 years may be very hard on banks, I've used 4% dividend growth. For the years after, I used a 5.50% dividend growth rate. This is still way under the past 10 years dividend growth rate (12.13% in Canadian dollars). Since RY is the largest bank in Canada, I can use a 9% discount rate as its future is well secured:
| | |
| --- | --- |
| Input Descriptions for 15-Cell Matrix | INPUTS |
| Enter Recent Annual Dividend Payment: | $3.24 |
| Enter Expected Dividend Growth Rate Years 1-10: | 4.00% |
| Enter Expected Terminal Dividend Growth Rate: | 5.50% |
| Enter Discount Rate: | 9.00% |
This is how I get a intrinsic value of $86.32:
Calculated Intrinsic Value OUTPUT 15-Cell Matrix

Discount Rate (Horizontal)

Margin of Safety

8.00%

9.00%

10.00%

20% Premium

$144.27

$103.58

$80.95

10% Premium

$132.25

$94.95

$74.21

Intrinsic Value

$120.23

$86.32

$67.46

10% Discount

$108.21

$77.69

$60.71

20% Discount

$96.18

$69.06

$53.97
Source: Dividend Monk Toolkit Calculator
Final Thought
Overall, I think that if you hold any Canadian banks, you should keep them for now. Their dividend payments are not jeopardized by a short term storm. You can easily enjoy your 3%-4% dividend yield combined with their future dividend growth during the storm. In fact, I think there will be a great buying opportunities for many of them in the upcoming year. Finally, I think RY's stock price will continue to rise even during this challenging time.
Disclaimer: I hold TD, RY, BNS in my DividendStocksRock portfolios.
Disclaimer: The opinions and the strategies of the author are not intended to ever be a recommendation to buy or sell a security. The strategy the author uses has worked for him and it is for you to decide if it could benefit your financial future. Please remember to do your own research and know your risk tolerance.
Disclosure: I/we have no positions in any stocks mentioned, but may initiate a long position in TD, RY, BNS over the next 72 hours.
I wrote this article myself, and it expresses my own opinions. I am not receiving compensation for it (other than from Seeking Alpha). I have no business relationship with any company whose stock is mentioned in this article.