According to Deutsche Bank economist Zhiwei Zhang, the gap increased dramatically in late 2014 when bank credit growth rose from 15% yoy to 25% in March 2016. M2 money supply increased with the government policy easing in Q2 2015 but only to 13.5%. The gap has widened from 7.8% in June 2015 to 12% in March 2016. The chart below from Deutsche Bank shows the divergence in bank credit supply and M2 supply growth.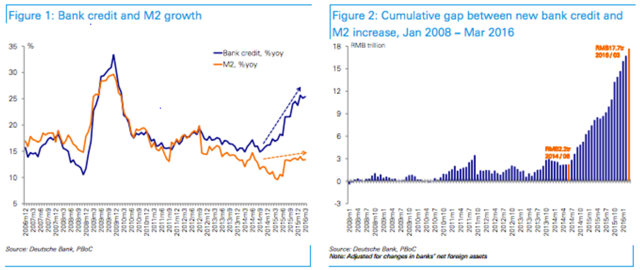 Zhiwei Zhang continues…
Another way to look at this gap is in terms of RMB rather than yoy growth rate. Between Jul 2014 and Mar 2016, total bank credit in China increased by RMB41tr. After adjustment for the RMB1.7tr decline in banks' total net foreign assets, it was RMB15.5tr higher than the RMB23.7tr increase of M2 during the same period. The gap reached an astonishing RMB15.5tr in cumulative term over this period. It is equivalent to 23% of China's 2015 GDP (Figure 2 above)
This shows in stark terms that China's credit infusions aren't reaching the real economy. Instead, they are staying in an increasingly leveraged financial sector where the vast majority of loans are tied to companies in sectors that are suffering from chronic overcapacity. This declining credit efficiency is mirrored with a dramatic rise in the prevalence of non-bank financial institutions. The two feed off each other in a symbiotic relationship. The government is encouraging the banking sector to lend aggressively to sectors desperately in need of leverage to arrest falling profit margins and rising debt burdens. Instead, these businesses, positioned in industries suffering from chronic overcapacity, are investing in products sold by these NBFIs which offer better returns than can be made investing in their own businesses. The growth of these products has allowed banks to fund increased credit risk. They are allowing banks to inject fresh credit to roll over the ailing debts of the same companies that are the end buyers of these products.
Zhiwei Zhang continues…
With real returns coming down and the amount of financial assets chasing those returns going up, it should not be surprising if they turn to financial leverage to boost returns.
The chart below from Deutsche Bank shows the explosion of NBFI lending.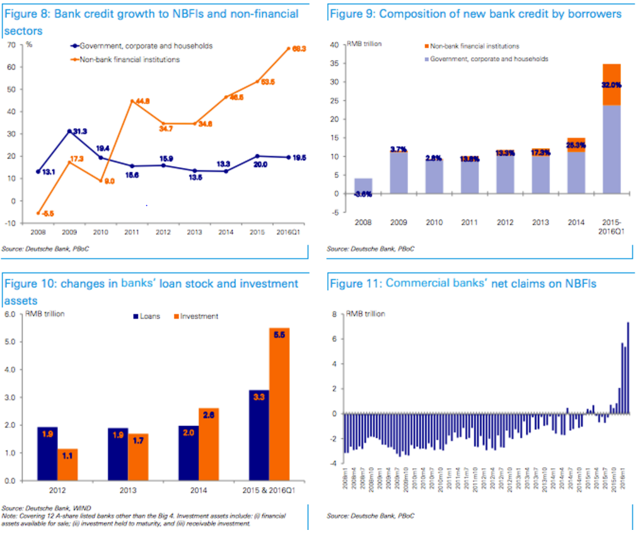 China is very unlikely to implode any time soon but the dramatically rising risks within the system will cause dramatic bursts of shock to spread out into western markets in the months and years ahead, as the financial system re-rates to adjust for the massive imbalance that has been built up.
Disclosure: I/we have no positions in any stocks mentioned, and no plans to initiate any positions within the next 72 hours.
I wrote this article myself, and it expresses my own opinions. I am not receiving compensation for it (other than from Seeking Alpha). I have no business relationship with any company whose stock is mentioned in this article.