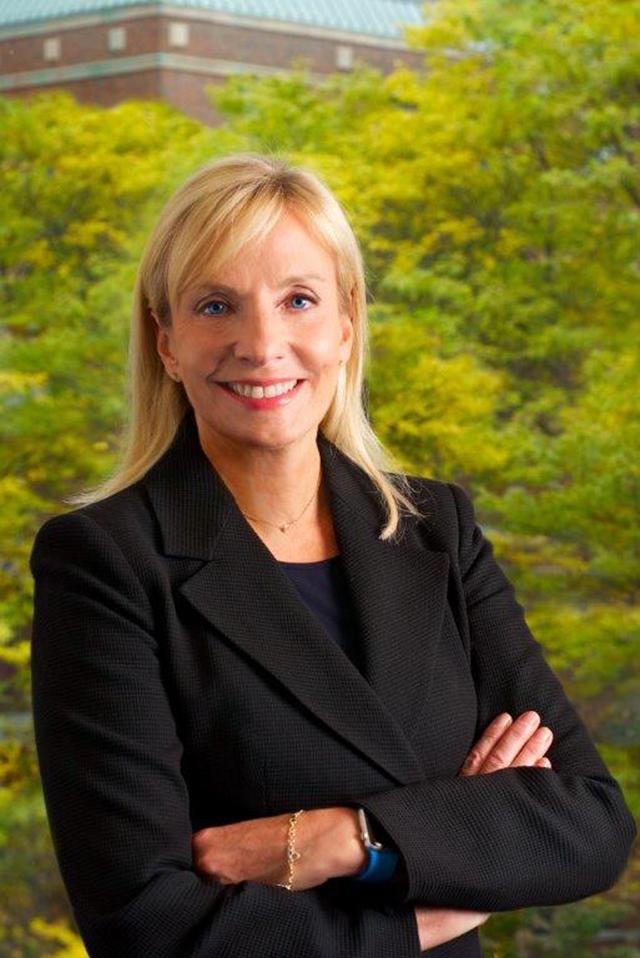 About nine months ago, IBM (NYSE:IBM) made a very key strategic acquisition. No, it was not Merge Healthcare Inc. or even the more recent Truven Health Analytics. It was Deborah DiSanzo, General Manager for IBM Watson Health.
Watson Health stands out among CEO Ginny Rometty's several strategic imperatives because it is changing and facilitating healthcare systems not only in developed countries but in emerging markets as well, on a massive scale.
The urgent need for better, more transparent and more efficient healthcare systems around the world - even in the United States - puts Watson Health in an enviable position. And Deborah DiSanzo has been hand-picked by Rometty to drive IBM's vision forward in the healthcare analytics space.
With that, I introduce to you IBM's General Manager for Watson Health, and former CEO of Philips Healthcare, Deborah DiSanzo:
Shudeep Chandrasekhar: Probably the first thing I would like to know is: Why Healthcare IT as a first choice for Watson, I mean you know there are larger pots within manufacturing and natural resources for example which I believe is estimated at a half a billion dollar industry - the IT part alone - so why specifically healthcare?
Deborah DiSanzo: So I think I want to give you some more numbers because what we think about Watson Health is not just as digital health but the effect that Watson Health can have in healthcare. So global healthcare spending is actually quite large; it's estimated to be about $8 trillion. The U.S. bit of that alone is $3 trillion, and then here's a number: one quarter to one third of that is waste, so you know in the U.S., it's Medicare fraud and abuse. Around the world, it's the extra tests that are done. Around the world, it's complication. Around the world, it's not the right medication. Around the world, it's late access to care so that people can't get care. And so the estimate of waste in the $8 trillion is about $2 trillion.
Now when we look at the things that Watson Health can impact, from improving the first line treatment for cancers to improving definitive diagnosis and radiology and reducing the amount of tests to improving the amount of medication they are giving to improving overall costs in hospitals, we actually see that as a $200 billion market opportunity for Watson Health. So it's not just what you think about in digital health and healthcare informatics, it's actually in helping redo workflows for clinicians, for life science researchers who are hospitalists and others, so it's a very large opportunity if you are just looking at the numbers.
Shudeep Chandrasekhar: So, considering that IBM is into this in a very big way, do you see Watson Health becoming the standard platform for healthcare providers? I know that in the United States and most of the developed countries, they have standards for data capture and so on. So, what are the challenges in getting from where Watson Health is now to being a total end-to-end healthcare provider?
Deborah DiSanzo: Well, so the first thing that I want to say is at the inception of Watson Health, we said that no one company can transform healthcare alone and that is very, very true - not one company, not one government. This really needs to be done in an ecosystem of partners that looks at what the challenges we have and healthcare access today, and healthcare costs today and in healthcare outcomes today and work together in a partnership. So I don't know, I don't think that IBM will ever have a complete end-to-end-solve-everything-in-healthcare. It's just not realistic.
But let me just describe a little on what we can do and it all starts with data. You know that healthcare data today, if it is available it is largely locked up in proprietary spots where the only people who could do analysis on it are the people who own the data. We wanted to do something different at IBM Watson Health. We want to democratize that. We want to get enough diverse, deep - both clinical, social determinants, insurance - data in a database that our ecosystem of partners can access.
Like 30 billion images, 500 text books with 15 million pages of structured and unstructured medical information in it, it looks like a lot of genomics data all from a partnership of 20 hospitals across the U.S. in the New York Genome Center, and it looks like claims from the Truven database of 200 million covered lives. So it is a diverse dataset. On top of this, then, we are able to use Watson to make some sense of this data, but we don't do it alone. So, we will use that data to develop some applications ourselves and some offerings ourselves, but more importantly, it is the ecosystem of partners that will use it.
So, Medtronic (NYSE:MDT) creating their diabetes application, or Johnson & Johnson (NYSE:JNJ) creating their orthopedic application, or Teva (NYSE:TEVA) using it for life sciences research and creating applications that will connect them closer to their patients, or CVS Health (NYSE:CVS) using it for population algorithms, or Under Armour (NYSE:UA) using it to make an even tighter connection to their community that uses their HealthBox.
So I think what's important here is, first, the democratization of data. Second, Watson Analytics and Watson Insights that makes connections on that data. And thirdly, the ecosystem of partners that will use those connections to do three things: provide access to care, help improve outcome and lower the cost of care. So that's what we are doing and that's what's important to us.
Shudeep Chandrasekhar: So basically, you are providing the technology backbone for medical professionals. What about on the consumer's side of things - the patient's side of things; how do they directly benefit? I mean, is there anything that they can see for themselves, like for example, the health apps that Apple (NASDAQ:AAPL) provides where they can compare you know their state of health with others in the same situation.
Deborah DiSanzo: Oh, there are many. So we have about 200 ecosystem partners that are providing applications and many of them for consumers. Let me start with Apple. We have the Watson Health Cloud for the Research Kit where the Watson Health Cloud is a cloud for the data coming from the Research Kit. One ecosystem partner is the American Sleep Apnea Foundation. What they are using the Research Kit for is they are running a sleep study, and this is tremendous because in one month they launched the study and launched the app on the Research Kit. In one month, they got to over 6,000 patients that accessed the sleep study and are sending data into the Research Kit.
Another ecosystem partner is called Nutrino. I love Nutrino. They are an app that provides nutrition advice to pregnant mothers, soon to be mothers. They have over 100,000 restaurants online and they provide personalization, not just like great things to eat if you are pregnant, no, but personalized insights for the mother, you like to eat this type of food, in this location, at this time, have you tried this restaurant? Things like that.
Pathway Genomics is another ecosystem partner using Watson Insights to provide personalized recommendations for fitness and nutrition based on their genome. There is Tiatros, an ecosystem partner that is doing a study at University of California, San Francisco, on post-traumatic stress disorder with veterans - directly with the Vets.
There are many more, but I was at one of our larger partners who is actually using our application from IBM called Clinical Trial Matching, which enables oncologists to, from the hundreds of thousands of clinical trials that are going on, match the appropriate clinical trial to the patient. And the breast oncologist that I was speaking to said it is fantastic because it "enables me to speak to my patients better, I turn the screen around and I show her what the particular type of breast cancer she has, how that matches with the top three clinical trials that she could go on."
So, I think we get to patients in a couple of ways - one, through our ecosystem partners, and two, by improving the workflow for oncologists or for clinicians. We let them talk to their patients in a much better way, and I just love the way she said "we turn the screen around and we show the patients what clinical trial is best for them."
Shudeep Chandrasekhar: So, with healthcare insurance, it's an area I'm curious about. Have you had any earlier adopters or any large clients that have shown interest in Watson Health Analytics and how it can help them?
Deborah DiSanzo: Yeah, so there are two things: First, I want to talk about bundled payments, and then I want to talk about Truven. So, an important thing is happening in the U.S. now and that is the payment system is going for what has been a fee-for-service payment system. So, every time you have a test, whoever is doing the test gets paid for it. Every time you go to the doctor, hospital or emergency room, it's a fee for service. It's moving to a value-based payment model, and there are a few different ways to do here, but if you think about a bundled payment model, for example, right now there are two mandatory payment bundles.
One is for knee replacement surgery, one is for hip replacement surgery. So, instead of getting you know all the fees that go into all the tests you do before the surgery, the surgery and aftercare now there's a bundle of about $18,000 for knee replacement surgery. Everything has to fit into that bundle - the pre-care, the surgery and the after care, and the centers for Medicaid and Medicare have said that in 2018, 50% of all U.S. payments will be this value-based payment model.
So what Watson Health will enable both providers and payers to do is understand better where the costs are in that bundle. So, in the knee replacement example, the knee - the actual medical device of the knee only costs $4,000. And then there are many other costs associated with it - could be complications after the surgery, it could be having to go back into the hospital after the surgery. And, so, what we would be able to work with, or provide our payers is, on the data from our electronic health record compared to the claims data from insurance companies - we will be able to see the most effective pathways of knee replacement surgery.
So, for example, what is the best care leading up to the surgery, have the surgery and what is the best care after the surgery that will lead to fewer complications, fewer bounce backs and better recovery. It's going to make the patient feel a lot better and it's going to reduce the overall cost of care. This is value-based care, and this is one of the major thrusts of Watson Health.
So if you ask me are providers interested, if payers are interested, payers are looking at this as well and they are looking at how can Watson - our data and our insights - help them. Of course, we acquired Truven, and Truven has as many as 8,500 providers and all of the top payers around the world, really, as customers of theirs. What we will be able to do with Truven now is add Watson Insights on top of the services they already provide to the payers and provide more insights to them. We have had payers sign up for Watson but that's not public yet, so we are going to get back to you on that. But, yes, we do have payers that have signed up for Watson.
Shudeep Chandrasekhar: I want to know a little bit about upstream to medical practitioners. How does Watson Health feature in pharmaceutical research or medical research? You know I can see some tremendous applications in those areas. Are there any key partnerships that you can share with me?
Deborah DiSanzo: Yes, so for example at Boston Children's Hospital in Boston, we are doing research on rare children's diseases. We started with research on a rare kidney disease and understanding there are 250 clinical trials on this particular rare kidney disease. What Watson is doing is reading through on the 250 clinical trials. Now if you are a human, you can read the clinical trials but it's difficult - 100s of pages long, with 100s of patients, their patient history, their genomics, their treatments and their outcomes. What Watson is able to do is read through them, make the connections between the studies and then provide insights to the Boston Children's researchers about which treatments worked best for which patients, with which particular genetic makeup.
We have a program called Watson Discovery Advisor, where researchers can tap into our database, our analytics and our insights and make connections between data. There was a study we did with Baylor College of Medicine that used Watson to analyze 70,000 scientific articles and accurately identify proteins that modify an important cancer protein called p53 - and this was done in a few months. Previous to this, it would have taken years if they had to do it without Watson. And we're doing this with genomics researchers and we're doing work in oncology with researchers.
On the life sciences side, you can imagine that life sciences companies are very interested in how Watson can help them identify new uses for molecules that are already on the market or combinations of drugs that are already on the market. The public company that we announced was Teva Pharmaceuticals, and Teva is going to use the Watson Health Cloud and Watson to both build its e-health solutions and also to get real world evidence that will help them - be it the development of new molecules, or re-purpose molecules that they already have.
Shudeep Chandrasekhar: What do you see the challenges in countries like Brazil, India and China where you know the potential is obviously huge in healthcare but the challenges are equally huge? What are the gaps you see there and how do you think IBM will be able to address those challenges?
Deborah DiSanzo: In my prior work, I did a lot of work in looking up the emerging market. I actually did a project with the World Economic Forum on healthcare in emerging markets and we studied the emerging markets and how the emerging market can learn from and not make the same mistakes in building their healthcare systems as the developed world. I'm very happy on the Watson for Oncology because Watson for Oncology is one of the things, one of the offerings that the World Economic Forum was actually pointing to - things like Watson for Oncology. So I am just going to explain a little bit about Watson for Oncology and then explain how it's helping in South East Asia and in India.
Watson for Oncology was developed with IBM and Memorial Sloan-Kettering, and what it was meant to do was to bring the knowledge and insight of Memorial Sloan-Kettering in treating cancer - particularly breast, lung and colorectal cancer - to places in the world that do not have oncologists - either the number of oncologists that Memorial Sloan-Kettering has, or the developed markets have, or that have the knowledge of the oncologists that are always studying the latest advances in cancer treatment.
So, Watson for Oncology - what it does for oncologists in, for example, Bumrungrad hospital in Thailand, it provides those oncologists with a learned colleague that is able to look at the information about a patient, identify their disease and then identify with that disease what treatment or what pathways would be recommended from Memorial Sloan-Kettering. Dr. Miser, who is the Chief Medical Information Officer at Bumrungrad, now has 25 oncologists using Watson for Oncology.
He says that it has fit into their workload beautifully and it is enabling them to help identify treatment for their patient. They still identify the treatment, but Watson for Oncology provides them information in a spot, where it puts all the information in one place so it's easy to digest and it's easy, therefore, to be more to have a learned colleague when they are recommending treatment for their patients. The CEO at Manipal Hospital in India, who has also purchased Watson for Oncology, said they have 2,000 cancer patients a year coming to the hospital so "we are hopelessly short of oncologists and Watson for Oncology is going to help us treat our patients better."
And one more that I want to tell you, we did a partnership with Boston Children's Hospital called Open Pediatrics. And Open Pediatrics does the same thing that Watson for Oncology does. It brings in knowledge of Boston Children's Hospital in a social networking environment with videos and chat rooms, to pediatricians around the world that are able to get advice from Boston Children's Hospital. So, this is extending access to care, this is extending access to specialized care and a couple of examples of how Watson can help in emerging markets.
Enjoyed reading this interview? Lots more here, along with several articles on IBM's cloud and other initiatives. Please do comment and follow.
Disclosure: I/we have no positions in any stocks mentioned, and no plans to initiate any positions within the next 72 hours.
I wrote this article myself, and it expresses my own opinions. I am not receiving compensation for it (other than from Seeking Alpha). I have no business relationship with any company whose stock is mentioned in this article.