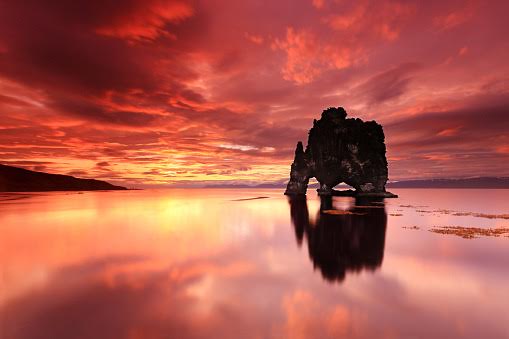 Introduction
Every week, we closely monitor net speculative positions on the COMEX as well as ETF holdings inasmuch as the historical economic behavior of gold prices suggests that over a short-term horizon (<3 months), gold prices are largely influenced by changes in the forward fundamentals, reflected in changes in net spec length, ETF holdings, and central bank reserves.
Speculative positioning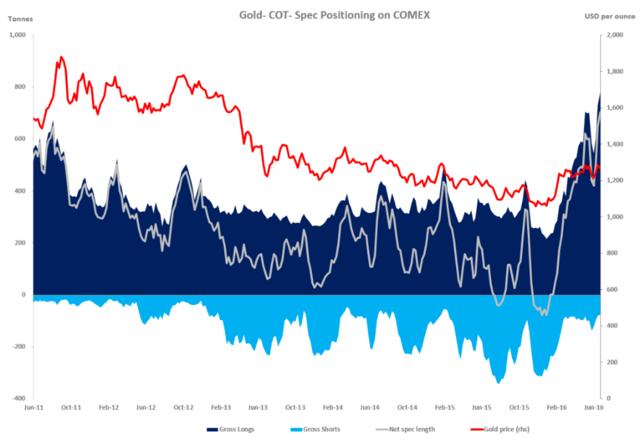 Source: CFTC.
Gold. According to the latest Commitment of Traders ((NYSE:COT)) report provided by the CFTC, money managers, viewed as a relevant proxy for speculators, raised their net long position for a third straight week as of June 21 to a fresh all-time high. Over the period covered by the data (i.e. June 14-21), the gold price dropped 1.32 percent.
The net long fund position increased 53.17 tonnes or 8.00 percent week-on-week to 703.05 tonnes, its highest level since the CFTC started to publish its statistics back in 2006.
The weekly improvement in the speculative positioning was mainly driven by long accumulation and further reinforced by short-covering.
Gross longs: they increased their positions by 49.43 tonnes w/w, marking the third weekly increase in the gross long position. The gross long position, currently at 779 tonnes, is at an all-time high.
Gross shorts: they covered 3.74 tonnes w/w of short positions, marking a fourth straight week of short-covering. The gross short position, currently at 76.38 tonnes, is at its lowest since February 2015.
We believe that the solid improvement in speculative positioning was mainly driven by a more dovish than expected Fed at its June meeting that was partly offset by a (wrongly) lower subjective probability of a Brexit priced by the market.
About the Fed's June meeting.
The Fed decided to keep its target for the Federal funds rate (FFR) unchanged at 0.25-0.50 percent but lowered its forecasts about the US economic outlook and the appropriate path of future policy rate increases for 2017 and 2018, while leaving the 2 rate increases for 2016 surprisingly unchanged.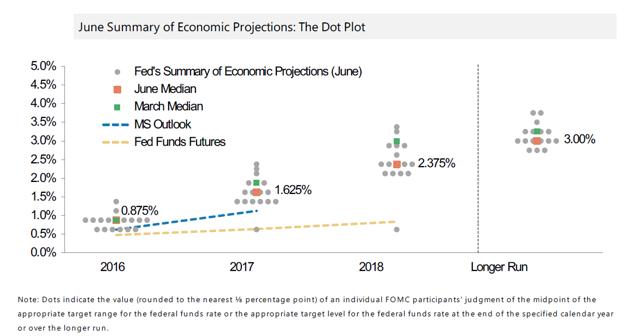 Source: Morgan Stanley.
Against this backdrop, the dollar sold off and US real interest rates moved lower, which probably prompted investors to extend further they bullish bets.
But over June 14-21, investors and analysts (including ourselves) underestimated the probability that the UK would leave the EU, as evidenced by the probabilities computed b the political bookmakers.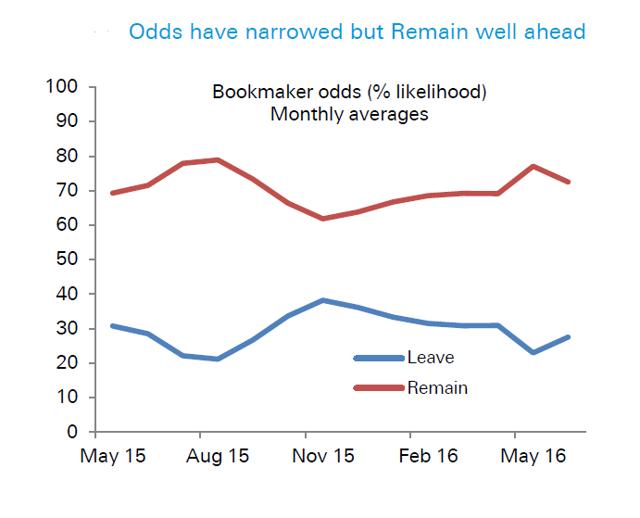 Source: Deutsche Bank, various political bookmakers.
This (false) sense of confidence probably prevented speculators from boosting significantly their long positions, especially considering that speculators were well extended on the long side.
Looking ahead, it is very likely to see a massive increase in net long speculative positions in the upcoming COT report, due to be released on July 1, covering the period June 21-28.
But two areas of concern should be closely watched by long gold investors.
First, the increase in net long speculative positions over June 14-21 combined with the increase in long positions in ETF (we will discuss that in the next section) was insufficient to push prices higher (i.e. gold prices fell 1.32 percent over this period), suggesting the presence of strong selling pressure elsewhere in the market.
Second, the likely increase in net long speculative positions over June 21-28 will make the spec positioning even more overstretched, raising further the probability of a reversal. Although this reversal could be just a test for the gold market (i.e. a consolidation), the coming wave of profit-taking could hurt some momentum-based participants with tight stop loss levels. In other words, volatility is likely to push higher this summer and investors need to be alert about such a possible catastrophic scenario.
To sum up, despite the Brexit, we do not think that the increase in the net long fund position will be sustainable in the coming months, leading us to believe that we are very near a reversal. Legendary investor Jim Rogers agrees with us.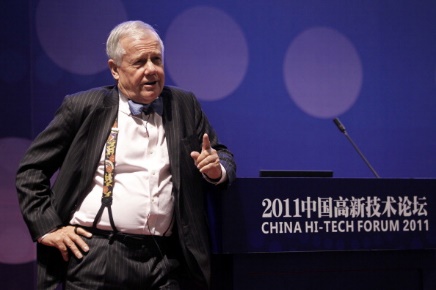 Jim Rogers
" Gold has been staggering this year, went straight up, and I don't like to buy anything that's run straight up. I can't get too optimistic about something that's been going straight up" (phone interview on June 27)."
Investment positioning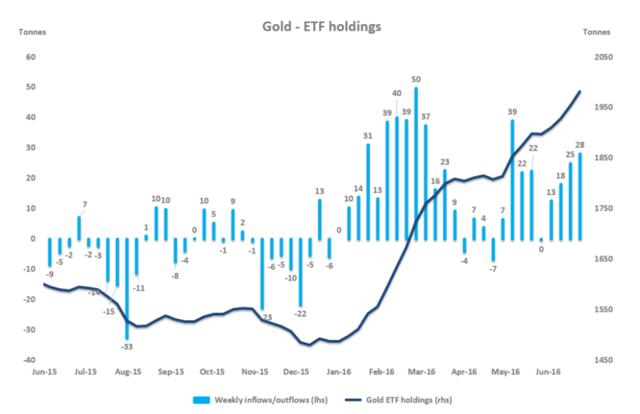 Source: FastMarkets.
Gold. ETF investors boosted their holdings for a fourth consecutive week as of June 24, pushing total ETF holdings up to a fresh 2016 high of 1,981 tonnes, marking its highest level since August 2013.
ETF investors bought a total of 28 tonnes over June 17-24 after accumulating 25 tonnes in the previous week, bringing net inflows in June to 84 tonnes, compared with net inflow of 82 tonnes in May and just 14 tonnes in April. In the year to date, ETF investors are net buyers of 500 tonnes, corresponding to an increase of 34 percent from the start of the year.
Gold ETF buying was concentrated on Friday 24 June, with net inflows of 21 tonnes, according to FastMarkets' estimations. This shows the extent to which investors were caught by surprise following the unexpected UK decision to leave the EU, as evidenced by the broad-based sell-off in equities, like the SPDR S&P 500 Trust ETF (NYSEARCA:SPY), and were accordingly forced to buy in a rush to protect their portfolios against further declines in risky assets in addition to a depreciation in the pound for UK investors.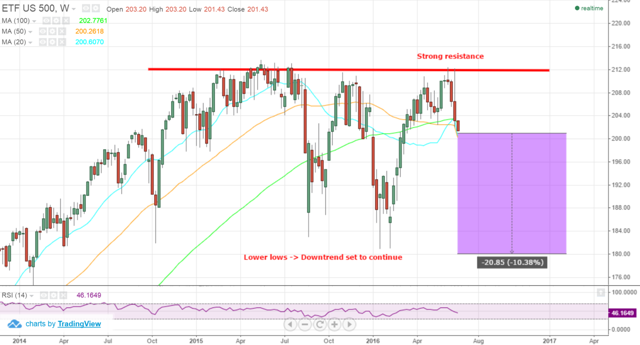 Source: Trading View.
Looking ahead, will ETF inflows continue in the second half of the year?
In the near-term, it is not surprising to see a pick-up in gold ETF inflows because gold has proven to be the most reliable safe-haven asset since the start of the year, up about 25 percent year-to-date, after three consecutive years of decline. As a result, long-term investors and momentum based buyers are likely to boost their buying.
First, long-term investors who need to hedge further their portfolios are likely to bet on the asset that has performed the best rather than the worst. However, we feel that this judgment is biased and could prove temporary costly and stressful should gold be under pressure in the summer doldrums (for more information, please see our article on gold's seasonality, Gold: Summertime Blues). Like Jim Rogers, we prefer to flee to the dollar to preserve our capital.
Second, momentum-based buyers are likely to boost their holdings because the long gold trade appears to be the "best in town" and they may be right, in the near-term. But for momentum-based traders, current buying is consistent with their strategy and their trading signals. Acknowledging that the uptrend in gold will not last forever, they will at some point exit their long positions once the gold market shows signs of exhaustion. Investors need therefore to be aware that this category of participants in the gold market, which has become increasingly more present since the start of the year, will take the exit door in a rush, which could have a profoundly negative impact on gold prices.
In conclusion, we remain of the view that ETF outflows are likely to appear after the UK referendum, most notably this summer due to the poor seasonality of gold during this period. Any signs of exhaustion in the gold market could provoke a strong wave of ETF selling - momentum-based buyers may exit as fast as they jumped in - which should undermine long-term investors' confidence. On top of that, ETF selling is likely to be accompanied with speculative selling - considering the extremely high level of the net speculative length, it is fair to say that there is a lot of room to push prices lower.
Bottom line: Be careful, this summer could be bloody for gold.
Spec positioning vs. investment positioning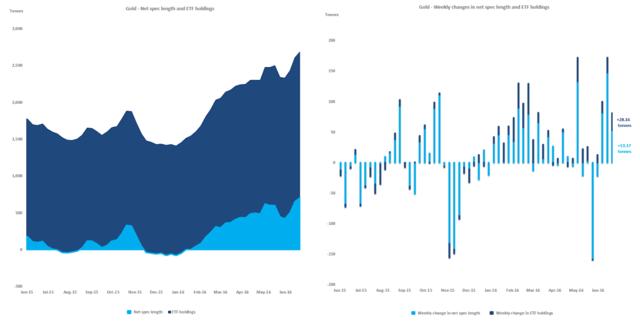 Source: MikzEconomics.
SPDR Gold Trust ETF (NYSEARCA:GLD) positioning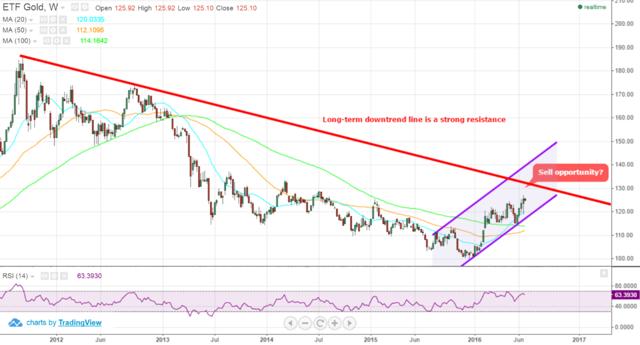 Source: TradingView.
GLD surged to a fresh 2016 high of $127.18 (intraday basis) last week, posting a weekly gain of 1.59 percent.
We continue to think that the current picture is positive in the near-term, principally because GLD managed to make a fresh 2016 high, indicative of an upward trend.
But we think that further upward pressure will be limited in coming weeks, due to strong resistance level at the downtrend line (red).
Our speculative positioning analysis suggests that speculators are too bullish, making the current GLD rally unsustainable. As a result, we expect a reversal in speculative sentiment, which could appear as soon as this summer during the doldrums when seasonal demand is usually low.
Our ETF positioning analysis is positive in near-term because the pick-up in risk-aversion after the Brexit will push investors to hedge further their portfolios while momentum based traders may be inclined to take advantage of the undeniable positive momentum. But signs of exhaustion could appear this summer, which could result in the exit of momentum-based buyers.
To sum up, we see a double selling pressure coming this summer, which could undermine meaningfully gold prices. It is therefore time to be careful, in our view.
Trading perspective
We are not currently positioned in GLD but we are looking to implement a short GLD position.
However, as long as all of our criteria are not met (fundamentals, technicals, tone), we stay on the sidelines.
We will pay a close attention to gold's response to Brexit and its consequences on the financial markets in the near-term to detect when a sell opportunity may arise. We will inform our clients and readers promptly.
We will pay a close attention to our downtrend line (red). A clear break above it would force us to reassess the situation and develop a new working hypothesis to submit to the market.
Our hypothetical short GLD position would have an ideal horizon of 3 to 9 months (i.e. the expected time for the net long fund position to deflate and reach an extreme low).
For longer-term investors, we remain of the view that accumulating gold on a regular basis in a well-diversified risky portfolio with a horizon of 5+ years will be a rewarding strategy, especially for non-US investors (the dollar will remain king in the coming years). But shorting gold later this year could provide a decent hedge against a sudden sell-off in gold.
About: SPDR Gold Trust ETF, Includes: PowerShares DB Gold ETF (NYSEARCA:DGL),VelocityShares 3x Inverse Gold ETN (NASDAQ: DGLD), DB Gold Double Long ETN (NYSEARCA: DGP), DB Gold Short ETN (NYSEARCA: DGZ) SPDR S&P 500 Trust ETF (SPY)
Disclosure: I am/we are short SPY.
I wrote this article myself, and it expresses my own opinions. I am not receiving compensation for it (other than from Seeking Alpha). I have no business relationship with any company whose stock is mentioned in this article.