Ark Restaurants (NASDAQ:ARKR) is small restaurateur with an investment in the Meadowlands in Northern New Jersey. This microcap had a nice write-up in Barron's this weekend and may have some room to run. The stock is reasonably priced and the company very profitable. It is under followed by Wall Street because of its size.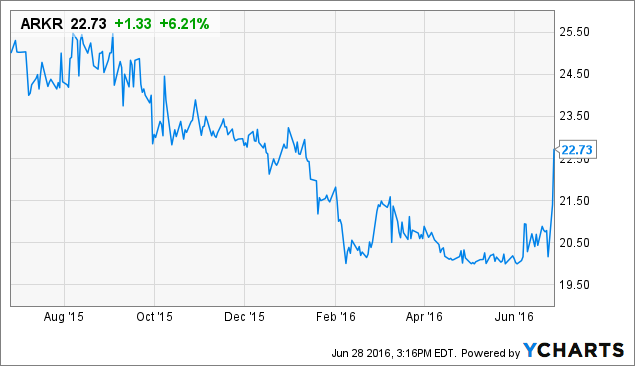 ARKR data by YCharts
There are 3.38 million shares and the market cap is $74.7 million. The trailing 12 month dividend is $1 and the dividend yield is 4.4%. The price to earnings ratio is 15.6. The stock seems reasonably priced.
The company "owns and operates 20 restaurants and bars, 21 fast food concepts and catering operations primarily in New York City, Florida, Washington, D.C. and Las Vegas, NV". Las Vegas accounted for 38% of sales in the most recent quarter followed by New York with 22%.
For the half year, sales were up to $70,381 from $64,906 in the prior six months. Earnings per share at a 4¢ profit for the six months up from a 9¢ loss. Return on equity is 13.5% and operating margins 6.1%. You can see that it is very profitable.
As of the latest quarterly report, the balance sheet was solid. $5.9 million in cash, $3.2 million in accounts receivable, and $6.477 million in its investments in the Meadowlands as assets. The liability side shows $2.58 million in accounts payable, $11.24 million in accrued expenses, and $3.6 million in notes payable.
In 2013, Ark invested $4.2 million in Meadowland Newmark, a casino in Northern New Jersey. This gives Ark the food concession for the property, amongst many conditions. Subsequent investments have been made. Last fall, Ark purchased a restaurant and property in Jensen Beach, FL, for $5.7 million.
Newmark Grubb Knight signed a contract to manage the property in 2011. Governor Chris Christie was tired of the New Jersey tax payer being on the hook for operating losses. The track hosts thoroughbred and harnessing races.
Executive compensation is a tad high but not a deal breaker. Last year, founder and CEO Michael Weinstein hauled in $1.126 million. COO Vincent Pascal brought home $506,000. Executive VP Paul Gordon $521,000. Mind you, the market cap is $70 million and sales will probably about $150 million annually. Mr. Weinstein owns 29.6% of the company. All insiders own over 45%.
It's challenging to find much information out there because of Ark's small size. To be quite honest, I've never been in one their restaurants. Having said that, I've eaten a few $19 hamburgers and had a few $12 mixed drinks in my time and understand the concept.
Ark probably got the best write-up it has ever received this weekend in Barron's. Bruce Geller of Dalton, Greiner, Hartman, and Maher noted that the stock trades at six times Ebitda and has generated $17 in free cash flow over the last ten years. Much of that cash flow has been used to fund the nice dividend. The stock has done well, even with the big sell-off that affected Friday and Monday. It was up both days.
Short term, this could be an interesting stock. We bought a few shares. It's a profitable company and cheap stock. Geller noted that the stock is only followed by one analyst. I think the Barron's article will drive the price for a while unless the Brexit fallout continues. Longer term, I think it will be affected by the overall economy. Few folks are going to being buying $12 mixed drinks and $40 steaks if/when things slow down.
Disclosure: I am/we are long ARKR.
I wrote this article myself, and it expresses my own opinions. I am not receiving compensation for it (other than from Seeking Alpha). I have no business relationship with any company whose stock is mentioned in this article.
Editor's Note: This article covers one or more stocks trading at less than $1 per share and/or with less than a $100 million market cap. Please be aware of the risks associated with these stocks.