Thesis
Dolly Varden Silver (OTCPK:DOLLF)(DV on the TSX-V) will have to accept Hecla's (NYSE:HL) unsolicited takeover offer of C$0.69, a 50%+ premium to the share price close on July 27th. Hecla's offer has the support of investors holding 34.4% of Dolly Varden's shares (on a fully-diluted basis). Rather than risk legal troubles by rejecting this offer, Dolly Varden's board of directors will accept the offer.
Background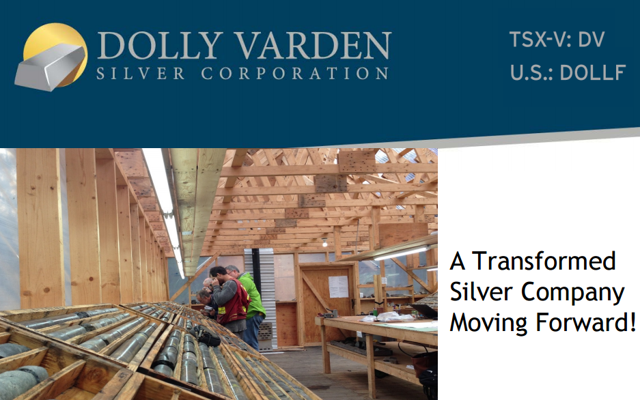 Dolly Varden is an exploration company with 40M+ silver ounces in the ground in British Columbia. The majority of share trading is on the TSX-V under DV, where 30,000+ shares trade daily on average.
The company flew into my radar at the end of August last year, when Skeena Resources (OTC:SKREF), another exploration company in British Columbia, tried to take over the company. While it was a low offer, Dolly Varden had run out of money (its market cap had dipped to C$2M, making an equity financing impractical as well), and the deal would have allowed shareholders to receive shares of a more liquid, higher market-cap company. Nevertheless, Dolly Varden's Board rejected that offer and proposed a counter-offer, which Skeena rejected, and no merger came to fruition. (See the news releases from Skeena and Dolly Varden for more details.)
Dolly Varden was able to avoid bankruptcy when Hecla Mining and Robert L. Gipson offered the company a senior secured loan of C$1.5M bearing a 5% interest rate, to be repaid within a year. The lenders also got 2.5M warrants of the company (a little less than 13% of the company, fully diluted), which had an exercise price of C$0.30 (significantly higher than the company's trading range at that time). The company could also draw another C$500K in funds at the lenders' discretion. Changes were also made to the Board of Directors, and Dolly Varden would cut costs by sharing office space with Hecla. (See this and this news release).
Dolly Varden would proceed to blow through most of this loan money in 9 months (mostly on a C$1.2M drilling program), quite extraordinary considering the company's market cap traded between C$2M and C$5M from July 2015 to April 2016. While the winter drill program hit some very high grade silver intercepts, this was at the very bottom of the bear market in precious metals, and investors did not care one bit about the results (the share price during that period can attest to that).
That brings us to today. Now that the precious metal miners have experienced a share price jump in the last few months, this has given the cashless micro-caps a chance to raise some money through equity, but not Dolly Varden. The loan agreement stated that the company must get Hecla's approval before raising any money through equity. Months of negotiations have clearly not led to any progress. Hecla clearly wanted to extend the loan agreement and provide them with more debt financing, while Dolly Varden wanted to issue equity and become a debt-free company. On June 13th, Dolly Varden announced it would raise C$2.5M in debt to pay off the previous loan, freeing it from its obligation to get Hecla's approval for an equity financing. It would then proceed to issue equity to pay off this loan, ideally at higher prices, and be completely debt-free.
Hecla is clearly not happy with this arrangement. While this sort of financing is not necessarily a breach of contract, Dolly Varden's agreement to issue an additional 2.5M warrants at C$0.30 (lower than the company's share price directly before the announcement on June 13th) is definitely a breach of ethics in my opinion, and could be considered a betrayal of Dolly Varden shareholders.
The Offer
So yesterday, on June 27th, just before the market close, Hecla announced it would offer C$0.69 for all outstanding shares of Dolly Varden. Hecla has announced its dissatisfaction with the new deal, in particular, the issuing of warrants with such a low strike price, and has asked the TSX-V to block the offer (and encouraged dissatisfied Dolly Varden shareholders to do the same).
Dolly Varden's press release makes it clear that despite their dissatisfaction with Hecla's methods, they will consider the offer.
While it is an unsolicited offer, I believe the Board of Directors will have no choice but to accept the offer. Hecla's announcement makes it clear that investors holding 34.4% of Dolly Varden's shares FD support this offer (with Hecla alone holding almost 20% of Dolly Varden's shares on a fully diluted basis).
If they do not accept the offer, put the offer to a shareholder vote, or at least negotiate an amicable deal with Hecla and Robert L. Gipson, legal actions will most certainly proceed against Dolly Varden and their board, and civil as well as criminal charges could be lodged for blatant disregard of shareholder interests.
Conclusion
This could be an easy way to make significant profits if you can manage to scoop up some cheap shares now (it trades on the TSX-V under DV). It appears shares will trade for C$0.62 on the open today (July 28th, 2016), so if the offer goes through, that's a 10% gain. It is hard for me to imagine Dolly Varden turning the offer down, considering Hecla's large position in the company, and the legal ramifications it could have. As a result, I believe this is a safe opportunity for you to profit.
Disclosure: I/we have no positions in any stocks mentioned, but may initiate a long position in DOLLF over the next 72 hours.
I wrote this article myself, and it expresses my own opinions. I am not receiving compensation for it (other than from Seeking Alpha). I have no business relationship with any company whose stock is mentioned in this article.
Editor's Note: This article covers one or more stocks trading at less than $1 per share and/or with less than a $100 million market cap. Please be aware of the risks associated with these stocks.