Introduction
Yesterday, Chipotle (NYSE: CMG) announced yet another promotional program in its attempt to rebuild store traffic after its food safety issues within the past year. Previous promotional programs of free burrito coupons and BOGO offerings (buy one, get one free promotions) have apparently not been effective in quickly rebuilding store traffic given that the company had announced that comp store sales were still down in the mid-20 percent range in the first three weeks of April.
Although no one knows what comps have been since the comments about April comps, consensus revenue estimates for the quarter imply that comps probably continued to be down at least 20 percent for the entire quarter. Since store visits and revenues are apparently not recovering to any meaningful degree, that is probably the reason for the company's new announcement yesterday.
As I will discuss in my comments about the significant margin effects from the new promotional program, such a margin damaging program is probably an indicator of CMG's desperation at this point to figure out ways to promote additional visits to its stores. Even at the lowest level of participation in the new program, the food margins will be 13 percent less as a percentage of revenues than the company's typical food costs of 35 percent. At the highest level of participation in the program (achieving the "HOT" level for all three months of the promotion), the food costs will actually be 92 percent of the revenues generated by those customers.
Chiptopia Program Description
First of all, however, copied below are the details of the program from CMG's press release yesterday announcing the program:
"Chiptopia Summer Rewards offers three different status levels: Mild, Medium and Hot. Just four visits, with a qualifying purchase during each, earns Mild status and a free entrée. Someone who achieves the Hot level in all three months can earn up to nine free entrées over the course of the rewards program, plus a $240 "Catering for 20" Bonus Reward.

To participate, customers can visit any U.S. Chipotle starting July 1 to pick up a Chiptopia card.

Customers then earn credit toward the various status levels for individual visits within the same month during which they spend a minimum of $6 before tax.

During each month of the program, a customer's fourth, eighth and 11th visit and entrée purchase triggers a reward for one free entrée and elevates the customer to a new status level.

Redeemed rewards also count as a purchase toward reaching the next status level. Thus, customers purchase four entrées in any month of the program to earn Mild status; eight entrées (one of which can be the free entrée earned for the Mild level) to reach the Medium level; and 11 entrées (another one of which can be the free entrée earned in the Medium level) to unlock the Hot level.

At the end of each month, purchase totals reset to zero, and participants begin again the following month.

A maximum of one visit (with a purchase of $6 or more) per member, per day counts toward Chiptopia rewards. Purchasing multiple entrées on the same day does not earn additional rewards (for example, if a customer buys three meals at one time or in the same day it only counts for one visit, not three).

Customers who achieve the same status level for three consecutive months in a row will be eligible for Bonus Rewards.

Achieving Mild status all three months earns one additional free entrée.

Achieving Medium status all three months earns $20 in Chipotle merchandise at store.chipotle.com.

Achieving Hot status all three months earns catering for 20 (a $240 value).

Customers who register for the program in July earn a free chips and guacamole with their first entrée purchase (of $6 or more, before tax) and will be eligible for special Bonus Rewards, available for redemption at the end of the promotion. Users are able to register at any point from July through September; however, the free chips and guacamole and Bonus Rewards are only available to those who join the program by July 31. Bonus Rewards are only available to those customers who achieve status levels all three months."
Margin Effects from the new promotional program
Using the details from the press release, I then modeled food costs and margins for each of the participation levels:

As you can see, as compared to CMG's current food costs of 35 percent of revenues, the food costs for customers participating in this promotional program are roughly 13 to 14 percent higher for customers participating in just one of the months during the three-month program. For customers who participate all three months and who earn the "Bonus Rewards", the costs range from 13 percent higher at the Mild level to 58 percent higher at the Hot level. The Hot level program is baffling to me given its potential costs, but maybe that is also an indicator of the company's desperate attempts to rebuild store traffic.
The assumptions behind my spreadsheet are:
Each paid visit generates $7 of revenue (only $6 is required to qualify).
The "Food Value" column is a sum of the total number of meals provided times $7 per meal plus an additional $3.50 which is the value of the free chips and guacamole which is given to everyone signing up for the program.
The "Food Cost" column uses CMG's standard food cost of 35 percent times the Food Value column.
The "Cost %" column calculates a Cost of Goods Sold percentage in relation to the Food Revenues received from customers participating in the program.
The $20 of Chipotle Merchandise awarded as a Bonus Reward is assumed to have a Cost of Goods Sold of 50 percent.
Potential EPS effects of the program
Participation in such programs is actually never very high and will probably be no more than five percent of Chipotle customers. Given the very large margin effects from customers participating in the program, however, the actual EPS effects could be relatively significant.
If food margins will be 15 percent lower for customers participating in the program and five percent of the customers participate, that will lower overall margins during the third quarter by around 70 to 80 basis points - or around $0.60 per share in EPS on an annual basis if this is the introduction of an ongoing loyalty program (each 100 basis point change in CMG's margins equals about $0.80 per share in EPS). Such negative EPS effects are definitely not built into analyst consensus estimates for Q3 of $2.16 (up from $0.95 in Q2), and so this new program will probably also result in additional downward earnings revisions once other analysts have modeled the effects of this program.
Chipotle's Future Prospects
Because of CMG's storied past as a prominent momentum stock, there are also still a lot of comments about how the company will fully recover from its food safety issues and will return to previous price and valuation levels. The problems with those sentiments, however, is that I don't think that the new reality of CMG's operating model and operating leverage are understood by either most investors or brokerage firm analysts.
The previous large price gains were due to the company's large earnings gains resulting from CMG's significant operating leverage when reporting positive comps and leveraging its fixed operating costs. Unfortunately, leverage also works in reverse and so the comps that are currently down roughly 20 percent are causing a roughly 10 percent (as a percentage of revenues!) deterioration in current operating margins due to the fixed nature of operating costs. The company has also already announced that new food safety procedures will result in a permanent two percent change in food costs and so that is an additional source of negative leverage.
The additional costs on what will be permanently lower unit revenues then results in permanently lower EPS potential. Although CMG is still regarded as a growth stock, it seems to be underappreciated that unit growth had already slowed to around ten percent even prior to the food safety issues.
Another interesting side effect of the food safety issues is that the company mentioned on its Q1 conference call that new markets where CMG has expanded have been affected even more by volume declines than more mature markets. Those more mature markets probably have less comp store growth potential at this point anyway but newer markets, where comp store growth is usually higher, may be permanently affected by slower growth ramps and permanently lower unit revenues relative to historical CMG unit economics.
Modeling all such factors through my own financial model results in the following projections for 2016 through 2019: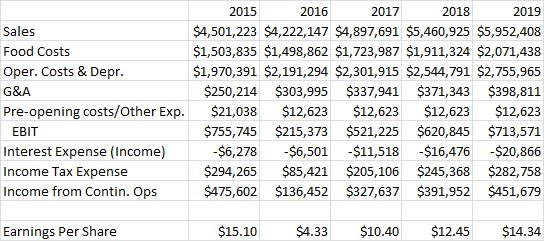 As you can see, my own model does project pretty significant earnings gains of around 20 percent in 2018 and 15 percent in 2019 (by which time unit growth will probably only be around six percent per year).
The problem that investors face, however, is that brokerage firm analysts still have earnings estimates much higher than the estimates above such as a current consensus estimate of $16.66 in 2018. The brokerage analyst consensus estimate for 2018 is also a 42 percent gain over the analyst estimates for 2017 which, from my pretty quantitative perspective, is probably both mathematically and operationally impossible given that unit growth will probably be around eight percent in 2018.
Another thing mentioned by CMG supporters, however, is the potential expansion prospects of ShopHouse and Pizzeria Locale. The bull story is "they only have 14 and 4 locations and so just think of the potential growth from these formats."
Given the one still very positive attribute about CMG is that it does still produce LOTS of positive cash flow, the company does have the cash flow to open at least 250 units of other formats in addition to the CMG unit growth plans but… that doesn't seem to be happening for either ShopHouse or Pizzeria Locale. Instead, the company chose to squander almost $1.1 billion dollars buying back its stock at much higher than current prices - which is probably also an interesting indicator of how far out of touch management is concerning the new reality of CMG's operations.
As I mentioned above, CMG does still produce a lot of positive cash flow even with lower unit revenues. As such, once management gets over trying to manipulate the stock price with aggressive stock buybacks, the company does have the cash flow to introduce a sizable dividend. My own financial model, which also includes future balance sheet and cash flow statement projections, shows that Chipotle could start paying a $6 dividend in 2017 and have that grow to $12 a share by 2020 while still having roughly $1 billion of cash on the balance sheet at the end of every year.
Paying such a dividend would then make CMG more of a value stock, however, which the company doesn't seem to realize that it already is given what was already a growth rate that had slowed significantly even prior to the food safety issues. Management seems more motivated to try to keep the stock levitated at absurd valuation levels given their stock options and other stock ownership and so that is actually a conflict with letting the company settle into a comfortable maturity while paying out lots of cash each year to shareholders.
Disclosure: I am/we are short CMG.
I wrote this article myself, and it expresses my own opinions. I am not receiving compensation for it (other than from Seeking Alpha). I have no business relationship with any company whose stock is mentioned in this article.