Cardinal Health (NYSE: CAH) is a healthcare supply company and a member of the S&P 500 Dividend Aristocrats index (NYSE: NOBL). The company consists of a pharmaceutical and a medical segment. Its medical segment involves the distribution of a broad range of medical, surgical, and laboratory products to a huge number of hospitals and other healthcare provider facilities. It also manufactures, sources, and distributes its own brand of surgical and medical supplies. Its pharmaceutical segment involves the distribution of generic, branded, specialty, and over-the-counter pharmaceuticals to many of the same hospitals and healthcare provider facilities. To provide an idea of its scope, I have attached its key highlights from the 2015 Annual Report: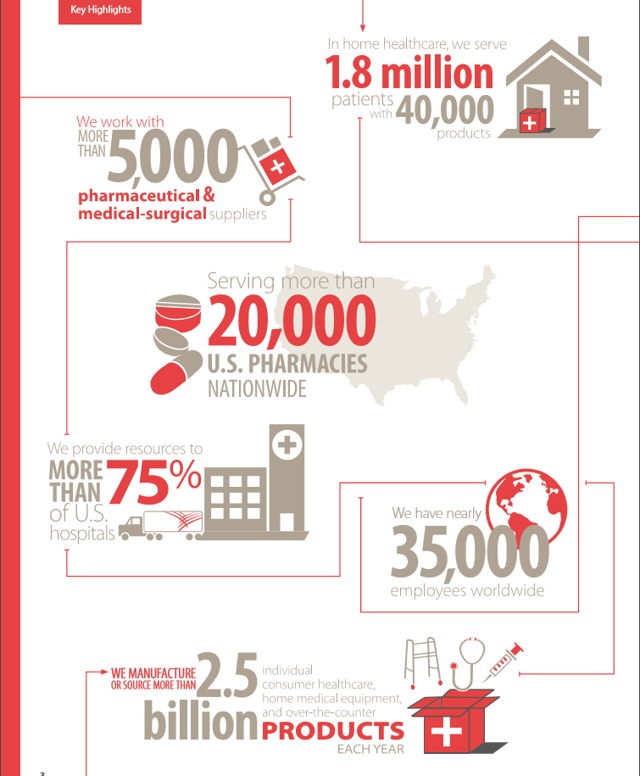 Source: Cardinal Health 2015 Annual Report
Investment Thesis:
Cardinal Health is a Dividend Aristocrat that has weathered many different economic climates. Its strengths outweigh its weaknesses, and it is now trading at or beneath fair value. The risks to drug pricing are less likely to cause major issues with Cardinal Health's generic distribution, and management is confident that they can continue growth even in this difficult environment. This is a high-quality business trading at or beneath fair value.
Qualitative Analysis:
Strengths:
Cardinal Health operates in an oligopoly with AmerisourceBergen (NYSE: ABC) and McKesson (NYSE: MCK), an industry with very high barriers to entry due to the high volume, low margin nature of its business. This is demonstrated by the three companies' net margins over time. In the last 10 years, none of the three except Cardinal Health ever had their net margin break over 2%. Their high volume is demonstrated by the price/sales that they tend to trade at, which averages 0.2, with revenues of $117B last year. This makes it very difficult for a smaller company to match the efficiency and scale that these three operate at.
Like many other companies in the healthcare industry, Cardinal Health is a recession-resistant company. People still visit hospitals which still need medical supplies and pharmaceuticals regardless of the economic environment.
Weaknesses:
Due to its position as a middle-man, Cardinal Health does not carry the pricing power that some of the other strong brands do among the Dividend Aristocrats. Its pharmaceutical margins are affected by prices established by manufacturers and the frequency of generic launches, both of which are outside of the company's control.
Opportunities:
Acquisition of Harvard Drug in July 2015 increases Cardinal Health's generic footprint as well as over-the-counter medications. In its most recent earnings presentation, management stated that their integrations are on track and they expect to meet all their goals with regards to Harvard Drug. It is a bolt-on acquisition similar to many it has done in the past, and Harvard Drug's sales were $450 million prior to the acquisition.
Acquisition of Cordis from Johnson & Johnson (NYSE:JNJ) completed in October 2015. Cordis is a leading provider of catheters, guidewires, and vena cava filters as well as other medical devices. Cardinal Health hopes that this acquisition will help it expand in the higher margin medical device segment. Every acquisition carries risks as the new company is integrated. Cardinal expects $100 million in synergy savings, and for Cordis to begin adding to diluted EPS in 2017 by about $0.20.
Recent Red Oak Sourcing venture with CVS Health (NYSE: CVS). This partnership was signed for 10 years in July 2014. It involves a 50/50 split, with both companies supplying sourcing and supply chain expertise to provide generic pharmaceuticals. This deal replaced the one it lost with Walgreens Boots Alliance (NYSE: WBA) and is very important to the company. The Red Oak venture is one of the largest generic sourcing entities in the U.S.
Finally, the aging population in America will continue to drive higher growth in the healthcare industry and provide excellent long-term returns with relatively resistant earnings.
Threats:
Share price declines in all three of the major medical supply companies this year have been based on fears over governmental price controls. Drug pricing has been a topic for debate in the election, and the biotech industry has underperformed due to uncertainties over what future legislators may do.
Quantitative Analysis:
Cardinal Health has compounded its earnings per share at a 17.30% rate over the last 5 years. It has projected a 10% growth for the next 5. Its capital deployment for the last 5 years has been very shareholder friendly:
Source: Cardinal Health 2015 Annual Report
It is offering a 2.39% dividend yield at the moment, which is slightly above average. However, its dividend growth rate has been excellent.

Source: David Fish's CCC list
Its recent third-quarter results showed excellent growth, as well.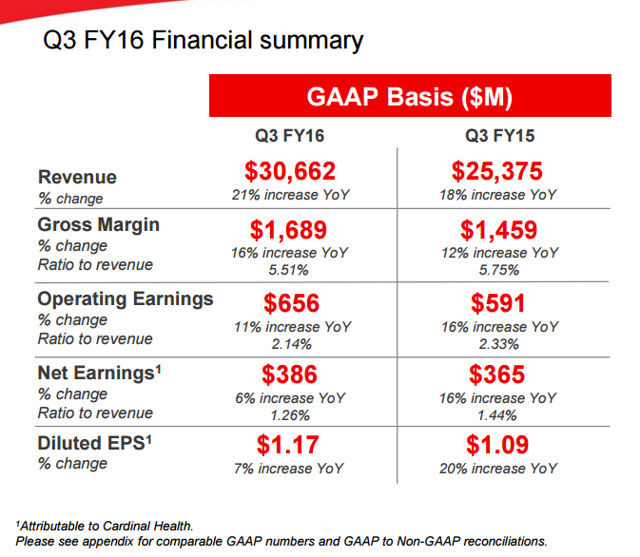 Source: Cardinal Health Q3 2016 Earnings Presentation
Cardinal Health had a FCF yield of 11.5%, courtesy of Morningstar, and its TTM ROIC-WACC spread was 17.43-6.36, courtesy of GuruFocus. This shows the creation of shareholder value over time.
With a forward P/E of 13.2, ROE of 21.2%, and a manageable long-term debt load of 77% of equity, Cardinal Health looks to have excellent quantitative prospects as an investment. Additionally, its low payout ratio of 35.60% will allow it plenty of room to continue its high dividend growth for years to come. It managed to expand its profit margin from 3.66% to 4.08% with its recent acquisition of Cordis, and its continued growth in the medical device segment will help the company expand it further.
I have attached one of Chuck Carnevale's F.A.S.T. Graphs to visually demonstrate its valuation: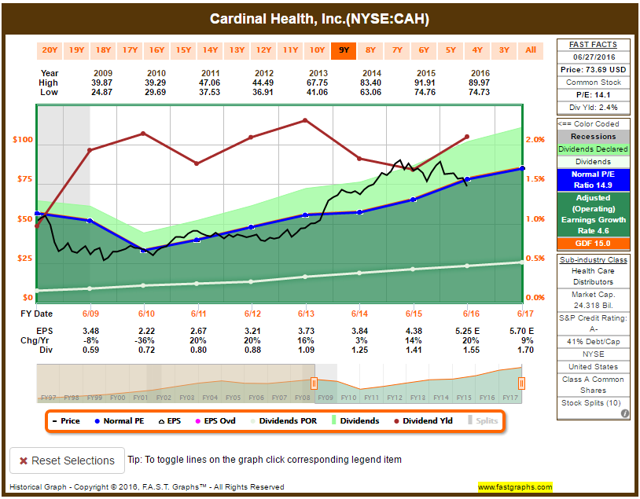 Source: FASTGraphs
Cardinal Health is offering an excellent value proposition in a mostly overvalued market and has great long-term total return prospects. I plan on doing an article on AmerisourceBergen and McKesson later this week, as I believe they are also excellent candidates for research.
Financial statistics were sourced from FinViz, unless otherwise stated. This article is for informational purposes only and is not a formal recommendation to buy or sell any stock. Please do your own due diligence and/or consult a financial professional prior to making investment decisions.
Supporting Documents
Disclosure: I am/we are long CAH, ABC.
I wrote this article myself, and it expresses my own opinions. I am not receiving compensation for it (other than from Seeking Alpha). I have no business relationship with any company whose stock is mentioned in this article.