With Brexit in focus and streaming across the media over the weekend and into the current week, Apple (NASDAQ:AAPL) shares are nearing that important $90 a share threshold once again. Will this week's trading environment witness the stock cross beneath $90 again and as it did ever so briefly after the delivery of Q2 2016 results? Most obviously we will have to wait and see. In this article, we will examine Apple and its business segments with a focus on the all-important iPhone and hardware sales trends.
Apple's dependence on iPhone sales have backed the mighty consumer goods and services company into a corner as sales for the iPhone are expected to fall year-over-year for the first time. Even IDC has cut their forecast for smartphones and iPhone shipments. IDC sees a 3.1% growth rate to 1.48 billion units for smartphones, versus a prior growth of more than 5% to 1.5 billion units. More specifically, IDC lowered iPhone shipment expectations for 2016 to 227 million units in 2016 from 232 million in 2015.
Last week, Business Insider magnified Apple's current struggles with regards to growing sales and earnings as the company's greatest portion of sales come from its flagship iPhone product line.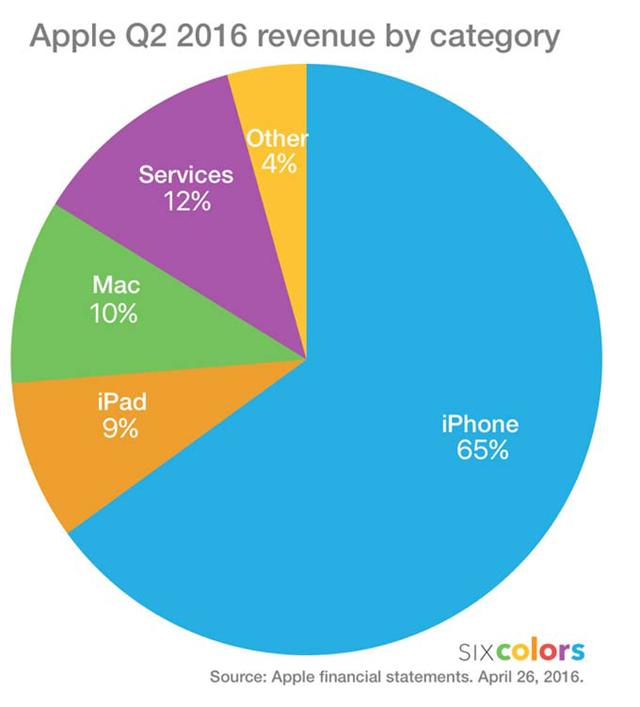 Even with the services business growing, it will take a great deal of time for it to overcome or bridge the gap in sales declines from the iPhone business segment. As the iPhone goes, so does with it Apple's earnings and sales. With Apple lowering its full-year estimates for both earnings and sales, analysts have followed suit by lowering their estimates and price target for AAPL shares over the last several weeks. But still yet not a single analyst has a price target below $100 a share. Many analysts, in lowering their estimates and price targets still maintain their Buy rating on the stock. This may indicate they believe that the near-term declines will be met with an improved product cycle and easier comparisons in 2017. While that remains to be seen it certainly is supportive of a longer-term bullish thesis for investing in shares of AAPL. I tend to lean in the opposite direction of the analysts that support a bullish bet on AAPL shares and believe only those who trade the stock will outperform over the next 12 months.
It's been widely reported that the iPhone 7-refresh/upgrade cycle will likely be one that is not met with increasing sales for the iPhone business segment. I think most of the investment community has accepted that as a forgone conclusion and are looking forward now to the iPhone 8, set to launch in 2017. And that iPhone 8 is " where it is at" for a return to growth for iPhone and total net sales! Well at least that is the early gauge of sentiment regarding when and why Apple will return to growth.
Frankly speaking, I'm not of the opinion that any forthcoming iPhone be it 7 or 8 will return the Apple franchise to growth long-term. That's just not how the business of hardware works. If the numbers come down enough from the launch of the iPhone 7 until the launch of iPhone 8 you could get a decent pop in sales, but that will likely be fleeting and find Apple back in the same predicament it is in presently. The upgrade cycle for consumers has been extended and will likely only be further extended in the coming quarters and for a variety of reasons. Curving and changing the screen of the iPhone is less of a needs based utility driver of consumption than has proven to be the camera and app upgrades over 6 quarters as shown in the decelerating sales trends through at least 3 upgrade cycles. Since launching the iPhone 5, sales growth has done nothing but decelerate indicating that distribution of the iPhone was saturated, but total addressable market share had some room for being captured. With each successive quarter that has passed since the iPhone 5, the total addressable market to capture became less and less until both distribution and addressable market were saturated.
It didn't matter for any of Apple's product segments, be it iPad, iMac or the iPhone, growth deceleration has led to outright sales declines in all three business segments. That's how hardware "works". Change the screen size, change the pixels displayed, add memory storage and increase battery life…these are all great in adding form and function, but have done absolutely nothing to reverse the trend in sales. Nothing whatsoever! The only variable that changes the sales trend for hardware is generally low comps or a major leap in technology innovation. Nothing mentioned thus far in the way of form and function has proven to be a major leap in technology innovation. Here's a visual aid that analysts use when predicting future outcomes. This is the exact chart of Apple iPhone unit sales sequentially since Q1 2015.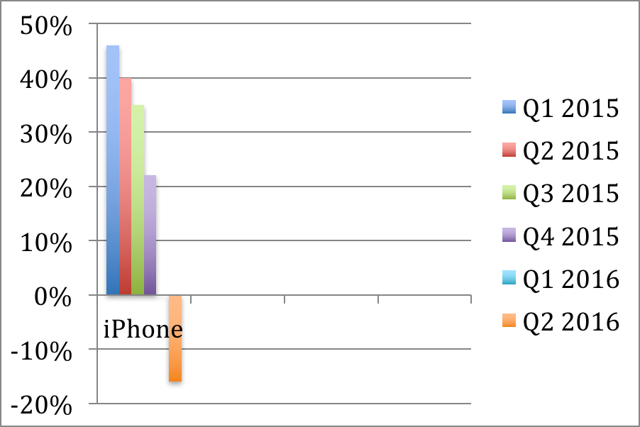 Notice the increased magnitude in the growth rate deceleration from Q3 2015 to Q2 2016. This came in the face of Apple launching iPhone 6, 6C and iPhone SE. But some analysts and media pundits would have you believe, "That's okay, just wait for iPhone 7 or 8"! At the rate of the current sales declines, by the time the iPhone 8 launches one would think the bar will be set low enough for Apple to show unit and sales growth. But by that time Apple will likely be facing consecutive years of iPhone sales declines. Two consecutive yearly declines for the iPhone that might finally produce an iPhone 8-induced modest return to growth amounts to little more than "who cares" by then. This is especially the case if that growth comes at lesser profits, which is always the case when markets are saturated. Lesser profits from market saturation are already being exhibited by Apple's expected yearly profit decline for FY16. It's not the phone folks, it's simply a lack of addressable market to satisfy. Apple could do whatever it chooses to the next iteration of the iPhone, but it likely won't serve to produce a mass frenzy of adoption beyond its predecessor models. From here on out, Apple will not likely see meaningful growth beyond the ability to jump over low comps. Not until a meaningful technology leap is implemented. We have effectively entered a period of peak smartphone, which means we've also witnessed peak iPhone.
Below is a chart of iPad unit sales since 2014 and post the market saturation point. iPad sales have been down for 10 quarters now.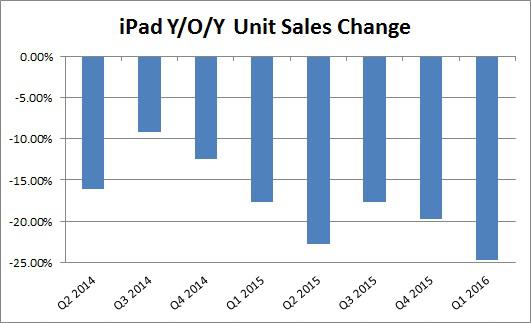 Being that the decline has been extended for such a long period of time, this identifies the usefulness or uselessness of the product in the consumer's mind. The need for a mobile product to fill the gap between a MacBook and an iPhone has proven to be very, very limited. Best Buy (NYSE:BBY) and Target Corp. (NYSE:TGT) have continuously noted the declining consumer appetite for tablets in their quarterly reports. Apple did a great job with bringing style to the tablet market that didn't exist to a large degree before the iPad, but style only gets you so far. Basic usefulness of a product always trumps style in the long run.
The chart for the Mac since Q1 2015 will look no different than the one for the iPhone.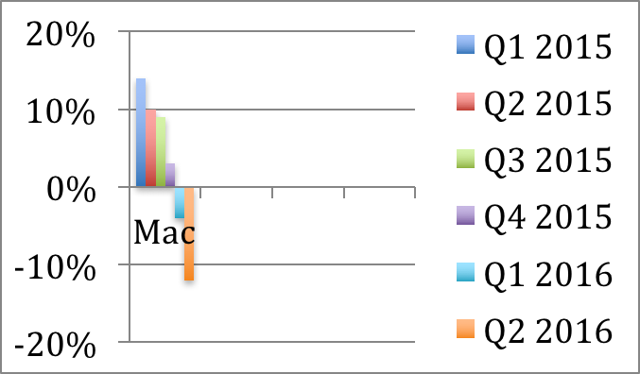 Of course, just like with the iPhone, the deceleration in growth was a clear sign of things to come and regardless of what Apple did to improve/upgrade the Mac. I'm expecting Mac sales to worsen from here and through the end of the year...at least.
So when it comes to understanding why the Services business segment is growing double digits as a percentage of sales YOY, it should also be recognized how this metric is affected by the total decline in hardware sales.
Now, of course none of these considerations for the individual business segments and expectations going forward trump the concerns of the day surrounding the impact from Brexit. While others have offered their views on Apple with regards to Brexit, I think it important to offer what a recent research exercise produced by Amit Daryanani of RBC Capital Markets. Daryanani decided to examine the potential risk to major tech firms like Apple with respect to the Brexit impact.
Our initial take is that today's decision will likely create significant currency headwinds for our coverage companies with significant UK/Europe exposure," writes Daryanani.

We note that the ancillary impact from the U.K. exit will likely create further fundamental revenue headwinds for our broader coverage. For the purposes of this analysis, we will assume most companies receive ~15% of their Europe/EMEA revenue in British Pounds and the balance in euros as most companies do not disclose a breakdown between GBP and EUR revenues. Companies with significant Europe/U.K. revenue exposure are listed below.
In assessing the potential risk from Brexit due to foreign currency exchange rates, Daryanani says Apple's European exposure of 22% exhibits an estimated -0.8% revenue headwind. Daryanani's exercise doesn't take into consideration demand risks, which is another layer of consideration altogether. Whether it be issues of demand or foreign currency impact, Apple certainly won't benefit from the Brexit global market disruption. Additionally, I believe the Brexit vote will breed uncertainty amongst the consumer and likely lead to a decline in demand and/or iPhone upgrades by consumers in and around Europe.
AAPL shareholders will need to pay close attention to future headlines as analysts may need to reconsider their earlier estimates and targets. As one key component in the cog of Apple's reporting of sales and earnings, the Euro dropped substantially against the USD last week and rests just below 1.11 presently. Depending on how the currency pairing reacts to the Brexit decision in the coming days and weeks, this may determine how shares of AAPL perform, to some degree.
A few months ago I wrote an article outlining that I believed shares of AAPL would not rebound quickly or make for an optimal investment. The article was aptly titled "5 Reasons Why I'm Not Buying Apple Right Now". The 5 reasons outlined in the article remain relevant today and for the foreseeable future.
Reason #1: Selling Pressure
Reason #2: Flagship Product in Decline
Reason #3: Lag in Innovation Cycle
Reason #4: VR Again?
Reason #5: Retail Woes Bring Fewer Orders
In addition to outlining my reasons for not dedicating capital to shares of AAPL, I invited shareholders to consider possibly lightening their ownership should shares achieve $95-$96 a share. The current share price of AAPL rests below $94 presently and more than 30 days since publishing "5 Reasons Why I'm Not Buying Apple Right Now".
The business of a hardware company is a tough business once market saturation has been achieved for any particular product. iPhone 7,8, 9 or 10SE won't determine the future of Apple any more than "iPad Medium" would should such a product come to pass. Numbers simply have to come down low enough to reestablish some measure of growth being that the Apple hardware markets are found to be saturated.
Disclosure: I/we have no positions in any stocks mentioned, and no plans to initiate any positions within the next 72 hours.
I wrote this article myself, and it expresses my own opinions. I am not receiving compensation for it (other than from Seeking Alpha). I have no business relationship with any company whose stock is mentioned in this article.