Digirad Corp. (NASDAQ:DRAD) is a technology and healthcare service provider specialized in diagnostic solutions. The company is organized into two main divisions, Diagnostic Services and Diagnostic Imaging. The Diagnostic Services division provides services including cardiac event monitoring, nuclear cardiology and ultrasound imaging. These services are provided to physician practices, hospitals and imaging centers. Additionally, this segment also provides a variety of client-centric services for nuclear cardiology camera owners, such as staffing, outreach, outsourcing and administrative support. The company's Diagnostic Imaging division develops and manufactures solid-state gamma cameras for nuclear cardiology and nuclear medicine applications, while it also repairs and supports Digirad equipment as well as equipment from most other manufacturers of nuclear cardiology systems.
During periods of high volatility, like the one we find ourselves in right now, investors can remain invested in equity positions by focusing on defensive sectors that offer lower risks. Defensive sectors less impacted by market volatility, such as consumer staples, healthcare and utilities, have a history of outperformance during the seasonally weak period for stocks. As we see from the chart below, volatility has been rising for the last three months, and we expect this period of high volatility to remain as investors face new realities like uncertainties in Europe and a slowdown of the Chinese economy.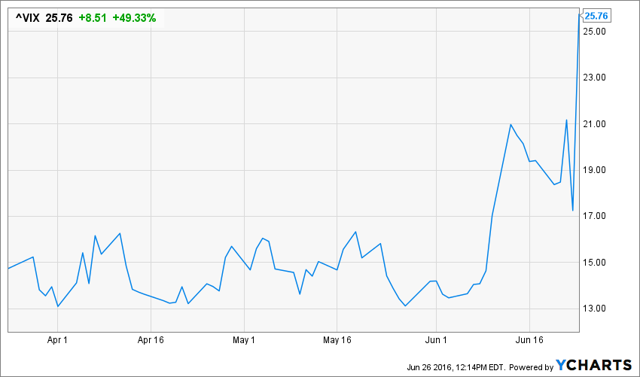 The company has a P/E of 3.14, which compares with a market average of 20-25. It currently holds a buy rating from Zacks, and is considered to be undervalued by the market. Insiders own a large portion of the company. Just recently, the Director, Jeffrey E. Eberwein, bought 6,700 shares. This clearly shows confidence from the management that the company will perform well. As the old Wall Street saying goes, "There are many reasons for an insider to sell a stock, but only one to buy."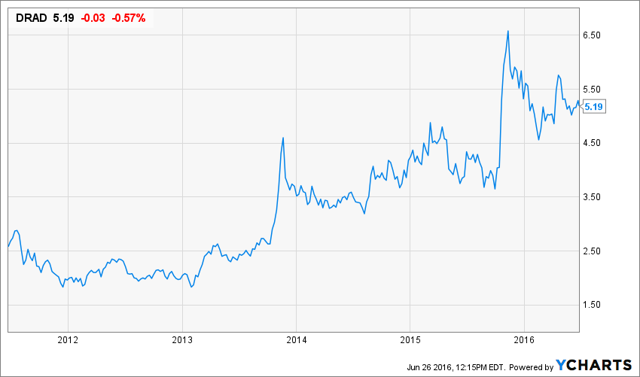 In addition to all of the above, let's not forget that Digirad pays a solid dividend of 3.83%. It is rather uncommon for small-cap stocks with growth potential to pay such a nice dividend. So, with this stock, not only does the investor get growth at a reasonable price, but cash flow from the dividend that's higher than many others in the market. Considering that the healthcare business could provide shelter from the high volatility of the market right now, Digirad seems to be in an excellent position going forward, and the stock should see decent upside in the near term.
Disclosure: I/we have no positions in any stocks mentioned, and no plans to initiate any positions within the next 72 hours.
I wrote this article myself, and it expresses my own opinions. I am not receiving compensation for it (other than from Seeking Alpha). I have no business relationship with any company whose stock is mentioned in this article.
Editor's Note: This article covers one or more stocks trading at less than $1 per share and/or with less than a $100 million market cap. Please be aware of the risks associated with these stocks.