Thursday's Brexit has had a resounding impact on the market. Stock prices in all sectors took a hit as market confidence dropped. Obviously, a decline in the European economy and currencies can have a very negative impact on a company, with sales abroad being worth less and declining consumer confidence potentially hurting sales. This has, however, opened up opportunities. With such a broad hit to the markets, many stocks that have little European exposure may have seen an unnecessary drop in price.
Company Overview
Acuity Brands Inc. (NYSE: AYI) is best described as an electronics manufacturing and design company. It concerns itself with the design and sale of custom lighting fixtures and arraignments as well as electronics systems. The company has a market cap of 10.21 billion and a share price of $244.03 at the time of writing, previously opening at $254.00 before the events of Thursday. Acuity did $2.706.7 billion in revenue during 2015, and has maintained a solid growth rate over the past three years (about 13%). Finally, its second quarter of this year was a very strong success, citing improvements of over 18% compared to Q2 of last year. Overall, the company seems to have been in a very good place during the past couple of years, with reasonable top line growth, improving margins, EPS growth and a nice upward trend on its price.
So what's changed? Well, not much other than the state of the macro economy. With that being the case, we must ask how exposed AYI is to Europe and Britain, and how this will impact the company in the long run.
Europe and AYI
AYI has very little European exposure in both its suppliers and customers. The vast majority of its manufacturers are based out of Mexico and the United States, with only 2% of its finished product coming out of Europe in 2016.
With customers, it is a very similar trend. A small portion of AYI's sales are in Europe - only 9%. Additionally, the company has stated in its 10-K that its growth will be focused in North America. With this in mind, the shakeup in the European economy should not impact AYI that much, because it has minimal exposure to European markets.
A Brief Analysis of The Past Year
AYI has been growing at a steady rate - in short, both Q1 and Q2 have had at least 10% more revenue than the equivalent quarter of last year. Additionally, margins have improved. All of this has trickled down to the bottom line, with the past six months of comprehensive income improving by 51.5% from the equivalent six months last year. The company also has a great record of meeting its earnings expectations, hitting them for the past six quarters. EPS has steadily grown, and this has translated to solid stock price growth.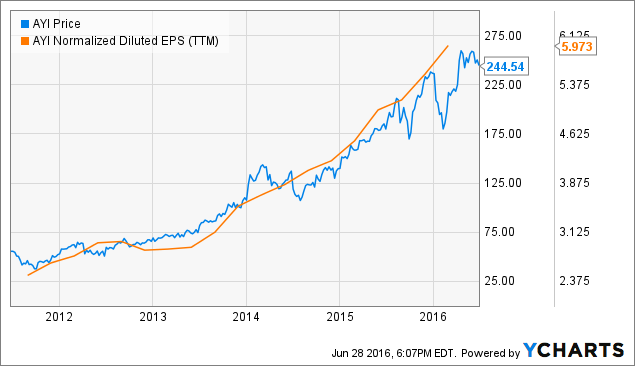 This consistent record indicates that AYI has a solid likelihood of hitting its earnings and bringing confidence in its stock back to normal levels and possibly exceeding those levels.
Conclusion
With tomorrow's earnings on the way, assuming the company continues its trend of solid growth, we will see a return of confidence in the company, bringing it back up to pre-Brexit levels. It's also certainly something that will be addressed in its earnings call. Overall, if the company performs as it is expected to and addresses the fears Brexit has created, we will definitely see a rise in stock price. The stock is underpriced right now compared to where it was, and that should be remedied after the earnings are released tomorrow.
Disclosure: I/we have no positions in any stocks mentioned, and no plans to initiate any positions within the next 72 hours.
I wrote this article myself, and it expresses my own opinions. I am not receiving compensation for it (other than from Seeking Alpha). I have no business relationship with any company whose stock is mentioned in this article.