Prospect Capital Corp. (NASDAQ:PSEC)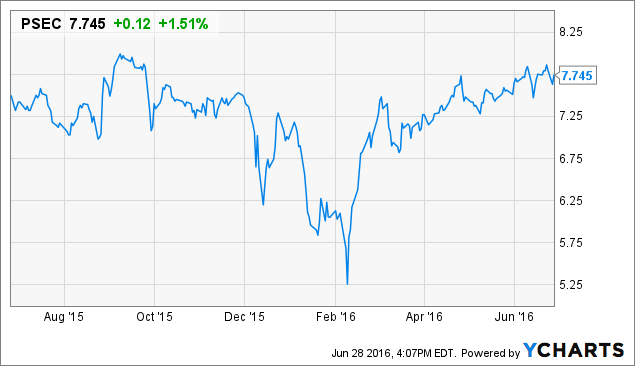 Recent Stock Price: $7.745
Shares Outstanding: 356.44 million
Market Cap: $2.77 billion
52-Week Range: $5.21-8.09
This article is in response to the recently published article, "Prospect Capital: You Can't Lose." I think the article did a good job getting readers interested in Prospect Capital stock, and it did make some good points, but I feel it's a dangerous article nevertheless. Inexperienced investors may read the piece and think investing in Prospect is a sure thing - after all, according to the author, you can't lose if you simply hold the shares and re-invest the distribution over a long period of time. This is a very dangerous way to look at investing; there are risks to every investment, as I'll explain below.
First, I'd like to point out that I actually own Prospect shares, and I last covered the company following third-quarter earnings. I was positive on the stock, as its net investment income easily covers the stock's $.083 monthly dividend, and the shares yielded well over 10% at the time. I bought some shares because I thought things would get better in the following quarter.
As I explained in that article, if you owned $10,000 worth of Prospect shares back in December, you would have received $672 worth of dividends these past six months, so you would have made some money even if PSEC didn't increase in value. The shares have actually advanced a few percentage points since that article was published, and I've held onto my small position in PSEC. It has been a steady performer, and has basically served as a higher-yielding alternative to bonds in my portfolio. To be clear, I own a very small position - PSEC likely makes up less than 2% of my total holdings.
However, there are risks that the "You Can't Lose" article fails to mention. The article says that over the past decade, it would have been impossible for investors to lose money in PSEC, even though shares have been nearly cut in half in that time period.
This is actually true. When you look at the company's total return calculator and go back 10 years to June 2006, PSEC has a total return of 52.03% (with all dividends reinvested and the share price having declined 53.87%).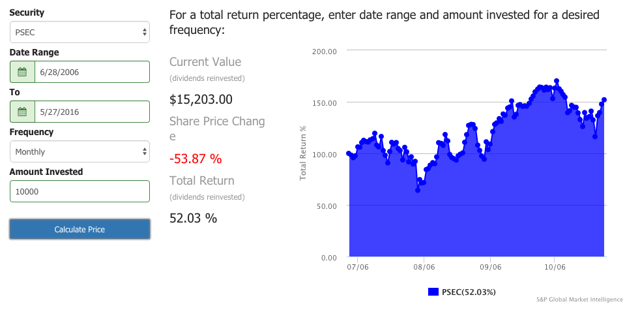 So, over the past 10 years, an investment in PSEC would have returned 5.2% per year on a total return basis. Not great, but certainly not terrible, either.
However, this total return is pretty pointless if you do not compare it to a major index or benchmark. Over the past 10 years, the SPDR S&P 500 Trust ETF (NYSEARCA:SPY) has a total return of 74.10% and averaged total returns of 7.4% per year, beating PSEC. Meanwhile, the Vanguard Utilities ETF (NYSEARCA:VPU) has averaged total returns of 9.02% over the past decade, or over 90% total. Numerous other ETFs have outperformed the company.
Both of these investments above contain significantly less risk than Prospect, as they are diverse ETFs that hold numerous investments - the utilities ETF, for example, contains 100 holdings, and no one holding makes up more than 7.3% of the ETF. So, if one or two companies went under, the ETF wouldn't be too affected.
SPY tracks the S&P 500 and contains all stocks in the index. Apple (NASDAQ:AAPL), Microsoft (NASDAQ:MSFT), Exxon Mobil (NYSE:XOM) and Johnson & Johnson (NYSE:JNJ) are the ETF's top holdings, but no one holding makes up more than 2.9% of the ETF. Again, it's a diverse ETF, so there's less risk than owning a single company such as PSEC.
Heck, even the iShares 20+ Year Treasury Bond ETF (NYSEARCA:TLT) has seen superior returns to PSEC. The fund has averaged total returns of 9% per year over the past 10 years! So, TLT has actually been a far superior investment to Prospect on a total return basis.
My next point: The author does not factor the taxes investors pay on distributions from PSEC. All distributions investors receive from BDCs like Prospect are taxed as ordinary income, which is higher than short- and long-term capital gains; you can find more details on Prospect's Capital website. Wouldn't you rather pay long-term capital gains on a stock?
So, an investor holding one of the above ETFs could have held onto the ETF for numerous years and then sold at a gain, resulting in a long-term capital gains rate of 0-20% (based on your tax bracket), as opposed to paying taxes on distributions at an ordinary income rate of 10-39.6%. Of course, you can also hold shares of PSEC or any of the above investments in a Roth IRA account, where you'll pay zero taxes on distributions.
The other obvious point is the fact that an investment in PSEC holds numerous other risks. Prospect Capital invests in small and mid-sized private companies rather than large public companies, so there's real risk that its investments could go bad in an economic downturn. PSEC has done a good job in choosing its investments in the past, but there's no guarantee it will continue to do so in the future.
Besides repayment risk, there's interest rate risk and credit risk, as Prospect Capital carries a significant amount of debt of $2.7 billion as of last quarter. What if Prospect defaults on its debt, or what if its borrowing costs increase and the company is suddenly unable to make new loans and continue paying its distribution? And what if management cuts the distribution for other reasons? These are all possibilities that need to be considered.
Next, what if Prospect Capital's net asset value continues to fall? NAV stood at $9.61 per share on March 31, 2016 - a decrease of $.04 in comparison to the value of $9.65 on December 31, 2015, and a $.70 decrease compared to the value of $10.31 on June 30, 2015. The same NAV issue has plagued Apollo Investment (NASDAQ:AINV), a BDC whose share price has dropped 25% over the past year. What if management decides to issue new shares below NAV again, diluting shareholders and potentially crushing the stock price? This is a real risk to consider.
Look, Prospect may very well continue to pay massive distributions to shareholders and return 5-10% on a total return basis per year. I'm actually betting this will be the case. But it's not a sure thing, and I've been underwhelmed by the performance of PSEC since I first bought shares. Investors need to carefully weigh the risks with the potential rewards first, and also consider the past performance of PSEC compared to other investments.
Disclosure: I am/we are long PSEC, AAPL.
I wrote this article myself, and it expresses my own opinions. I am not receiving compensation for it (other than from Seeking Alpha). I have no business relationship with any company whose stock is mentioned in this article.