Nike (NYSE:NKE) reported fourth-quarter earnings results on Tuesday after the market closed and subsequently sold off by more than seven percent after-hours. I believe this provides a great buying opportunity, as the reason for the selloff seems very arbitrary and Nike's valuation is attractive at the current price.
Nike beat EPS estimates by one cent, earning $0.49 per share in the most recent quarter. Revenues totaled $8.24 billion, which means an increase of 5.9% year-over-year. This was a miss of $40 million, since analysts had forecasted revenues of $8.28 billion (and thus a y-o-y increase of 6.4%).
I believe the fact that Nike missed revenue estimates by half a percentage point does not justify the after-hours share price crash we have seen after the company announced these results:

(source: nasdaq.com)
From its closing price of $53.09, Nike's shares have dropped to a low of $49.14 for a 7.4% share price decline. After-hours trading can be volatile and right now (at the time of writing) Nike's shares are trading above $50 again, but still down 4.5% from Tuesday's closing price.
A revenue miss by 0.5% does not justify such a share price move to the downside, I believe, especially not when combined with earnings coming in better than expected.
Nike's 5.9% revenue growth in the fourth quarter was a pretty good result when we account for unfavourable currency rates (which gets us to a currency neutral revenue growth rate of 9.0%) and other factors that had a negative impact, such as Sports Authority going bankrupt during the quarter - without this retailer's bankruptcy actual revenue growth would likely have been higher than the reported number.
With worldwide futures being up 8% (up 11% adjusted for forex) it looks like Nike's revenue growth will come in higher again in the next quarters, which means that the fourth-quarter revenue growth rate was an outlier (yet in no way a bad result, just slightly below the company's usually very strong growth rates).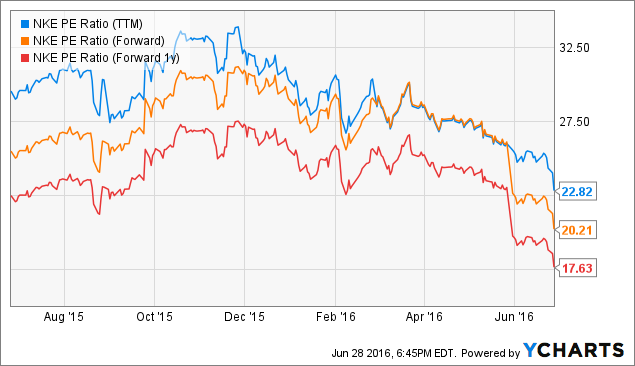 At Tuesday's closing price Nike traded at 22.8 times trailing earnings, 20.2 times forward earnings and 17.6 times forward (1y) earnings. When we account for the after-hours drop we have seen (-4.5% right now), the valuation is even lower: The trailing P/E ratio stands at 21.7, the forward and forward (1y) P/E ratios are down to 19.2 and 16.7, respectively.
In comparison with Nike's historic valuation this is a very good price investors need to pay for Nike's shares right now. In comparison to the broad market's valuation Nike looks attractive as well: The S&P 500 index trades at 23.5 times trailing earnings (thus at a premium of roughly 10% in comparison to Nike's valuation), despite the broad index having a growth outlook that is not nearly as good as Nike's outlook: With short-term catalysts such as the Rio Olympics and management's goal of hitting $50 billion in sales in 2020, it is not surprising that the analyst consensus sees Nike's EPS growth rate at a very strong 14.5% annually over the next five years.
With a strong growth outlook, great fundamentals and a huge moat, and a below market valuation on top, I believe Nike looks very compelling at the after-hours price. Even at Tuesday's closing price of $53 Nike looks pretty good, I believe.
For income investors Nike is not very attractive, due to the dividend yield being just 1.2% (the dividend growth rate is high though). Those owning Nike shares and still looking for substantial income can use a covered call option strategy though: By selling call option contracts with a strike price above the current share price those investors can receive additional income (in the form of the option premiums), but limit their potential share price gains.
By selling the October 2016 call option contract with a strike price of $60 those investors get additional income of $0.60 per share ($1.80 annualized, or a 3.5% additional annual income yield), the maximum share price gain is limited at 13% though (45% annualized). This strategy could be viable for those looking to get some income from their Nike investment and willing to cap their maximum capital appreciation in return.
Takeaway
Nike beat earnings estimates and missed revenue estimates by an inch (0.5%) and dropped more than 7% after-hours - a completely unjustified share price drop, I believe. Nike's earnings grew substantially, despite currency headwinds and the Sports Authority bankruptcy; future orders and the upcoming Rio Olympics point to stronger revenue growth in the next quarters.
Nike is very inexpensive right now, both relative to the broad market and to Nike's historic valuation, thus the huge share price drop provides a nice buying opportunity, I believe.
Disclosure: I am/we are long NKE.
I wrote this article myself, and it expresses my own opinions. I am not receiving compensation for it (other than from Seeking Alpha). I have no business relationship with any company whose stock is mentioned in this article.