Like most stocks on the market, Cliffs Natural Resources (NYSE: CLF) was down on Brexit day. However, the stock showed great resilience and quickly returned to pre-referendum levels on Monday. Brexit and the panic that it caused invoked the most common bearish arguments for Cliffs - the U.S. economy is doing bad, steel prices are inflated and depend solely on tariffs, iron ore prices will fall through the floor and destroy Cliffs' Australian and U.S. business.
Before we proceed, I must admit that I'm really astonished to read so many articles here on SA and elsewhere on the web which do not distinguish between Cliffs Australian and U.S. segment and assume that IODEX pricing has direct impact on U.S. margins.
Let's go through these points one by one and see if Brexit made the bearish case stronger.
The latest news on U.S. GDP is that it grew by 1.1% in the first quarter, up from the previous estimate of 0.8%.
In my view, the situation is not bad at all and fears about the recession (and Fed pushing rates into the negative territory) are overblown. The growth rate is probably far from stellar, but nothing catastrophic happens.
In this light, it's premature at best to expect housing and auto sales fall through the floor and annihilate steel prices. The Brexit story would likely cause some damage for U.S. multinationals, but I fail to see how it could negatively impact the domestic demand for steel.
Let's look at the futures market to see if it believes the steel price growth story.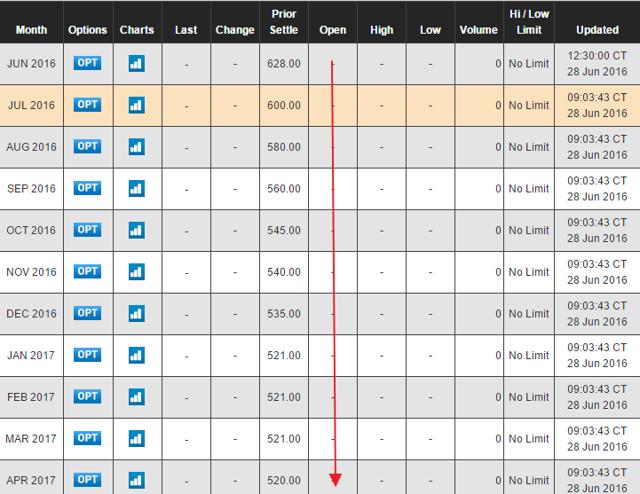 Source: cmegroup.com
These are quotes for U.S. Midwest domestic hot-rolled coil steel (NYSE:CRU) index futures. As you can see, the market firmly believes that prices will decline substantially by the end of this year and into 2016. The same is also true for iron ore prices: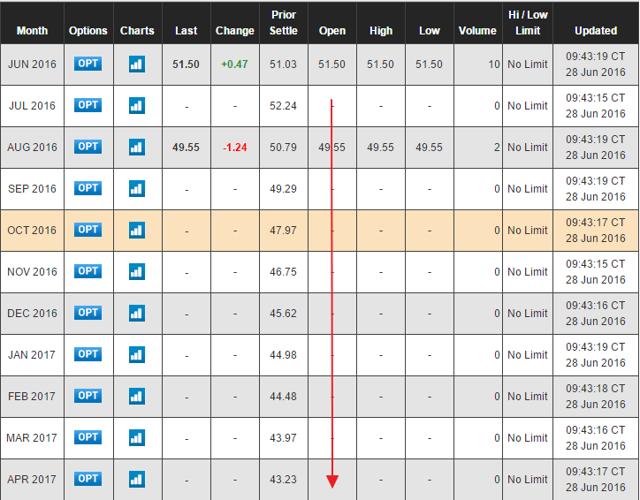 Source: cmegroup.com
I would like to note that this pattern has been present for quite some time now. No matter what is the front-month price of iron ore price, future prices are believed to be lower.
If the front-month price increases, so do prices for future months. In this light, the market has not been particularly wise this year.
The other thing I'd like to note is that the spread between the front-month contract and other contracts has tightened. You can look at the iron ore price screenshot in my March article on Cliffs to see how big the spread was at the time.
Recently, Morgan Stanley improved its 2016 iron outlook to $46/ton. I am not a huge believer in forecasts, but I should note that the sentiment is slowly changing as highlighted by the futures market and forecast revisions.
Iron ore is probably the main part of the bearish thesis which could be significantly affected by Brexit. If the U.S. dollar rallies to highs seen at the beginning of this year, commodities won't be able to hide from at least some pressure.
However, iron ore has been living a life of its own for some time now and the effect from the stronger dollar may be muted. I believe that Vale's (NYSE: VALE) ability to manage supply from the upcoming S11 project would be more important for the iron ore market.
I would once again like to highlight that Cliffs' U.S. segment depends on the health of the domestic steel industry rather than on iron ore pricing and the health of the Chinese economy.
Iron ore prices play an important role for Cliffs while it is transitioning to U.S.- centric company as they directly influence the price that Cliffs gets for its Australian iron ore. However, tying the performance of the U.S. business to prospects of iron ore prices is incorrect.
All in all, I believe that Brexit is a non-event for Cliffs and Brexit alone could not break the current upside trend for Cliffs.
Disclosure: I am/we are long CLF.
I wrote this article myself, and it expresses my own opinions. I am not receiving compensation for it (other than from Seeking Alpha). I have no business relationship with any company whose stock is mentioned in this article.