MACROECONOMIC NEWS
BRAZIL. The first quarterly inflation report (QIR) published under Brazil's new central bank president Ilan Goldfajn projected inflation of 6.9%, up from 6.6% in March. The 2017 forecast is now at 4.7%, down from 4.9% and closer to the CB target of 4.5%. Goldfajn has pledged to lower inflation.
CHILE. The last CADEM survey showed that President Michelle Bachelet's disapproval fell 3 pps from the previous week to 70%. Her approval rate remained unchanged at 21%. The survey showed cabinet disapproval increasing by 1 pp to 76%, whereas the approval rate lost 3 pps to 13%.
MEXICO. Barclays downgraded its 2016 GDP growth forecast to 1.9% from 2.5% on Brexit woes. Marco Oviedo, Chief Economist for Mexico, sees FX trading at 19.70 per USD by the end of the year. He also believes that the central bank will hike the key interest rate by 50 bps during its June 30 meeting.
MEXICO. Donald Trump offered a starkly protectionist view on trade, pledging to withdraw the U.S. from the North American Free Trade Agreement (NAFTA) and kill America's involvement in the Trans-Pacific Partnership (TPP).
MEXICO. Despite a sharp monthly increase of 23 bps, the jobless rate fell to its lowest May level in 8 years, at 4.0% in 2016. Of the 20.3k new formal jobs created last month, manufacturing (22.6k), trade (13.5k) and construction (13.3k) led the way and helped to compensate for the layoffs seen in farming (‐41.3k), social services (‐6k) and utilities (‐0.78k).
Latin American ETFs (June 28): Latin America (NYSEARCA:ILF) 4.14%, Argentina (NYSEARCA:ARGT) 3.33%, Brazil (NYSEARCA:EWZ) 4.35%, Chile (BATS:ECH) 4.27%, Colombia (NYSEARCA:GXG) 3.25%, Mexico (NYSEARCA:EWW) 2.92%, Peru (NYSEARCA:EPU) 1.99%.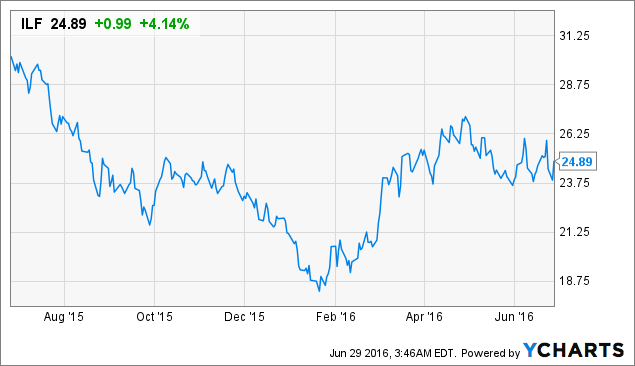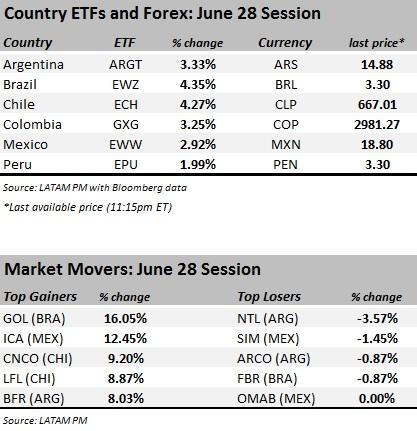 CORPORATE HIGHLIGHTS
COLOMBIA. Moody's confirmed the Ba2 local and foreign currency long-term issuer ratings of Grupo Aval Acciones y Valores (NYSE:AVAL) and assigned a negative outlook. Moody's also confirmed Grupo Aval Limited's Ba2 senior unsecured foreign currency debt rating, with a negative outlook.
MEXICO. The Federal Communications Commission (FCC) said on Tuesday that Puerto Rico Telephone Company and its parent company, America Movil (NYSE:AMX), will pay $1.1 million to resolve a U.S. investigation over foreign ownership levels. The companies agreed to adopt compliance plans to prevent future stock purchases by the Slim family that would exceed foreign ownership limits without first receiving approval.
MEXICO. A Canadian consortium will invest US$1.8 billion in infrastructure. According to Energy Secretary Pedro Joaquin Coldwell, the consortium composed by Caisse de Dépôt et Placement du Québec (CDPQ) and CKD will focus the investment in power plants, transmission and distribution routes.
MEXICO. Standard & Poors affirmed its credit and debt ratings on CFE. S&P assigned a "BBB+" rating to debt in foreign currency, and "A" in local currency, as well as "mxAAA" on a national scale. This reflects that it is almost certain that Mexico's government will provide extraordinary support if the CFE faces economic difficulties.
PERU. Bank of America upgraded Buenaventura Mining (NYSE:BVN) from Neutral to Buy, lifting its price target from $10 to $14. BVN is currently trading at $11.53. Among the key drivers for their decision, BofA mentioned Cerro Verde's ramp-up, higher gold prices and a solid cost performance on direct operations.
Disclosure: I/we have no positions in any stocks mentioned, and no plans to initiate any positions within the next 72 hours.
I wrote this article myself, and it expresses my own opinions. I am not receiving compensation for it (other than from Seeking Alpha). I have no business relationship with any company whose stock is mentioned in this article.