In this article, I would explore further into the supply side of coal (i.e. coal miners), in order for readers to better understand the underlying dynamics of international coal pricing.
China, being the largest coal producing country in the world, contributes ~50% to the total coal production in the world. Currently, its coal miners are confronted with a rise in default risks emanating from severe cash flow problems coupled with an incessant drop in international coal prices.
Moreover, approximately, 50% of the coal mining companies' bonds are set to mature before CY17 amidst curbed bank borrowing coupled with the subduing performance of capital markets. The below graph shows China's coal bonds issued has risen at an alarming 10-year CAGR of 65% and 58% respectively.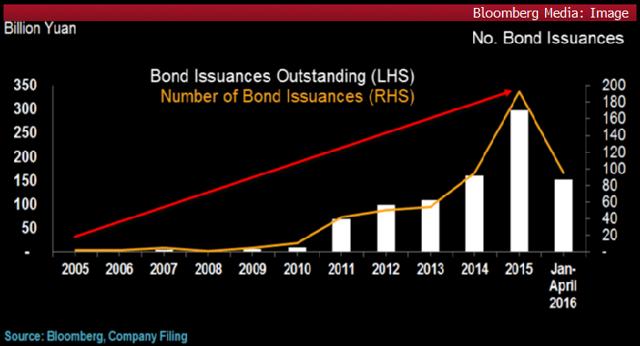 Further, it is worth noting that the difficulty in obtaining equity finance is largely due to the inherent volatility in the earnings of coal mining companies coupled with low dividend yields and weak historical returns.
Listing companies' data shows Chinese coal miners' income has been eroded by 8 billion yuan ($1.23 billion) in 2015. This was primarily on the back of sluggish international coal prices since 2011, following the economic slowdown.
Due to lack of buying incentives, M&A (mergers and acquisitions) in the coal industry might have muted performance in 2016. Further, emerging threats from clean energy coupled with lower investment returns and lack of financial aid from the government are the main threats confronted by the coal mining industry. The number of M&A pending and completed deals fell from 9 in 2014 to 5 in 2015.
Additionally, the below table depicts that highly leveraged companies are mostly state controlled. However, the defaults of state-owned companies might increase as the government is pursuing the reforms whereby the state is eradicating the fiscally nonviable companies.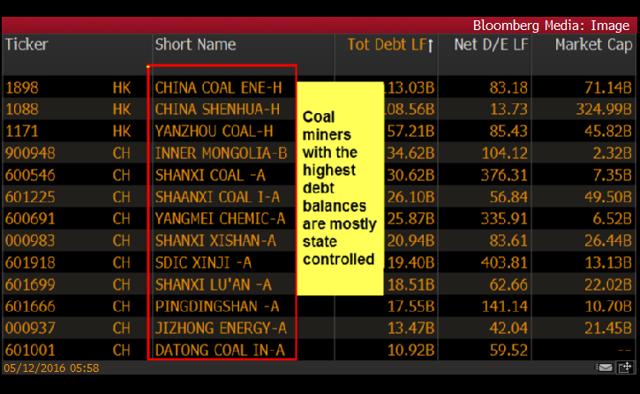 Nevertheless, the solution would include coal mining companies to strengthen their balance sheets, diversify business and lower insolvency risks. The financial distress scorecard of struggling coal miners is given below.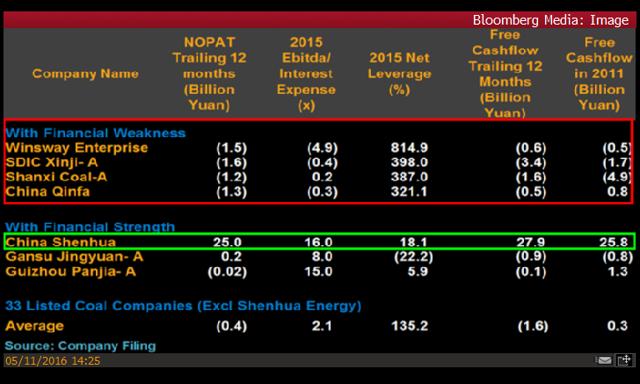 In conclusion, I opine that due to the deteriorating supply-chain dynamics of the coal mining industry in China, the coal price might start rising at a gradual pace. Therefore, I recommend investors to take long position in coal ETFs such as VanEck Vectors Coal ETF (NYSEARCA:KOL).
Note: All the data used in the analysis, has been taken from Bloomberg terminal.
Disclosure: I/we have no positions in any stocks mentioned, and no plans to initiate any positions within the next 72 hours.
I wrote this article myself, and it expresses my own opinions. I am not receiving compensation for it (other than from Seeking Alpha). I have no business relationship with any company whose stock is mentioned in this article.