Even before Brexit happened, there was one banking firm that presented a rather bearish outlook for oil (NYSEARCA:USO). In a commodity note that was published on 14th June 2016, Goldman Sachs had predicted that the recent oil price gains will stall in spite of supply disruptions hitting multi year highs. Tagging the recent oil price recovery as fragile, Goldman Sachs said that factors such as the resumption of Canadian supplies, possibilities of increase in Nigerian supplies and higher than expected oil- output from OPEC were likely to halt the price recovery in the coming time. Let us analyze these factors and see if Goldman Sachs is really correct in its prediction.
Canadian Supplies
Canadian producers have started increasing their production levels as the threat of wildfire has faded away. Last month's wildfires had cut almost 1.5 million barrels a day of crude oil from global supply and it was one of the reasons why oil prices had rallied. As per the International Energy Agency, Canada's oil output can return to its planned levels by mid-July. In fact, energy consultancy firm IHS even predicts that Canada's oil supplies will increase by 42% by the year 2025 and will be around 3.4 million barrels a day (which is around 1 million barrels a day more than the current output). This factor will indeed put downward pressure on oil (NYSE:WTI) in the coming time.
Nigerian Supplies
As per OPEC's Oil Market Report, Nigeria's production declined by almost 250,000 barrels per day in May 16' when compared to April 16'. Because of the mayhem caused by militant group Niger Delta Avengers, Nigeria had even lost its position as Africa's biggest oil producer to Angola. However, things seem to be improving as Nigeria recently claimed that its production has now increased to almost 1.9 million barrels a day. Although Nigeria is confident that its production can be increased to around 2.2 million barrels a day by next month (once its pipelines are repaired), it needs to be noted that any future militancy threat cannot be ruled out. In my view, the current supply figures shared by Nigerian government seem to be too high and it will take some more time before volatility in Nigeria's oil supply reduces.
OPEC Supplies
After the last OPEC meeting in Vienna, it became clear that the cartel's influence on oil markets has reduced considerably.
Because of supply disruptions from Nigeria and Venezuela, OPEC's crude oil production witnessed a decline in the month of May 16' (refer the below figure). With Saudi Arabia focusing more on developing its non - oil assets and Iran's oil production growth heading towards a slowdown, I strongly believe that any increase in OPEC supplies will have little effect on oil prices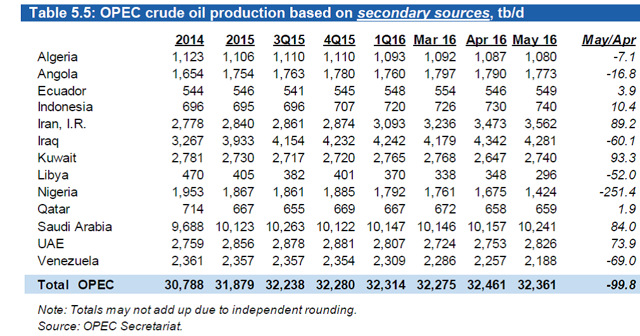 Image Source : OPEC OMR
Takeaway
I agree with Goldman Sachs when they say that Canada's future oil supplies will pull oil price- growth down. However, the same cannot be said about Nigeria and OPEC. It is too premature to decide where Nigeria's oil output will go from here whereas OPEC is no longer driving the prices. However, there are even other factors that will play an important role in deciding the fate of oil. Venezuela, the third largest supplier of oil to the U.S., is in deep financial and political trouble and its oil supplies are reducing at an alarming pace. On the other hand, a potential worker strike in Norway (which produces around 1.5 mb/ day of crude oil) can disrupt the country's oil production in the coming time. Then we have Brazil whose President- Dilma Rousseff is facing impeachment proceedings. Workers at Petrobras (NYSE:PBR) had even carried out a 24 - hour 'warning strike' (earlier this month) to protest against the impeachment proceedings. Any political change in Brazil will definitely have a major economic and geopolitical repercussion and this will support oil price in the coming time. As Brexit fear is quickly fading away, oil prices have increased with WTI and Brent trading at $48.53 and $49.22 respectively at the time of writing this article. Looking at the above factors along with a strong global oil demand growth, I remain bullish on oil.
Disclosure: I/we have no positions in any stocks mentioned, and no plans to initiate any positions within the next 72 hours.
I wrote this article myself, and it expresses my own opinions. I am not receiving compensation for it (other than from Seeking Alpha). I have no business relationship with any company whose stock is mentioned in this article.