Most of my readers know that I use regional manufacturing surveys to get a better picture of the economy and predict the direction of the ISM Index, which is published a few days after most regional surveys.
In this article, I want to give a clear breakdown of the Richmond Fed Index, which is published one day after the Dallas Fed Index. Yesterday, the Dallas Fed came in below expectations and pointed to a lower ISM Index. Today's Richmond reading indicates the same, as you can see below: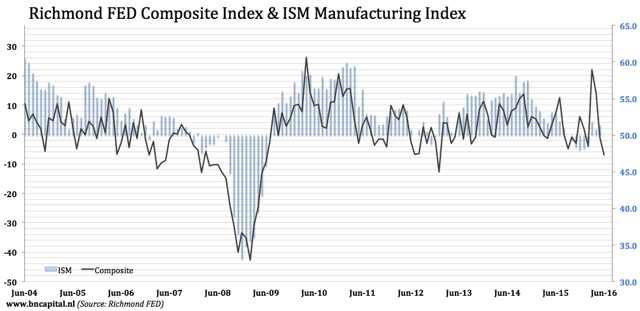 The index exploded in the first quarter of 2015, but has fallen down to a multi-year low at this point. The index is way too volatile to indicate a clear ISM point, but it shows that the ISM is likely to come in lower than the current level of 51.3 this month.
The graph below shows the shipment index. One bar has a different color (orange) to mark the start of the growth slowing trend. This trend started in the third quarter of 2014. Since then, the shipment index had more contracting months than months of growth. In June, the index contracted a bit slower, but is no reason to be optimistic.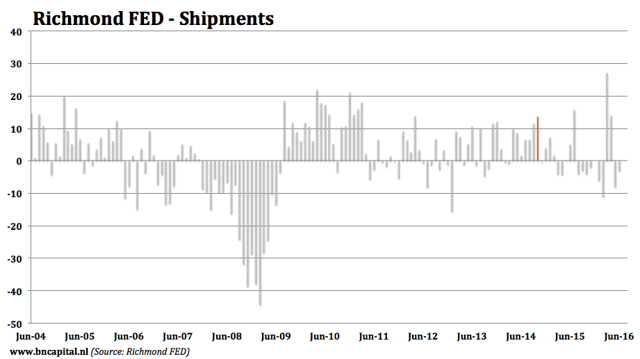 New orders hit the lowest value since 2012. The promising rally that started three months ago has been broken with force. Note that the strongest months of growth came after the start of growth slowing. Even in strong years like 2012 and 2013, the index posted weak months.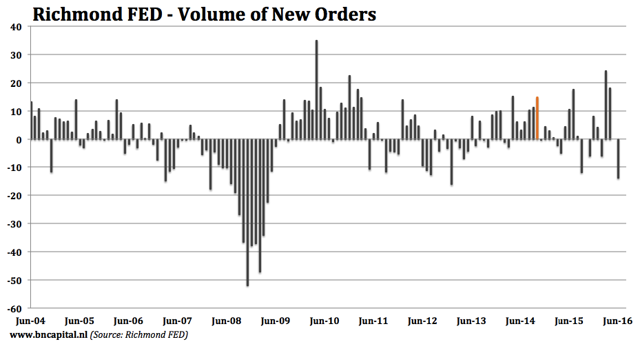 Capacity utilization shows the same pattern like new orders. The best months were between 2009 and 2011. The index shows signs to be extremely pessimistic at this point.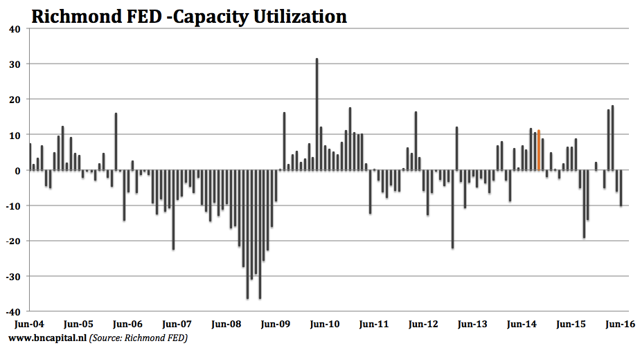 The interesting thing is that both new orders and capacity utilization seem to be correlated with commodity prices. Commodity prices had a nice run until 2011.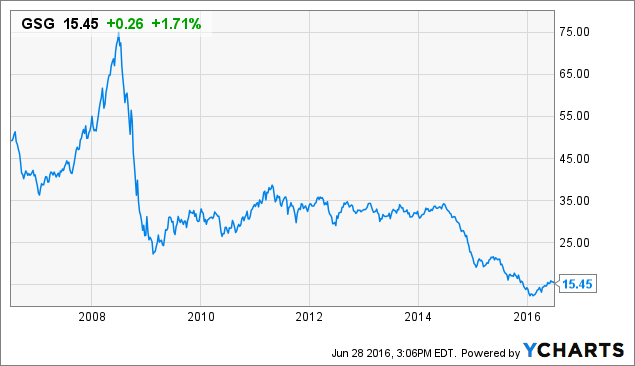 The number of employees is contracting for the first time since 2013. In 2015, it seemed like jobs would contract, but growth returned. At this point, it looks like the Richmond district is losing jobs. This puts more pressure on the next official nonfarm payroll report.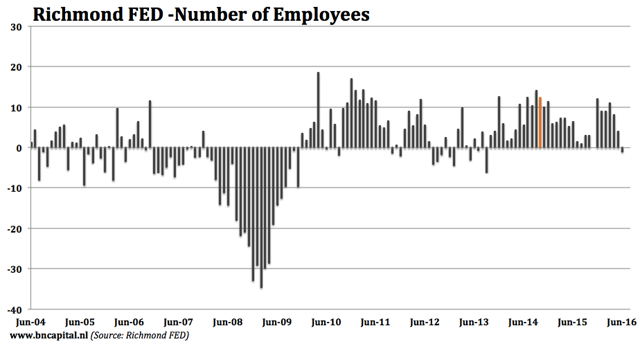 The good news is that wages are growing at the strongest pace since the start of my graphs. Growth exploded in 2015 and has not been broken since then.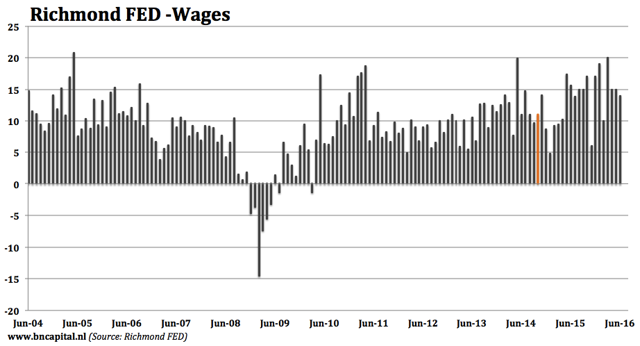 I am not extremely pessimistic after reading this report. However, I do not expect a strong ISM print on Friday. The ISM Index is expected to come in at 51.0. I think it might come in closer at 50.
Disclosure: I/we have no positions in any stocks mentioned, and no plans to initiate any positions within the next 72 hours.
I wrote this article myself, and it expresses my own opinions. I am not receiving compensation for it (other than from Seeking Alpha). I have no business relationship with any company whose stock is mentioned in this article.