Background
It was just confirmed this week that multiple locations of Union Bankshares Corp's (NASDAQ:UBSH) Union Bank and Trust locations would be shutting their doors by the end of September.
These closures are supposedly just "as the result of studies done on the market penetration in the Richmond area, which included looking at transaction volumes at each branch, the branch's deposit and loan size and the proximity of other branches."
All of the branches closing however are branches within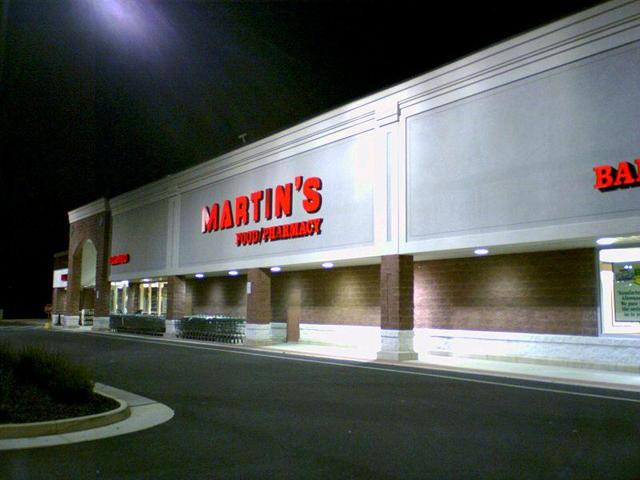 Martin's supermarkets in the Richmond, VA area. This leads us to believe that Martin's closures are pressuring Union to close branches.
Supermarket Merger
Royal Ahold NV (AHONY) plans to merge with Delhaize Group SA (DEG). Pending FTC approval, this would be a massive combination of supermarket holding companies. Their holdings within the United States include:
AHONY: Martin's Food Markets, Stop & Shop, and more
In order to gain FTC approval for this proposed merger, there were a reported 19 Richmond area Martin's supermarkets going up for sale as part of an overall 80 stores (mostly Food Lion) in the Richmond area that would be on the chopping block. It was reported that Union would "expect the leases would carry over with the new owner" according to Bill Cimino , a spokesman for Union Bank. However, this is if the Martin's supermarket locations are not just closed.
Martin's Facing Competition
Last year, Martin's was ranked #1 by market share in the Richmond area for groceries. Not just last year, but the last three in a row! Given fierce competition in the Richmond area, Martin's may be pushed out of an area oversaturated with grocers. In fact, the competition from Wal-Mart combined with closures to appease the FTC has pushed Martin's from first place down to third in this year's most recent rankings for market share in the Richmond area. The top 5 for market share in the Richmond area according to Food World's June issue is as follows:
| | | |
| --- | --- | --- |
| Company | 2015 Ranking | 2016 Ranking |
| Wal-Mart Stores' (NYSE:WMT) | 2nd | 1st |
| Kroger Co's (NYSE:KR) Marketplace | 4th | 2nd |
| Royal Ahold's Martin's Foods | 1st | 3rd |
| Delhaize Group's Food Lion | 3rd | 4th |
| CVS Health Corp. (NYSE:CVS) | 5th | 5th |
More Union Bank Branches at Risk?
In March there were 18 Union Bank branches inside of Martin's supermarkets, out of a total of 124 branches. By the end of September, 5 of those Union Bank branches will be shut down. If all 18 were to shut down, that would be a roughly 14% reduction in branches for Union, potentially hurting accessibility and therefore business.
Just last week, Martin's announced the three respective closing dates for 3 of its stores by the end of July. If the Martin's locations all shut down rather than close, Union may have to shutter even more branches.
Conclusion
We will be monitoring this situation closely as news unfolds from any of the participants tangled in the Richmond, VA supermarket wars. As an aside, Union Bankshares did recently open a new loan production office earlier this month, indicating expectation of overall growth for UBSH.
References
"Union Bank to close 5 branches inside Martin's stores"
"Martin's reportedly selling its 19 stores in the Richmond area as part of merger"
"Union Bank expects to keep operating branches inside Martin's stores"
"Martin's announces July dates to close 3 stores"
"Walmart takes No. 1 spot in local grocery rankings; Kroger is second"
"Union Bankshares Corporation Opens Loan Production Office in Charlotte, North Carolina"
Disclosure: I/we have no positions in any stocks mentioned, and no plans to initiate any positions within the next 72 hours.
I wrote this article myself, and it expresses my own opinions. I am not receiving compensation for it (other than from Seeking Alpha). I have no business relationship with any company whose stock is mentioned in this article.
Editor's Note: This article discusses one or more securities that do not trade on a major U.S. exchange. Please be aware of the risks associated with these stocks.