With Europe accounting for more than 24% of global investment banking revenue in 2015, Brexit has wrought much-covered havoc on global investment banks. In light of the upheaval, we used our analytics software to compare various metrics across the bulge bracket - including Bank of America Corp (NYSE:BAC); JPMorgan Chase & Co. (NYSE:JPM); Citigroup Inc. (NYSE:C); Morgan Stanley (NYSE:MS) and Goldman Sachs Group Inc. (NYSE:GS). Bank of America is our baseline stock, with the others included in the peer group. Here is the chart for total shareholder return assuming dividend reinvestment at close on the day before the Brexit vote. Remember, at this point it was generally assumed that, though a close call, the Remain camp would prevail. Note that Bank of America closed at 142.87%.
Exhibit 1: Total Shareholder Return at market close on June 22nd, 2016.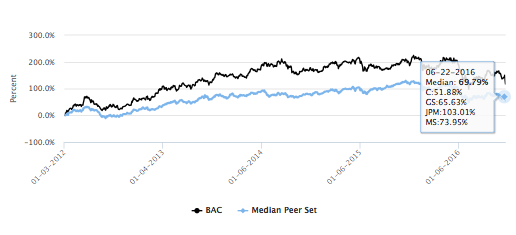 Source: Author's own work.
Then Brexit happened. Take a look at the total shareholder return on market close of June 27th. Note that Bank of America closed at 117.35%.
Exhibit 2: Total Shareholder Return at market close on June 27th, 2016.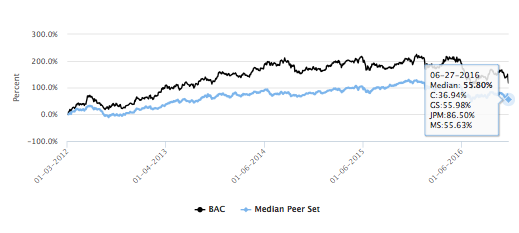 Source: Author's own work.
The median peer set dropped 14%, while Bank of America, boasting a significantly higher initial total return to drop from, dropped over 25%. Within the peer set, all companies dropped at least 10%.
The world of the bulge bracket banks is complex, shifting, and adapting to stay profitable - today you can open a savings account with $1 at Goldman Sachs. At the same time, banks are dealing with the rapidly expanding world of financial technology. Brexit will be a years-long affair with continuously changing implications. Leading the companies through this forest are the executives, including the board directors and the CEO. Today, we want to take a look at some metrics from our Enlight platform related to executive leadership at these banks.
In competing for graduates, large deals, and global presence, the bulge bracket banks have many similarities. One way they separate, though, is in how they structure CEO compensation. Our software breaks down the various components of CEO compensation.
Exhibit 3: CEO Compensation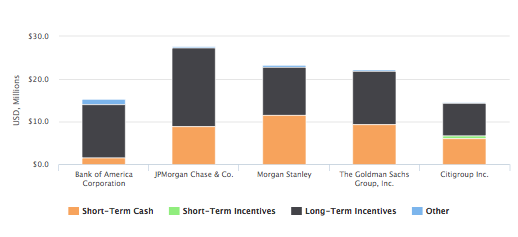 Source: Author's own work.
Based on this chart, Bank of America compensates its CEO substantially more on the basis of long-term incentives than its peers. In fact, the base salary is only $1.5 million compared to over $11.5 million at Morgan Stanley. For Bank of America CEO Brian Moynihan this structure creates a base cash salary that is only 12% of the total compensation package, rather than the much higher percentages elsewhere. The long-term incentives are tied up in stock and restricted stock, one with value dependent on the firm's performance and the other's receipt contingent on hitting certain expectations. Lining up incentives for firm performance with pay seems like a win for shareholders right? It is usually a main goal in executive compensation campaigns, but just having such a policy in place is not enough to secure benefits. Shareholders would do well to keep in mind that expectations for firm performance, if determined by the board, can be set pretty low.
Similar compensation structures also exist for directors. Goldman Sachs, most notably, ties a huge part of its director compensation to long-term incentives. Citigroup, on the other hand, compensates with a majority of director fees untied to firm performance. Again, if the board is setting its own performance objectives without meaningful shareholder interference they can lose their appeal as a driver of director performance.
Exhibit 4: Board Compensation

Source: Author's own work.
Somewhat unrelated, but along the lines of board performance, is the disparity in gender diversity among the bulge bracket boards. This has become an increasingly publicized issue, with several campaigns working to increase diversity in corporate boardrooms. Gender diversity also has value implications for shareholders. An older study published in the Harvard Law Review found that increased gender diversity improved some elements of governance but weakened firm performance. Other studies, like one covered by the Wall Street Journal, have found improved performance. It's a mixed picture that is still developing but, at the very least, beyond more fully representing consumers and other stakeholders, diversity prepares the company for stability moving forward. This is especially pertinent as the push towards board diversity, especially by institutional investors and proxy advisors, puts significant assets and clout behind the campaign.
Exhibit 5: Board Gender Diversity
Women, according to the 20% by 2020 mid-2016 study, accounted for 17.9% of directors in the Fortune 1000. The goal of the 20% by 2020 campaign is to reach 20% women representation on the boards of the Fortune 1000. Goldman Sachs, Morgan Stanley, and JPMorgan fall behind both thresholds. As visible as the bulge bracket banks are, they will likely be key targets for the campaign. Shareholders at these three banks may face some degree of instability if institutional investor pressures, proxy advisor or regulatory moves force board changes.
Shareholders should not forget the people calling the shots, particularly as to how their compensation and demographics impact the bottom line and board stability. For shareholders who want to invest in a company with significant executive skin in the game, director compensation is a bit complex. It is necessary to look into exactly how the performance objectives are reached and how they compare to company position and industry norms to see if they are true motivators or just symbolic hurdles. Shareholders have not been shy about responding to executive compensation at bulge bracket banks. Citigroup and Goldman shareholders, from the high 80's and 90 percent in years past were down in the 60s for shareholder approval on Say on Pay in 2016. JPMorgan improved from 61% in 2015 Say on Pay to 92% this year. Bank of America, despite its alleged flaws in incentive targets, still consistently brings in over 90% approval on Say on Pay. Of course, Bank of America could owe this to succeeding in returns rather than strong compensation policy, as poor returns breed criticism of compensation.
Bloomberg recently found the average approval of Say on Pay to be 92% and reported that under 80% was seen as shareholder discontent. Additionally, it noted how such rebukes from shareholders have driven down executive compensation at bulge brackets in the past. Do you, as a shareholder of a bulge bracket bank, feel comfortable with the current compensation structure ? Is it effectively aligning incentives for the executive to make decisions for the long-term value of your shares? Could realigning these incentives help increase your return moving forward? Let us know what you think in the comments, or better yet, let the company know with your vote or your money.
Interested in seeing similar metrics done with another company and peer set? Drop us a comment, send us a message, or check out our profile to access our free real-time monitoring platform.
Disclosure: I/we have no positions in any stocks mentioned, and no plans to initiate any positions within the next 72 hours.
I wrote this article myself, and it expresses my own opinions. I am not receiving compensation for it (other than from Seeking Alpha). I have no business relationship with any company whose stock is mentioned in this article.