With UK shares and the pound falling in the wake of the surprising Brexit referendum, income investors may begin examining opportunities to pick up stocks of stable British companies that will withstand a period of prolonged market volatility.
In a series entitled "Five Ways to Beat the Market," I demonstrated that the Dividend Aristocrats' components of the S&P 500 (NYSEARCA:SPY) that have steadily increased dividends for over twenty-five years have generated higher average returns with lower risk than the broader market.
The graph below demonstrates this absolute outperformance, showing the cumulative total return of the Dividend Aristocrats in the United States (replicated by NOBL) relative to the S&P 500.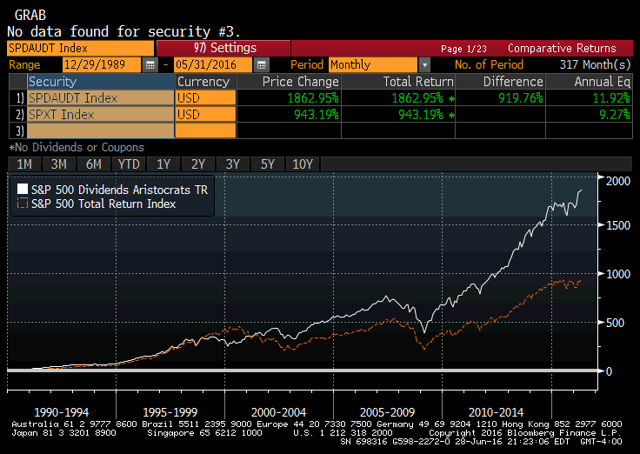 Source: Bloomberg, Standard and Poor's
Standard and Poor's, the provider of the underlying Dividend Aristocrat Index, also produces a version for the United Kingdom. Constituents are members of the S&P Europe BMI Index and have increased or maintained stable dividends for at least ten consecutive years. That history is much shorter than the counterpart American index, but does include the severe downturn of the Global Financial Crisis. All of these companies were able to at least maintain their dividend in that period of market volatility, which bodes well for these companies in this period of market stress.
The graph below demonstrates the absolute outperformance of the UK Dividend Aristocrats relative to the total return of the FTSE 100, dating back to the earliest period of data we have for the index.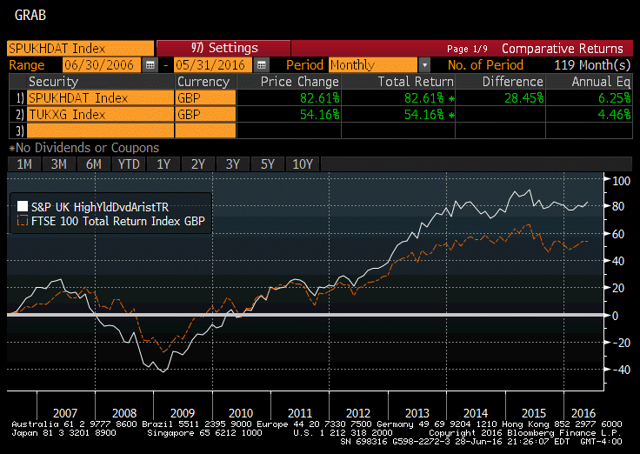 Source: Bloomberg, Standard and Poor's, FTSE Russell
Why have Dividend Aristocrats outperformed over time? Certainly, academics have long contested that dividends should not matter to the value of the firm, and can even be inefficient given shareholder taxation. Absent taxes, investors should be indifferent between a share buyback and a dividend, which are different forms of the same transaction - returning cash to shareholders.
Paying dividends when the firm has projects that can earn a return above their cost of capital would lower the value of the firm over time. Merton Miller, Nobel Prize winner and one of the fathers of capital structure theorem, tackled the debate in a 1982 paper entitled "Do Dividends Really Matter." My takeaway from his qualitative analysis is that paying consistently rising dividends is a discipline that ensures that the company is appropriately levered and making well-planned investment decisions.
What UK companies might fit this profile? Below, I have appended the list of UK Dividend Aristocrats with industry, current indicated yield, and total returns over different trailing time intervals. All returns are in the local currency.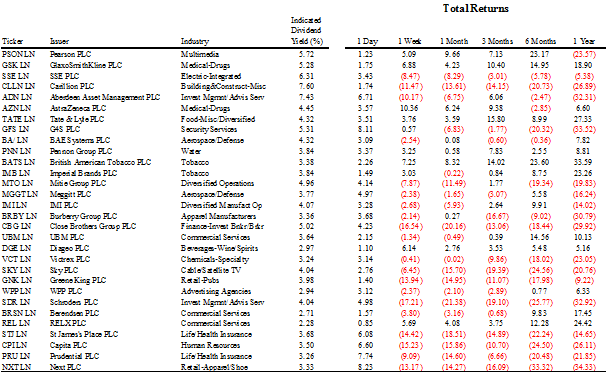 Source: Bloomberg
For U.S.-based investors, several of these companies have liquid listings in the United States. (For purposes of this article, I have excluded some small, less liquid ADRs). Note the difference in returns in dollars (below) versus returns in pounds (above) over the trailing periods given the tremendous strengthening of the dollar over this horizon.

Source: Bloomberg
The relative outperformance of the Dividend Aristocrats in the United States has been an oft discussed topic, and I hope this article adds international credence to the efficacy of this strategy. In my article summarizing my initial thoughts on the Brexit vote, I suggested we would see an increase in risk premia as a result of the likelihood of a period of heightened volatility.
For Seeking Alpha's large Investing for Income community, hopefully, this list provides a potential source of ideas to research. For investors in the UK or those willing to take foreign currency risk, there is an exchange-traded fund that seeks to replicate this UK Dividend Aristocrats Index (UKDV.LN). While I believe that we will see better entry points ahead as volatility tends to cluster, investors willing to add this list of high quality companies should outperform on a risk-adjusted basis over long time intervals.
Disclaimer: My articles may contain statements and projections that are forward-looking in nature, and therefore inherently subject to numerous risks, uncertainties and assumptions. While my articles focus on generating long-term risk-adjusted returns, investment decisions necessarily involve the risk of loss of principal. Individual investor circumstances vary significantly, and information gleaned from my articles should be applied to your own unique investment situation, objectives, risk tolerance, and investment horizon.
Disclosure: I am/we are long SPY, NOBL.
I wrote this article myself, and it expresses my own opinions. I am not receiving compensation for it (other than from Seeking Alpha). I have no business relationship with any company whose stock is mentioned in this article.