If one has a long term horizon, it is very difficult to go wrong with investing in a stock like McDonald's (NYSE:MCD). The company spits out huge amount of free cash flow every year and has been raising its dividend for the last 40 years. The stock got re-priced last year when its turnaround plan and particularly its "All Day Breakfast" initiative gained traction in the US which was illustrated in the company's fourth quarter earnings.
Furthermore the company followed up the momentum it garnered at the back end of last year with an impressive first quarter in 2016. Same stores growth in the US rose by over 5% illustrating that the long streak of negative growth in same store sales in the US (16 quarters+) is now very much behind us. Margins (both franchised and company operated) also got a boost last quarter and I can only see the company's "All Day Breakfast" being a success in foreign markets once obvious teething problems are overcome.
I live in Spain and breakfast is a big deal here as all bars serve their own versions. This is why I see McDonald's doing very well in this market especially in its prime locations where traffic is high throughout the day. However even if international growth in this area, investing in a company like McDonald's brings a multitude of advantages to the table (which limits downside risk) if the respective investor has a long term perspective.
First of all, the company has shown that it is committed to its shareholders by consistently growing the dividend and constantly undergoing share buy back programs. Over the last 5 years alone, the float has dropped to 877 million and the quarterly dividend pay-out has risen from $0.61 to $0.89. Profit margins may take a hit in the near term due the company deciding to take the debt route with regard to funding the buybacks but I don't really see a problem emerging due to our benign interest rate environment. Net income of $1.1 billion and free cash flow of $1.33 billion were both higher than Q12015 and given the enormity of this restaurant chain, momentum will most likely continue
Secondly, and speaking of the enormous number of customers McDonald's caters to worldwide, there are few which can match the company's economies of scale. Its brand is a major sponsor of the UEFA European championships (which are currently taking place) and smaller brands just can't compete with these types of budgets. Economies of scale can also be mass producing food and more clout with its suppliers because of the volumes involved which results in more cost savings for the restaurant giant.
The company's EPS went from $1.98 in 2007 to $4.11 in 2009 which illustrates the massive strength this stock has in recessionary times. Furthermore if anything like 2008 was one day to repeat, investors would be able to avail of the growing dividend which would mean if the dividend were re-invested, one could pick up shares (if they went down meaningfully) at a much better price-point (Classic dividend growth investing)
So how does an investor extract the maximum amount of profitability out of McDonald's knowing that to some degree the downside is protected? Well this is how I pay it and I use this strategy alongside a host of other dividend aristocrats to ensure I never run out of stock ideas. So 100 shares of McDonald's at today's prices would set you back around $11,900. McDonald's pays out its next dividend in September which gives us plenty of time to implement our strategy. In saying this, the company announced its second quarter earnings on the 26th of July so the best time to put on this strategy would be just before earnings as implied volatility would be at its highest.
So let's assume for explanation purposes that tomorrow the company is going to report its earnings. Here is what my strategy looks like. As well as holding 100 shares of stock, we would sell a strangle which would comprise of a put option in the money and a call option out of the money. (See the chart below)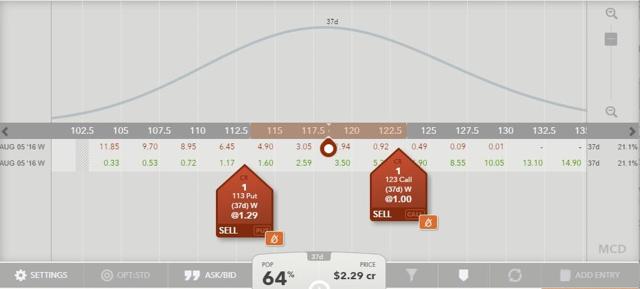 Source : Dough.com
As the graphic illustrates, we would collect $229 for selling the strangle and as you can see the strangles expires 37 days after the trade is put on. Now remember we are holding 100 shares of the stock. Assuming we let the trade go to expiration (I usually take them off early), here are the only outcomes of our trade.
McDonald's ends up trading between out two short strikes at expiration so we pocket all the premium.
The stock runs through our put option. We get assigned 100 shares extra stock. Again we pocket all the premium.
The stock runs through all call option. Our initial 100 shares gets called away from us. Again we pocket the premium (plus the nice capital gain on our shares).
How can this not be a good strategy to pocket more income from substantial underlyings on a regular basis? Yes it's built for portfolios with substantial buying power. I only hold 200 shares of any underlying at any time and make sure the portfolio is well diversified among quality dividend aristocrats. Am I bothered by holding 200 shares of McDonald's? No. Am I worried about my shares being called away? No. All I'm worried about is income. Furthermore don't forget that the premium numbers mentioned above would be substantially higher if tomorrow really were the day of McDonald's earnings release. You can see this from the implied volatility chart below, which illustrates the spikes when the company reports its earnings.

I'm going to be adding a few good dividend and growth stocks to the Elevation Portfolio over the next several weeks when I see value. In order to ensure that income is brought in every month, it's imperative that they are not correlated and all don't have similar valuations. You can follow along by pressing the"Follow" button above.
Disclosure: I/we have no positions in any stocks mentioned, and no plans to initiate any positions within the next 72 hours.
I wrote this article myself, and it expresses my own opinions. I am not receiving compensation for it (other than from Seeking Alpha). I have no business relationship with any company whose stock is mentioned in this article.