After news of Brexit rocked the financial markets, shares of CBRE Group (CBG) declined 9% in what marked the largest one-day decline for the stock since 2011. With shares now down 17%, management felt compelled to disclose CBG's UK exposure in a press conference. According to management, the UK accounted for roughly 10% of the firm's EBITDA in 2015. Management did not update its Q2 earnings forecast or change its guidance for the fiscal year. Brexit will undoubtedly weigh on the commercial real estate market in the UK, and CBG will take a greater beating than its smaller US-focused competitors given the global scope of its operations. But the market is overestimating the impact that Brexit will have on CBG.
Figure 1: 2015 Geographic Segmentation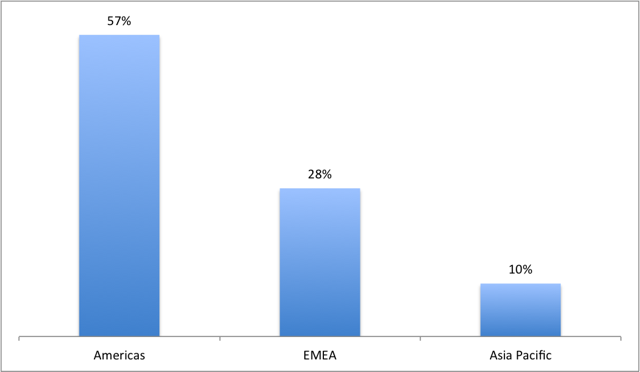 Source: 10-K
What management did not disclose is that CBG gets almost 18% of its revenue from the UK. CBG has expanded its global footprint through acquisitions, and is now the world's largest commercial real estate firm, with operations spanning the globe (in 2015 the Americas accounted for just 57% of sales). Make no mistake, Brexit will have an adverse impact on CBRE Group's results. The investor uncertainty should lead to fewer property sales and leases. Commercial real estate is a capital-intensive business, and tenants, owners, and other market participants prefer to wait until sentiment improves before allocating significant sums of capital. Fewer transactions will lower the fees CBG earns through leasing, disposition, and acquisition-related advising services, as well as the revenues generated from investment sales and structured finance solutions in its capital markets business. But CBG has adjusted its strategy in recent years to better position the firm to handle periods of cyclicality. CBRE Group is now more insulated than many investors realize.
CBG has tilted its portfolio to property management and corporate outsourcing businesses. With clients increasingly looking to outsource their commercial real estate needs, CBG has been able to gain a firm footing in this market. These businesses provide more stable revenue streams compared to CBG's legacy businesses. As William Blair & Co Analyst Brandon Dobell explains, "businesses are becoming less and less about transaction activity, and more and more about recurring services, such as facilities and property management - things that are not dependent on capital markets". Perhaps more importantly, these businesses allow the firm to strengthen its relationships with customers, creating important cross-selling opportunities that raise switch costs. As Morningstar explains, "clients looking to outsource their property management needs prefer to consolidate their relationships with as few vendors as possible". As CBG expands this segment we expect the firm to create more value for shareholders.
CBG now trades at a forward P/E of 12.5, compared to an average forward multiple of 17.1 over the past five years. The global economic slowdown and now Brexit have depressed valuations, but the fallout from Brexit will not be as dramatic as investors think. CBG has repositioned its portfolio to mitigate cyclicality, carving out a stronger competitive advantage in the process.
Disclosure: I/we have no positions in any stocks mentioned, and no plans to initiate any positions within the next 72 hours.
I wrote this article myself, and it expresses my own opinions. I am not receiving compensation for it (other than from Seeking Alpha). I have no business relationship with any company whose stock is mentioned in this article.