Another author here on Seeking Alpha recently has stated that Philip Morris (NYSE:PM) could cut its dividend in the near future. I believe this is very unlikely, but I do believe that dividend growth rates will be lower than they were in the past, mainly due to currency headwinds.
Philip Morris' current dividend sits at $1.02 per share per quarter, which equals an annual dividend payout of $4.08 per share. When we look at Philip Morris' earnings per share chart, we see that the dividend is close to the companies annual earnings per share, but still below that level: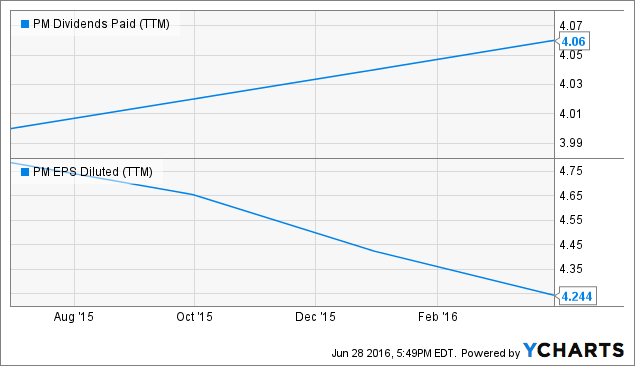 Over the last year Philip Morris has paid $4.06 in dividends per share (since one of the dividend payments was $1.00, not $1.02), whereas earnings per share for the same time period totaled $4.22. This means Philip Morris has paid out 96% of earnings over the last twelve months.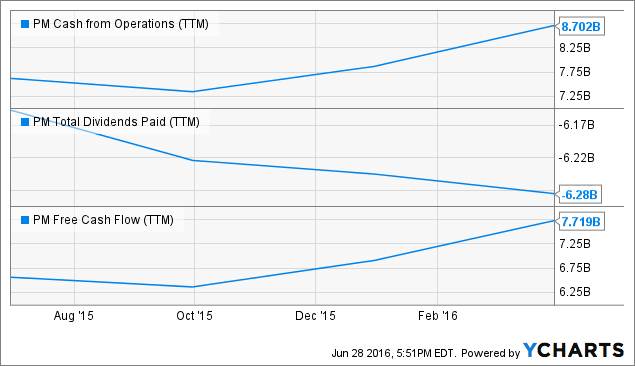 When we look at Philip Morris' cash flow situation, we see a trailing operating cash flow number of $8.7 billion, and a trailing free cash flow number of $7.7 billion. In comparison, Philip Morris' total dividends paid totaled $6.3 billion over the last year, which means the company paid out 82% of free cash flows and 72% of operating cash flows in dividends over the last year. These are rather high payout ratios, but they are in no way unsustainable.
Philip Morris' current dividend is fully covered by earnings as well as by cash flows, thus a dividend cut is very unlikely, I believe. Even if cash flows and earnings declined substantially and would not cover the dividend any longer, Philip Morris would not necessarily cut the dividend -- there are a lot of companies which are temporarily unable to fund the dividend organically, and which choose to fund the dividend with debt for a while. A great example is the oil industry, where majors such as Exxon Mobil (NYSE:XOM) and Chevron (NYSE:CVX) are not able to fund the dividend with their cash flows, but they still do not cut the dividends: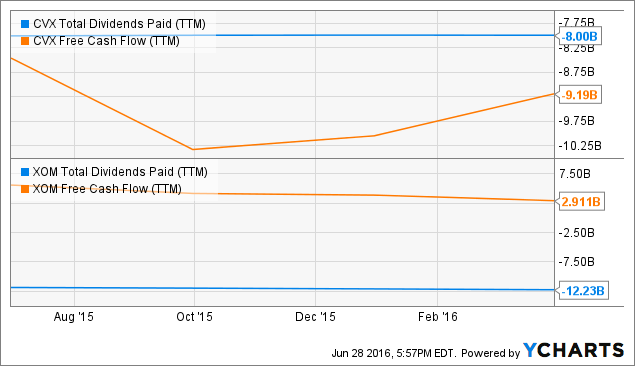 Chevron has negative free cash flow of $9.2 billion and yet paid out $8.0 billion in dividends, Exxon Mobil produced free cash flows of $2.9 billion over the last year and paid out dividends totaling $12.2 billion. These companies are easily able to borrow the money they need to maintain (or, in Exxon Mobil's case, grow) the dividend, due to a healthy balance sheet and low leverage levels.
Since Philip Morris has a healthy balance sheet as well (and can access debt markets at low interest rates) the company would not be forced to cut the dividend, even if the payout ratio rose above 100% (which is purely hypothetical right now). Since Philip Morris' dividend is covered by cash flows and earnings and due to the fact that Philip Morris could borrow to fund the dividend temporarily (should the need arise), I believe investors don't have to fear a dividend cut at all.
Philip Morris will, however, likely not continue to grow its dividend at the rate we have seen in the past:
Philip Morris' dividend has risen by 6% annually over the last five years, and the dividend payout ratio has risen a lot as well, from 60% to 95%. Philip Morris will likely not raise the dividend payout ratio further (except to prevent a dividend cut), but will chose to grow the dividend at a lower pace. We have first seen this last year, when Philip Morris chose to raise the dividend by just 2%.
Analysts forecast $4.89 in EPS for next fiscal year, if Philip Morris raises the dividend by 2% again in the current year this would mean an annualized dividend payout of $4.16, and a dividend payout ratio of 85% -- still above average, but a lot lower than the current payout ratio of 95%. I believe Philip Morris will grow the dividend by low single digits each year until the dividend payout ratio has dropped to 75% to 80%, from then on the dividend will likely see a growth rate more in line with EPS growth (and more in line with the past dividend growth rate in the high single digits).
Since Philip Morris' dividend yield is attractive right now (at almost twice the yield investors get from 30 year treasuries right now) I believe that a low dividend growth rate is not necessarily a bad thing for investors. If Philip Morris would raise its dividend by just 3% annually over the next ten years, investors could look at a yield on cost of slightly more than 8% in 2026 (assuming dividends are reinvested). Due to the high base yield investors get right now a small dividend growth rate still makes the company's shares attractive for income focused investors.
Takeaway
Philip Morris will not cut its dividend any time soon, as the dividend is fully covered by earnings as well as by cash flows. Even if this was not the case, the company could always chose to fund the dividend with debt temporarily (a lot of blue chips do this, when they face hard times).
The dividend growth rate will likely be lower over the next years, but due to a high current dividend yield this is not a huge negative, I believe.
Disclosure: I/we have no positions in any stocks mentioned, and no plans to initiate any positions within the next 72 hours.
I wrote this article myself, and it expresses my own opinions. I am not receiving compensation for it (other than from Seeking Alpha). I have no business relationship with any company whose stock is mentioned in this article.