Summary
This week, there are more companies to add to our job-cuts radar. For those who haven't read our last two articles on companies cutting jobs, be sure to catch up:
6/8/16 - 10 Companies That Are Cutting Jobs
6/24/16 - More Companies Cutting Jobs
We wanted to aggregate and publish these job cuts for readers because they are a contrasting view of the labor market when compared to measures such as jobless claims. As jobless claims are backward looking, we wanted to give investors a view into upcoming cuts in the labor force from major publicly-traded companies. Watching announcements of future job cuts is a great way to get a jump on lagging indicators. Also be sure to read Advisor Perspectives' Research Director Jill Mislinski's thorough explanation of jobless claims and the business cycle.
Dow Chemical Co. (DOW)
The largest job-cut announcement this week comes from Dow Chemical, with an estimated 2,500 jobs cut from plants in North Carolina as well as Japan in cost-saving efforts following the Corning acquisition. This cut is estimated at over 4% of Dow's workforce.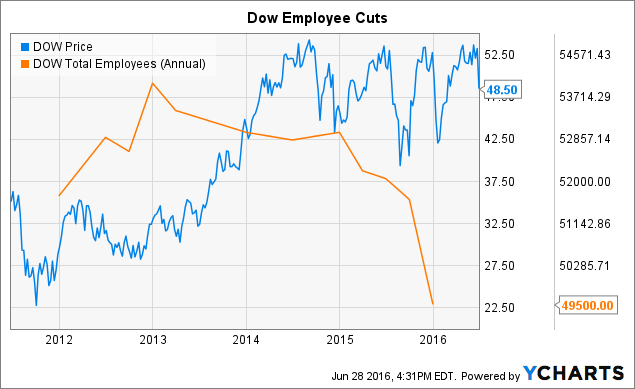 LendingClub Corporation (NYSE:LC)
Earlier, LendingClub announced it would be cutting 179 jobs as lending volumes have slid lower. This news comes along with news of ex-CEO Renaud Laplanche and family members took out loans through LendingClub to inflate loan volumes.
Xerox Corporation (NYSE:XRX)
On our job-cuts list again, Xerox has announced cuts. This time, cutting over 50 people from its Raleigh, NC, healthcare office. According to XRX's human resources representative Sarah Amoriell, these cuts are due to "a change in business conditions."
Babcock & Wilcox Enterprises, Inc. (NYSE:BW)
As BW restructures its coal-fired power generation division, its workforce at its Barberton, OH, and Copley, OH, plants is being trimmed by a total of 126 workers. This is another one of many job cuts we have seen in the coal industry as the power generation business shifts to cleaner fuels.
Infinity Pharmaceuticals, Inc. (NASDAQ:INFI)
Following AbbVie's (NYSE:ABBV) decision to terminate a collaboration agreement to develop duvelisib and bring the drug to market, Infinity will be trimming its remaining, roughly 100 person, workforce, although INFI is not giving up on duvelisib. There were millions of dollars in potential milestone payments for INFI had ABBV continued with the collaboration.
Conclusion
We will be sure to keep readers posted as more and more companies have been announcing job cuts recently. Be sure to read our previously mentioned articles in this series to stay fully informed on the topic. As more and more companies cut jobs to cut costs and preserve profits, we will expect to see a turnaround in jobless claims as is the case historically.
References & Further Reading
"Weekly Unemployment Claims: Down 18K from Last Week, Better Than Forecast"
"Dow Chemical to Cut 2,500 Jobs in Aftermath of Corning Deal"
"LendingClub to Cut 12% of Its Workforce as Loan Volumes Fall"
"LendingClub says ex-CEO took loans to boost volumes"
"Xerox confirms more N.C. layoffs - its third round in 2016"
"Babcock & Wilcox lays off 126 workers in Barberton, Copley"
"More Job Cuts at Infinity as AbbVie Sends Back Blood Cancer Drug"
Disclosure: I/we have no positions in any stocks mentioned, and no plans to initiate any positions within the next 72 hours.
I wrote this article myself, and it expresses my own opinions. I am not receiving compensation for it (other than from Seeking Alpha). I have no business relationship with any company whose stock is mentioned in this article.
Editor's Note: This article covers one or more stocks trading at less than $1 per share and/or with less than a $100 million market cap. Please be aware of the risks associated with these stocks.