Clinical Activity of Aldoxorubicin Monotherapy
There are any number of adjuvant tries in clinical oncology today. It seems less and less that novel, truly potent monotherapies are being developed. The lean towards combination regimens appears to be the way to go, as greater efficacy often results. Sometimes with a very manageable increase in AEs (adverse events), offering a favorable risk:benefit ratio. Such as: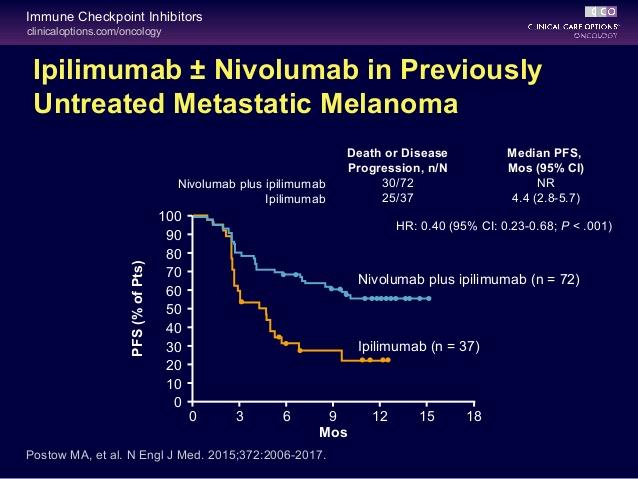 Although combination therapies can clearly be of benefit (especially when each monotherapy involved had already shown strong activity by itself), it can also skew investor perception of the activity inherent to the adjuvant treatment when it is relatively unknown.
We know SOC (standard of care) works, that's why it's the "standard." Adding a relatively weak adjuvant to SOC and giving it to patients with better prognoses than a historical control you compare them with may yield data that makes the adjuvant look incredibly active.
It's a common thread in small/mid cap bio-land, and it's not even intentional; researchers choose healthier subjects for their proof-of-concept and first-in-man studies to lower the risk of SAEs (serious adverse events), related or not to the therapy, that may result in a clinical hold. If you choose more frail patients, they are more likely to have SAEs, related or not to the experimental treatment.
Also, you want a patient population that will live long enough to give the therapy a chance to show benefit, if it does indeed work. Otherwise, a therapy could have activity, but due to the extremely poor prognoses of the patients, may never really have a chance to prove it.
For example, take this historical landmark study in GBM (glioblastoma multiform, i.e., stage IV brain cancer):
Purpose: The European Organisation for Research and Treatment of Cancer and National Cancer Institute of Canada trial on temozolomide ("TMZ") and radiotherapy ("RT") in glioblastoma ("GBM") as demonstrated that the combination of TMZ and RT conferred a significant and meaningful survival advantage compared with RT alone. We evaluated in this trial whether the recursive partitioning analysis ("RPA") retains its overall prognostic value and what the benefit of the combined modality is in each RPA class.

Patients and Methods: Five hundred seventy-three patients with newly diagnosed GBM were randomly assigned to standard postoperative RT or to the same RT with concomitant TMZ followed by adjuvant TMZ. The primary end point was overall survival. The European Organisation for Research and Treatment of Cancer RPA used accounts for age, WHO performance status, extent of surgery, and the Mini-Mental Status Examination.

Results: Overall survival was statistically different among RPA classes III, IV, and V, with median survival times of 17, 15, and 10 months, respectively, and 2-year survival rates of 32%, 19%, and 11%, respectively (P < .0001). Survival with combined TMZ/RT was higher in RPA class III, with 21 months median survival time and a 43% 2-year survival rate, versus 15 months and 20% for RT alone (P = .006). In RPA class IV, the survival advantage remained significant, with median survival times of 16 v 13 months, respectively, and 2-year survival rates of 28% v 11%, respectively (P = .0001). In RPA class V, however, the survival advantage of RT/TMZ was of borderline significance (P = .054).
Although TMZ is clearly effective, its efficacy was much less apparent in the worst-performing group. Their low-performance status and other risk factors beat out most of the positive effects the therapy could have had.
It's as if an older patient has pneumonia, liver dysfunction, and is on dialysis for kidney failure, and so has an impaired immune system, and then you give them antibiotics for the pneumonia. Or, a younger patient just has pneumonia and is otherwise healthy, and you give them antibiotics. The latter's pneumonia shouldn't give them much trouble, whereas with the former, it could kill them, even despite powerful antibiotic treatment. Was the issue with the antibiotics? Of course, no. And if you are designing a study to prove efficacy or non with antibiotics, you would of course seek to enroll patients like the latter. That way, the antibiotic treatment you are testing has a chance at working and not being confounded by other factors.
However, the management of these small- and micro-cap bios especially all too often capitalize on this discrepancy at the expense of unwitting retail investors (and non, to be fair), desperate as they are for funding. They see no qualms with comparing survival times from their small group of excellent K score and more youthful patients with historical norms that include many patients with far inferior prognoses.
An example: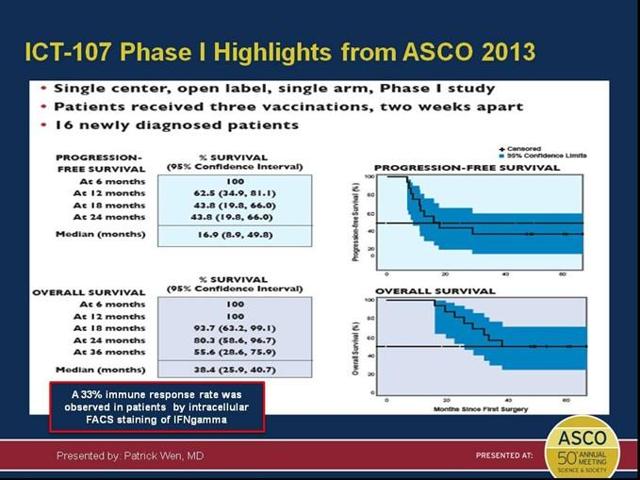 Over half of ndGBM (newly diagnosed glioblastoma multiform) patients still alive at 36 months? 80% at 24 months? When did that ever happen?
All of these subjects were given SOC TMZ, with ICT-107 added as an adjuvant vaccine therapy. When you compare the phenomenal median mOS (overall survival) and mPFS (median progression-free survival) above with historical averages for patients that received TMZ alone, the difference is striking - 38 months mOS with ICT-107 adjuvant, versus 14.6 months with SOC alone. When you try to match for better prognosis patients, you come up to about 20 months mOS or so with SOC and modern surgical advances. How did they get 38 months? Must be the ICT-107, right?
It's pretty simple really - patient selection bias.
You could do two things when choosing a small sample of ndGBM subjects for your first-in-man study and have an outstanding performing group: a) choose patients that are mostly positive for MGMT methylated status, and b) choose patients that show signs of psPD (pseudoprogression) that was resolved. And actually, you may only need to do a), as b) often results as a default of a). The historical mOS of psPD patients is normally around 27-36 months, depending on the sample. Now choose a group whose median age is under 50, K scores over 90, GTR (gross total resection), etc., and you have a real winner.
Was there foul play? Not in my opinion. But drawing unequal comparisons with SOC historical groups after the fact is disingenuous, and may mislead investors. Especially when it's clear the only motivation behind doing so is to attract funding - which is a great thing, don't get me wrong - but not on spurious grounds. That takes funding away from more promising novel therapies that are more deserving of it. And there's only so much to go around.
The P2 randomized study testing ICT-107 revealed the true efficacy of the combination therapy: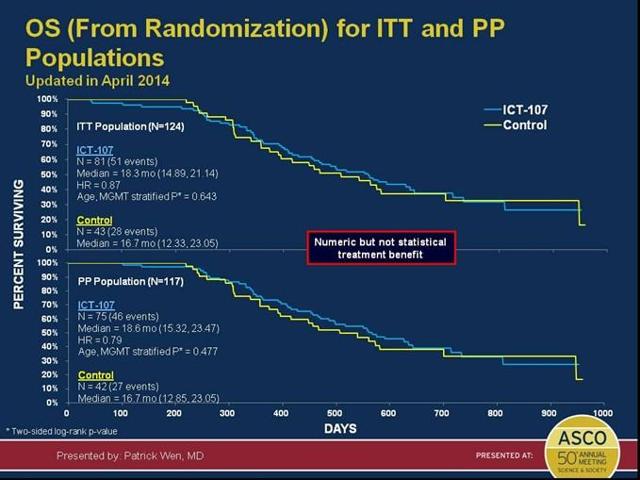 18.3 months mOS versus 16.7 months mOS. And that 1.6 months benefit may even be explained away by inadequate randomization. There was a preponderance of male subjects, which can have a negative effect on mOS (some studies show this, and others do not); however, there was also a preponderance of subjects with low K scores in the control arm, which definitely affects progression and survival times: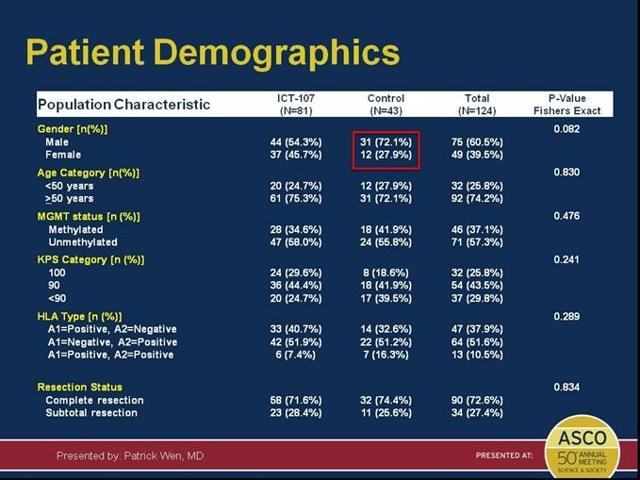 That could have accounted for the 1.3 months benefit in mPFS (as of latest update) and 1.6 months benefit in mOS.
But the takeaway here is the stark contrast between P1 and randomized P2 data sets, especially when comparing survival times with historical controls. Where did that fabulous 38 months mOS go?
ICT-107 may have some activity in a subgroup of GBM (this hypothesis is currently being tested in an ongoing P3 study), but so it goes with many adjuvants, hiding behind strong patient characteristics and SOC therapies that actually do the "work."
Data are always suspect when analyzing the survival outcome of single-arm and so non-randomized tests. But only more so when comparing historical SOC with a select group of patients given SOC + experimental Rx. It would be more compelling if comparing historical SOC with patients given exp Rx as a monotherapy.
The only caveat to this is when we are considering things like tumor shrinkage or SVR (sustained virologic response). Those can only be attributed to the therapy. But again, this too becomes confounded when considering adjuvant regimens. Which one is reducing tumor burden (or which anti-viral is mostly responsible for reducing viral load below the level of quantification)? It's too difficult to tell.
Aldoxorubicin, by contrast, has shown consistent ORR (objective response rate) in sarcoma in particular, across a variety of subtypes, and has done so as a monotherapy, even demonstrating superiority in ORR over SOC doxorubicin in a randomized test - the first compound ever to do so in STS.
"Shrinkage or elimination" of tumors is a common and acceptable way to demonstrate that an experimental anti-tumor treatment is effective. This is nearly always measured by what is called RECIST 1.1 (Response Evaluation Criteria In Solid Tumors).
An official response using RECIST is determined based on the sum of the diameters of what are called "target lesions."
"Target" lesions are the five largest lesions over 1cm in diameter (or 2cm, depending on type of imaging).
"Non-target" lesions are all other lesions (normally those under 1cm in diameter).
If a patient only has three lesions over 1cm in diameter, then that patient has three target lesions and some number of non-target lesions. If a patient has 10 lesions over 1cm in diameter, then the largest 5 are target lesions and the smaller 5 are non-target, as well as however many lesions that patient has that are under 1cm.
In order to be said to have a CR (complete response) to therapy based on RECIST, all target and non-target lesions must completely disappear from scans (some residual tissue may remain if biopsies show it is dead tissue). This must occur without the emergence of any new lesion, regardless of its size.
For a PR (partial response) to therapy to be claimed, the sum of all target lesions must decrease by at least 30%. This must occur without the emergence of any new lesion, and also, there must be less than a 20% increase in the sum of the diameters of non-target lesions (those under 1cm or those over 1cm apart from the largest five).
For example, say a patient has five target lesions of 2cm, 3cm, 4cm, 5cm, and 6cm in diameter. The sum of these is 20cm. For a PR, the new sum of these lesions sometime after therapy must be 14cm or less. This must also happen without any new lesions appearing or appreciable growth of non-target lesions.
SD (stable disease) would be less than 30% shrinkage, or less than 20% growth of the sum of the diameters of target lesions, without the appearance of any new lesion and less than 20% growth of non-target lesions.
PD (progressive disease) is the appearance of a new lesion(s) regardless of the degree of shrinkage of other lesions, or a 20% or more growth of target or non-target lesions.
The following chart illustrates this breakdown:
| | | | |
| --- | --- | --- | --- |
| Target lesions | Non-Target lesions | New lesions | Overall response |
| CR | CR | No | CR |
| CR | Incomplete response/SD | No | PR |
| PR | Non-PD | No | PR |
| SD | Non-PD | No | SD |
| PD | Any | Yes or No | PD |
| Any | PD | Yes or No | PD |
| Any | Any | Yes | PD |
The FDA may grant accelerated approval based on ORR, which is intimately tied to RECIST and has been for decades. It's a simple formula: ORR = CR + PR. It also does not necessarily require comparisons with another group of patients enrolled at the same time in the same institutions under the same criteria (randomized control). Therefore, a single-arm study may suffice for accelerated approval (if large enough, otherwise several smaller ones may do).
SD is better tested under PFS (progression-free survival) or TTP (time-to-progression) endpoints, but these would require a randomized concurrent control group to compare against for validity. Stable disease is irrelevant to ORR.
Stable disease is not included in the ORR. Stable disease is optimally evaluated in randomized trials examining TTP or PFS. Stable disease may reflect, in part, the natural history of the disease rather than being entirely attributed to the drug's therapeutic effect.

~Richard Pazdur, FDA's oncology chief
ORR is an acceptable surrogate endpoint, because it is indisputable and immediate proof a treatment is effective at reducing tumor burden, which is inexorably linked to morbidity and mortality.
ORR is the only path to early approval from a single-arm oncology study (one without a concurrent control group), because it is obvious that if the sum of all target lesions in a patient shrink by 30-100% after taking a therapy, it is the result of taking that therapy.
Therefore, ORR is one way to tell right away how effective a therapy can be. And especially if we are talking about a monotherapy, with nothing else included at any point in the regimen to obscure the source of efficacy. The ORR for the aldoxorubicin P1b/2 study (in patients that failed 2-7 past lines of chemo) was as follows: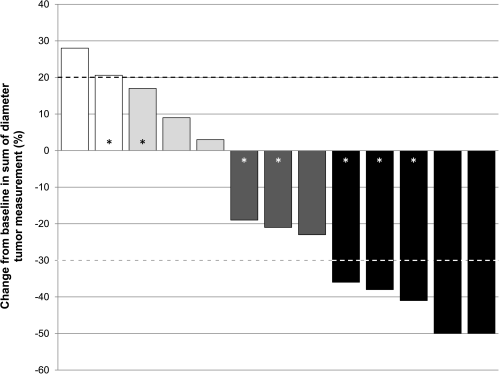 38% ORR, which is striking for this indication (although a smaller sample). 62% also showed some degree of shrinkage. Note that the asterisks above indicate patients who had received prior therapy with doxorubicin, epirubicin (same as dox), or pegylated liposomal doxorubicin (Doxil) and progressed on these, but then went on to see shrinkage or have a PR with aldoxorubicin (for most). This is interesting, as aldoxorubicin is a prodrug of doxorubicin, and yet, patients that failed dox (or dox equivalent) were seeing PRs with aldox.
In this study, patients were able to receive 8 cycles of aldox (last dose given 5 months in, as dosing given on day 1 of each 21-day cycle), whereas in the P2b, they capped dosing of aldox at 6 cycles (last dose 3.5 months in) to present a true head-to-head test with doxorubicin, the latter of which has a lifetime dose limit (both doxorubicin and Doxil) due to high congestive heart failure risk. No patient can get any more than 550 mg/m2.
However, in the P3 study they are able to receive aldox until PD. This could have a substantial impact on the HR (hazard ratio) especially, as well as the mPFS and overall difference between groups (altogether expressed in p-value), as patients that are responding after 6 cycles of aldox will be able to continue receiving benefit via extended dosing (whereas the dox arm will still have to stop there). In a separate P1 study testing aldox in a variety of solid tumor indications, one patient had received 15 cycles of aldox and another 21, without any dose-limiting AEs, and especially no cardio-toxicity. That could never happen with doxorubicin (or Doxil).
The ORR in the aldox arm of the P2b study was 23%, with about the same percentage seeing some degree of shrinkage as in the P1b/2 (65%). This compared favorably with the 5% ORR and about 40% with some degree of shrinkage for the dox arm: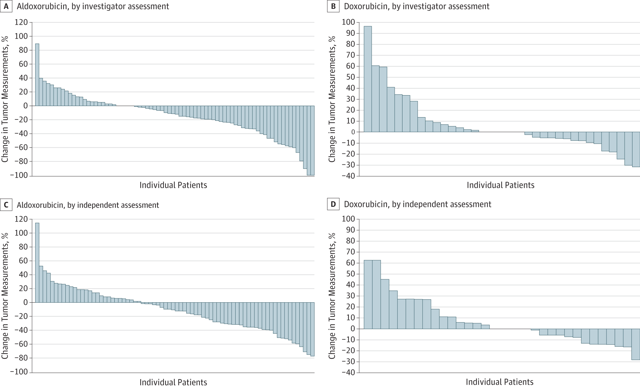 However, as AVII77 of InvestorVillage points out, the scales are not evenly matched above, which actually understates the visual difference (his notes):

The tumor responses seen with aldox in a very difficult to treat population of patients (sarcomas tend to be chemo-resistant), and as a monotherapy, are noteworthy, and demonstrate a purity of data. There is no blurring of lines between which therapy is actually working most (as is the case with adjuvants), nor prognostic factors leading to longer survival times than historical norms, confounding the "differences" suggested. This is pure effect of therapy.
And it was "handicapped" in the above test. Dox has to be ceased after 6 cycles as SOC, but aldox does not. Per protocol, patients had to forgo maintenance or second-line therapies until PD as well. Therefore, patients who were seeing shrinkage or SD on aldox after 4.3 months in could not get that 7th cycle then, and had to simply stop taking any treatments at all and wait. Or drop out of the study. The same went for the dox arm.
Would the ORR and mPFS (and maybe mOS) have been higher for aldox group if those seeing SD or a durable PR after their 6th cycle were allowed to continue on therapy until PD (as is the case in the P3 study)? We have to conclude that yes, they would. That bodes well for the aldox group in this pivotal P3 trial.
Speaking of combination regimens, doxorubicin has been in many. There was one try in 1st-line sarcoma, where dox was combined with ifosfamide versus dox alone. The difference was SS (statistically significant), but the SAEs in the combo arm were excessive. A comparison between that study's results (investigator-assessed) and the aldox P2b study investigator assessment shows some interesting similarities: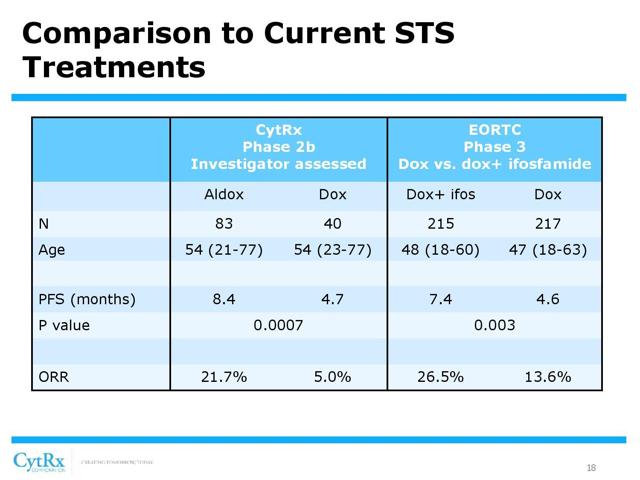 (This has been updated to 8.3 months mPFS versus 4.6 for control. Also, 23% ORR for aldox group.)
It's very rare to find such a high mPFS in the literature on unresectable STS (soft tissue sarcoma) as that seen in the randomized aldox P2b: 8.3 months.
Occasionally from some small, single institutional studies, you might find 6-6.5 months mPFS, but even that is rare. In general, for 1st-line unresectable STS, you're looking at a 4-5 months mPFS by investigator assessment. Especially if the criteria restrict enrollment to patients with intermediate- or high-grade lesions only (these grow and spread faster) and allow ECOG 2 patients in, etc., as was the case with the aldox P2b. 11% of the patients in the study were also chemo-refractory (2nd and more advanced lines), balanced between arms. To achieve 8.3 months mPFS is a standout result, especially when compared with a concurrently controlled dox group that did about as expected (4.6 months).
Did the Control Group of the Aldoxorubicin P2b Underperform?
Adam Feuerstein recently wrote a piece reiterating his opinion that the control group in the above cited study underperformed, thereby exaggerating the difference between groups.
In particular, he states:
Read the published [P2b] study. When you do, you'll see the demonstrated benefit of aldoxorubicin is derived almost entirely from a significant underperformance of the doxorubicin control arm. Meantime, the aldoxorubicin efficacy results are what you'd expect to see from regular doxorubicin.

The median number of treatment cycles administered in the phase II study was six for the aldoxorubicin arm and four for the doxorubicin arm. It appears that doctors in the open label study cut off sarcoma patients from doxorubicin too quickly, resulting in poorer-than-expected PFS and response rate.

~ Feuerstein
Mr. Feuerstein says he was reiterating the analysis of someone short CYTR. After he published his source's take - which, as I'll show is quite sophomoric - the stock did indeed react, selling off from a close of $3.07 the day before to $2.80 the day he published, then continued down to $2.27 two days later. That's fascinating.
Stocks primarily held by retail investors are more susceptible to sharp sell-offs, as there are many stop losses that trigger like dominoes with a good enough "push." As a group, retail investors also seem more reactive, being less sure of their investment theses compared with hedge funds that utilize expert consultants.
His article is brief and easy to go through, so I'll take on each point in turn.
In his write-up, Feuerstein only ever chooses to state the independent lab assessment of ORR and PFS for each group in the aldox P2b, but he does not then use the same standard with his comparisons. This is an egregious error.
The independent lab results show an mPFS of 2.7 months for control and 5.6 months for aldox group. Why the disparity in investigator assessments (4.6 versus 8.3 months)?
BICR (Blind Independent Central Review) apply strict criteria to their assessments of PD, PR and, especially, CR. They have no patient interaction and only examine scans. In borderline cases (17-19% growth), they will usually opt for labeling the patient PD. Scans were taken every 6 weeks in the aldox P2b study (6-8 weeks is the norm), and rather than wait for the next scan to clearly show more than 20% growth, BICR would be apt to label the borderline cases PD right away.
Investigator assessments, by contrast, are real-world assessments. If a patient is showing very slow growth and reach about 20%, but is otherwise tolerating the treatment well, a clinician may be hesitant to cease therapy just yet. The clinician may want to see very clear PD before doing this. In some cases, a patient may stabilize around 20-25% growth, or even see a delayed regression, and then be clear SD for some time. The "20%" number is absolute for BICR, but not for the clinician, who maintains flexibility of judgment, which is better for the patient.
Another situation may arise in which a clinician would tend to keep treating a patient in a real-world scenario, while BICR, looking only at scans, and blinded to treatment group assignments, would label them PD. If you review the RECIST 1.1, you will see that a patient may be experiencing good shrinkage - even PR or near CR - but then one small, 1 cm diameter lesion may appear that wasn't there before. Rather than wait for the next scan to see if any resolution of the new lesion occurred, or testing of the new lesion to be sure it is, in fact, cancerous, BICR will follow their strict criteria to the T and label the patient PD (unless the imaging charter specified not to).
A clinician would normally handle this differently. They would at least wait until the next scan and see if there is some resolution, especially if the other lesions were responding well. Beyond this, a 1cm mass can appear and yet be benign, and so, biopsies should assist with this judgment (usually not available to BICR). Or it may, in fact, be cancerous, but then begin responding to treatment thereafter. These patients may end up having PRs, or even CRs, and continue deriving benefit from therapy for weeks or months after BICR had already labeled them PD.
Yet another situation may arise when a patient has more than 5 lesions exceeding 1 cm in diameter. RECIST calls for labeling the largest 5 as "target lesions" and following these for response evaluation. Sometimes, however, there is a difference of opinion on which 5 are the largest. If BICR chooses one or more target lesions that differ from the investigator (and there are many more investigators than radiologists in BICR working on the trial's scans), and these grew while the ones the investigator chose all or most all shrunk, one might consider a patient SD, or even a PR, while the other labeled them PD.
BICR is put in place as a type of control, and is especially important in open-label studies (one without a blind), such as the aldox P2b and the ongoing aldox P3. The real-world investigator assessment is given at least equal weight by regulators such as the FDA, so long as BICR's analysis does not significantly contradict it. There are even methods the FDA may begin to employ when suggesting a study design, whereby they only consider a subset of the patient population for blind review as an audit, to determine if it differs much from investigator assessment (see Dr. Dodd's and Dr. Amit's presentations, pages 35-68 here).
As shown by Dr. Sridhara, FDA's meta-analysis of 28 prospective, randomized phase 3 registration trials in solid tumors corroborated the high degree of association between investigator and IRC PFS treatment effects purported in recent publications. This finding suggests that complete-case IRCs may not be necessary in many oncology trials and motivates the exploration of alternative methods for bias evaluation, specifically, audit methods.
They do not mean similar mPFS rates, but rather, agreeable HR and treatment effect sizes. FDA may actually begin to recommend only a subset of patient scans be independently assessed as an audit, to confirm a lack of bias. Their focus is primarily on investigator assessments to determine difference between groups. That is how the treatment has fared on a real-world, clinical level. Having a BICR is important to regulators when the study is open-label, as a confirmation there was no bias:
In unblinded clinical trials, clinical information may bias a site-based image interpretation because the expected relation of clinical features to outcome is known and, therefore, local reading will raise concern about potential unblinding. A centralized image interpretation process, fully blinded, may greatly enhance the credibility of image assessments and better ensure consistency of image assessments.

~ FDA Guidance
It is there to "enhance the credibility" of investigator assessments, not replace them. It's important to note the similarities in best response between investigator assess and BICR in the aldox P2b. It's apparent that most of the differences lain in when they called PD. Both recognized about 40% shrinkage with dox and over 60% with aldox (see waterfall plots above), while the ICR was blinded to treatment assignments. In other words, they both recognized similar effects relative to each group. And importantly, both analyses revealed a low HR for aldox.
But in terms of comparing progression rates of one study with rates of another, it's a perilous path fraught with error and confounding variables. Either a study is A&WC (Adequate & Well-Controlled) or it is not. When there is stratified randomization of two groups, they should be very nearly balanced in terms of patient characteristics across all prognostic indicators.
Sometimes, insufficient stratification can account for minor differences in effect size - such as may have been the case in the ICT-107 P2 study cited earlier, where mPFS was 10.1 months for control and 11.4 for ICT-107 group. There we saw that about 72% in control group were male while about 54% in ICT-107 group were male, and about 40% in control had K scores below 90 while 25% in the ICT-107 group had K scores below 90. If these were perfectly balanced, who knows - the ICT-107 group may have performed the same as control, or possibly even a little worse.
But there was no slight difference in treatment effect between groups in the aldox P2b (aldox vastly superior), and so, either these groups were completely and utterly mismatched, or aldox showed strong effect - even while limited to 6 cycles (last dose given 3.5 months in). The mPFS by BICR was more than doubled in aldox group, and the HR quite low (0.58). When we look at patient characteristics, we see a very even distribution of parameters between groups, including age, sex, race, performance status, subtype, and number of prior regimens: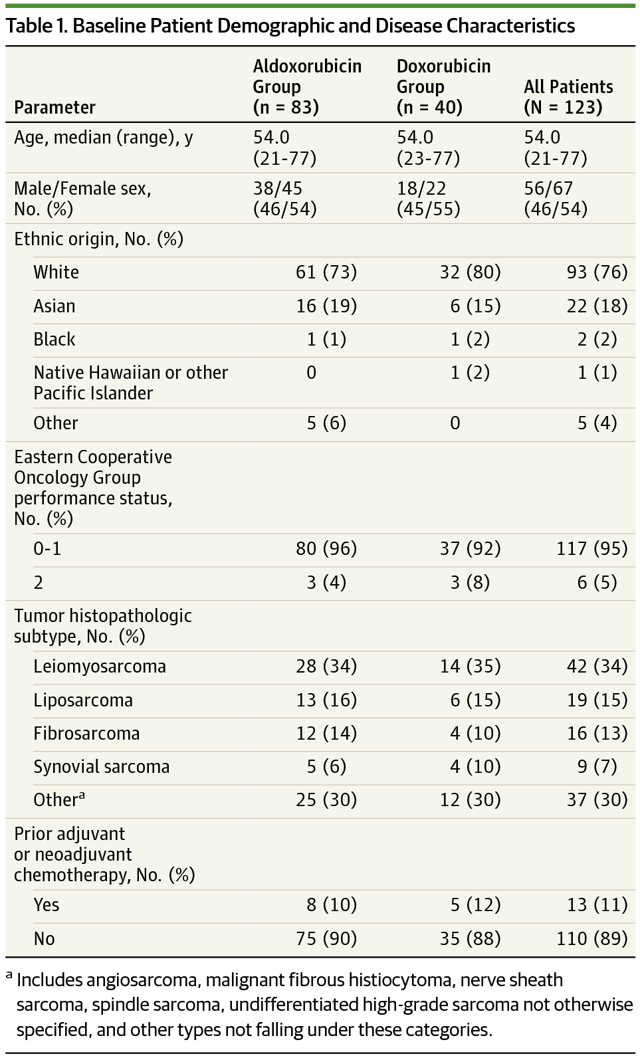 Even if we were to remove 6 left-of-median patients from the doxorubicin curve (their worst performers, moving the median 3 places to the right) - just in case there did happen to be some sort of imbalance - it would still yield a sizeable mPFS difference, and HR that is quite significant.
Doing what Feuerstein then does in comparing two other trial's mPFS - one with different inclusion/exclusion criteria but with an adjudication committee, and one without a BICR altogether - to the mPFS of the aldox P2b is completely invalid. You cannot compare "apples to oranges" when seeking to make an adequate comparative argument (obviously).
One of the two errors made was in comparing the investigator-assessed mPFS of the doxorubicin arm in the dox+ifo study with the BICR-assessed mPFS of the dox arm in the aldox P2b:
Another randomized and controlled study of 228 newly diagnosed sarcoma patients published in Lancet Oncology in April 2014 shows doxorubicin demonstrating a median PFS of 4.6 months. Fourteen percent of the same sarcoma patients responding to doxorubicin, meaning they showed objective tumor shrinkage.

~ Feuerstein
I even cited this study to compare the aldox P2b with, funnily enough (and so did CytRx), because it had a similar criteria for enrollment as the P2b (ECOG 0-2, intermediate- to high-grade lesions only, etc.). Importantly, however, it did not utilize a BICR. Therefore, we cannot compare the BICR data of the aldox P2b with the investigator assessment of the dox+ifo study, unless we don't care about scientific validity. I'll repaste the valid comparison between the two studies below: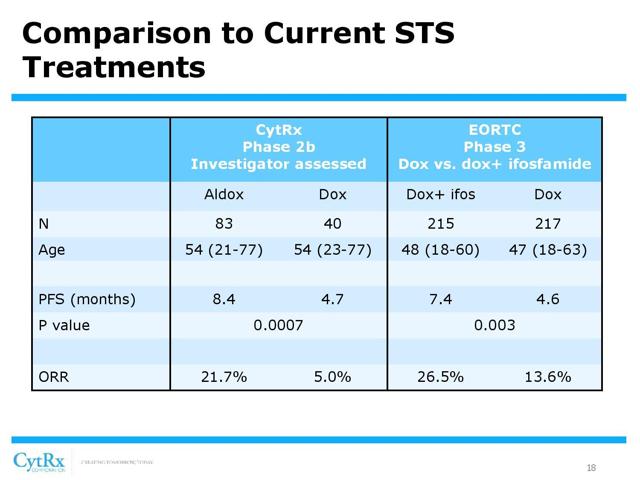 This comparison actually makes the case that the dox group in the aldox P2b was not an underperforming group. I won't reiterate all of the reasons the two assessments are often different (especially with regard to medians).
Also, low response rates with SOC doxorubicin (aka "adriamycin") in the literature are not that uncommon, especially if 11% of the study pop are 2nd-line, as they were in the aldox P2b:
In a randomized phase II trial of pegylated liposomal doxorubicin vs doxorubicin in patients with advanced/metastatic soft-tissue sarcoma-with leiomyosarcoma (33%), angiosarcoma (12%), and synovial sarcoma (12%) representing the top three histologies of the patients enrolled-the response rates of the two groups were equivalent. The overall response rate ("ORR") in both groups was lower than normally expected (approximately 10%), a result thought to be due to both inclusion of patients with gastrointestinal stromal tumor (GIST) and stringent response-review procedures.[4]

Another phase II trial of pegylated liposomal doxorubicin showed responses in 3 of 47 patients [6%] with advanced/metastatic sarcoma. This study was also limited by the fact that 15 patients with GIST were included in the study. Excluding these patients, the response rate was still low, at 9.3%.[5].
The other faulty comparison made was this one:
Consider the 447-patient phase III study of Ziopharm's palifosfamide compared against doxorubicin in front-line sarcoma - the same type of patient enrolled in the CytRx study.

In the 2013 Ziopharm study, sarcoma patients treated with doxorubicin reported a median progression-free survival of 5.2 months. That's essentially the same median PFS reported by CytRx for the aldoxorubicin-treated patients.

The Ziopharm study was larger so the data are more credible. I'm more apt to believe the median PFS of 5.2 months from the doxorubicin arm of the Ziopharm study than I am the median PFS of 2.8 months from the smaller CytRx study. ~Feuerstein
That study did, in fact, use a central lab for assessment, but that alone is not enough to ensure a valid comparison can be drawn between the two arms. For one thing, two CR (central review) teams will not necessarily come to the same conclusions. Some reviewers tend to be more stringent, and others less so. On occasion, some BICR teams have even called it more lax than investigators. And importantly, some imaging charters demand they be very strict, while others are less stringent. For example, some charters will actually allow a small lesion and not call PD until follow up scans and biopsies are performed, etc. The two studies most likely had different imaging charters.
But beyond this, there is a significant difference between a trial using central review primarily as an adjudication committee to verify events to be included or not in the final analysis, and a BICR performing real-time, blinded assessments of scans coming in from an open-label study (as was done in the aldox P2b), which create time plots that may then put into their own TTE (time to event) curve.
There is only one K/M PFS curve in the Ziopharm data set. The BICR team - or in this case, better termed "EPAC" (EndPoint Adjudication Committee) - of the Ziopharm trial simply gave a "yea" or "nay" to what progression events were to be included in the final analysis and which were not. They did not create their own curve (in effect) by analyzing scans as they came in from an open-label study, labeling them along the way. These would then formulate plots on a K/M curve, to be used later on to compare with investigator assessments (also K/M plotted). Rather, the EPAC of the Ziopharm study looked at scans with treatment assignment blinded, which were already labeled PD (or PR or CR) by investigators, and either agreed or disagreed with the investigator's assessments. It's a very different process. For example:
Background and Purpose - End point adjudication committees ("EPAC") are widely used in large-scale clinical trials to ensure the robustness of diagnosis for end points.

Methods - The Perindopril Protection Against Recurrent Stroke Study (PROGRESS) was a double-blind randomized trial of blood pressure lowering in 6105 participants with pre-existing cerebrovascular disease. Separate estimates of the effects of randomized treatment were determined using Cox regression models that were based on the unadjudicated events initially reported by the investigator and on the final events assigned by the EPAC.

Results - There were 992 strokes initially reported by the investigators and 894 (90%) retained these diagnoses after adjudication by the EPAC.
And so, what exactly was reported from the Ziopharm P3 palifosfamide study? The investigator's assessment, of course, as adjudicated by central review.
The EPAC in the Ziopharm study did not alter the TTE analysis like the BICR team in the aldox P2b did (because that BICR essentially created their own), except in their decision to incorporate certain investigator-assessed events (progression or death) and response rates (PR or CR) in the final analysis, or not. "Yea," or "nay." "We agree with the investigator's assessment," or "we disagree with the investigator's assessment," for each and every investigator indentified progression event and each response. That's it. And that's all that is usually required in a double-blind, placebo-controlled study like the palifosfamide P3, as there's far less risk of investigator bias influencing results.
ENDPOINT ADJUDICATION

The procedure by which clinical events identified as potential endpoints are submitted to a panel of independent experts to be assessed in a blinded way. Adjudications are applied in clinical trials based on subjective evaluations like imaging and adaptive design.

ADJUDICATION ASSESSMENT

The core operation of an Adjudication procedure. It's usually made by combining the judgments of several (3,5 or more) Reviewers. The Assessment is collected through the adjudication forms (paper or electronic).
Feuerstein (or his source) drew an invalid comparison by contrasting the aldox P2b BICR TTE analysis with the palifosfamide P3 investigator-assessed TTE analysis, adjudicated by CR. This was swiftly followed up with making the same error again by comparing the BICR mPFS of the aldox P2b with the investigator-assessed mPFS of the dox+ifo study.
But it doesn't end there; although that does invalidate those comparisons, there's another issue I should highlight (as it's often relevant in such cases): the criteria between the two studies were different in significant ways.
In the Ziopharm study, patients were allowed entry with low-grade lesions. In fact, one of the allowances in criteria may have caused some concentration of these patients. It states:
To be eligible, each patient must meet NONE of the following criteria:

Systemic therapy for the treatment of metastatic sarcoma, prior to or during the study. However, patients may have received neo-adjuvant/adjuvant Gemzar and Taxotere chemotherapy for their primary sarcoma, prior to the development of metastatic disease
Any prior anthracycline use.
No mention of requiring intermediate-to-high tumor grade in criteria, nor disallowing of low-grade lesions.
Patients who go on the milder Gemzar or Taxotere tend to have lower-grade lesions, which are possible to control with these maintenance therapies. When these patients ultimately fail gem or tax, they then try harsher chemos like doxorubicin or ifosfamide (or a combo of both). Patients that go on dox or a combination therapy right away usually have intermediate- to high-grade lesions.
In the aldox P2b criteria, we find the following:
Inclusion Criteria:

Histologically or cytologically confirmed, locally advanced, unresectable, and/or metastatic soft tissue sarcoma of intermediate or high grade.

Exclusion Criteria:

Prior exposure to > 3 cycles or 225 mg/m2 of doxorubicin or Doxil®.
So, as we can see, patients with low-grade lesions, which grow and spread slower, were disallowed entry into the aldox P2b, but allowed into the Ziopharm study. Also, a number of prior anthracycline fails were allowed into the aldox P2b, so long as they had not received more than 3 cycles. All such prior fails were disallowed entry into the Ziopharm study.
These are significant enough differences in criteria that make for different study populations, who inherently have different rates of progression, thus further compromising a comparison between their mPFS. It's possibly why the investigator assessment of the palifosfamide P3 (as adjudicated by central review) got up to 5.23 months mPFS for dox group, and almost 6 months for the combo, which is on the higher side.
Historical comparisons are always imperfect anyway, because they seek to compare the performance of one group enrolled at one time under one set of criteria with another enrolled at a different time in different institutions under different criteria, and with scans analyzed by different people (confounded from every direction). Even when closely matched, the comparison is unreliable. Feuerstein himself has highlighted this error numerous times, even though with the aldox P2b data, he happily commits it.
Perhaps he was looking for a reason to validate his F-R rule, proceeding from the bias that micro caps can't have successful P3 studies (especially after CPXX so thoroughly blew it out of the water). Or maybe there is just a tendency in some of us to look more vigilantly for potential negatives, while readily dismissing any positives. But sometimes, a situation naturally has more positives in it. Nothing is actually equal - no viewpoint, nothing. Equality itself is a complex subject. In politics, for example, the "equal" treatment of groups is oftentimes not fair and balanced. Some groups simply need more help than others. If you give everyone a 2-foot ladder to look over a 7.5-foot wall, many will be chagrined. But I digress.
The closest thing to an "apples to apples" comparison with the aldox P2b that I could find is the dox+ifo study, when comparing investigator assessments of each. These criteria were very similar. In that regard, we find 4.6 months versus 4.6 months mPFS with 13% and 5% ORR respectively for dox arms, and 8.3 months mPFS versus 7.4 months mPFS with 23% and 26.5% ORR respectively for aldox versus dox+ifo groups. Though truly, any comparison of one study's data with that of another is fraught with error, even in this example. As stated, either a study is A&WC or it is not. The aldox P2b, in my opinion, was very much an A&WC test. It was well powered to detect a difference between groups, and well-stratified. And the results were exceptional.
Incidentally, CytRx decided to go with a different company providing central lab services for its pivotal P3 trial. It's possible some mistakes were made by the former lab. I'm just speculating at the cause of change, however.
Feuerstein's final argument was a series of sweeping statements:
CytRx decided to enroll second-line sarcoma patients in the phase III study, meaning the patients have tumors no longer responsive to initial treatment with chemotherapy, including doxorubicin. Upon entering the study, the 400-plus sarcoma patients are randomized to receive treatment with aldoxorubicin or a "doctor's choice" of five different, comparative therapies.

There isn't much in the medical literature to pinpoint the efficacy of the control arm therapies for second-line sarcoma patients, but they're all active enough to the point that CytRx will find it exceedingly difficult to tease out any significant benefit for aldoxorubicin.

Most of the sarcoma patients enrolled in CytRx's study will have already been exposed to doxorubicin, so giving it to them again in the form of aldoxorubicin isn't going to help.

~ Feuerstein
These statements are simply not true. And to say "there isn't much in the medical literature... for second-line therapies, but... enough that CytRx will find it exceedingly difficult to tease out any significant benefit," is a truly strange non-sequitur. Basing such a definitive statement on "not much" data?
Actually, there is a wealth of 2nd-line STS data, and in particular, as concerns those five regimens being used for investigator's choice (control) in the aldox P3. Doxorubicin, for example, has been used for over 40 years in 2nd-line STS patients, and ifosfamide has been on the market since 1988. Thousands of patients have been treated with these compounds in 1st- and 2nd-line STS. Actually, all of the regimens in control are "old," except for pazopanib.
His other remark...:
Most of the sarcoma patients enrolled in CytRx's study will have already been exposed to doxorubicin, so giving it to them again in the form of aldoxorubicin isn't going to help.

~ Feuerstein
... is incorrect. Because a) most 2nd-line patients are not necessarily dox-refractory; and b) a number of dox-refractory patients were in the P1b/2 aldox study, and showed shrinkage or PRs from aldoxorubicin. These patients had failed 2-7 past chemo lines, including anthracyclines (like dox and Doxil), and went on to see responses with aldox. His claim that aldox "isn't going to help" them is unsubstantiated, and contradicted by the evidence.
An analysis on chemo-regimens for 1st and 2nd+ lines and their breakdown show about 40% of 1st-line patients receive dox or dox equivalent (so, about 60% of 2nd-line STS patients are dox-naive), and less in more advanced lines. By the time you get out to 4+ lines, about 75% will be dox-refractory, but the majority in the aldox P3 will be 2nd-line, then 3rd, then 4th, etc. Net net, that's just about 60% anthracycline use. It's probably held off often because of cardio toxicity (apparently completely alleviated by aldox's design). So it may be "most," if Feuerstein meant "about 60%," but it seemed like he was suggesting more than that.
Beyond that, there was clear activity in patients (2nd-7th line) that failed anthracyclines (dox, Doxil, etc.) after taking aldox in the P1b/2 study. A large percentage of the patients that showed tumor shrinkage in the P1b/2 had failed dox or dox-equivalent. 5 of the 7 that had failed prior dox showed shrinkage, with 3/5 a PR. 2/7 showed growth (1/7 PD). Very small sample, yes, but we can't ignore that. It's probably going to be that a good number of patients in the P3 that had failed dox or dox equivalent will also see shrinkage on aldox. For example, a patient in the P1b/2 took gem+docetaxel, eventually saw PD, took doxorubicin, saw PD, took ifosfamide, saw PD again - then took aldox and saw a PR. That actually happened.
This is reminiscent, to my mind, of high-dose ifosfamide showing responses in standard-dose ifosfamide fails:
PURPOSE:

The study was designed to assess the toxicity and activity of high-dose ifosfamide ("HDI") administered by continuous infusion at a dose of 4 g/m2/d over 3 days every 4 weeks in adult patients with advanced soft tissue sarcomas ("ASTS") pretreated with doxorubicin and/or a standard-dose ifosfamide ("SDI")-containing regimen.

PATIENTS AND METHODS:

Between January 1991 and November 1993, 40 patients with progressive ASTS were entered onto the study. Twenty-eight patients had been pretreated with a multidrug regimen that contained SDI and were classified as follows: SDI-refractory (n = 21), SDI-resistant (n = 2), and indeterminate SDI-sensitive (n = 5). Patients were treated until progression or major toxicity.

RESULTS:

One hundred forty-seven cycles of HDI were administered. Partial responses ("PRs") were observed in 12 of 36 assessable patients (33%) and eight patients (22%) experienced disease stabilization. All but one response occurred in patients pretreated with SDI, with five PRs among SDI-refractory patients. Leiomyosarcomas appear resistant to HDI. The median response duration was 8 months (range, 6 to 13+) and the median overall survival time was 12 months.

CONCLUSION:

The activity of HDI in these pretreated ASTS patients and the apparent circumvention of SDI resistance suggest a real dose-response relationship for ifosfamide and deserve further evaluation.
Aldoxorubicin, according to its MOA, theoretically administers a much greater dose of doxorubicin to the lesions themselves, utilizing albumin as a targeted delivery vehicle. The authors note:
Albumin is viewed as a tumor-selective drug carrier because serum albumin accumulates in tumor tissue,[23] possibly as a source of energy and nutrition for tumor growth.[24] The pathophysiology of tumor tissue, characterized by hypervascularization, enhanced vascular permeability, and impaired lymphatic drainage, allows macromolecules such as serum albumin to accumulate passively in tumor tissue and become retained.

Nanoparticle albumin-bound ("nab") technology has already proven effective as a means to deliver chemotherapeutic agents. For example, nab-paclitaxel, which is currently approved for the treatment of patients with metastatic breast cancer, locally advanced or metastatic non-small cell lung cancer, and metastatic pancreatic cancer,[25] can be administered at an MTD of 300 mg/m2, which is approximately twice the usual dose range of paclitaxel (135-200 mg/m2).[26]
And indeed, nab-paclitaxel proved more effective than standard paclitaxel in a randomized test.
Aldox, utilizing a linker with albumin, is able to deliver 4 times the standard dose of doxorubicin - and can do so beyond 6 cycles (because of an absence of cardio toxicity). In patients that respond well to anthracycline therapy, but are limited by dose restrictions, we could easily envision a scenario in which the same patient could get 15 cycles of aldox versus just 6 with dox, which would equivocate to 5,250 mg/m2 versus 450 mg/m2 of active compound - almost 12 times as much of the active agent.
More dox getting to tumors with aldox than doxorubicin (utilizing a different MOA), and thereby less, destructive-free doxorubicinol systemically released, has also been verified in blood and urine samples. The authors note:
Aldoxorubicin, a prodrug of doxorubicin, binds covalently to serum albumin in the bloodstream and accumulates in tumors. Aldoxorubicin can be administered at doses several-fold higher than doxorubicin can, without associated acute cardiotoxicity.

The long mean half-life (20.1-21.1 h), narrow mean volume of distribution (3.96-4.08 L/m2), and slow mean clearance rate (0.136-0.152 L/h/m2) suggest that aldoxorubicin is stable in circulation and does not accumulate readily in body compartments outside of the bloodstream. Very little doxorubicin and its major metabolite doxorubicinol, which has been implicated in doxorubicin-associated cardiotoxicity, are excreted in urine.
But how can we know that the "dox" in aldox isn't too "sticky" due to the bond with albumin (as Feuerstein suggests), and is actually being released into tumors?: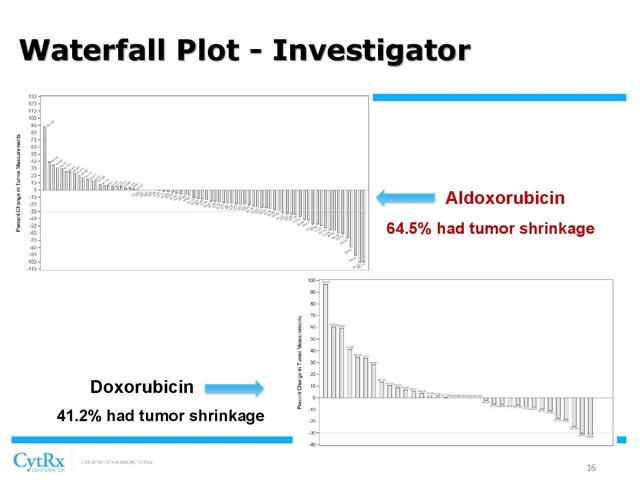 and: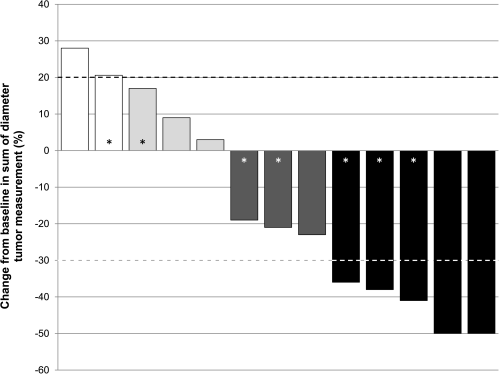 (Those marked with asterisks are anthracycline-refractory.)
That doesn't just happen. Especially not in unresectable STS patients with intermediate- and high-grade lesions, with 11% of them 2nd+ lines in the P2b, and all but one 2nd-7th line in the P1b/2. And recall that this is all from aldoxorubicin as monotherapy.
Also regarding anthracycline fails in the aldox P3, the company has more data than the above to inform them on effect of therapy in this population of patients. They have the 7 patients in the P1b/2, another 8 from P2b aldox arm, and then some unknown number of compassionate use patients' data treated outside of the P2b. Perhaps 20 or more patients. Enough to know if it does indeed show consistent activity in dox fails.
So, in summary, Feuerstein's analysis commits the following errors:
Comparing one study's mPFS as determined by BICR with another study's mPFS as determined by investigator assessment;
Again comparing the same study's mPFS as determined by BICR with yet another study's mPFS as determined by investigator assessment (though adjudicated);
Comparing one study's mPFS with another study's mPFS that had significant differences in patient characteristics between the two groups (not to mention different CR teams); and
Insisting that giving aldox to dox fails won't help them, while ignoring the fact that it already has.
Modeling Predicts Success for the Aldoxorubicin P3 Study
I find modeling outcomes to be of tertiary use in developing an investment thesis for biotechs awaiting top line data that have divulged useful points to determine potential outcomes by. Usually, when you do this, you find a range that includes potential failure in the set of probable outcomes. However, it is the degree to which you estimate potential success or failure that can begin to inform an investor. No one will ever be able to model an outcome exactly unless they literally have the full data set before them. A luxury none of us have.
That said, I have yet to see modeling as attractive as I have when analyzing the aldox P3 study.
Abbreviated Model:
226 by end June
15% dropout =
192
/2 =
96 in control group ("cg")
90% PD 8-24 months =
86 cg events
Then, 200 were randomized by end Dec
15% dropout =
170
/2 =
85 in cg
45% of those enrolled over 2-8 months PD (this should probably be closer to 50%-60%) =
38 cg events
Total control group events by end Feb (and 191 was probably triggered end of March) = 124
Aldox group = 67 events
Clearly significant.
Protracted Modeling:
The enrollment ramp according to information given periodically by the company is as follows:
-Beginning 2014 - 0treatment group:0control group
-[enrollment began Feb 2014]
-Q2 2014 - 2tx:2cg
-Q3 2014 - 16tx:16cg
-Q4 2014 - 17tx:17cg [p. hold began Nov 18th, so half of Q enrolling only]
-Q1 2015 - 8tx:8cg [p. hold removed Jan 20th, but takes 2 months for many IRBs]
-Q2 2015 - 57tx:57cg [some back log causing slight over-amped Q - using "200" from slide instead of "226" verbal by end June, just in case that included those in screening]
-Q3 2015 - 50tx:50cg
-Q4 2015 - 58tx:57cg [400 by Dec 1; 433 were from those in screening, may have taken 2 months, so will say 415 by Dec 31]
Now broken down by month:
Feb 2014 - 0tx:0cg
Mar 2014 - 0tx:0cg
Apr 2014 - 0tx:0cg
May 2014 - 1tx:1cg
Jun 2014 - 1tx:1cg
Jul 2014 - 3tx:3cg
Aug 2014 - 5tx:5cg
Sep 2014 - 8tx:8cg
Oct 2014 - 10tx:10cg
Nov 2014 - 7tx:7cg
Dec 2014 - 0tx:0cg [p. hold]
Jan 2015 - 0tx:0cg [p. hold]
Feb 2015 - 0tx:0cg [p. hold]
Mar 2015 - 8tx:8cg
Apr 2015 - 15tx:15cg
May 2015 - 20tx:20cg
Jun 2015 - 22tx:22cg
Jul 2015 - 18tx:18cg
Aug 2015 - 16tx:16cg
Sep 2015 - 16tx:16cg
Oct 2015 - 18tx:18cg
Nov 2015 - 20tx:20cg
Dec 2015 - 20tx:19cg
This is based on the announced start in February 2014, the citing of 32 randomized, with a further 23 in screening August 2014 via their trials in progress poster, "200" by June stated on a slide at around minute 27:00 of this presentation, with a verbal "226" stated at time of this talk (end of June), and then announcing 400 for full enrollment on December 1, and later stating 433 total randomized, which probably occurred in end of December (as screening is likely in the same time frame as stated in the P2b protocol - see "Supplement 1" here).
As you can see, the ramp above is conservative, especially early on. After a partial hold, it also takes some time for IRBs to approve any changes made to protocol and begin screening again. This was accounted for as well.
Finally I used 200 - not 226 - by end of June, and 415 - not 433 - by end of December, to be further conservative.
Now that we have a conservative enrollment curve, we need conservative control group assumptions. For this, I turned to the wealth of data available on 2nd and more advanced lines of unresectable STS patients treated with the five regimens listed under investigator's choice, and also analyzed subtypes most likely to receive each, and their respective potential mPFS rates and HR. I was able to derive the following for PD ("event" is a progression or death under the PFS endpoint):
5% event at 1.5 months, 35% at 3 months, 50% event 4.2 months, 65% at 6 months, 75% at 9 months, 85% at 12 months, 90% at 18 months, and >95% at 24 months.
The next step is to adjust our enrollment curve for LTFU and dropouts. I used some recent studies in the same indication and similar criteria to base it off of. Here are two of them:
Control group of the recent Trabectedin study:
-85% discontinued dacarbazine
Of these:
-68% due to PD
-8% due to AE
-7% withdrew consent
-1% died
-1% other
So overall, about 7% dropouts (8% of 85%, PD, AE and "died" not censored).
In the Trab arm were:
-72% discontinued trab early
Of these:
-55% due to PD
-10% due to AE
-3% withdrew consent
-3% died
-1% other
So overall, about 3% dropouts (4% of 72%).
In another study (dox versus dox+ifo 1st-line STS), there were more interesting numbers. In the dox-only group, there was:
-117/217 (53%) discontinued dox
Of these:
-94 due to PD
-5 due to AE
-4 withdrew consent
-4 died
-10 other
So overall, about 8% dropouts.
While in the dox+ifo group, there was:
-103/215 (48%) discontinued dox+ifo
Of these:
-45 due to PD
-36 due to AE
-10 withdrew consent
-1 died
-11 other
So overall, about 10% dropouts (very toxic combo)
Conservatively, I used a higher dropout and LTFU censor rate of 15% for modeling the aldox P3 outcome.
This adjusted the ramp as follows:
Feb 2014 - 0tx:0cg
Mar 2014 - 0tx:0cg
Apr 2014 - 0tx:0cg
May 2014 - 1tx:1cg
Jun 2014 - 1tx:1cg
Jul 2014 - 3tx:2.5cg
Aug 2014 - 5tx:4.2cg
Sep 2014 - 8tx:6.8cg
Oct 2014 - 10tx:8.5cg
Nov 2014 - 7tx:6cg
Dec 2014 - 0tx:0cg
Jan 2015 - 0tx:0cg
Feb 2015 - 0tx:0cg
Mar 2015 - 8tx:6.8cg
Apr 2015 - 15tx:13cg
May 2015 - 20tx:17cg
Jun 2015 - 22tx:18cg
Jul 2015 - 18tx:15cg
Aug 2015 - 16tx:13.6cg
Sep 2015 - 16tx:13.6cg
Oct 2015 - 18tx:15cg
Nov 2015 - 20tx:17cg
Dec 2015 - 20tx:17cg
(I left tx group numbers as is just so you could see the % takedown. Also, I often rounded up, so instead of 2.8 patients dropping out, I would just count 3 dropouts, etc., so it would in actuality be a bit closer to 16% censored.)
Next is our 191 event trigger. I confirmed these assessments were done real-time with David Haen. This is a common approach in these trial designs with a BICR and without a DMC or adjudication committee. There may be some backlog, or sites that wait a week or so to send in scans, but the trigger PR on April 4 should be pretty close to when it actually occurred in the trial. I modeled it as occurring end of February for extra cushion.
All that's left is to plug it in and see what happens:
Result -
Estimated PFS events by end February 2016 in cg:
Feb 2014 - 0tx:0cg
Mar 2014 - 0tx:0cg
Apr 2014 - 0tx:0cg
May 2014 - 1tx:1cg
Jun 2014 - 1tx:1cg
Jul 2014 - ?tx:2.5cg
Aug 2014 - ?tx:4.2cg
Sep 2014 - ?tx:6.4cg
Oct 2014 - ?tx:8.2cg
Nov 2014 - ?tx:5.7cg
Dec 2014 - 0tx:0cg
Jan 2015 - 0tx:0cg
Feb 2015 - 0tx:0cg
Mar 2015 - ?tx:6cg
Apr 2015 - ?tx:11cg
May 2015 - ?tx:14cg
Jun 2015 - ?tx:14cg
Jul 2015 - ?tx:12cg
Aug 2015 - ?tx:10cg
Sep 2015 - ?tx:9cg
Oct 2015 - ?tx:8cg
Nov 2015 - ?tx:8cg
Dec 2015 - ?tx:7cg
-IF 191 Total PFS events trigger late 2/'16, with the above assumptions, then 128 come from control and 63 come from tx group. That breaks down as approximately 74 cg and 42 aldox group events from those randomized before July 2015 by late February 2016, and then some 54 cg and 21 tx events from those randomized thereafter by late February 2016.
It's difficult to determine an mPFS based on the above, but the HR would be below 0.50. A very significant result.
Modeling is often an exercise in futility when there is little historical data available to predict how the control group will do. Especially in indications with fully resected patients on new treatments and modalities, modern surgical techniques, etc. Comparing these with older data? Good luck. Also, of course, if you are missing plot data and an event trigger is unknown, you're even deeper in the woods.
That is not the case here. Predictable performance for unresectable 2nd and more advanced lines of STS patients with intermediate- and high-grade lesions, ECOG 0-2. Normally, it would be closer 3 months or so, but targeting with these therapies has improved outcome a bit, hence my 4.2 months and extended long tail (being generous). And we have an accurate enrollment curve and 191 event trigger point.
Here are a handful of inputs I noted in my research (writing out links this time).
Median PFS for 2nd and more advanced lines STS patients across studies by subtype:
3.2 months
2.6 months
3.0 months
5.4 months
3.0 months
1.8 months
2.8 months
1.9 months
2.8 months
3.7 months
1.9 months
1.9 months
2.5 months
About 550 patients (across 4 studies, again by subtype)
The average is about 3.0 months across studies.
Even in 1st-line studies, seeing more than 5 or 6 months mPFS is rare:
If we examine all of the following studies in 1st line, we rarely see over 6 months mPFS, and usually 4-5 months. Never over 7, except when they combined dox with ifo, which had horrible tox and showed 7.4 months mPFS (versus 4.6 months for the dox-only group - again, 1st line).
In second (and beyond) lines, such as are being tested in the aldox P3, we find unfortunate language like this:
"Response rates are so low in the second-line setting that PFS (progression-free survival) has become the standard endpoint in clinical trials, with PFS at 3 months above 40% demonstrating activity and below 20% demonstrating inactivity."
When we examine the criteria for the aldox P3, it's difficult to identify potential confounders. It looks like the same criteria as the others - or criteria that would select for even worse prognosis patients. It isn't as if one allows patients with CNS tumors and another doesn't, or one excludes lung or liver mets and the other doesn't. ECOG 0-2 also as usual. Intermediate- to high-grade lesions only, 2nd and more advanced lines only, etc.
In some of the "better"-performing 2nd-line STS studies, we find no 3rd-6th line patients, sometimes no or few ECOG 2 patients, or few lipo/leio, which are the most prevalent. And sometimes younger patients. Like in this study.
4.8 months mTTP ("time to progression," similar to PFS, but does not count deaths) from the above study, though relatively few lipo/leio and no 3rd-6th line (only 2nd). Also, a moderately small sample size (n=64) from a single institution. And median age was a bit lower than normal (44 years). The oldest was 67. Patients up to 80 years old can get into the aldox P3. Also, the vast majority in the above study were non-metastatic (40/64).
As stated, it would be harder to guess at an mPFS for fully resected patients using historical (even recent) controls. Whereas the patients in the aldox P3 study are 1) chemo refractory (2nd-6th line or beyond) and 2) have unresectable, measurable lesions. It's like 3rd-line rGBM patients without debulking. These mPFS rates are more stable and easier to predict (sadly). Historical comparisons become more accurate, as it becomes a bit less dependent upon patient characteristics and more directly impacted by treatment effect ("effect size"). And the regimens in investigator's choice have been around for a long time, with consistently reproducible outcomes.
Also, 433 2nd+ line STS patients enrolled fast (200 randomized in the last 5 months - probably 350 or more screened), median age late 50s, ECOG 0-2, etc. That's just too quick to "cherry pick." Which brings up another interesting thing - this is an open label trial, and sarcoma specialists are a tight knit group, by my experience. Is it possible they talk about what they are seeing in their patients? Or patients talk to patients, and by late in the study, word spreads that there is some unique efficacy being seen? And that has an effect on enrollment rate?
I bring this up because after the hold, in summer 2015, CytRx issued guidance saying they expected their Q1 2016 enrollment goal to be extended to 1H 2016. Then, they suddenly beat their former guidance and were complete enrollment by December 1, 2015? And were even over-enrolled by 33 patients to 433? David Haen mentioned to me that towards the end, they were screening 20-30 patients per week... I'll just let that one stew. It's speculative, but it's not nothing.
So all told, I think the 4.2 months mPFS, and especially long tail for control, could even be overstated in modeling despite targeted investigator approaches.
It seems one of the strongest pro case point for how aldox could be doing this well in refractory unresectable STS patients has to be extended dosing. Aldox showed 2x or better than the mPFS compared to dox in 1st-line patients, but the last dose was given 3.5 months in, and then protocol restricted them to simply wait for PD before moving on with other treatments (see protocol in Supp 1 - no maintenance or 2nd-line therapies allowed; protocol violators were censored). Aldox was capped at 6 cycles to show equal head-to-head with dox, despite patients doing OK on 15-21 cycles in another P1 study.
Still, from 6 cycles with aldox over 2/3rds saw shrinkage and a good % of PR (23%), with 2 CRs, as their best response. While over 70% of the patients receiving aldox stopped treatment only because they hit their 6-cycle limit. So, the vast majority of patients in the aldox arm received all the doses they were allowed to get, and then had to wait. In the P3, they may continue treatment until PD. I can imagine when I look at the waterfall plot from 6 cycles...:

... how much better it could have been with unlimited dosing, rather than making everyone stop after 3.5 months. Again, 70% of the patients did not discontinue aldox due to PD, but only because they could get no more. Many of these would have continued to derive benefits from aldox with extended dosing. Even in the P1b/2, they were limited to 8 cycles (which, incidentally, was the median number given), but the ORR was improved at 38%.
If there's activity, and there's extended dosing, there will de facto be greater effect size. Especially for right of median patients, which will only further decrease HR (which is good) and thus p-value (also good).
When adriamycin (aka doxorubicin) was given in the 70s, before current lifetime dose limit restrictions (before it was understood that more than 550 mg/m2 caused congestive heart failure), the response rates in sarcoma were higher due to extended dosing. I guess that should be obvious. Here are some of those data from 1975:
Thirty-six patients with disseminated sarcomas were treated with adriamycin according to an intermittent single high-dose schedule based on our prior pharmacologic observations. The dose of 60 mg/M2 IV q 3 weeks was reduced 50-75% in the presence of liver disease. Complete remission occurred in 9%, parital remission in 32%, and improvement in 21% for median durations of 37, 18, and 15 weeks, respectively. Survival was prolonged in responding patients.
If aldox is better than dox at 6 cycles, how much better will it be dosing until PD?
Finally, as a guide of probabilities to sum up the above, I submit the following:
My expectations are:
-80% chance p<0.05
-58% chance p<0.01
-42% chance p>0.01
-20% chance p>0.05
-30% chance p<0.001
- 5% chance p>0.10
-10% chance p<0.0001
-0.1% chance p>0.5
- 1% chance p<0.00005
-0.1% chance p<0.00001
mPFS for control group ("cg") I estimate as (investigator-assessed):
-80% chance cg < 4.5 months
-58% chance cg < 4 months
-42% chance cg > 4 months
-20% chance cg > 4.5 months
-30% chance cg < 3.5 months
- 5% chance cg > 5 months
-10% chance cg < 3 months
-0.1% chance cg > 6 months
- 1% chance cg < 2.5 months
-0.1% chance cg < 2 months
mPFS for aldox group ("ag") I estimate as (investigator-assess):
-80% chance ag > 6.5 months
-58% chance ag > 7.2 months
-42% chance ag < 7.2 months
-20% chance ag < 6.5 months
-30% chance ag > 8.0 months
- 5% chance ag < 6 months
-10% chance ag > 9 months
-0.1% chance ag < 5 months
- 1% chance ag > 10 months
-0.1% chance ag > 12 months
mOS will be trending, but not SS almost no matter what, but:
-80% chance +1 months diff (+ favors aldox group, - favors control)
-58% chance +2 months
-42% chance +0.5 months
-20% chance +0 months
-30% chance +3 months
- 5% chance -1 months
-10% chance +3.5 months
-0.1% chance -3 months
- 1% chance +4 months
-0.1% chance +5 months
(ORR breakdown similar to mPFS).
HR:
-80% chance HR<0.72
-58% chance HR<0.60
-42% chance HR>0.60
-20% chance HR>0.72
-30% chance HR<0.40
- 5% chance HR>0.85
-10% chance HR<0.34
-0.1% chance HR>0.95
- 1% chance HR<0.25
-0.1% chance HR<0.17
I think it provides a fuller picture of what has been derived, based largely on modeling, than the traditional and somewhat vapid "30% chance of success" or "50% chance," or what have you.
What's more difficult is to attempt modeling a failure for aldox group, even with extremely conservative assumptions. It would require over 25% censored (quite rare in larger studies), an even slower enrollment ramp, 5+ months mPFS for control with better than 1st-line long tail, and 191 events triggering around early January. There's a low probability of all of that having occurred here. Possible, but improbable. And any one of these confounding factors wouldn't be enough to upend modeling by itself; there would need to be a combination of them.
Extended Dosing = Greater Significance?
When CytRx was allowed by regulators to dose with aldoxorubicin until disease progression ("PD"), they were granted the potential to show greater significance in their P3 study.
The P3 study began enrolling in Feb 2014, and the company reported:
In January 2014, the Company announced it has received approval from the FDA to amend the Phase 3 protocol to continue dosing patients with aldoxorubicin until disease progression (defined as an increase in the size of measurable tumors by 20% or the development of a new tumor lesion), which creates the potential for substantially improved Phase 3 efficacy results.
Most people focus on medians when determining how significant a difference between groups is. However, this is quite limited. A median difference is a hard and fast way to gauge effect, but is crude. There are cases in which a difference between groups was statistically significant, but the median differences were minimal or even non-existent.
Roche has written a comprehensive overview on this and other concepts in trial design and statistics that I think many readers would find useful. I'll repost the most relevant of these here:
Statistically significant

A mathematical measure of difference between groups; a difference in a value (e.g. number of people achieving a CR) seen in one treatment group compared with another is considered statistically significant if it is greater than that which might be expected to happen by chance alone.

Probability ("p") values

A p-value is the likelihood of obtaining a statistical result by chance, assuming there is no difference between the treatments being investigated. The lower the p-value the less likely the result happened by chance, and the more likely the result can be attributed to the drug being tested. The p-value which is considered to be significant can vary, but is usually set at 0.05. A p-value of 0.05 means that there is only a 5% likelihood that the result happened by chance - and therefore that the result is due to a true difference between the treatment effects and not chance alone.

Averages - median and mean

Improvements in measures such as disease free or overall survival are often measured by the median. Median is the middle value in a set of numbers when they are all placed in order from smallest to largest, e.g. the median of 5,7, 9,10,13,18 , 23 is 10. In a clinical trial, the median is reached when 50% of patients have experienced an event (such as death or recurrence). The median figure for an endpoint is normally noted with a small 'm' e.g. mPFS (median progression-free survival).

It's important to remember that taking a median value for survival may not always provide the most accurate picture of the effects of a treatment. For example, if 51% of patients gain only two months or less survival benefit from a treatment while 49% gain 10 months or more, the median survival would, in fact, be calculated as less than two months - which is not a true reflection of the benefit.

Similarly, if a trial had, for example, 800 patients, the median would be reached once 400 reached the endpoint (e.g. experienced a particular event). But the other 400 may potentially do much better, and the median value would not reflect this. Another form of average - the mean - is often used outside medicine but is rarely used for clinical trials because of the wide variation in the way patients' disease behaves. Mean is the average calculated by adding a set of numbers (for example, a set of results) and dividing by the number of values. e.g. the mean of 5,7,9,10,13,18,23 is 12.1.

Hazard ratio ("HR")

The hazard ratio is the relative risk of the event (e.g. disease progression) happening in one trial arm compared with the other, over the entire time period of the trial.

•A HR of 1 means there is no difference between the groups, a HR of 2 means that there is double the risk and a HR of 0.5 tells that there is half the risk.

•In the example below, a HR for OS of 0.73 indicates there is a 27% reduction in the risk of progression or death in the arm treated with drug A compared with drug B. It is calculated as follows -1 - 0.73 (the HR) x 100 = 27% risk reduction.

Importantly, and unlike median values, the hazard ratio takes into account the difference in events over the entire period of the trial, not at a specific point within it or at the end of the trial, so is a better predictor of the treatment's actual effect on the whole patient population. This methodology has the advantage of using all available information, including patients who don't complete the trial for any reason. A HR is thus most useful when the risk for the endpoint event being described is not constant with respect to time.

Confidence intervals ("CI")

The CI percentage indicates the certainty that a result will fall into a range of results noted by specified lower and upper 'confidence limits' e.g. A HR result with a 95% CI of 0.65 (lower) - 0.80 (upper) means that there is a 95% certainty that under the same study conditions the HR result for the same population will fall between 0.65 and 0.80. How narrow or wide this range is can provide valuable information regarding the precision of the results. A narrow CI implies high precision and a wide CI implies poor precision. CIs are used as an indication of how a study result would be reflected in the general patient population outside of the investigation.
And so, HR is actually a more accurate and reliable way to determine the effect of therapy and significance than median survival times.
Here are a few examples of curves that show weak or strong median differences, but unexpected p-values (which reflect not just median difference between groups, but overall difference):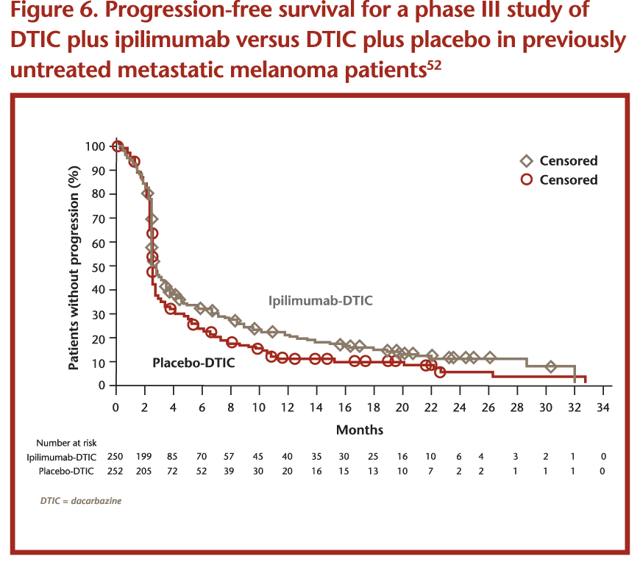 The mPFS of the two groups was about the same at 2.8 months for the combo and 2.6 for DTIC alone. However, as you know, that is only the point at which 50% event on the two curves. Overall, the combo treatment reduced risk of PD with a HR of 0.76, as is seen in all of that separation of the two curves after the median point. This result was quite significant (p=0.006).
Sometimes, the median is modest but the HR excellent, as from this well-known temozolomide ("TMZ") study: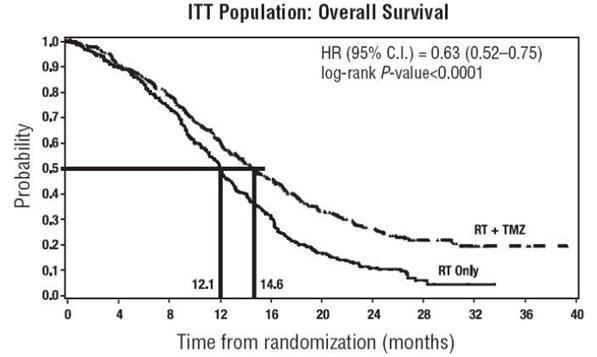 A respectable mOS difference, but that long tail is exceptional, and so the result very significant: p<0.0001. This was also helped by the sample size (over 570 patients).
And then sometimes you have strong median difference, decent overall separation between curves (good HR), but because the number of events from the sample are too few, the result is insignificant. Such as: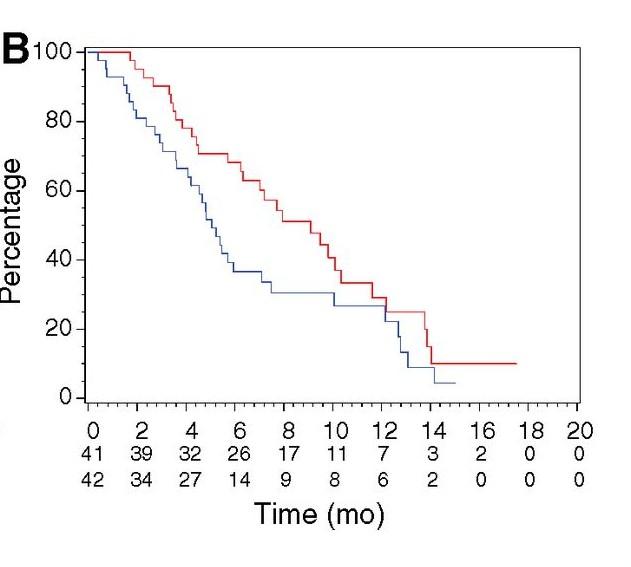 The mOS between the two arms was 9.1 versus 5.1 months (nearly doubled) for cetuximab versus BSC, and the HR quite low at 0.63; but the result was not significant: p=0.065. Comparing about 40 events from each arm revealed the above low HR, but that was not enough for an SS result. About 60 events each, instead of 40, with the same HR would have done it.
That's one reason why, when studies report good top line PFS, that OS is not SS - even if it is trending that way. Just not enough OS events (deaths) yet, causing the analysis to remain underpowered (though subsequent therapies after PD can confound OS as well). Depending on the indication and study, there could be just 70 deaths by the time 300 PFS events (PD and deaths) occur.
However, if the above sample had an even stronger HR, with more separation between curves in their long tails (notice, they come together at the end), the result would have been SS, even with the same number of events. With a very pronounced separation between curves after the medians, the result can get highly significant (as in the TMZ example above).
The aldox arm of the P3 study has a great chance of not just showing a strong median difference between groups, but a highly pronounced long tail effect, and so, a very significant outcome - this being the direct result of extended dosing. Patients who are responders to aldox will benefit from not being cut off at 3.5 months into dosing, like they were in the P2b. The opportunity is there in this P3 study for responders to keep on responding to aldox via extended dosing (7, 8, 9, 12, 15, 20 cycles), not being limited to 6 cycles due to high cardio toxicity risks, such as with doxorubicin and other anthracyclines. It's almost as though aldox has an unfair advantage in their P3 study.
Potential Market Size for Aldoxorubicin
Doxorubicin (aka adriamycin; epirubicin; Ellence; Pharmorubicin; Rubicin) and Doxil (aka Caelix; Myocet) chemotherapy, as well as their generics represent a vast market. Both are limited by lifetime dose restrictions (as stated exhaustively at this point). That is important in considering the following, for two reasons: 1) aldox will be more expensive as a novel therapy, providing significant benefit over its predecessors; and 2) instead of a mean of 4 cycles given to patients, will likely have a higher mean (all of this is assuming it is effective, of course). Perhaps 6 cycles, or even a doubling of the cycles to 8. So, of course much more of it would be sold. This would make aldox sales, by comparison, appreciably higher. The timing is also ideal for insurers, who have had a bit of a break from high Doxil costs since 2013.
Doxil, for the most part, is equal or at times a little less effective than standard doxorubicin HCL, though it offers a somewhat more favorable safety profile (slightly less cardio toxicity - though still black box - and fewer AEs overall). It has rarely shown superiority over standard dox, but AIDS-related Kaposi's sarcoma ("KS") is one such indication where it has:
In addition, it was shown that more doxorubicin was delivered to AIDS-KS lesions when administered as PLD [pegylated liposomal doxorubicin, aka Doxil] than as conventional doxorubicin. Kaposi's lesions from 18 patients were biopsied 72 hours after intravenous injection of either PLD or conventional doxorubicin (Northfelt et al 1996). Regardless of the dose, tissue levels of doxorubicin were approximately 5-11 times higher in the AIDS-KS lesions of patients treated with PLD compared with AIDS-KS lesions in patients given comparable doses of conventional doxorubicin.
That's something that has also been seen with aldox, and it basically describes its POC. However, not limited to KS due to vasculature, like with PLD, but in most indications where utilizing albumin delivery can be effective.
The above efficacy carried over in KS patients treated with PLD, even in dox fails (a theme already shown with high dose ifosfamide versus standard dose fails, and in the aldox P1b/2 in dox-refractory patients):
The 53 patients enrolled in this trial received 20 mg/m2 of PLD intravenously once every 3 weeks; 19 patients (36%) achieved PRs and one achieved a complete clinical response. Among those who had previously experienced disease progression when receiving a conventional doxorubicin-containing regimen (eg, ABV rather than BV), the PR rate was 32%. Median duration of response and time to treatment failure in all patients was 128 and 134 days, respectively.
That's a very good response rate in patients who had failed prior therapies. And shows how essentially the same compound ("dox") can succeed where it previously failed if you change the MOA (lipsomal) or simply increase the dose.
They then tried it out in 1st-line KS patients in a randomized test against the SOC at the time (bleomycin, "BV") and found:
Overall best response (CR plus PR) was significantly higher with PLD (58.7% vs 23.3%; p < 0.001), as was end-of-treatment response (38.8% vs 14.2%; p < 0.001).
Very good. Almost 40% durable response.
Let's see how aldox is doing in the KS (and a separate) study: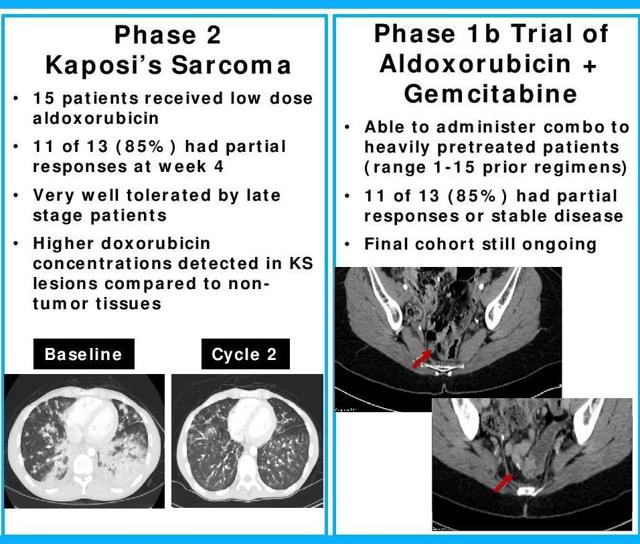 85% partial responses, 4 weeks in. A number of these patients were pre-treated as well (2nd and more advanced lines). And all this from low-dose aldox.
Some more color:
Fifteen patients have been enrolled and received either 50, 100, or 150 mg/m2 of aldoxorubicin once every three weeks. To date, significant anti-tumor activity has been observed. At these low doses, 11 of 13 (85%) patients have achieved partial responses at cycle 4, and at the end of the study, 8 of 12 (67%) patients have demonstrated partial responses. Two patients continue to be treated.

Aldoxorubicin was very well-tolerated in these patients with advanced Kaposi's sarcoma due to the low doses administered. Importantly, determining the drug concentration within the tumor, a key goal of the trial, was successfully achieved. In 12 of 14 (86%) patients for whom there was adequate tissue for analysis, higher doxorubicin concentrations were detected within the KS lesion relative to non-tumor tissue.
There's all of that "stickiness" showing up again...
So, to compare the above aldox-treated KS patients (a number of whom were chemo-refractory) with PLD-treated KS patients, we find the following:
PLD in chemo-refractory KS: 36% ORR, best response (durable response not recorded);
PLD in 1st-line, treatment-naive: 58.7% ORR, best response; 38.8% durable response.
versus
Aldox in a mix of rx-naive and refractory KS: 85% ORR, best response; 67% durable responses, even with some patients receiving low dose.
Pretty great. And again, as monotherapy. Aldox is not "hiding" behind some effective SOC here, given concurrently with it. It is out in the open for us to examine by itself.
So, KS appears to be extremely responsive to aldoxorubicin. We can possibly say then that (for KS at least) doxorubicin < bleomycin < PLD < aldoxorubicin.
KS is a micro indication, but upon approval for 2nd-line STS, they would likely get many of these patients via off-label use (and eventual label extension) as well. Greater efficacy with no cardio toxicity, and so, no black box warning? Okay.
There would also be no competition for aldox in 2nd-line STS, as there are no approved therapies (hence the "grab bag" of 5 investigator's choice for control), and nothing currently in development in a pivotal trial. There were two approvals in 3rd line, however, and they both came in recently: eribulin and trabectedin. But they are indicated in such a way that they would not interfere with aldox sales in the least.
Eribulin showed 2.6 months mPFS versus 2.6 months mPFS for control (no difference in mPFS), and 13.5 versus 11.5 months mOS respectively, which was SS (p=0.02). Trabectedin showed 4.2 months mPFS versus 1.6 months for control, and less than 2 months difference in OS (non-SS). They were both compared with dacarbazine only. They were both tested in 3rd-4th line only (no 2nd line, and no lines beyond 4th). They also were both tested only in anthracycline (dox/Doxil) fails. And I think it's safe to say at this point that dacarbazine (at least for STS) is minimally effective.
So how relevant are these data? Well, they prove these therapies are better than dacarbazine in one or two STS subtypes in 3rd-line anthracycline fails. But it ends there.
In late October 2015, trab got approval for leiomysarcoma and liposarcoma (about 1/3rd of all sarcomas) 3rd-line anthracycline fails only. In January this year, eribulin got approval in 3rd-line anthracycline refractory lipo only. So, there is no competition in the indication aldox may be applying for approval in soon (2nd line, all subtypes, regardless of prior anthracycline use). That's an extremely attractive position to be in from a sales POV. If approved, eribulin and trabectedin would only be given to patients who failed aldox first. They would compete with each other, but not aldox.
Speaking of trabectedin, it had previously failed in a head-to-head randomized P2b test against doxorubicin in 1st-line STS, just like scores of others before it. The design was actually very similar to the aldox P2b (randomized 2:1, about the same number of patients, etc. - but no ECOG 2 patients and no 2nd-line allowed entry). The results were:
Trabectedin failed to improve progression-free survival ("PFS") outcomes compared to doxorubicin as first-line therapy for advanced/metastatic soft-tissue sarcoma, according to results of a new phase IIb study.

No drug has yet shown any advantage over doxorubicin in metastatic soft-tissue sarcoma, but the efficacy of that drug is limited, with response rates ranging from 10% to 25% and a median PFS of about 6 months. The new study, led by Binh Bui-Nguyen, MD, of the Institut Bergonié in Bordeaux, France, was designed to test whether trabectedin could offer superiority over doxorubicin; results were published online ahead of print in the European Journal of Cancer.

A total of 133 patients with advanced/metastatic soft-tissue sarcoma were included in the trial and were randomized to receive either doxorubicin (43 patients) or trabectedin (47 patients with 3-hour infusion schedule, 43 patients with 24-hour infusion schedule).

The median PFS was 2.8 months in the 3-hour trabectedin arm, 3.1 months in the 24-hour trabectedin arm, and 5.5 months in the doxorubicin arm. The hazard ratio ("HR") for progression in the 3-hour arm vs doxorubicin was 1.50 (95% confidence interval [CI], 0.91-2.48; P = .944); the HR in the 24-hour arm vs doxorubicin was 1.13 (95% CI, 0.67-1.90; P = .675).
Head-to-head tests against dox in STS have not gone well over the last 40 years for the "challenger." Aldox, believe it or not, made history with their P2b (and not marginally).
By the way, the above study data were from investigator assessments, and as mentioned, enrolled no ECOG 2 patients nor allowed any chemo-refractory patients entry. That 5.5 months mPFS for the dox arm looks about right considering those factors.
Even the hot-right-now checkpoint inhibitors haven't made a dent in this tough-to-treat indication:
Inhibition of the programmed death-1 (PD-1)-PD-ligand 1 (PD-L1) axis has shown durable clinical benefit in melanoma, lung, renal, and bladder carcinomas. Herein, we report results of the first phase II evaluation of PD-1 blockade with the anti-PD-1 antibody pembrolizumab ("P") in patients (pts) with advanced STS and BS.

Methods: SARC028 is an open-label multicenter phase II study of single-agent P in pts with STS (Arm A) or BS (Arm B). All pts receive P 200mg IV q21 days. The primary endpoint for each arm is objective response rate ("ORR") by RECIST 1.1 (target ORR = 25%, 82% power vs 10% ORR, α = 0.042). Secondary endpoints include safety, progression-free survival , overall survival, and correlative studies. Tumor biopsies were collected at 0 and 8 weeks (mandatory), and at progression (optional). Arm A enrolled 4 subtypes in balanced cohorts: leiomyosarcoma ("LMS"), liposarcoma ("LPS"), undifferentiated pleomorphic sarcoma ("UPS") and synovial sarcoma ("SS"). Arm B enrolled osteosarcoma ("OS"), Ewing sarcoma ("ES") and high-grade/dedifferentiated chondrosarcoma ("CS")

Results: Of 80 patients enrolled at 12 SARC centers, 76 were evaluable for response by RECIST. In the STS cohort (Arm A), no objective responses were observed for LMS (0/10), LPS (0/9) or SS (0/10) from imaging performed after 8 weeks of therapy. An ORR of 22% was observed, however, for UPS (2/9). In the BS cohort (Arm B), 1 partial response ("PR") was seen at 8 weeks in OS (1/19). No objective responses were observed in ES (0/13) or CS (0/6). In 24 pts that have completed evaluations at 20 weeks, 3 additional pts went on to experience PRs including 1 CS, 1 LPS and 1 UPS. PFS rate at 8 weeks was 50% in LMS, 63% in LPS, 30% in SS, 67% in UPS, 24% in OS, 9% in ES and 67% in CS. P was well tolerated and toxicities were consistent with published data.

Conclusions: Single agent P has limited activity in unselected sarcoma pts.
6/76 patients showed a response to CI, and the mPFS was just 2 months.
There's really nothing on the horizon that could compete with aldox in this space, if proven effective in their P3.
Aldox also has orphan drug status in US and EU for sarcoma, small cell lung cancer, ovarian cancer, and GBM. This provides marketing exclusivity rights for 7-10 years. So no "me-too," quick to market therapies developed by Big Pharma in a rush could invade upon their profits for some time. Also, clinicians, upon seeing orphan status granted to aldoxorubicin across multiple indications, would be more apt to prescribe aldox off-label for some of their patients in the same.
Off-label use is an important consideration in determining market penetration and potential sales.
From the FDA perspective, once the FDA approves a drug, healthcare providers generally may prescribe the drug for an unapproved use when they judge that it is medically appropriate for their patient.

~ FDA
Did you know that Avastin (bevacizumab) is used off-label in certain ophthalmic indications?
Bevacizumab's use in ophthalmology is off-label, meaning it is not FDA approved for ocular use. In USA more than 20% of the used drugs are off-label. It is most commonly used to treat CNV (in AMD and other diseases), diabetic macular edema (DME), and macular edema due to retinal vein occlusions. Interest in bevacizumab for ocular use began due to the molecular similarity it shares with ranibizumab (Lucentis; Genentech), which is FDA approved for AMD, DME, and macular edema due to retinal vein occlusions.
But let's start with the main indication they would acquire approval in: 2nd-line STS. And because of proving efficacy over SOC doxorubicin for the second time (FDA wants two controlled studies for initial approval), as well as superiority over 4 other commonly used chemos in investigator's choice, aldox would likely replace all anthracycline use on the clinical level in STS within 2-3 years. By doing so, CytRx could potentially achieve over $800 million in annual sales by 2019. This is based on the following model:
• Aldoxorubicin New Drug Application (NDA) filing for 2nd line STS completed by 1H 2017, at which time CytRx would request priority review from the FDA, leading to potential approval in 2nd half 2017 in the US, and approval in EU in 2018.

• Product pricing figured at $24/mg for this novel chemo. This is comparable to the course of treatment for new agents in oncology.

• Market penetration assumes use primarily in recurrent STS, with some closely related off-label use, and assumes sales only in the US and EU. Market penetration is figured at a peak penetration rate in rSTS of 70% to 80% for 2nd line (as the only approved 2nd line therapy) and 20% - 30% of 1st line patients, as well as 20% to 30% of 3rd and more advanced lines off-label. Penetration rates below consider 75% of 1st line STS proceed to 2nd line therapy, and 50% of these to 3rd line.

12,300 new cases of STS in 2016 in the US, 70% of these stages III and IV, requiring systemic chemotherapy, or 8,600 patients/yr, and slightly more in the EU, which is approximately 18,000 total eligible between markets. According to penetration rates as outlined above, an estimated 16,300 STS patients/yr would be treated with aldoxorubicin. That is estimated to routinely occur from the 2nd half of 2019 forward.

In 2009, a standard dose of Doxil was $5,600. Based on higher dose per vial and superiority over dox and Doxil, as well as no cardio-toxicity, aldoxorubicin will be estimated at $8,400/vial. At a 6 cycle mean (possibly higher in the absense of dose-limit restrictions), and according to the above number of patients treated per year, annual sales would reach $821,500,000 in US and EU markets combined.
This is not considering the distant off-label usage possibilities (and eventual label-extension approvals) aldoxorubicin could enjoy where doxorubicin and Doxil are currently in use, such as cancer of breast, ovary, prostate, stomach, thyroid; small cell cancer of lung, liver; squamous cell cancer of head and neck; multiple myeloma, Hodgkin's disease, lymphomas, and ALL and AML (leukemias).
Here are some examples of costs by peers:
The price of chemotherapy drugs varies widely, depending on the drug. For example, according to research[3] from the American Society of Clinical Oncology, one course of a drug for chemotherapy for breast cancer can cost about $900-$15,000, depending on the drug(s); and, if growth factor support is added to lessen side effects, that increases costs from more than $4,000 to more than $30,000. According to an article[4] in the Journal of the National Cancer Institute, combination chemotherapy regimens typically used for advanced colorectal cancer can range from almost $12,000 to over $30,000 for an eight-week course, depending on the drugs. But new drugs usually cost more: for example, Adcetris[5] , a recently approved drug that treats recurrences of some types of lymphoma, can cost more than $120,000 for a course of treatment, and so does Yervoy[6] , a new skin cancer drug.
The estimates of costs for aldox put forth in this paper would fall low to middle of the range of the above at $8,400 for a 6-week course, even when compared with some therapies that have been available for some time. Hence, these estimates are probably conservative.
Doxorubicin was named in the World Health Organization's list of essential medicines in April 2015. There was also a shortage of Doxil recently that spurred FDA on to allow an EU generic to come overseas. Just 5% penetration via off-label use (especially in cardiac-compromised patients) in the above markets would add more than half a billion in sales.
Doxorubicin has been used successfully to produce regression in disseminated neoplastic conditions such as acute lymphoblastic leukemia, acute myeloblastic leukemia, Wilms' tumor, neuroblastoma, soft tissue and bone sarcomas, breast carcinoma, ovarian carcinoma, transitional cell bladder carcinoma, thyroid carcinoma, gastric carcinoma, Hodgkin's disease, malignant lymphoma and bronchogenic carcinoma in which the small cell histologic type is the most responsive compared to other cell types.

Doxorubicin is also indicated for use as a component of adjuvant therapy in women with evidence of axillary lymph node involvement following resection of primary breast cancer.
Prior to generics hitting the market, Doxil took in over $600 million in annual sales, despite doxorubicin HCL being prescribed far more often, especially in STS. These sales came mostly from a subset of ovarian, multiple myeloma, and Kaposi's sarcoma indications. Aldox, being the new and improved (the first prodrug ever to show superiority over dox) version of dox and Doxil, could take a healthy percentage of those pre-generic sales off-label (not to mention those of doxorubicin HCL).
There is also profound sales potential via their SCLC (small cell lung cancer) study with top line due end of the year that could result in an AA (accelerated approval) filing with FDA for refractory patients, if data are exceptional. I actually give the chance of such a success a low probability - about 20% chance for p<0.01 - and so, the over $2 billion in sales that would result likewise a low chance. But that doesn't mean they can't still get a good amount of sales for that indication if data are "par." I'll explain.
2nd-line SCLC patients typically show less than 15% ORR and 3-5 months mPFS on topotecan. Toptecan (an old chemo) became SOC in 2nd-line SCLC via non-inferiority compared with a toxic triplet chemo around 1999, presenting slightly less efficacy with significantly less inpatient care. If aldox shows about equal or somewhat better efficacy compared with topotecan, with reduced AEs (as topotecan itself is quite toxic, and apparently more so than aldox, especially with aldox at 230mg/m2), it would not be granted AA, and would still have a long road to approval in that indication (it would require follow-on non-inferiority studies, such as were conducted to garner approval for topotecan). However, that does not mean it could not then be prescribed via off-label use. Some drugs are so profitable off-label, they never even bother with approval in that indication (and apparently 20% of all drugs prescribed in the US are off-label).
The P2 SCLC study is of a decent size (n=132) and randomized 1:1, with top line data gathering projected for September of this year. If aldox shows strong efficacy in their 2nd-line sarcoma study, and so, with an SPA (special protocol assessment) and it being the second controlled study with aldox to do so - making potential approval highly likely - it could be prescribed off-label as an approved therapy for basically any indication. And if in September they show even slight superiority, with fewer AEs and especially SAEs than topotecan, aldox can and will be prescribed off-label in preference over topotecan in some number of patients. And also in combination where dox is currently in use (3rd-line SCLC).
There are also some exciting potential combos that involve dox in development. Extended dosing with aldox versus dox, and more dox equivalent getting into lesions via albumin delivery and without cardio toxicity (allowing for higher doses) sound like good reasons to choose aldox over dox in clinical development. Aldox could garner additional sales via these studies as well. Perhaps another 1,000-2,000 patients per year across indications.
Second-line SCLC represents about 100,000 patients in the US and EU. If they get just 2% of those via label extension, that could be another $100 million in sales (@ $50k for 6 courses). And also considering dox is used in combos for 3rd-line SCLC, some off-label use could enter in there as well. Perhaps 5% of these, or another 2,500 patients, which is another $100 million+.
If no prodrug of doxorubicin has shown superiority over standard dox HCL (except Doxil in KS), and if aldox is the first to do so in 2nd-line and 1st-line STS (where dox is SOC), with zero cardio-toxicity, the market for it is vast. Confirmatory post-marketing label extension studies in breast cancer, ovarian, multiple myeloma, and leukemia would likely be undertaken, representing the eventual potential for mega-blockbuster sales on the level of Avastin. Or a substantially priced buyout.
This doesn't just concern aldoxorubicin if the P3 succeeds, but the foundational tech behind it as well. The company's LADR™ technology can be combined not just with doxorubicin, but any chemotherapeutic agent, and is about to be advanced in trials testing their linker with gemcitabine (called "DK049"), another chemo used extensively.
Aldoxorubicin is its own pipeline with demonstrated efficacy in human tumor models of breast, ovarian, lung and pancreatic cancers and renal cell carcinoma (kidney cancer). Our linker platform can be combined with virtually any chemotherapeutic agent and is designed to improve concentration of drug at the site of tumors.
Early data on DK049 look promising.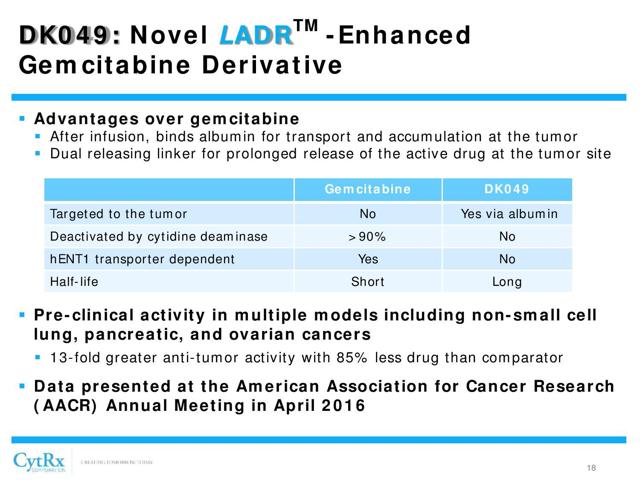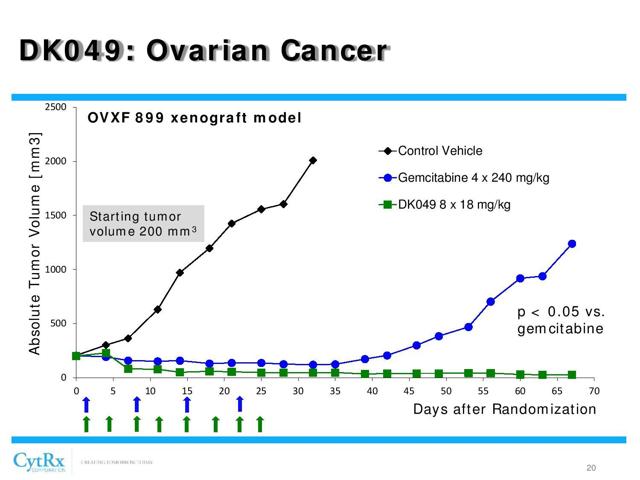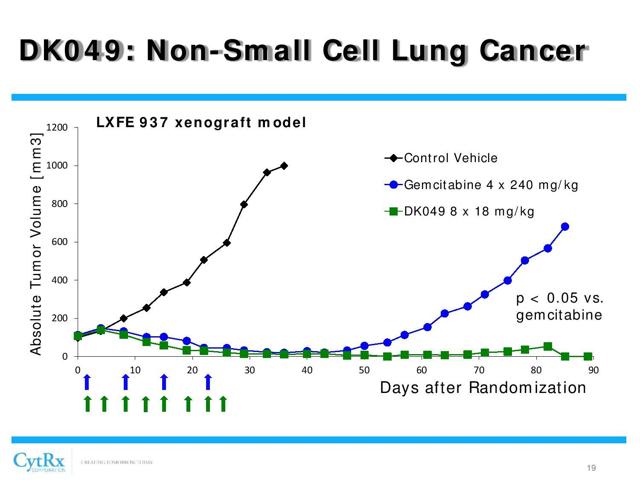 That's a very small dose of DK049 compared with a much higher dose of gemcitabine, in two different strains, with controlled, reproducible results. First-in-man studies will commence late this year.
Other data on their linker tech show a common thread. Here are a series of slides on this theme: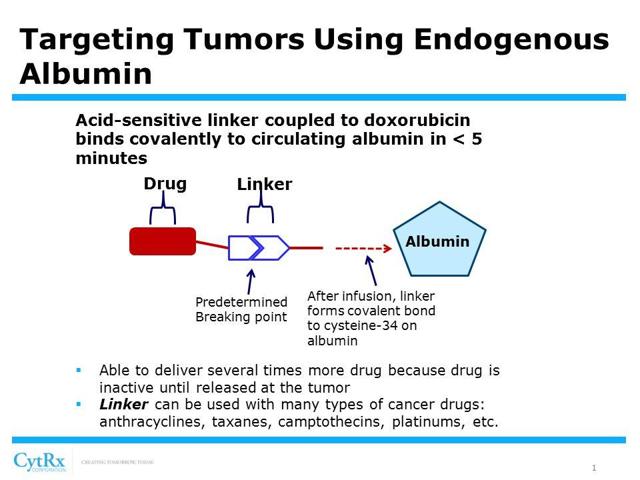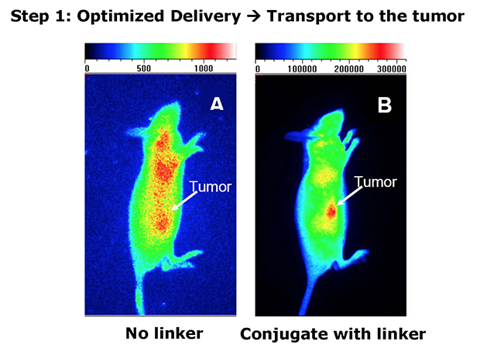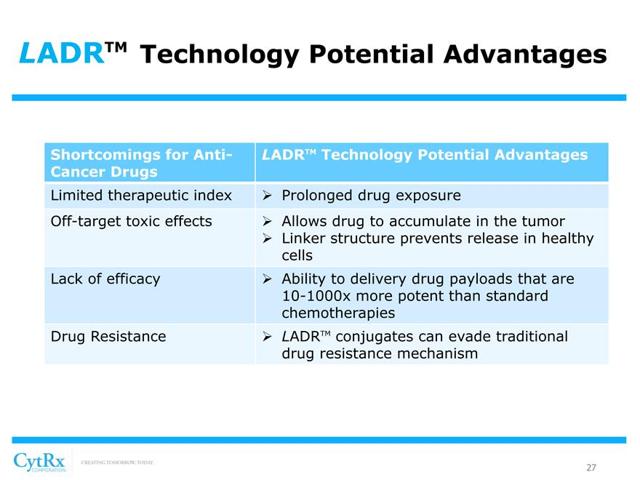 Because of this ability of CytRx's proprietary LADR tech to bind drug chemo agents covalently to circulating albumin, the number of potential offshoots are numerous, with the potential for enhanced benefit/risk ratio in each. If aldox proves successful in their P3, validating this tech (transforming doxorubicin into "aldox" via LADR technology), the upside is potentially enormous.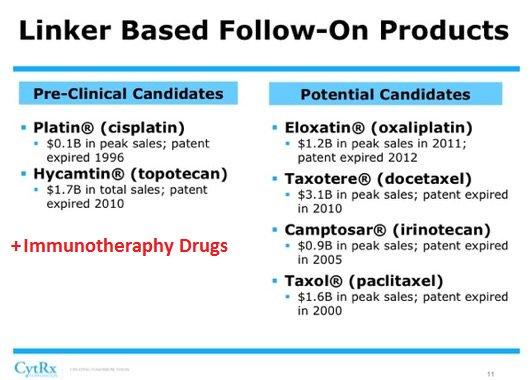 Getting back to more immediate figures, sales of $1-1.5 billion, including STS and various off-label use, look probable by 2019-2020. They could reach that blockbuster target ($1 billion in sales) in an even shorter window of time with a little help via an exclusive licensing agreement with BP. The royalties and milestones for such are much more lucrative after pivotal data are in hand, due to significant de-risking for the licenser and lower development costs. They could negotiate it such that BP gets to commercialize only in STS, while they continue to develop it for other indications - or they get the whole pie for a higher fee. If so, I would estimate these to be over $1 billion in cash upfront and north of 40%/year in royalties (perhaps $400 million EBITDA). Or, just buy them out for $10 billion and get that LADR tech along with it.
When you have strong results from a pivotal P3 with an SPA, and no real competition in the approved indication with vast potential for off-label use, every Big Pharma will be clamoring for your drug. That gives you great negotiating power. Especially when the drug has a much more favorable R:B than existing treatments and is more effective.
The risk"benefit ratio is all-important to regulators, as well as clinicians (and so, very important to BP). As an example of it, let's say an experimental drug is incredibly effective - a 9.5 on a 1-10 scale. But let's say it's also very toxic - a 7.5 on a 1-10 toxicity scale. Now let's say the existing SOC therapy for the same indication is a 6/10 for effectiveness and a 3/10 toxicity. What would the ratios of these be? The experimental drug's R"B would be 1.26 and the SOC's R:B = 2.0. Thus the experimental treatment, although more effective, may not be granted approval because the effectiveness does not outweigh the risk, thereby not offering a substantial enough overall benefit to patients compared with SOC. Of course, if it really does extend overall survival, then that's one thing. But normally with such high toxicity it would not, regardless of how well the therapy worked to shrink lesions or control tumor growth.
Now, if aldox shows greater efficacy than dox and Doxil, while offering less toxicity (in particular by removing cardio-tox completely), why not prescribe aldox over dox or Doxil, or at least if/when dox/Doxil fail (salvage therapy)? Certainly you would for STS, but as a clinician, you may give pause to choosing dox or Doxil over aldox in other indications as well (such as breast cancer). And especially if your patient has or has had any sort of myocardial dysfunction. There are numerous such patients in the above indications that are not given doxorubicin/Doxil, or given highly restricted dosages only for that reason.
There is basically the same cardio-tox warning on the Doxil label that's on the doxorubicin HCL label (just slightly less restrictive):
"The use of DOXIL (doxorubicin HCl liposome injection) may lead to cardiac toxicity. Myocardial damage may lead to congestive heart failure and may occur as the total cumulative dose of doxorubicin HCl approaches 550 mg/m2. In a clinical study in patients with advanced breast cancer, 250 patients received DOXIL at a starting dose of 50 mg/m2 every 4 weeks. At all cumulative anthracycline doses between 450-500 mg/m2 or between 500-550 mg/m2, the risk of cardiac toxicity for patients treated with DOXIL was 11%. Prior use of other anthracyclines or anthracenediones should be included in calculations of total cumulative dosage."
Here's the warning label for Adriamycin (doxorubicin):
"In a retrospective review, the probability of developing congestive heart failure was reported to be 5/168 (3%) at a cumulative dose of 430 mg/m2 of doxorubicin, 8/110 (7%) at 575 mg/m2 and 3/14 (21%) at 728 mg/m2. In a prospective study of doxorubicin in combination with cyclophosphamide, fluorouracil and/or vincristine in patients with breast cancer or small cell lung cancer, the probability of CHF at various cumulative doses of doxorubicin was 1.5% at 300 mg/m2, 4.9% at 400 mg/m2, 7.7% at 450 mg/m2 and 20.5% at 500 mg/m2. The risk of developing CHF increases rapidly with increasing total cumulative doses of doxorubicin in excess of 400 mg/m2."
Epirubicin is the most allowable, but still quite restrictive:
"Myocardial toxicity, manifested in its most severe form by potentially fatal congestive heart failure (CHF), may occur either during therapy with epirubicin or months to years after termination of therapy. The probability of developing clinically evident CHF is estimated as approximately 0.9% at a cumulative dose of 550 mg/m2, 1.6% at 700 mg/m2, and 3.3% at 900 mg/m2. In the adjuvant treatment of breast cancer, the maximum cumulative dose used in clinical trials was 720 mg/m2. The risk of developing CHF increases rapidly with increasing total cumulative doses of epirubicin in excess of 900 mg/m2; this cumulative dose should only be exceeded with extreme caution."
All of these factors play a role in determining future sales potential, and they appear to favor aldoxorubicin significantly.
Okay, Interesting - But Why is the Market Discounting CYTR So Much?
Upon release of the aldox P2b data set, CYTR ran up from $2.50 to $8.08/share in under a month. From there, it seems that opportunity presented itself for those looking for "overvalued" biotech stocks. The sector had been in bubble territory for some time as well, offering the possibility of a well-timed information campaign.
Richard Pearson published an article here on SA and also on Mox Reports, linking CytRx with Galena Biopharma (NASDAQ:GALE) and a stock promotion effort, which these days everyone considers highly scammy. Raising investor awareness isn't the worst thing I can think for a small company to do, but okay, they promoted themselves and their exciting data, and that was bad (I guess).
It didn't take long for the shorting and selling and lack of institutional buying to result in the pps falling right back to where it was before the aldox P2b data set was released: $2.50/share. As if the data were meaningless.
Now, I can certainly understand that happening if a closer examination of data revealed significant holes. But that was just not the case, as hopefully this paper has helped elucidate. However, making the connection between CytRx and a scammy stock pumping promotional campaign which smacks of unethical behavior is enough to plant a seed of doubt - and sometimes, that's all it takes to create a chasm of distrust investors refuse to subsequently cross. Many funds also will not invest in stocks below $5, so the plummented pps prevented some of them from accumulating as well.
And that's really about it. The investing public simply became negative towards all things CytRx, due to management's hiring of a firm to promote "investor awareness" of their compounds in development. It was enough to then dismiss data under the suspicion that management somehow influenced study centers to improperly randomize patients. Which is totally absurd... they do not decide who gets on what arm. The study sites enroll patients, and their information is centrally reviewed, and then the CRO in turn tells the study sites which patient gets on what arm, via stratified processes.
The stratified randomization method addresses the need to control and balance the influence of covariates. This method can be used to achieve balance among groups in terms of subjects' baseline characteristics (covariates). Stratified randomization is achieved by generating a separate block for each combination of covariates, and subjects are assigned to the appropriate block of covariates. After all covariates have been identified and assigned into blocks, simple randomization is performed within each block to assign subjects to one of the groups.

The benefits of randomization are numerous. It ensures against accidental bias in the experiment and produces comparable groups in all respects except the intervention each group received.
The protocol for the aldox P2b specifies this centrally allocated randomization process as per usual:
This is an open-label, randomized study. Subject ID number will be assigned by the site at the time the subject signs an Informed Consent Form ("ICF"). Subjects will be randomized through the IXRS system at least five days prior to the planned Cycle 1-Day 1 visit in a 2:1 ratio (INNO-206:doxorubicin) across all study sites. A copy of the signed informed consent will be required for study entry.
IxRS program randomization. Standard stuff, and no way that foul play could have entered.
But what about all of these "shady" Russian hospitals, supposedly using archaic equipment, bringing to mind old movies with strange devices rolled around on carts? Here is the primary site in Russia that enrolled patients in the aldox P2b:
The Blokhin Cancer Research Center comprises four separate Institutes, including a 1,600 bed hospital devoted to cancer patients. It is one of the largest in Europe employing 700 scientists and 2,000 medical personnel. The Blokhin Cancer Research Center is part of the American-Russian Cancer Alliance, which also includes the University of Maryland Greenebaum Cancer Center in Baltimore, Md., the Fox Chase Cancer Center in Philadelphia, Pa., and the Kurchatov Institute. The U.S. National Cancer Institute ("NCI") provides the infrastructure for the Alliance.
You're not going to get any different care there than you would in one of the more prestigious centers of excellence here in the States. They were also one of the first in the world to incorporate use of the CyberKnife Robotic Radiosurgery System, which is cutting-edge (no pun intended). Why shouldn't those very simple-to-take CT or MRI scans of tumor lesions that came from there be trusted?
All of this talk of an underperforming dox group, patients from Eastern European countries getting into the study (never mind that that's normal), combined with scammy stock promotional management shenanigans (Really, is it that awful? Are we all just children who cannot decipher data for ourselves?) worked on the mind of investors such that they no longer trusted the aldox P2b data. Shockingly, it became almost irrelevant to the market.
I find that to be sad, and if the market can be that easily misled, it makes me wonder about all the ways it could otherwise be manipulated. Look at the OJ Simpson case (bear with me). Have you ever seen so much evidence compiled together to convict a man of a crime who was then acquitted? Blood of the victim's in The Juice's car, in his apartment, on his clothes - the same pair of gloves his estranged wife had gotten him for Xmas were worn by the killer, with one of them found near his home after the murder; DNA evidence of his own blood all over the crime scene (!) etc.
How did the defense team get him off? By putting doubt into the minds of the jury on the quality and reliability of the evidence. Maybe this racist investigator got Simpson's blood and spattered it here and there at the crime scene. Maybe, because that one cop was clearly racist, he planted the glove at Simpson's residence. He stopped taking his arthritis medication and so his hands swelled up, and with the help of a little showmanship, dramatized the lack of fit - but maybe they really never did fit because they weren't his gloves...
There's no end to the ways in which doubt can enter the mind. But the evidence to convict him was all there. That's why soon after his acquittal, he was convicted in a civil suit for the very same crime.
Would a jury full of experts on criminology have convicted OJ in the same trial, presented with the same evidence whereby the jury let him off? Of course, they would have. But when you get a group together that is mostly naive to the import of data - who lack this specific understanding and knowledge - they can be made to doubt the credibility of the evidence on the most spurious of grounds. Do you think most biotech investors are experts on matters pertaining to randomization, quality control, powering of clinical trials, the disease indications represented, RECIST, BICR teams, imaging charters, control groups, adjuvant data, patient characteristics, how well run foreign centers are or are not, etc.? No. Most of them are just taking a chance with some extra cash, trying to figure it all out as best they can along the way.
A proper assessment of management is, of course, essential in determining an investment in a company, but it is also true that the management team's motives or abilities here will have no reflection on the quality of data about to be announced. And if anything, I'd rather have a "greedy" management team set up to negotiate with BP later on. These data, if positive, will result in actual approval with an SPA in hand. Something all BP are themselves greedy for.
CytRx's Aldoxorubicin P3 Trial: A High EV Scenario
Here's a comprehensive definition of EV (expected value) as I am using it:
The expected value ("EV") is an anticipated value for a given investment. In statistics and probability analysis, the EV is calculated by multiplying each of the possible outcomes by the likelihood each outcome will occur, and summing all of those values. By calculating expected values, investors can choose the scenario most likely to give them their desired outcome.
Recalling this breakdown that I submitted before...:
-80% chance p<0.05
-58% chance p<0.01
-42% chance p>0.01
-20% chance p>0.05
-30% chance p<0.001
- 5% chance p>0.10
-10% chance p<0.0001
-0.1% chance p>0.5
- 1% chance p<0.00005
-0.1% chance p<0.00001
... we can actually derive an EV for each outcome, and an overall EV based on all outcomes.
If data are strong (p<0.01), the stock will respond favorably. Given the chance of approval upon such data being quite high, and considering the rather sizable sales projection elaborated earlier, the initial MC (market cap) I would project upon such data is about $700-800 million, with a quick move up to $1 billion. With 76 million shares fully diluted, a $1 billion MC would equate to a $13.15 pps. Thereafter, I would suspect data to trend up over the next 3-4 weeks especially, and find an approximately $2 billion MC ($26.30/pps).
If data are stronger or weaker than the above, I would expect the market to react more or less favorably ($600 million MC for p<0.05; $1.5 billion MC for p<0.001), and then trend up from there.
Given the above percentages, what is the EV of a $10,000 investment at $2.50/pps?
We consider an 80% loss ($0.50/pps) if data are p>0.05, and an average upside of roughly 1,100% ($30/pps) if positive. The chances of the above in the model presented here are basically a coin flip (50/50). So half of the time you would net 1,100%, and the other half you would lose 80%. To make the sample easy visually, let's split it up into 10 purchases of $1,000 each. 5 times you lose $800, and the other 5 times you gain $11,000. $55k - $4k = $51k - $10k/100 = 410%. The net-net result of every $1,000 investment would be a 410% return ($4,100). That is a very high EV.
Even if the chances of success were much lower at around 15%, the EV would still be very attractive at 97% gain: [1.5 * (1,100% * N) - 8.5 * (80% * N)] - N*10 / 100 = EV at 15% chance of success with 1,100% upside and 80% downside. So, if you count the chance of success here at just 15%, and you are right, over many investments you would return $1.97 on every $1 of stock you bought.
This is the manner in which calculating an investment should be undertaken, in my opinion. There is a real chance of failure, no matter what we are discussing (except maybe T-bills), but especially in speculative biotech, where chances of failure are almost always high. So, one should spread out their assets allocated to speculative plays across a number of well-researched picks. And this should represent less and less of one's NPV (net present value) as they get older and also the more dependents they have. If an investor is 45, married, with two kids 13 years and 15 years old, it would be unwise to invest more than 15% or so of their NPV in speculative plays. Even less if older, and less still if they have more kids. And of that 15% of their NPV, no one pick should ever exceed 5% (meaning 0.75% of total NPV). That goes for CYTR as much as any other speculative name out there.
But avoiding risk altogether is also unwise, as you may severely limit your upside potential, when all is said and done. Sure, you could just invest in 3-4% yield bonds all your life and watch your money appreciate, but you'll have far lower residual income when you retire than you would have if you took on more risk and grabbed some stocks along the way.
My advice for investing CYTR is to buy shares, but also to consider options as leverage, hedging, or even exclusively as a position. Binary events (such as aldox P3 top line data due in July) normally are well priced into options. However, because the market has largely ignored CYTR, the stock is very attractively priced right now.
You may want to acquire Aug 2016 $1.50 strike puts to hedge your long position, which are quite cheap still, or just invest in Aug 2016 $6 strike calls to capitalize on upside and limit your exposure. Even if you pay $0.60 for the $6 Aug 2016 calls, and the stock goes to $12 a share, you would make much more off your investment than if you went with straight shares. $2/pps would net you 500% on a trip to $12, but $0.60 calls would net you 1,000% on that same trip to $12. And the difference in return only grow as the share price gets higher. In fact, they wouldn't be comparable until the Aug $6 calls reached $1.20 each ($120 a contract). And that's with the upside capped at $12. Upon positive data, and especially 1-3 weeks thereafter, it's likely to go a good deal higher. You may even want to consider a straddle where you might, for example, secure Aug 2016 $6 strike calls and hedge the position with $1.50 strike Aug puts.
Comprehensive Summary
I thought it would be beneficial to provide a Cliff's notes version, if you will, of the above paper:
1) Aldoxorubicin has shown consistent tumor shrinkage and ORR (objective response rate) in sarcoma in particular, across a variety of subtypes, and has done so as a monotherapy, without "hiding" behind another compound's efficacy given along with it.

2) Aldox demonstrated vast superiority in ORR and PFS (HR = 0.58 by independent review) in STS over SOC doxorubicin in a randomized test - the first compound ever to do so.

3) The primary critique of the aldox P2b dataset involved inadequate comparisons between studies, especially in the comparison of one study's PFS by BICR and another's PFS by investigator assessment. When comparisons are made that are matched as closely as possible, the dox arm of the aldox P2b is shown to have performed about as expected.

4) The BICR in the aldox P2b matched up with the investigator's assessment in terms of tumor shrinkage (about 62% of the aldox group versus about 40% of the dox group). They also both reported a low HR. The BICR of the aldox P2b scans, therefore, validated the investigator's assessments as unbiased.

5) The aldox P2b was well stratified, and the two arms had equal patient characteristics. This was a true head-to-head test of aldox versus SOC dox.

6) In the P1b/2 study, most of the patients were doxorubicin-refractory (as well as refractory other chemos). Yet, aldox as monotherapy still showed strong activity in these patients; 71% showed shrinkage and 43% a PR. This is compelling evidence that many dox-refractory patients in the P3 will also see shrinkage on aldox. Furthermore, it's not even an unusual concept; Doxil produced PRs in dox fails in Kaposi's sarcoma, and high-dose ifosfamide prevailed to produce PRs in standard-dose ifosfamide fails.

7) The hypothesis that aldoxorubicin is too "sticky" in its bond to albumin to produce anti-tumor activity is easily refuted by looking at the many cases of tumor shrinkage across multiple studies. Not to mention the compelling pre-clinical LADR data.

8) Although the F-R rule is currently trending in a highly predictive manner, it's true utility is still largely unknown. Past performance does not guarantee future outcome, and the sample used to support the rule is very small from a statistical POV. It also clearly commits ascertainment bias in omitting the many BP futility halts from its analysis.

9) Modeling the aldox P3 outcome is more reliable than past attempts due to the accurate enrollment points divulged by the company, conservative censoring rates, 191 event trigger points, and high prevalence of reproducible control group PFS performance data in recurrent, unresectable STS.

10) Modeling a failure for aldox group is exceedingly difficult, requiring multiple concessions unlikely to have occurred in the trial.

11) Modeling predicts a very significant result for the aldox group, despite numerous conservative assumptions.

12) Extended dosing of aldox until PD (rather than stopped at 3.5 months in like in the P2b) should produce a greater effect size overall, with long tail responses. This, in turn, ought to improve the HR and statistical significance of the difference between groups. It is noteworthy that about 70% of the patients in the P2b were not taken off aldox for any other reason than that they reached their 6-cycle limit.

13) The potential market size for aldoxorubicin as a replacement for doxorubicin/Doxil in STS as well as off-label use, and potential future label extensions, is vast, representing blockbuster sales. The same technology can then be applied to an array of patent-expired, widely used chemotherapeutic agents, such as gemcitabine (DK049), cisplatin, and topotecan (these three already in pre-clinical development), as well as potentially oxaliplatin, docetaxel, irinotecan, and paclitaxel.

14) The risk:benefit ratio of aldoxorubicin (and follow-on LADR tech conjugates) is high, and especially due to the complete removal of cardio toxicity from the anthracycline's drug profile. This could result in a substantial number of off-label prescriptions immediately in cardiac-compromised patients.

15) The lack of institutional interest in CYTR and the sell-off from highs of $8.08 to below $2/share can mostly be attributed to public perception of CYTR management and how that injudiciously skewed investor perception of aldox P2b data.

16) The EV of an investment in CYTR is unusually large: +410% in case of 50% chance of success, and +97% in case of 15% chance of success. This is even higher if investing in options.
(Click on the hyperlinked words throughout the paper for relevant links.)
Epilogue
For my thoughts on the F-R rule and how it relates or not to CYTR's aldox P3, and also on my past picks and why I have not updated my SA profile in a very long time, please see my Instablog.
Disclosure: I am/we are long CYTR.
I wrote this article myself, and it expresses my own opinions. I am not receiving compensation for it (other than from Seeking Alpha). I have no business relationship with any company whose stock is mentioned in this article.