Recently, I wrote Seeking Alpha readers about how to review a corporate balance sheet. By request, this follow-on article attempts to provide a similar overview for the cash flow statement.
I liken the cash flow statement to a corporate "checkbook." While income statement is governed by sometimes arcane GAAP accounting rules, the cash flow statement is fundamentally simpler. At its core, it documents how much cash is moving in and out of an enterprise.
I'm not a financial guru; there's no alphabet soup after my name. My objective is to identify what I believe are basic, practical investor due diligence markers.
For this exercise, I selected Procter & Gamble (NYSE:PG) as the case study. P&G is a worldwide consumer packaged products company. Procter & Gamble manufactures, distributes and markets its products.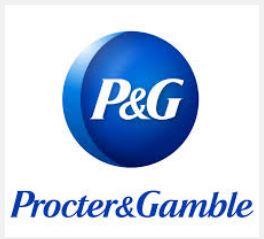 Why P&G?
I picked Procter & Gamble because the company represents a business that requires significant capital. The cash flow statement highlights capital expenditures; integral to analyzing a business. Capex is not found on the income statement.
In addition, PG pays a dividend. Since dividends are paid in cash, we can utilize the cash flow statement to compare how much is paid out versus net cash flow.
Despite recent criticisms, P&G remains a premier, cash-rich corporation.
Cash Flow Basics
The cash flow statement has many attributes. However, I try to concentrate upon what I believe are the most important investment drivers. Therefore, our focus will be:
Operating cash flow and trend
Operating cash flow per share versus EPS
Dividend coverage ratio as a function of free cash flow
Listed corporations must file a SEC standard cash flow statement. Most companies include an unaudited statement in conjunction with quarterly earnings reports. Generally, I prefer to use the SEC file copy; it's clean, and contains all the basics.
In the two panels below, please see the most recent P&G 10-Q Consolidated Statements of Cash Flows. It includes data through March 31, 2016; the first 9 months of the P&G's fiscal year.


I've highlighted a few figures for easy reference.
Operating Cash Flow
On the first panel, notice the build-up to "Total Operating Activities," otherwise known as operating cash flow. The starting point is "net earnings" or profit, then line items for non-cash or cash items are denoted to arrive at the final results.
As expected, "Depreciation and amortization" is the largest non-cash adjustment. D&A is listed as an expense on the income statement, but doesn't affect cash flow.
Note line-item "impairment charges" are added back to cash flow, too. Such balance sheet adjustments are non-cash.
P&G management clearly lists working capital adjustments. Changes in working capital reflect movement in short-term balance sheet assets and liabilities.
Using the statement, good investors have the opportunity to think about and decide whether certain line items are core to the business. This gets at the heart of sound investing: making calls based upon a general knowledge of the business, operations, and drivers.
Finally, we see operating cash flow is positive, and the raw year-over-year comp was up. For nine months ending March 31, 2016, PG recorded $11.3 billion OCF versus $10.6 billion over the same period in 2015. If we elect to curb changes in "Other operating assets and liabilities," and "Other;" we see the operating cash flows were about even. These two items were related to changes in prepaid marketing balances.
We know this because it was identified in the 10-Q filing under the header, "Management Discussion and Analysis."
We generated $11.3 billion of cash from operating activities fiscal year to date, an increase of $676 million versus the prior year. Net earnings, adjusted for non-cash items (depreciation and amortization, share-based compensation, deferred income taxes, loss/(GAIN) on sale of businesses and goodwill and intangible asset impairment charges), generated $11.4 billion of operating cash flow. Working capital and other impacts used $68 million of cash in the period. Accounts receivable used $129 million of cash primarily due to sales mix. Inventory consumed $94 million of cash. Accounts payable, accrued and other liabilities used $199 million of cash primarily due to a decrease in taxes payable due to the timing of estimated payments. All other operating assets and liabilities generated $354 million of cash primarily due the reduction of prepaid marketing balances.
Seeking a trend perspective, F.A.S.T. graphs offer the big picture. Please find a post-recession chart illustrating P&G's annual operating cash flows through the end of the 2015 fiscal year.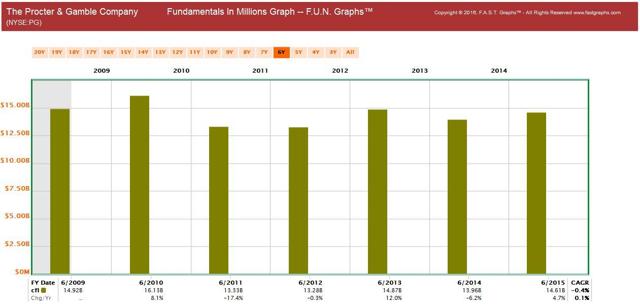 Results are consistent. Extrapolating this year's 9-month actual OCF yields expectations for another ~$15 billion full-year cash flow haul.
Free Cash Flow
Free cash flow (also called "Owners' Earnings) is operating cash less routine capital expenditures. For capital-intensive businesses, this is a critical metric. Run-and-maintain capex is just as real to an enterprise as operating expense.
From the 10-Q, P&G spent over $2 billion capital through the first nine months of the fiscal year. This is down a bit from previous.
Subtracting capital expenditures from operating cash flow, we find FCF increased from $8.2 billion last year to $9.3 billion this year. Year-over-year results were up smartly.
Astute investors may ask, "Ray, how do we know all the 10-Q capital expenditures are the run-and-maintain variety?" The correct answer is, "We may not." The SEC does not require companies to segregate routine capital from growth capital. If the difference is significant, shareholder-friendly management often offers commentary to this effect, or a secondary table delineating it.
For example, many midstream MLPs provide routine capital versus growth capital breakdowns.
Operating Cash Flow Per Share Versus EPS
I believe an underlying principle of a good investment is ensuring the company generates profits largely in cash. Indeed, profits/earnings are subject to accounting rules; some may argue a bit of management manipulation, too.
On the other hand, cash flow statements are "harder to mess with."
Consequently, businesses that generate operating cash flows that are comparable to earnings are more likely to get this investor's seal of approval.
Procter & Gamble is just such a company.
As a matter-of-fact, P&G not only converts profits into cash, it's one of a small subset of businesses whereby free cash flow and profits harmonize.
The table below summarizes Procter & Gamble's 9-month fiscal 2016 results:

Essentially, free cash flow is cash left over after a business pays all its operating expenses plus run-and-maintain capital expenditures. Consistently, Procter & Gamble not only generates significant free cash flow, the figure eclipses GAAP or non-GAAP operating EPS.
This is a characteristic of a wonderful business.
Dividend Coverage As A Function of FCF
Traditionally, many investors check dividend sustainability by reviewing the "payout ratio." The payout ratio is calculated by dividing dividends by earnings, thereby creating a percentage. Payout ratios greater than 80% or 90% may indicate the cash dividend is in jeopardy.
However, I contend the free cash flow payout ratio is a far better metric to determine dividend safety. In particular for industries that require significant capital.
Why?
Dividends are paid from cash flow, not earnings.
The following table outlines P&G's dividend payout metrics through three fiscal quarters ending March 31, 2016.

Both ratios indicate a reasonably safe payout. However, the free cash flow calculation confirms the dividend is safe.
Frequently, this exercise reveals this isn't the case.
Conclusion
Savvy investors know the statement of cash flow is a "must go to" financial statement.
In recent years, management has accelerated the use of "adjusted" or "operating" earnings. On its face, there is nothing wrong with this. Ostensibly, the objective has been to carve out one-off or non-routine items from reported profit and loss, thereby reflecting a truer, underlying core earnings snapshot.
Unfortunately, analysts have found management adjustments may be leaning to the wild side. The subject has become enough of an issue to receive the attention of the Securities and Exchange Commission. The commission is considering rules governing the practice.
As-reported SEC cash flow filings are more difficult to "fiddle around" with. Effectively, it's a derivative of a corporate checkbook. Comparing a GAAP or "adjusted" income statement with the cash flow statement is a simple litmus test.
Basic investment cash flow analysis should include determining and distinguishing operating cash flow from free cash flow, identifying trends, comparing cash flow with earnings, and reviewing the free cash flow dividend payout ratio.
Please do your own careful due diligence before making any investment decision. This article is not a recommendation to buy or sell any stock. Good luck with all your 2016 investments.
Disclosure: I am/we are long PG.
I wrote this article myself, and it expresses my own opinions. I am not receiving compensation for it (other than from Seeking Alpha). I have no business relationship with any company whose stock is mentioned in this article.