I recently wrote an article about Cardinal Health (NYSE: CAH) where I outlined the key risks and growth prospects for its business. In that article, I discussed that it operates in an oligopoly with two other companies, AmerisourceBergen (NYSE: ABC) and McKesson (NYSE: MCK). They are interesting because Cardinal Health may have taken a dip this year, but AmerisourceBergen has tanked. From a 52-week high of $113.73, the stock is more than 35% down and closed Monday at $73.85. Let's look at why this relatively stable business has been sold off.

Source: ABC 2014 Annual Report
AmerisourceBergen distributes a comprehensive offering of brand-name and generic pharmaceuticals (including specialty pharmaceutical products), over-the-counter healthcare products, home healthcare supplies and equipment, and related services to a wide range of hospitals, pharmacies, care facilities, and veterinarians.
The pharmaceutical distribution arm of the company is divided into 2 segments:
ABDC (AmerisourceBergen Drug Corporation): responsible for the distribution of the pharmaceuticals, equipment, and systems
ABSG (AmerisourceBergen Specialty Group): provides specialty pharmaceuticals, notably to oncology departments, as well as distributes plasma and liquid vaccines. They also provide research and other services to biotech firms.
Additional businesses include AmerisourceBergen Consulting Services (commercializations support services), MWI Veterinary Supply (animal pharmaceuticals), and WorldCourierGroup (a logistics company)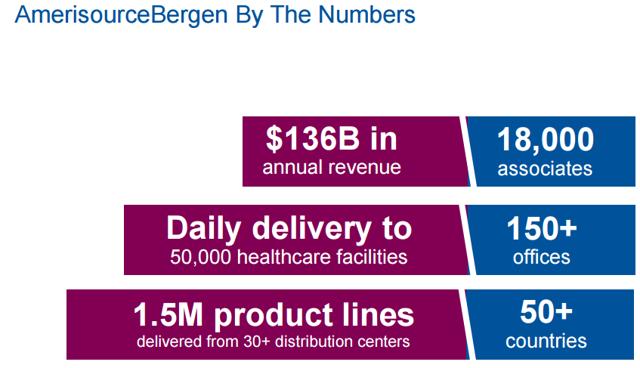 Source: ABC J.P. Morgan Healthcare Conference Presentation
Investment Thesis:
AmerisourceBergen has been positioning itself to take advantage of the tough environment by acquiring market share. They have continually returned capital to shareholders, and I believe that will continue into the future. The recent sell-off in price is an overreaction to an earnings revision, and this is an excellent entry point to take advantage of their undervaluation.
Qualitative Analysis:
Strengths:
Weaknesses:
Opportunities:
Threats:
Quantitative Analysis:
ABC management has authorized a $750 million share buyback program for FY2016, which will lower their share count by 4.5%.
Additionally, their $2.5 billion in cash on the balance sheet will allow them to continue looking for other acquisition candidates and maintain their dividend growth.
Here are the revenue and EPS statistics from the last 5 years: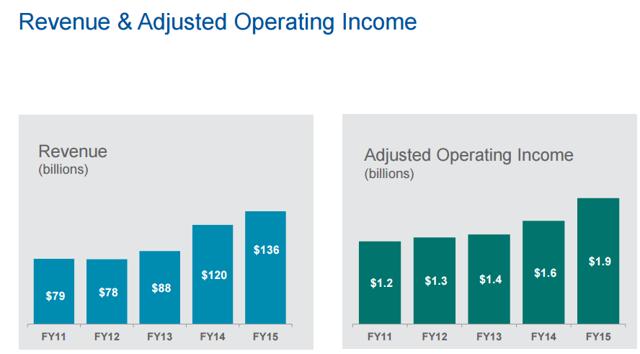 Source: ABC J.P. Morgan Healthcare Conference Presentation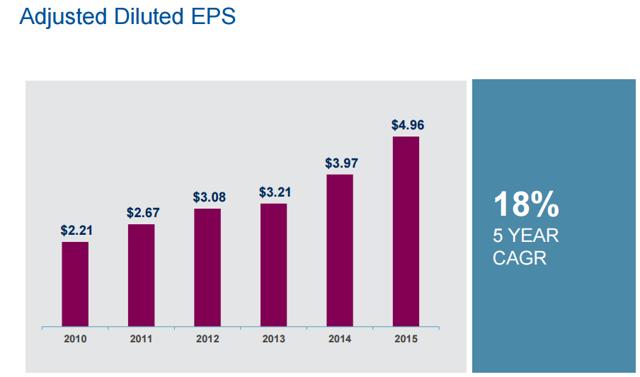 Source: ABC J.P. Morgan Healthcare Conference Presentation
After all the talk in the SWOT analysis about generic pricing issues, ABC's strategic acquisitions have helped out. Their adjusted guidance for full year 2016 is adjusted EPS of $5.44 - $5.54, a growth of 10-12%. Their revenue growth is now expected to be 8%. This gives ABC a forward P/E of 12.92, which I believe to be a very reasonable multiple for the amount of risk associated with the name. This also gives a PEG just under 1 at 0.99, which shows that the firm is likely undervalued. Their FCF yield is 22.8%, which is outstanding and their ROIC-WACC (economic spread) is 38.83, which shows the creation of shareholder value over time through their use of capital.
While you wait for the headwinds facing the company to pass by and allow it to return to its past outstanding growth, ABC will pay you a 1.80% dividend, which is slightly lower than that of the overall market and falls between Cardinal Health and that of McKesson. Their dividend growth rate has been exceptional over the last 11 years of dividend growth:

Source: David Fish's CCC List
ABC is carrying $4.5 billion of long term debt on its balance sheet. However, more than 50% of this can be serviced with cash on hand alone, and the consistency of their business makes me believe that they can carry a decent amount of debt safely. The low-interest rate environment and relative value of many drug distributors makes now the time to take on debt and gain market share. However, acquisition risk is something to be wary of. Integration issues, overpaying for companies, and overreaching financially with debt are all things that have to be taken into account.
I believe that all 3 major drug distributors will come through the recent pricing issues. The recent hiccup is a good time to initiate a long-term position and take advantage of market beating returns from a relatively stable industry. As a final visual of ABC's valuation, I have attached one of Chuck Carnevale's F.A.S.T. Graphs: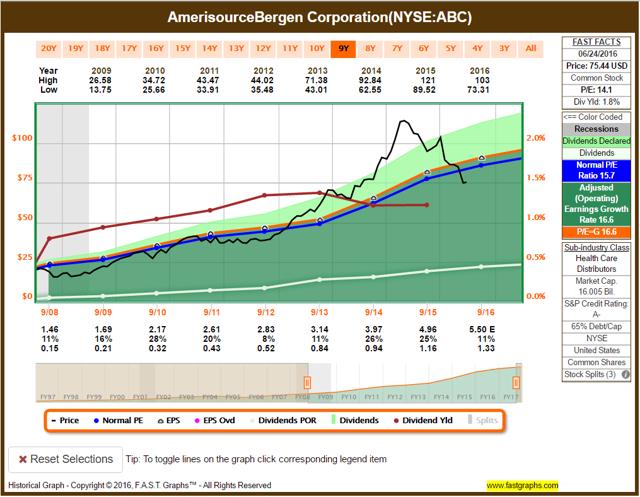 Source: FASTGraphs.com
Notice the overvaluation before, based on apparent expectations that earnings would accelerate further. When guidance was lowered, the stock price (black line) has come back down below the blue line (normal P/E ratio) and into what can be considered the undervalued area (after considering other quantitative and qualitative factors).
AmerisourceBergen is a shareholder-friendly business in an industry that should benefit from beneficial macro growth trends for years to come. They are in a good position financially, and have made acquisitions that provide good growth prospects. Due to the overcorrection in stock price, I believe that this represents a good entry point for a long-term position.
I will be putting out an article tomorrow detailing McKesson, and then comparing the three of them quantitatively to determine the industry leader.
Financial statistics were sourced from FinViz, unless otherwise stated. This article is for informational purposes only and is not a formal recommendation to buy or sell any stock. Please do your own due diligence and/or consult a financial professional prior to making investment decisions.
Disclosure: I am/we are long CAH, ABC.
I wrote this article myself, and it expresses my own opinions. I am not receiving compensation for it (other than from Seeking Alpha). I have no business relationship with any company whose stock is mentioned in this article.