Less than two years after completing its Jack/St. Malo deepwater project, Chevron (NYSE:CVX) had begun divesting from the Gulf of Mexico. The project was initially launched with optimism as CVX was poised to leverage groundbreaking technologies to create value for shareholders, in spite of the challenges posed by extreme depths, heavy pressure and wild currents. Fast forward two years later and decades-low oil prices forced the company to backtrack. In April, CVX sold 170 active wells, 70 platforms, 70 caissons and other offshore assets to Cox Oil Offshore, a privately-held firm based in Dallas. But even more recently, oil majors have begun ramping up capacity in the Gulf of Mexico, as CVX and others have found a new way to create value in today's low-price environment.
Despite a period of prolonged weakness in the energy sector, oil companies are increasing output in the Gulf of Mexico. This has partially offset capacity cuts in shale and kept America's share of global output steady. According to the Wall Street Journal, production in America is expected to fall an additional 8.5 million barrels per day in 2016, but "well over 500,000 bpd of new Gulf crude is set to come online" in 2016 and 2017. The US Department of Energy now expects US offshore production will reach record levels in 2017, with 1.91 million bpd (21% of US oil production) coming from the Gulf of Mexico. This equates to a 24% increase over 2015 levels.
Figure 1: Gulf of Mexico Oil Production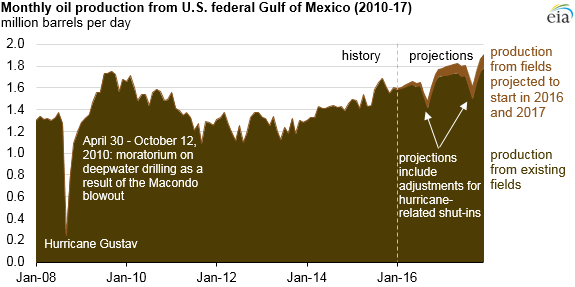 Source: eia.gov
Even with oil above $50, deepwater E&P is too inefficient for most firms to break even. But oil majors have found a way to earn profits by taping smaller "satellite" wells. While the small size of these wells makes them uneconomical to access from new rigs, firms have been able to leverage existing assets to access them in a process known as a "tieback." With tiebacks, firms can connect to these wells using underwater pipelines, significantly lowering the capital costs required. So efficient are some of these tiebacks that firms can break even with oil prices as low as $25-$30. Chevron has partnered with Exxon Mobil (NYSE:XOM) to tap a satellite well called Julia. At the end of April, XOM began pumping more than 13,000 bpd from Julia, using pipes that connect to CVX's Jack/St. Malo platform. And it's not the only tieback Chevron is involved in. The company will now produce 50% more oil and gas than expected through such arrangements.
Deepwater E&P will continue to be crucial for Chevron's growth, and the firm is smart to allocate resources to its most profitable business. CVX possesses important advantages in its upstream business that allow it to earn economic profits. The ability to capture efficiencies in the Gulf, as CVX is now doing through tiebacks, is a product of the firm's moat-like characteristics in this area. It is more difficult for smaller players lacking scale and rig infrastructure to engage in tiebacks and benefit from the cost efficiencies they create. CVX's entrenched position in upstream keeps us optimistic that the firm will be an industry leader in value creation in the long-run as demand for LNG continues to climb.
Disclosure: I/we have no positions in any stocks mentioned, and no plans to initiate any positions within the next 72 hours.
I wrote this article myself, and it expresses my own opinions. I am not receiving compensation for it (other than from Seeking Alpha). I have no business relationship with any company whose stock is mentioned in this article.