SunPower (NASDAQ:SPWR) continues to lead the way in the high-quality solar manufacturing arena. Despite the growing competition in this arena from the likes of SolarCity (SCTY), SunPower has managed to maintain its leadership position. In fact, SunPower just set a new silicon cell panel efficiency record by achieving 24.1% efficiency. This new efficiency record comes on the heels of another efficiency record set by SunPower, showcasing the company's continued dominance on this front.
Although SunPower appeared to have major competition in the efficiency arena after SolarCity unveiled a 22.04% solar panel approximately a year back, SunPower has clearly reasserted itself. SolarCity is also still relatively far from fully ramping up the production of its modules, which puts SunPower at an even greater advantage. What seemed to be major competitive threats to SunPower just a few quarters back no longer appear worrying.
SunPower's efficiency gains come at an especially opportune time. The company has recently made large investments into the distributed solar arena, which is highly conducive to higher efficiency solar panels. Residential solar, in particular, benefits from higher efficiency panels given the space constraints and relatively large soft costs associated with residential solar. With major solar manufacturers pushing more heavily for higher efficiency modules, the future solar industry appears to be one that is technology-centric as opposed to cost-centric. This clearly puts SunPower at an advantage as the company has long focused its attention on superior technology.
SunPower Well-Positioned to Capitalize on Distributed Solar's Rise
SunPower's recent investments in distributed solar should pay off massively in the long run. The company even appears to be threatening SolarCity's dominance with its fully integrated residential Equinox and commercial Helix solar products. While SunPower does not yet have the distributed solar market presence of segment standout SolarCity, SunPower has all the tools to become a serious and even primary threat towards SolarCity. In fact, the company is guiding towards 700 to 900 MW of residential and commercial solar deployments in 2016, which compares favorably to SolarCity's installation guidance of 1000 to 1100 MW.
The continued efficiency gains made by SunPower should better position the company against competitors like SolarCity. Other major distributed solar companies like Vivint Solar (NYSE:VSLR) and Sunrun (NASDAQ:RUN) are in even greater danger from SunPower, especially considering the fact that SunPower already has highly differentiated solar systems. Whereas SolarCity is at least starting to manufacture its own high-efficiency modules, Vivint Solar and Sunrun are still completely reliant upon third parties for modules.
With greater efficiency, SunPower should be able to save on space and soft costs, which are becoming an increasingly large part of total costs. While SunPower still has a sizable presence in the utility-scale solar segment, the company's long-term promise primarily lies in distributed solar. With the US distributed solar market experiencing a ~40% CAGR over the past half decade, SunPower's growing influence in the solar segment is great news for investors. In fact, distributed solar is now nearly on par with utility-scale solar in terms of new US energy capacity.
SunPower has already achieved a level of diversification that many solar companies strive for. Not only does the company manufacture some of the most efficient panels in the world, but it also has a major presence in utility-scale, commercial, and residential solar. SunPower has long established itself as a formidable player in the utility-scale arena. Now, the company is setting itself up for success in the distributed solar arena. Considering SunPower's 50% YOY residential solar growth in Q1, which compares extremely favorably to its competitors, the company has a bright future in distributed solar.
SunPower's recent efficiency gains bode well for the company's distributed solar business.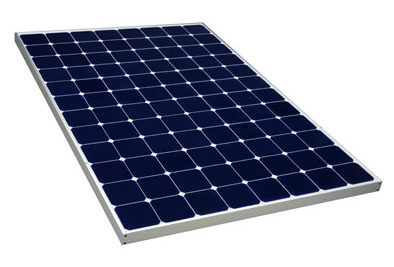 Source: sunpowercorp
Commercial and Residential To Propel Growth Moving Forward
Of SunPower's three main segments, only the power plants segment experienced a YOY revenue decrease. The company's Q1 power plant revenue of $220.5 million declined by 3% over Q1 of 2015 and may continue to experience volatility in the near-term as a result of highly competitive pricing. However, SunPower should still expect to grow its power plant revenue over the long-term, especially considering the fact that utility-scale solar is still the most dominant segment in the world.
While SunPower's power plant business will likely continue to be a major growth driver of the company, there's more growth potential for SunPower in the commercial and residential segments. SunPower is doing a great job of preparing for the distributed solar shift by continuing to focus on technology. The company is currently winning the solar efficiency arms race, which should pay great dividends in the long term.
Greater Complexities and Risks
The distributed solar industry is far from mature, which is especially evident in the US residential solar industry. In fact, the residential solar industry is currently undergoing a massive shift from lease/PPA products to cash sales/loans. Although this current transformation is great news for SunPower given its focus on cash sales/loans, there is no telling how the industry will play out even just a few years down the line.
The competition should also grow more intense in distributed solar given the presence of regional competition. Whereas a few large players dominate the utility-scale solar arena as a result of the segment's high barriers to entry, smaller companies have a great deal of power in the distributed solar arena. In fact, the most recent industry data suggest that regional installers are gaining ground on leading national distributed solar installers.
Conclusion
Despite the fact that SunPower has industry-leading technology, unparalleled solar diversification, and a relatively strong balance sheet, the company is still valued at only $1.9 billion. This only gives SunPower a forward P/E ratio of 7.6, which is low considering the company's strong positioning in a growth industry. While there is undoubtedly a great deal of risk associated with even the leading solar companies, most recently evident in the SunEdison (OTCPK:SUNEQ) debacle, SunPower has all the tools to succeed in high-risk solar industry.
Disclosure: I am/we are long SCTY.
I wrote this article myself, and it expresses my own opinions. I am not receiving compensation for it (other than from Seeking Alpha). I have no business relationship with any company whose stock is mentioned in this article.
Editor's Note: This article covers one or more stocks trading at less than $1 per share and/or with less than a $100 million market cap. Please be aware of the risks associated with these stocks.