There is unfavorable risk-reward as the stock market malaise continues. The Wall Street consensus for 2015 was $130 per share for the S&P. However, it only came in at $100 per share. A similarly lofty forecast remains in place for 2016. Yet the first quarter came in at only $20.7 per share, which is a 33% shortfall for the first quarter. With diminished earnings, the market multiple stretches even further into overvalued territory. This issue of LMTR explores the short-term technical indicators that are reinforcing our bearish stance.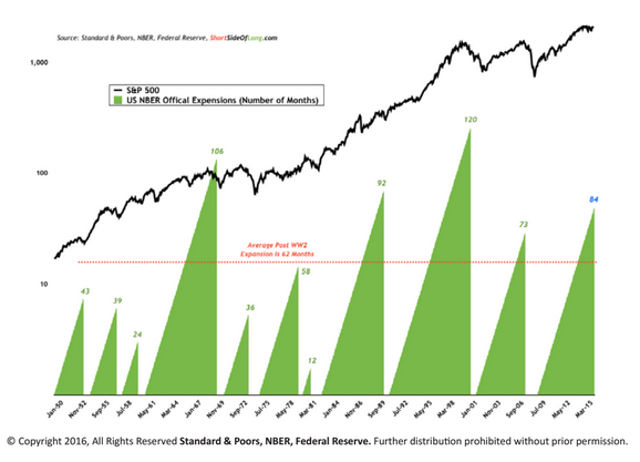 This chart exhibits economic expansion trends over the last 65 years. We are currently experiencing the fourth longest expansion during this entire period. Investors should be asking themselves: How much longer can the expansion continue?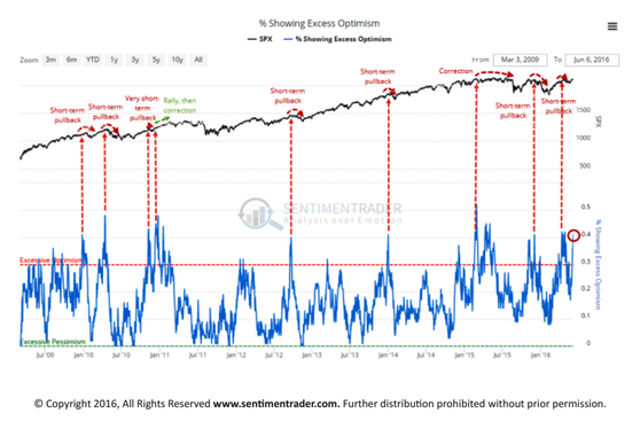 Since 2010, the S&P 500 has returned an annualized -34.9% when the percentage of positive sentiment was above 40%. Looking at the chart, it's clear that stocks have struggled, at least short term, when sentiment reached this level. This is a short-term negative for the market.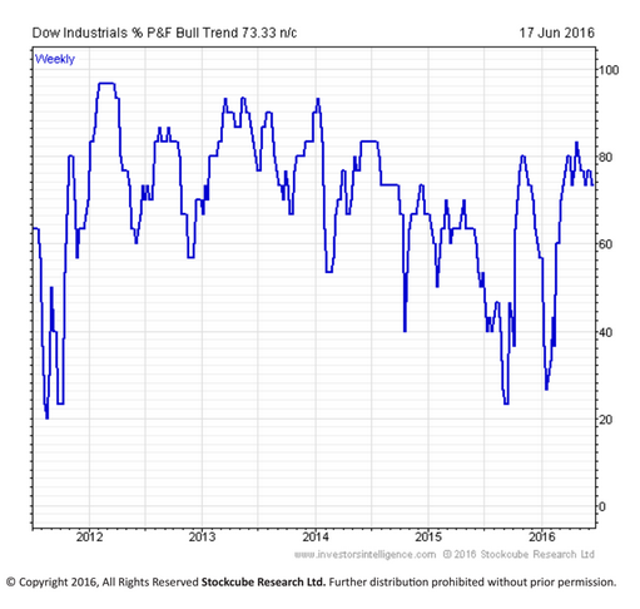 The Dow Jones Bullish % effectively pinpointed the market low, which occurred in the fall and winter when the indicator breached below 30%. It is currently at about 77%, which suggests a high-risk market environment. If it falls below 70%? Watch out!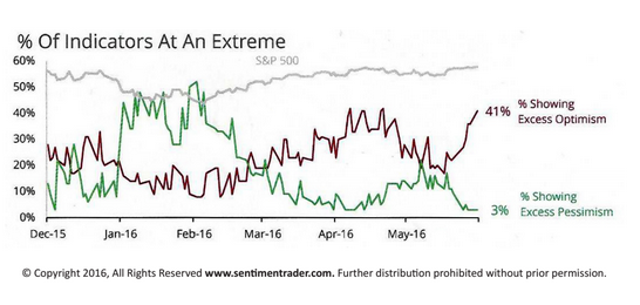 Jason at Sentimentrader.com has created a tool that monitors dozens of indicators for extreme readings. Currently, 41% of this universe is showing excessive optimism, while only 3% is showing excessive pessimism. Such a wide spread is worrisome.
The recent rally coming off the February lows has been lackluster. The poor volume associated with the rally indicates that large institutions have not supported it. This Bloomberg chart assists in a clear visualization of this concept. Note that up days are represented by green lines, which should be compared with the associated volume bar at the bottom. Conversely, down days are represented by red lines. We have seen virtually no large up volume days since February, which is a clear negative.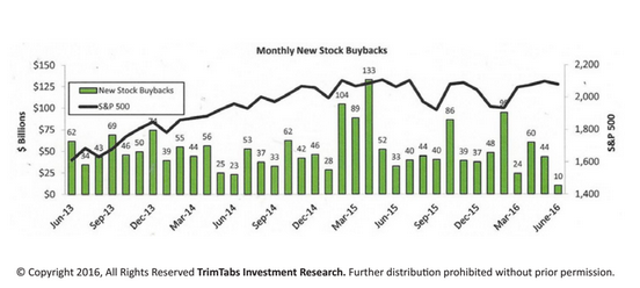 Market liquidity has been deteriorating, and monthly new stock buybacks hit a three-year low during the May-June period. Corporate insider buying had been the most significant purchaser over the last few years, and this diminished pace of stock buybacks removes liquidity from the market. This is a definite negative.
Conclusion
The risk-reward of the stock market remains skewed to the risk side. Earnings are falling, and the technical picture is poor. We remain 37.5% short, a position that was initiated mid spring.
Disclaimer
Lamensdorf Market Timing Report is a publication intended to give analytical research to the investment community. Lamensdorf Market Timing Report is not rendering investment advice based on investment portfolios and is not registered as an investment advisor in any jurisdiction. Information included in this report is derived from many sources believed to be reliable but no representation is made that it is accurate or complete, or that errors, if discovered, will be corrected. The authors of this report have not audited the financial statements of the companies discussed and do not represent that they are serving as independent public accountants with respect to them. They have not audited the statements and therefore do not express an opinion on them. The authors have also not conducted a thorough review of the financial statements as defined by standards established by the AICPA.
This report is not intended, and shall not constitute, and nothing herein should be construed as, an offer to sell or a solicitation of an offer to buy any securities referred to in this report, or a "buy" or "sell" recommendation. Rather, this research is intended to identify issues portfolio managers should be aware of for them to assess their own opinion of positive or negative potential.
The LMTR newsletter is NOT affiliated with any ETFs or any investment Advisors.