In the present time, Adidas (OTCQX:ADDYY) is one of the biggest sporting brands in the world. Established in 1949, the company quickly became one of the most prominent manufacturers of sport apparel in Western Europe. Over the years, the company evolved and rose in value, particularity, thanks to its expansion strategy, the goal of which was to acquire small competitors and become the powerhouse brand in the world of fitness. However, one of the biggest catalysts of growth in the last couple of decades was football (soccer). Thanks to its popularity in Europe, Adidas established strong relations with the game's major organization FIFA and started to sign sponsorships contracts with different clubs in order to strengthen its own brand.
In the last few years, Adidas was very aggressive in terms of expansion and managed to win contracts with clubs like Manchester United and Real Madrid, and became the official sponsor of the biggest European event of this year - UEFA Euro 2016. It also extended its partnership with FIFA until 2030 and could be considered the official brand of football.
It we look at Adidas's financials, we will see that, in the last quarter, sales from the football segment increased by 25% and are showing a great momentum at the moment. One of the major growth areas is Asia. According to different sources, China alone has around 500 million football fans, while other countries in the region also have a big and loyal fan base: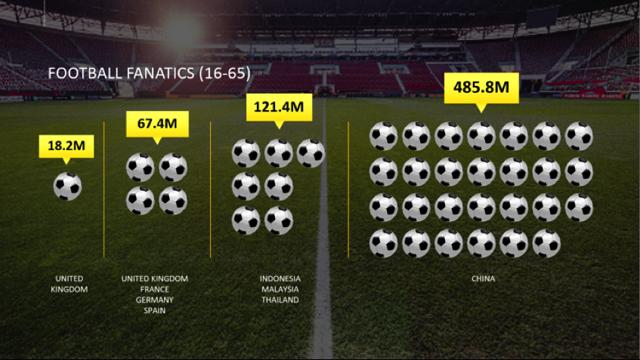 (Source: Gemba)
At the same time, however, while the football numbers are very exciting, Adidas is continually trying to diversify its portfolio in order to reduce its exposure to one sport. The company owns Reebok, another popular apparel brand in the sports industry. Reebok has exclusive contracts with organizations like Crossfit Inc. and UFC Inc., which attract athletes from different fitness communities. Reebok sells to them its apparel at a premium price due to its exclusivity. Crossfit Inc. and UFC Inc. are worth around $4 billion each and are the main revenue streams for Reebok.
Also, the success of the football and fitness campaigns has helped Adidas to expand into the lifestyle business. At the moment, it owns two major brands: Originals and Neo, which are aimed at the younger generation. In the last quarter, Adidas's NMD sneakers, which are part of the Original brand, sold more than 400k pairs during the launch day, and the overall franchise saw a strong double-digit growth in the last quarter. At the same time, the Neo brand was very successful among European wholesalers, and sales were up 60% year-over-year.
As we can see, Adidas has a great lineup of brands that attracts a wide variety of customers. It also has strong financials. If we look at the company's balance sheet, we will see that in the last couple of quarters it increased its free cash flows and net income and marginally improved its operating income:

(Source: Adidas's financials)
Analysts also agree that Adidas has a lot of potential in the long-term and give the company either 'Hold' or 'Buy' ratings with a consensus price of $85/share:

(Source: MarketBeat)
If we look at the one-year chart, we will see that Adidas was not hit hard by the last year's market plunge, and its shares quickly appreciated in value since then: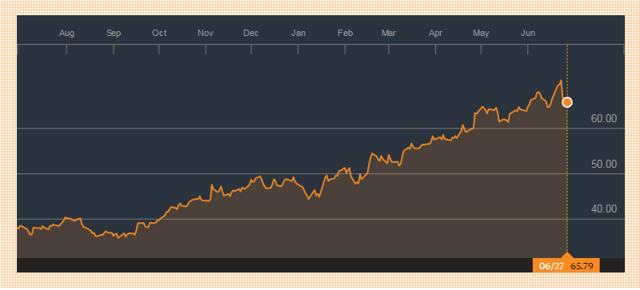 (Source: Bloomberg)
In conclusion, I can establish that, thanks to its diversified portfolio of brands and products, Adidas may be considered as a safe bet for investors. Its great financials and strong business performance are the reasons why the company will continue to grow in the long-term, and I am optimistic about its future. On August 4th, Adidas will report its 2016 first-half results, and they should be strong as always.
Disclosure: I/we have no positions in any stocks mentioned, but may initiate a long position in ADDYY over the next 72 hours.
I wrote this article myself, and it expresses my own opinions. I am not receiving compensation for it (other than from Seeking Alpha). I have no business relationship with any company whose stock is mentioned in this article.
Editor's Note: This article discusses one or more securities that do not trade on a major U.S. exchange. Please be aware of the risks associated with these stocks.