American Electric Power (NYSE:AEP) is one of the sizeable electric utilities operating in the U.S. AEP serves approximately 5.8 million regulated and competitive customers in 11 states with the help of its extensive electricity transmission system. Investment in regulated businesses and rugged fundamentals have helped AEP deliver steady growth despite challenging industry environment.
The dynamics of U.S. electric utility industry are changing on a broader scale primarily due to technological advancements in infrastructure, falling costs of renewable resources and sustainable low natural gas prices. With the evolving industry landscape, AEP is executing several initiatives to remain on the growth track in the short as well as long-term. While divestiture of merchant generation fleet would reduce the earnings volatility, modernizing the grids and optimizing the fuel mix would improve earnings and cash flows quality.
AEP Is Feeling The Heat
Lackluster load growth is a prime challenge for electric utilities. AEP's GWh sales have remained weak in residential and wholesale businesses in the past few quarters. Besides unfavorable weather conditions, increasing efficiencies in domestic appliances and aggressive installation of rooftop solar panels are weighing on the electricity demand.
Industry-wide load growth is likely to remain subdued in the short-term, but AEP expects normalized GWh sales growth of 0.9% during 2016, which could positively impact revenue stream. According to Energy Information Administration (EIA), electricity sales growth is expected to average 0.7% each year between 2015 and 2040, as compared to 0.6% over the past one and a half decade.
While electricity sales growth in the residential category would remain muted, an expected long-term growth rate of 1.1% in the industrial category would bode well for AEP as it sells one-third of electricity to industrial customers.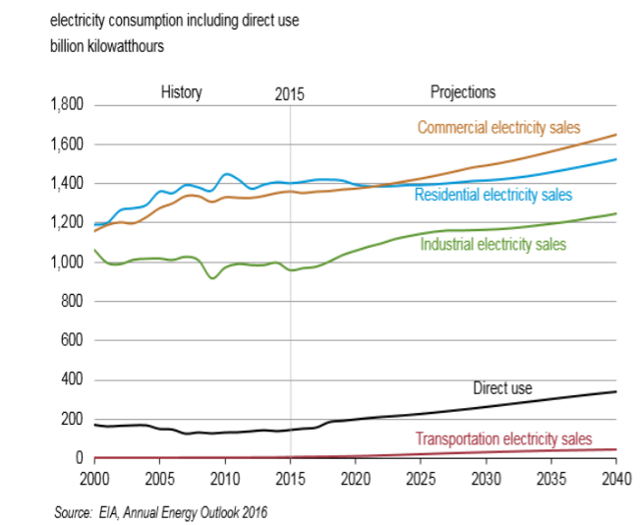 Source: EIA
Despite the satisfactory financial performance in the past, the weakness of AEP is that the company fails to amplify the earnings growth. Over the previous five years, AEP's top-line has increased at a compounded annual growth rate of 3.4%, while net income witnessed an increase of just 1.35% over the same period. The potential sale of merchant generation fleet could positively impact the margins, but AEP should try to slash higher operations and maintenance expenses to magnify the profits.
Coal To Stay Here For AEP
Coal is AEP's primarily fuel source, which generates 60% of total electricity. Natural gas accounts for 23% while nuclear produces just 5% of total capacity. Although coal is still cheaper and widely used fuel source, industry-wide fuel mix is rapidly changing as natural gas and renewables are replacing the coal-fired power plants. AEP is also trying to optimize its generation mix. Over the next decade, AEP will reduce its coal-fueled generation capacity to 45% while the contribution from natural gas will increase to 33%.
Power plants emit 40% of the U.S. carbon dioxide. To reduce the carbon emissions, Environmental Protection Agency (EPA) is pushing its Clean Power Plan (NYSE:CPP). Under the finalized rules of Clean Power Plan, the target is to reduce national electricity sector emissions 32% below 2005 levels by 2030.
AEP is trying to reduce its environmental footprints, and its efforts are quite fruitful. The company's spending to comply with environmental regulation will reach $8.5 billion by the end of 2016 while its carbon emissions have already declined by 39% from 2000 levels. As coal will remain AEP's primary fuel source in the future, the company plans to spend another $1.4 billion between 2017 and 2025 to comply with environmental regulations. Although AEP has no plan to add new coal power plants, increasing coal ash management expenses and high costs attached to environmental regulations could burden AEP's cash flows.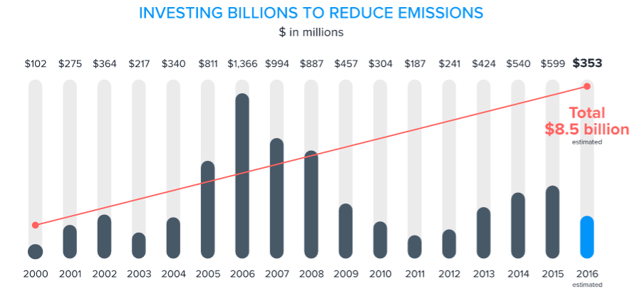 Source: AEP
Is AEP lagging behind?
AEP is following the evolving trends in renewables space, but the company is lagging behind the pace of the industry. Duke Energy (NYSE:DUK) is putting a significant amount of money in clean energy and portfolio optimization. The company is investing $3 billion over the next five years to boost its production and purchases of renewable power to 8,000 megawatts by 2020. Southern Company (NYSE:SO) has added 3,800 MW new renewables since 2012 and will add more by investing another $5 billion over the next three years. It seems that AEP is quite slow in adopting the change. The company will add only 9,700 MW of renewables in the next eighteen years.
Last year, AEP launched a small solar pilot project in Indiana and currently it is building solar facilities in Indiana, Michigan, and Ohio. Although AEP supported the utility bill HB 1320 in an effort to halt rooftop solar in the state, the company plans to install 3,400 MW new solar and 6,300 MW wind by 2034, including 900 MW of solar and the wind in an AEP Ohio power purchase agreement settlement. The slow pace of AEP in renewables market could result in loss of corporate customers who are choosing 100% clean energy. For Instance, Dominion Resources (NYSE:D) has lost Amazon (NASDAQ:AMZN) in a similar scenario.
AEP is positioning itself for near-term success and long-term sustainable growth. In this regard, the company will invest $5 billion annually in grid modernization in three years period, which would help AEP transform the fundamental structure of its grid network.
Is AEP Still An Option To Consider?
AEP has rallied 32% over the past twelve months, significantly higher than the PHLX Utility Sector Index (UTY) return of 23%. This impressive return is due to investors' inclination towards safer stocks amid prolonged volatility in financial markets and concerns over economic growth. Currently, the whole utility sector looks fairly valued or even slightly overvalued. The sector is trading at forward price to earnings of 17.8 times, well above its last 10-year average of approximately 15 times.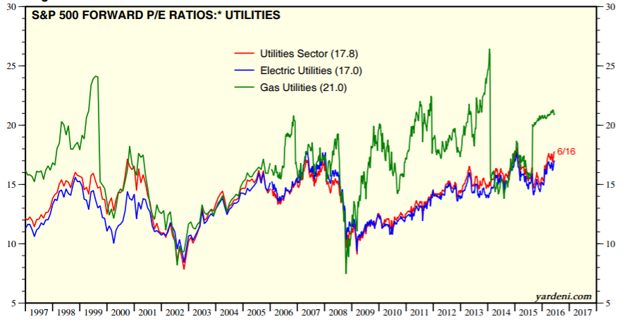 Source: Yardeni
AEP expects that the fiscal year 2016 earnings will fall in a range of $3.60 to $3.80. On the other hand, consensus estimates of earnings per share for 2016 and 2017 are $3.67 and $3.84, respectively. Based on these estimates, AEP is trading at forward price to earnings of 18.6 times and 17.8 times, which suggests that the stock is fairly valued as compared to sector average.
Due to significant price run, the sector's dividend yield has dropped to 3.78%, which is significantly below its 20-year average of 4.5%. AEP's dividend yield of 3.28% looks unattractive as compared to its peers, such as Duke Energy is offering a yield of 3.93% while Southern Company's yield is 4.29%. That said, AEP is not an attractive stock based on its current valuation level and below average dividend yield, and investors should look at some other utility stocks to take the position for better a yield.
Disclosure: I/we have no positions in any stocks mentioned, and no plans to initiate any positions within the next 72 hours.
I wrote this article myself, and it expresses my own opinions. I am not receiving compensation for it (other than from Seeking Alpha). I have no business relationship with any company whose stock is mentioned in this article.