Elon Musk is well known in the science and technology community as the visionary leading Tesla (NASDAQ:TSLA) and an innovator that has revolutionized the automotive and aerospace industries. His luxury electric cars have become a symbol of the future of green transportation and his SpaceX (SPACE) program a first in the area of commercial space exploration. His company, Tesla, led by Musk has quickly become a leader in futuristic, sustainable technology. Now, with the potential acquisition of SolarCity (SCTY), Elon Musk and Tesla are looking to develop a foothold in the renewable energy market.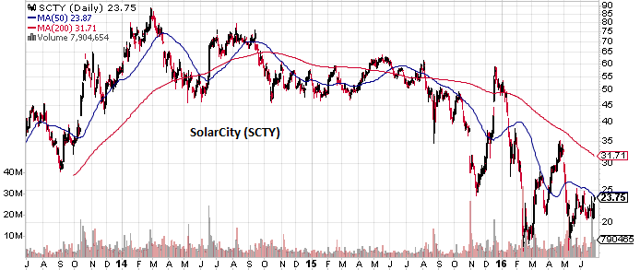 Over the past two years, SCTY has experienced some trouble in the investment arena. After peaking around $85 in early 2014, a trend of lower fossil fuel spot prices allowed investors to sidestep the renewable energy question in favor of cheaper oil and natural gas. SolarCity, and the sector as a whole, continued to look forward to a growing solar power market which will burst with demand as soon as prices for commercial and residential photovoltaic power sources become cheap enough for the public.
Some experts say that time has not come, but Elon Musk disagrees. In a Tesla conference call made earlier this week, he stated that solar economies of sales would be viable in "5 years." Combine this belief with a desire to transcend the luxury label (a desire already manifested by his Model 3 project) and an existing stake in SolarCity, and suddenly, we've got an acquisition on our hands.
According to a Tesla press release, the electric car manufacturer has proposed a purchase value of $26.50 to $28.50 for SCTY common stock representing a premium of about 21 to 30 percent over the closing market price at the time. Tesla's board members have already voted and confirmed the proposal before it was sent to the target company, and now they wait for a reply. SolarCity, whose own shareholders have very close ties with Musk and Tesla (Musk himself is the largest shareholder), appointed a neutral two-person committee to vet the deal on June 27th. At first glance, the financials don't support Tesla's decision, but there might be more underneath.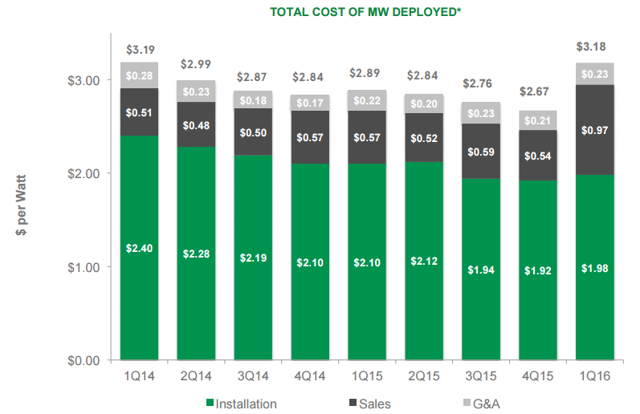 From SolarCity 2016 Q1 Presentation
One of the main problems central to the renewable energy industry is cost efficiency especially relative to cheaper conventional fuel methods. In an article on my blog written earlier this year, I reviewed Lazard's annual levelized cost analysis of different energy sources. Residential and commercial solar sources are among the most expensive in those researched. SolarCity's cost reflect this solar premium, and it is something that is not to be taken lightly by Tesla. SCTY has managed to edge installation costs down just 6 percent in two years, a feat that required heavy investment spending and time. In arguing for the deal, Musk asserts that sales costs will be largely reduced after the acquisition. In fact, in the interview, he estimated that SolarCity's costs could fall "30 to 40 percent" after the companies become one.
He might be right about the sales costs. With the companies separated, integrating Tesla and SolarCity technology would prove to be unwieldy with operations under two managements going towards two different goals. Bringing the Powerwall and solar panel technology together under one roof reduces marketing costs and infrastructure required to sell it. If sales cost were brought down to a quarter, cost per MW would drop to below $2.50 per MW (according to 2015 Q4 data).
The resulting savings in sales cost would total around $68 million. Musk also argues that installation costs would see a similar drop, but this point is a little hard to sell. Even after the acquisition, Tesla and SCTY infrastructure will remain separated in operation for at least six months after. Installation costs cannot be successfully reduced until the workforce is sufficiently trained and integrated, something that might take six months as well.
In the long run though, an acquisition and centralization of resources and intellectual capital will more speedily increase efficiency over the next five years. The idea is to eventually reach a "Model 3" version of the Powerwall with cheaper residential and commercial implementation, but that is not a realistic near-term objective. Instead, Tesla's short-term goals should be focused on improving SCTY cash flow.
Reducing costs is not necessarily the magic ingredient that Tesla adds to SCTY's value. Over time, installation and research costs shrink with economy of scale. The synergy in this acquisition is the free cash flow and capital accessibility that Tesla provides SolarCity operations. SCTY's current ratio after the last earnings report was 0.61 with mounting debt and a negative bottom line.
Tesla's current ratio, with its own and SCTY's current liabilities considered, is still a healthy 1.29. With more liquidity on a combined balance sheet, Tesla can secure the necessary capital with its ability to take on more debt and provide a more solid revenue stream to support it. At the same time, the $2.7 billion of SCTY long-term debt would weigh on long-term growth for the new company especially if the newly integrated Tesla Energy operations fail to achieve positive cash flow.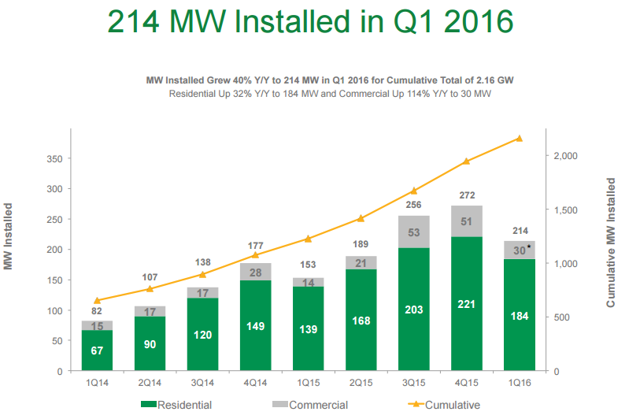 Elon Musk said in the investor interview that, "on the cash front, we don't expect SolarCity to have material impact on future cash needs." Investors shouldn't be quick to believe the visionary here in the short term, as the development of photovoltaic technology will continue to be a capital-intensive business for the next 5-10 years. Capital expenditures for SCTY were more than double that of Tesla's according to the first quarter of 2016, and a convenient acquisition would do very little to mitigate its growth in the future.
While the benefits of the Silevo technology will be realized in the short term, its integration into the Powerwall product will not be a speedy process. Shareholders should heed warnings concerning negative cash flow but not let these worries trump the synergy that comes from a solid SCTY asset base and the potential to streamline a residential energy source that could become very profitable in the next five years.
SCTY's main upside comes from its market share in the solar power industry with a year-over-year MW installed growth of 40 percent and year-over-year revenue growth of over 80 percent. Because of its proven potential and tight-knit relationship with Tesla, SolarCity's most valuable synergy could be the path it creates for Tesla to enter and dominate a developing market.
Before anything else, Elon Musk is a visionary, and one must remember that when hearing him say things like this deal is a "no-brainer," and this deal will bring Tesla to a "$1 trillion market cap." The CEO of Tesla has already thought ten steps ahead where he has steered his company into the leading spot in the renewable energy industry. Musk painted a picture of the future of his firm when he said, "we need sustainable energy production, which is going to come primarily in the form of solar, overwhelmingly in the form of solar in my view and combine that with stationary storage and electric vehicle, and you have a complete solution to a sustainable energy future."
Electric cars are just a start for Tesla, a company that has already garnered a market capitalization of over $20 billion by selling less than 100,000 cars a year. The leader in the solar power industry is First Solar (NASDAQ:FSLR), sized by the market at about $5 billion. Musk sees Tesla Energy, a branch of the powerful brand he's built, armed with SolarCity's potential, bursting onto the residential solar power scene, and conquering the market in a very risky but rewarding industry.
This acquisition is not about bolstering revenue or product differentiation. This acquisition is the first major venture into renewables, a new Exxon Mobil (NYSE:XOM) in the making. Shareholders might have the right to be concerned with negative cash flow and more than doubled debt, but the long-term benefits make the 21-30 percent premium look like a steal.
Tesla's shares fell about 13 percent when this deal was first offered, a sign that Wall Street disagreed with the near-term specifications of the deal. Investors interested in the long-term would be silly not to consider TSLA and SCTY as solid buys. SolarCity would be foolish to not accept Tesla's offer given their debt position. While its Silevo assets and annual growth rates are promising, liquidity problems would constrain its ability to plow capital back into operations to boost efficiency.
After the acquisition, Tesla Energy will be in a prime position to compete with firms like Solar First. Armed with Powerwall technology, Musk's Tesla, paired with SolarCity, could become the first "integrated renewable major" with market share potential comparable to Exxon Mobil's in the oil and gas industry.
Disclosure: I/we have no positions in any stocks mentioned, and no plans to initiate any positions within the next 72 hours.
I wrote this article myself, and it expresses my own opinions. I am not receiving compensation for it (other than from Seeking Alpha). I have no business relationship with any company whose stock is mentioned in this article.